EXHIBITOR
主视觉创作插画家 Visual Creation Illustrator
GONGKAN, Kantapon Metheekul (泰国 Thailand)
在泰国曼谷出生并长大。纽约艺术学院毕业。目前生活在曼谷和纽约的艺术家和设计师。拥有深厚的艺术背景和广告商业合作经验,他的创造力将广告从数字艺术延伸到创作,他创作各种风格作品的能力为他赢得了许多广告奖项,如Cannes Lion, Clio, Spikes Asia。Kantapon对于艺术有很大的创作热情,他每天都在手绘插图中找到灵感与生活,时尚和人之间的关系。 他的作品曾与许多大时尚品牌合作,也出现在许多出版物中。

Born and raised in Bangkok . Art School Graduate. Art Director and Illustrator based in Bangkok and New York. With a strong background in art and 4 years of experience in top advertising agencies, Kantapon's creativity extends from advertising to digital art to fine arts. His ability to create various styles of works have won him many advertising awards across the world from Cannes Lion to Clio and Spikes Asia.Obsessed with arts, Kantapon finds inspiration in his hand-drawn illustrations in everyday life, fashion and people's relationship. He has also illustrated for high-street and luxury fashion brands and has been featured in several publications. His works display on a wide range of medium from digital painting to street art and art exhibition.

IG: gongkan_

邀请参展者 Invited Illustrators
曲家瑞 Kristy ,Cha-Ray Chu(台湾 Taiwan)
美国纽约哥伦比亚大学-艺术研究所硕士,美国纽约古柏联盟-艺术系学士。目前为实践大学媒体传达设计学系助理教授,大学教师、媒体人、艺术家、作家、二手玩具收藏家、策展人、手绘漫画家等身分于一身的"麻辣女教师",向来以带领年轻世代勇敢追求"做自己"而知名。

Master of Arts, Columbia University, New York, USA, Bachelor of Arts, Cooper Union, New York, USA. Cha-Ray Chu is an assistant professor of Shih Chien University Department of Communications Design. She has a "spicy female teacher" with different identities such as university teachers, media worker, artists, writers, second-hand toy collectors, curators, hand-painted cartoonists. And she has always been known for leading young generations to bravely pursue "doing themselves."

IG: kristycharay

---
张海浪 SEAR.Zhang(中国 China)
张海浪以电子艺术的形式表达艺术作品,希望通过:艺术作品与欣赏者的对视,引发欣赏者与画作建立关系,产生共鸣。艺术家在社交媒体上反响强烈,曾多次受邀参加微博影响力峰会活动及青年艺术比赛评委。张海浪十分擅长与品牌的跨界合作:曾与美国国宝化妆品牌"奥伦纳素",新媒体巨头"VICE",摇滚乐队"痛苦的信仰",高端共享办公品牌"寰图",白酒品牌"贵酿",西装高订品牌"Someset"等品牌进行过跨界合作。张海浪的工作室UnsLes,致力于电子艺术的推广以及艺术作品与品牌的跨界合作推进。

Sear Zhang has a deliberate intention of building up the internal relationship and create the resonance between audience and her art work by delivering "direct eye contact" in her portrait series digital illustrations. Sear Zhang's work caused an enthusiastic response on social media. She was invited to several art events and weibo influence summit. Sear Zhang's studio, Unsles is very popular among different fields, such as cosmetic brand, new media magazine, co-work space, haute couture, tailored suit brand and even the Chinese white wine brand. Unsles delivered great cross-over art work by co-branding with clients. Unsles aim to promote digital art work by co-brand cooperation and enhance the traditional value of new art expression.

IG: _unsles_

---
保罗先生 Mr. Paul (台湾 Taiwan)
大概是从 2014 年起,当时还是上班族的保罗先生,决定开始随意涂鸦自学画图,从一开始的静物人像临摹,到后期开始加入了一些自己的脑洞创意,便开始公开在社群媒体分享作品。保罗先生的创作灵感多半来自生活,与朋友聊天、逛街吃饭、工作….的时候,常常会因为生活上的各种刺激,突然就蹦出灵感。虽然这些奇想多半都没啥营养,也没有特别的教育意义(笑),但保罗先生还是会把它们都画出来与大家分享。"我喜欢观察大家对于每篇作品的留言与互动,可以获得共鸣是很有成就感的一件事"。没有什么厉害的绘画技巧,但保罗先生乐于与大家分享他对社会的观察与所见所闻,保罗先生目前居住、工作于 台湾新北市。

It was around 2014 that Mr. Paul, who still worked in an office at the time, decided to study drawing on his own and make doodles. From reproducing still-life portraits in the beginning to adding some of his own whimsy later on, he began to share his work with the public on social media. Most of his inspiration comes from life: chatting with friends, shopping, eating, working, etc. Often, he would find inspiration all of a sudden from events in his life. Although, for the most part, he doesn't believe they are significant or have an educational purpose, Mr. Paul still draws them to share with everyone. He likes to see how people interact with his work and the comments they leave for each drawing; for him, creating resonance is very fulfilling. He thinks he doesn't have particularly great drawing skills, but he enjoys sharing his observations of society. Mr. Paul currently lives and works in New Taipei City,Taiwan.

IG: mr.paul_tw

---
林雅仪 Zoie Lam (香港 Hong Kong)
1981年于香港出⽣生,毕业于平⾯面设计与广告科,现职插画师,其身份也是时装设计师 ,造型师, 为各单位设计造型,亦是品牌 ZL by ZLISM 的主理人。于2010年开始创作ZLISM,直至2012年8⽉月于香港举行了个人展览,ZLISM是一个外星球,內里住了很多不同的"ZLISM"星人,每个ZLISM星人也有着不同的个性,但他们每一个也是善良和正⾯面的。作品中以不同的媒体和营光色系去表达每一幅作品。每一幅作品也有着背后的故事,⽽故事由ZLISM星球人表代为表达创作范围为塑胶彩油画,⼤型墙壁,多媒体合成画作等等。过往曾于首尔艺术展、台湾诚品 书店、香港 Bank Art Fair 、 Affordable Art 、 Asia Contemporary Art Fair 等展出作品,亦与学校、香港艺术发展局、 灵实医院、 903商业电台、海港城、圆⽅、PMQ 、Samsung 、IKEA 、 时装品牌 Vans 、 Converse 、 Levi's 、 Adidas 、Reebok 等合作,进行⽂化创意推广活动。

Zoie Lam is an artist based in Hong Kong . As the creator of the imaginary planet Zlism, she details a world with all its residents and happenings. Positive energy oozes out from the kind-hearted characters as they come alive under her pen, all with fascinating stories unfolding in one painting after another. "ZL"is the initial of Zoie Lam while "LISM" stands for her philosophy and ideas. Through her drawings, Zoie would like to express her ideas towards different social phenomena.
Most of the artworks by Zoie Lam appear as a dense and intricate tapestry of patterns juxtaposed with vivid colours — a remarkable visual contrast for a signature style that sets Lam apart from the rest. Choosing acrylic paint and wool yarn, and occasionally oil-base marker and technical drawing pen for black-and- white effect, Lam always fills her stylistic paintings in brilliant hues and especially with florescent colours. All details are completed with refined brushstrokes and delicate lines under the fine pen tip. The canvas is then topped with hand-knitted finishing touches. Her another favorite art form is mural painting, which includes walls of shops and impromptu painting alongside real-time animation and performance. She had been invited to show case her art in Busan Art Fair, Affordable Art, Asia Contemporary Art Fair, Eslite book of Taiwan, etc. and promote arts and creativity with different institutions and companies including schools, HK Arts Development Council, Haven of Hope Hospital, CR2 903, Harbour City, Elements, PMQ, Samsung, IKEA, Vans, Converse, Levi's, Adidas, Reebok.

IG: zlism

---
Michael Vincent Manalo (菲律宾 Philippines)
Michael于1986年出生于菲律宾马尼拉,现居台湾台中。 他是一位视觉艺术家,擅长于摄影,影像合成,动画设计,音乐编辑和装置艺术。 他的作品受到怀旧和梦幻般环境的想像回忆的启发,创作出对末日来临与噩梦的记录。曾在多个国家举办展览,讲座及工作坊,除此之外,他还担任出版公司和歌手专辑的平面设计师。最近也出版一本在台湾环岛一个月的影像纪录。他不断地挑战各种各样的数位艺术设计案子以求自我进步。

Free-spirit, Gamer, Beach lover. Born in Manila, Philippines in 1986, Michael lives and is based in Taichung, Taiwan. He is a visual artist who focuses on photography, photo-manipulation and installations. His work is inspired by the imagined memories of nostalgic and dream-like environments; his works documents their decline into post-apocalyptic, nightmarish creations.
Manalo has exhibited in several countries – and gave short lectures and workshops, aside from that he works as a graphic designer for publishing companies and musicians. He constantly accepts commissions for digital art and installation artworks.

IG: michaelvmanalo

---
Kyle Skor(美国 United States of America)
Kyle Skor(生于1983年,圣保罗,明尼苏达州)是美国插画家和图画书作者。近年来,他在亚洲生活和旅行,最近在韩国、中国大陆和台湾工作。通过丰富多彩、重复且看似简单的图像,他着眼于解决个体心理学及其在时间、空间、文化和其他变量中的过渡的问题。他最近将佛教思想与极简、诗意的文本和抽象的几何形式结合在一起,他还试图为世代焦虑带来世俗的冥想状态。由Ying Gallery代理,他正在为即将在德国、日本和韩国举办的个展创作绘画作品,此外还有一部关于「泡泡人」的小说,神话般的人物,多年来一直在他的画作中反复出现。

Kyle Skor (b. 1983, Saint Paul, MN) is an American illustator and picture book author. In recent years he has lived and travelled extensively in Asia, most recently working in South Korea, Taiwan, and China. With colorful, repetitive, and seemingly simple iconography, he looks to address issues surrounding individual psychology and its transitions through time, space, culture, and other variables. Recently incorporating Buddhist thought with minimal, poetic text & abstract geometric forms, he also seeks to conjure secular meditative states for Generation Anxiety. Represented by Ying Gallery, he is working on paintings for upcoming solo shows in Germany, Japan, and Korea, in addition to an graphic novel about 'Bubble People', fictional, mythological-seeming characters which have been recurring in his paintings for years.

IG:kyleskor

---
水野健一郎 Kenichiro Mizuno(日本 Japan)
水野健一郎生于1967年,是一位来自日本东京的艺术家。为了寻找存在于"既视感"和"似曾相似"之间的超时空感,他在脑海中重建了日本电视动画的世界观,这对他原始景观的形成有很大影响,并通过各种技术和风格输出。2012年组建了视频团队"The Paranormal"和艺术单元"psychokinesis"。

Artist. Born in 1967. Live in Tokyo, Japan. For seeking the super-space-time feeling that exists between deja vu and jamais vu, re-build in the brain the world of Japanese TV animation that was a great influence on the formation of the original landscape, output it by various techniques and styles. Formed the video team "The Paranormal" and the art unit "psychokinesis" in 2012.

IG: kenichiromizuno

---
黑青 Black and Blue Cosmos(台湾 Taiwan)
"黑青Black and Blue Cosmos"是一结合平面、立体、虚拟、真实、静态、动态的系列创作,以墨汁及原子笔绘成的图像为原型,再透过3D、2D、AR、影像等形式,表演再各种载体及媒介之上。诞生于2018年5月,至今走过越南、台南、台北、广洲、德国汉堡、非洲肯亚等地。在展演的过程中透过多种媒介的展示,再以绘画的活动与各地的小朋友及观众互动,透过各种视觉的表现形式走入日常生活。

Black and Blue Cosmos is a series of creation combined with graphic, solid, virtuality, reality, static state and dynamic. From the prototype of image drafted with ink and pen, the creation was processed by 3D, 2D, and AR technology before demonstrated on all kinds of media and carrier. Created in May, 2018, Black and Blue Cosmos has traveled through Vietnam, Taipei, Tainan, Guangzhou, Hamburg and Kenya to date. Demonstrated on all kinds of media, it interacted with local children with drawing activities, integrated into our everyday lives via all kinds of visual demonstration.

IG: blackandbluecosmos

---
SUNTUR, Yozanun Suntur Wutigonsombutkul(泰國 Thailand)
出生于泰国曼谷。 SUNTUR获得了泰国艺术大学的学士学位。在成为全职艺术家之前,SUNTUR于2010年至2015年期间都在广告公司工作。他的实践范围广至书籍、杂志、海报、产品包装、装置、服装和视觉艺术。

Born in Bangkok, Thailand. Suntur earned a Bachelor of Art Silpakorn University. Before claimed himself as a full-time artist, Suntur has creative as another titled for his career in advertising agency from 2010 to 2015. His practice ranges from illustration for books, magazines, posters, products packaging, installations, clothing and visual art.

IG: suntur

---
三时七有 Sensecue(中国 China)
三时七有成立于2017年夏,是一家具有独立创作精神的艺术时尚品牌。品牌以不同的载体实现艺术、插画与设计的传播,以独立精神与时尚元素探索一切未知的可能性,带给大家天真神奇。品牌以不同的载体实现艺术、插画与设计的传播,以独立精神与时尚元素探索一切未知的可能性,带给大家天真神奇。过去、现在、未来三时是对时间的通晓,七有代表因果的永续不息,时间与空间构成了理性与智慧,我们从多重层面上处理了时间的维度,分享人类的仪式以便确保时间的延续,而我们以行动将这些力量与奥秘再现。

Founded in the summer of 2017, SENSECUE is an art and fashion brand with independent creative spirit. We spread of art, illustration and design with different carriers, explore all the possibilities with independent spirits and fashion elements, bringing magics to the public.The first part of our name, "Sanshi" (三时) represents the past, present and future, is the understanding of time. Qiyou (七有), the second part indicating the continuity of cause and effect .Time and space construct the reasons and the wisdoms of our world, so as we deal with the dimensions of time on multiple levels, sharing human rituals to ensure the continuity of time, and we bring these forces and mysteries to life through our actions.

微博:三时七有sensecue

---
AITOY, Vasan Suwannaka(泰國 Thailand)
来自泰国曼谷的艺术家-Aitoy出生于1988年,从小在城市的外围地区长大,被中国文化、印度教和上座部佛教围绕着。2011年自艺术学院毕业后,Aitoy成为自由艺术家和广告公司的插画师。他与才华洋溢的作家合作原创漫画,发展出属于自己的风格。他所创作的泰国超级英雄图像小说《Malangsaab》在2014年左右开始流行,共发行了4期,插画作品也出现在主流出版商的杂志上5年。此外,他还与泰国摇滚乐队合作,为他们的唱片制作了艺术品。同时,也是最主要的,Aitoy在受到政治危机、信仰与文化冲突的压力之下创作了这些画作,并透过"石油"和"亚麻"将这些动力传达给人民。

A Thai artist based in Bangkok. Born in 1988, raised in the outer area of the city surrounded by Chinese culture, Hinduism and Theravada Buddhism. After graduated from an art college, 2011, Aitoy became a freelancer in visual artist and illustrator for advertising agencies. He develops his personal style in making an original comics with talented writers. "Malangsaab" a Thai superhero graphic novel became popular around 2014, released 4 issues. His illustrations also appear on a magazine under the mainstream publisher for 5 years. Moreover, in collaboration with Thai rock bands, he made artworks for their records.Simultaneously, in the main part, Aitoy creates paintings with the pressures from political crisis, belief, cultural conflict between his mind and relations. He communicates those impetuses to the people by oil and linen.

IG: aitoycomics

---
徐偉珍Vita, Weichen Hsu (台湾 Taiwan)
视觉设计师、实验动画导演。动画作品受邀巡回放映于美国、加拿大、巴西、德国、奥地利、澳洲等多国影展。毕业于美国加州艺术学院实验动画研究所。

A visual designer and a story teller. Graduated from California Institute of the Arts – Film/Video Experimental Animation. I'm always curious about how we perceive things and been looking for different ways of expression. Of human, of humanity, of us. In hopes through my artworks can elicit imaginative responses and provide emotional resonance for the beholder. Let us feel a little less alone.

IG: peopleslanding

---
早川モトヒロ Motohiro Hayakawa(日本 Japan)
Motohiro Hayakawa,1974年出生于山口县,2000年毕业于山口艺术大学,并以东京为据点开始了他的艺术生涯。骇人的怪物、铛铛作响的机器人,以及70年代科幻英雄风格的动感服装和激光枪,Motohiro Hayakawa漫画般的战斗场面是无止尽的,并邀请你进入这惊心动魄的战局,一起享受其中的乐趣。

Born in Yamaguchi prefecture in 1974. Hayakawa graduated from Yamaguchi College of Arts. In 2000, he started his career as an artist based in Tokyo.Lurid monsters, clanking robots and 70s-inspired sci-fi heroes sporting kitsch outfits and laser guns. Motohiro Hayakawa's comic-style battle scenes are places where the action never stops, thrilling invitations to step inside and join the fun.

IG:moto583motohiro

---
吳騏 57 Art studio(台湾 Taiwan)
1985出生于金门,毕业于台湾艺术大学视传系,现为插画艺术家,创作风格童趣奇幻,擅长将插画艺术与商业应用结合、合作出版品、包装设计、跨界品牌联名设计、主视觉形象设计等等,近年参与许多艺术驻村与插画艺术展览,也将插画在壁画、陶艺、服装等等不同形式上展现,表现插画艺术多元化。

Chi-Wu (57), an illustrator, known for his dreamlike, colorful, multi-layered style. He is an expert in combining illustration art with commercial design, co-publishing, product design, key visual design, etc. He has been participated in many illustration exhibitions and cross-domain co-brand designing, showing the diversity of illustration art.

IG: 57_art

---
Radio Woon, Lala Company (马来西亚 Malaysia)
Radio Woon是一位来自马来西亚的艺术插划家及平面设计师,现居上海,一名爱猫人士,也热爱划划。LALA COMPANY成立于2004年,是Radio想象出来的虚拟小夥伴,他们是由黑色线条创造出来的大眼人,打扮奇异,行为古怪,凭着自己的感觉去生活。

Radio Woon is an artist/graphic designer from Malaysia who lives in Shanghai, a cat-loving person and loves to paint. Founded in 2004, LALA COMPANY is a virtual companions that Radio imagined. They have big eyes with simple black drawing lines. They are dressed strangely, behave weirdly, and live by their own feelings.

IG:la.la.company
---
Sija Hong六厘(中国 China)
Sija Hong六厘于2018年从美国雪城大学Syracuse University毕业,获得MFA艺术硕士学位。目前是旅居纽约的90后自由插画家,美国插画师协会(SOI)会员。她在研究生期间就已经与各大公司有过多项商业跨界合作,有多年的广告、书籍、产品及商业活动视觉设计创作经历。

Sija Hong graduated from Syracuse University in 2018 with a Master of Fine Arts degree.She is currently a freelance illustrator living in New York and a member of the Society of Illustrators(SOI). During her graduate studies, she has had several commercial cross-border collaborations with major companies, and has many years of experience in visual design creation of advertising, books, products, and commercial events. Sija Hong's style of painting is colorful and exquisite.its temperament has an impressive atmosphere.

IG:sijahongart
微博:sijahong六厘

---
Masanori Ushiki 牛木匡憲 日本(Japan)
1981年出生于日本新泻县,目前居住东京。 2004年毕业于武藏野美术大学,曾在文具制造商和网络制作公司工作。现在是插画家和艺术家。他受到漫画、动画和特摄片启发,创作以多样数位体及类比呈现。每个作品的视觉表达,从幽默到时尚方面,都与时事及媒体有关。 Ushiki 擅长于捕捉漫画、动画、特摄片及结合这些元素,创造幻想世界里的生物,可以吸引到人的目光及触发笑点。同时,复杂的线条及鲜艳色彩,呈现出优雅却又荒谬的作品。

Born in Niigata Prefecture, Japan, in 1981, Masanori Ushiki resides in Tokyo. After graduating from Musashino Art University drawing school, he worked for a stationery company, a web production company, and eventually found himself as an illustrator and artist. Ushiki has created a diverse body of digital and analog work informed by Manga, Anime and 「Tokusatsu」 genres. Each visual expression, ranging from the humorous to the fashion-inclined, is tailored to the times and media of today. Ushiki is a rising star with the ability to capture aspects of anime, manga or Tokusatsu (live-action anime) and to re-mix these elements into a fantasy world of creatures that delight the eye and tickle the senses. Equally so, his sophisticated linework and colorful palette captures the preposterous with a complex elegance.

IG:ushikimasanori

---
熊亮 Xiong Liang(中国 China)
熊亮,著名作家、画家,中国原创绘本领跑者。自幼研习传统水墨画,1990年代起开始绘本故事和插画创作,至今已经出版绘本30余本,被看作中国原创绘本的先锋与导师。

Xiong Liang, writer, painter, pioneering Chinese illustrator. Born in July 1975 in the city of Jiaxing, in Zhejiang Province, Xiong began studying traditional Chinese ink wash painting at an early age.Xiong's illustrations evince a strong command of lines, shades of black, and a particularly Asian sensibility where color is concerned. His works draw on the best of China's long artistic tradition, depicting unique scenes and characters in drawings brimming with visual poetry, emotion, and expressiveness.

微博:熊亮

---
Michun, 叶依柔(台湾 Taiwan)
Michun,本名叶依柔。1983年在台湾出生。 从小就喜欢画图,一路学习画画长大,目前为全职插画家,作品常可见于文学小说、动画、广告等。喜欢使用压克力颜料,作画速度可以跟上我脑中画面的片段流动。 喜欢甜食,当我用很厚的压克力颜料抹上画面时,很像糖霜或冰淇淋的感觉,尤其是白色。2018年携作品受邀至巴黎参加SALON DES BEAUX ARTS 2018 展览,2019受邀台北华山艺文特区创作壁画。

Michun has devoted herself to illustration since 2012 and currently publishes her work through the internet. Her illustrations can be been in advertising campaigns, publications, newspapers and magazines. She is not only very talented in painting for graphic design but also good at combining her artworks with three-dimensional installations for window displays. She is looking forward to experimental collaboration.

IG:mich_un

---
张馨引 Zhang Xinyin(中国 China)
张馨引,插画艺术家,创作手法多元,擅长用水彩、水粉绘制神鬼、奇幻类画作。毕业于广州美术学院油画系。曾出过绘本漫画《恋恋彩霞》。网络连载漫画《咣当一家》点击破千万。广西小型个展时,受到现任中国书法家协会理事、中国美术家协会理事的陈中浙教授,评为广西插画之希望。

Zhang xinyin is an illustration artist with diversified creative techniques. She is good at drawing supernatural and fantasy paintings with watercolor and gouache.Graduated from Fine Arts Oil Painting Department, Guangzhou Academy. Zhang published a series of comics 「Lien Lien Tsai Hsia (Lovely Rosy Clouds)」. His Internet comic series 「Guang Tang Yi Jia (Our Family)」 hit 10 million clicks. Zhang's small solo exhibition in Guangxi was so successful that he was reputed as the hope of Guangxi illustration by Professor Zhong-Zhe,Chen, the Director of Chinese Calligraphers Association and China Artists Association.

IG:zxy7061

---
Harsh Raman Singh Paul(印度 India)
Harsh Raman Singh Paul是一位印度自学成才的城市艺术家、插画家兼艺术总监,并在新德里经营一家精品平面设计工作室。他的创作是流行艺术、灵性和浓厚印度感的融合,灵感主要来自于国际街头艺术亚文化和「Madhubani」和「Warli」中的传统文化,成为作品的主要背景,他的作品是体验在全球景观中过着印度生活的汤剂。

Harsh Raman Singh Paulis an India based self-taught urban artist, illustrator, art director and run a boutique graphic design studio based in New Delhi. His musings are an amalgamation of pop art, spirituality and a deep sense of Indian-ness. Drawing inspiration from the international street art sub-culture, from 'Madhubani' and 'Warli' traditions, supplemented with a background in illustration, his work is a decoction of living an Indian life in a global landscape.

IG: harshraman

---
李汉强 Kan Kyo Lee(台湾 Taiwan)
艺术家。出生于台湾台北市。东京造型大学(造形专攻)硕士毕业。从幼年时看的综艺节目中感受到日本文化的奇妙,于2007年来到日本。作品题材主要来自于对当代消费社会与生活的观察,如超级市场传单系列、周刊杂志系列,又或是已持续四年的自拍照计划juicebox selfie(每天喝一盒果菜汁自拍后传上网,每年度把自拍照精选成一幅扑克牌)及最近的李点卡计划(收集人们的卡手绘为李汉强的会员点卡)。

Lee Kan Kyo is a Tokyo-based graphic artist from Taiwan, who obtained his MA Degree in Design of Tokyo Zokei University. Since he was a child, he was fascinated by the glamour of Japanese culture on TV shows, and that led him to go ahead to Japan in 2007.
His art works are mostly inspired from modern consumerism of the society and observation of life in Japan such as Supermarket Flyer Series, Weekly Magazine Series, or an ongoing self-portrait photography, which began four years ago, Juicebox Selfie (upload a selfie taken after drinking a box of juice every day, and compile a selection of them to a pack of playing cards). His latest project, Lee point card, (a collection of hand drawings for Lee's loyalty card).

IG: lee_man_studio

征件参展者 Exhibitors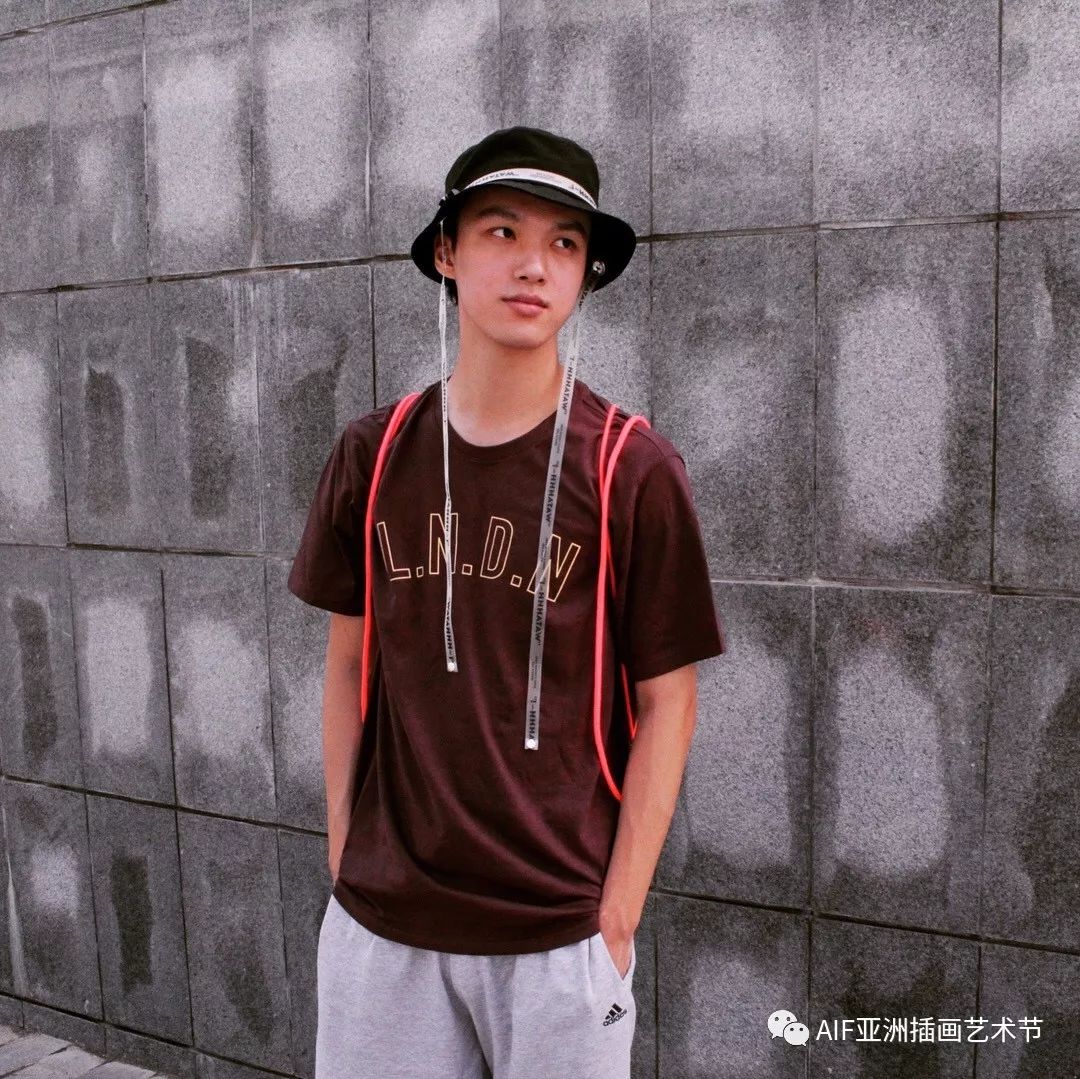 庭庭在努力
我叫庭庭在努力,这个名字从我17 岁那年就开始伴随着我,这些年到底有没有努力,我也在不断问自己,从上海九年制义务教育走出去的普通初中生,到懵懵懂懂地踏入艺术类院校,这些年在艺术工作中经历过无数的挫折和他人的否定,今年22 岁的我离开了上海戏剧学院的呵护,我明白了自己,一直就没有放弃对艺术的热爱和追求,我永远是艺术工作者,我从不会因为挫折而否定艺术,我喜欢给这个世界带来美和思考的东西,我更会用我的青春,狂野,用我的艺术来让我们的城市发出智慧之光。
I am TingTing. This name has accompanied me since I was 17 years old. I am also constantly asking myself whether I have been working hard in these years.From an ordinary junior high school student who have gone out of Shanghai's nine-year compulsory education to be a high school student who enter the art colleges unknowingly. I have experienced countless setbacks and negation of others in my artistic work these years. This year I left the Shanghai Theatre Academy in my 22-year-old. I understand myself and have never given up the love and pursuit of art.I am an art worker forever. I will never negate art because of setbacks. I like to bring beauty and thought to the world like art. I will use my youth,wild and my art to make our city send out the light of wisdom.
FB: https://www.facebook.com/profile.php?id=100017464009019
IG: leodongth97
---
步步-CindyB
我是步步,一个向往成为设计师的高中生。2015年始,绘画与摄影悄无声息地踏入了我的人生,在校园内从事摄影相关工作、办迷你个人画展等,艺术与摄影似乎一直伴随着我的成长。它们于我而言不仅是一种记录形式,更成为挖掘自我与探寻未来的媒介,讲述我内心所想呐喊出的故事,小到我自己,大到社会现象。我一直坚信人生是不断发现再迷失自我的过程。未来不是空白。它具有朦胧的色彩,而日常的酸甜苦辣则一点点为人生路画上鲜艳的笔触。
I am CindyB, a high school junior who is currently pursuing her dream of being a designer. Art and photography havesilently entered my life and witnessed my growth since 2015. I have been working as a student photographer, havehosted a mini personal art exhibition on campus, etc. As to me, art in general is not only a method of recording, but also a medium to dig into my soul, to explore the future, and to tell stories that I crave to shout out. I have always believed that life is a process of constantly discovering and losing oneself. The future is not a blank, but a hazy colored scenery. Through our growth, every tiny joy and sorrow will continuous to stroke bright color onto our life.
---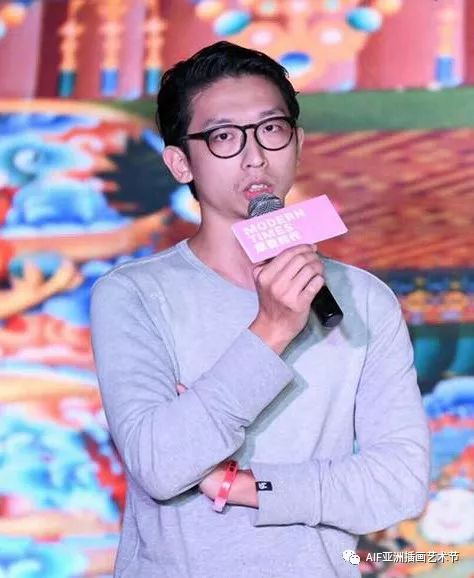 王略 Lve Wang
王略曾赴印度藏传文化保留区为期45日的文化研习,2015年作品获得澳洲悉尼白兔中国当代美术馆馆藏,并获台湾艺术新锐典藏。 王略善于撷取熟悉的东、西方元素,研究着元素重复堆叠的可能性,实与虚的互补性,通识性质的语言性以及单纯线条的传达性。使用这四个工具勾勒出具神话性质的图像画面。思考着人类的起源和创造性,在所身处的现代,神话的影响与作用究竟可以透过当代的表达带来什么样的启发。
Lve Wang once went to the Tibetan Cultural Reserve Area of India for cultural studies. In 2015, his work was stored by the White Rabbit Gallery in Sydney Australia, and awarded emerging artist in Taiwan by the Ministry of culture.
Inspiration comes from Wang's observation of traditional culture. Lve Wang's works are humorous, fascinating, filled with mythological imagination, involving graffiti, folk art, and creative expression.
个人页面: https://www.lvewong.com
FB:
---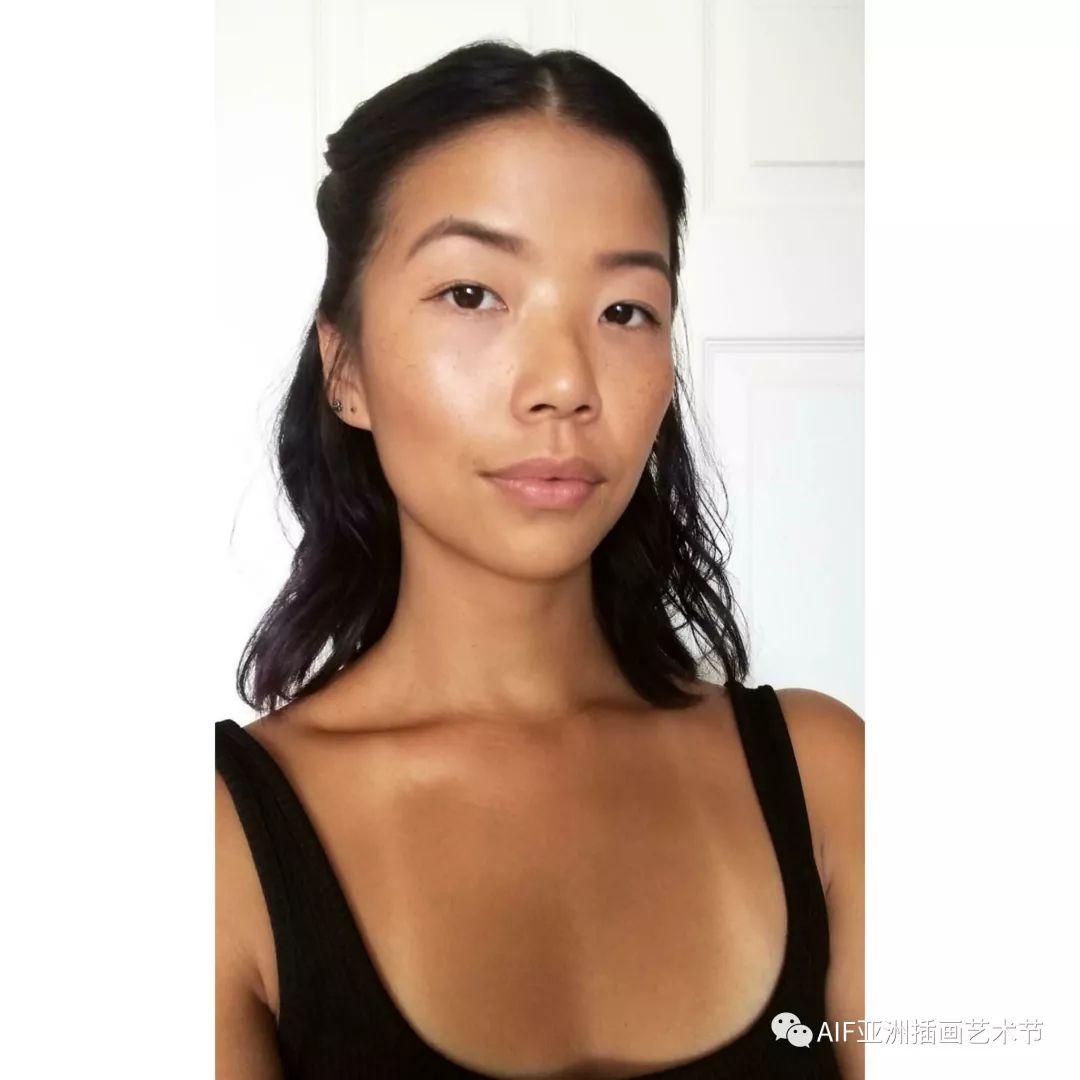 黄诗云 Coco
Coco是一位出身于台湾,留学于加拿大的艺术创作者。目前在台北生活和创作。对她来说,旅行是她作品主要的灵感来源。在旅途过程中,每件不期而遇却又充满惊奇的收获,以及难以形容的旅程回忆是她作品的聚焦点。从这些无可替代的回忆里,细心的编织在人类的复杂情感中,以此去重新界定生命的意义与人性的本质。在她作品里,不仅探讨了人本质与社会的关系,而且通过细微的身体觉知,去刻画人与人相处时的感受,呈而去面对自我内心的情感。
Coco is an artist living between Taichung, Taiwan and Vancouver, Canada.As a Taiwanese Vancouverite who has traveled extensively around the world, spontaneous encounters and indescribable experiences are most valuable to Coco. She collects these special moments and transform them into something of her own. Her art is inspired by the complex emotions that make us human. Joy, grief, uncertainty, gratification and the search for meaning are focal points of her work.
Coco's work has several goals. One is to engage her audience to reflect on their own identities within their communities. Another is to instill an awareness in audiences of their bodies in relation to others, as well as connecting with their innermost feelings.
FB:
IG: cocohuangart
---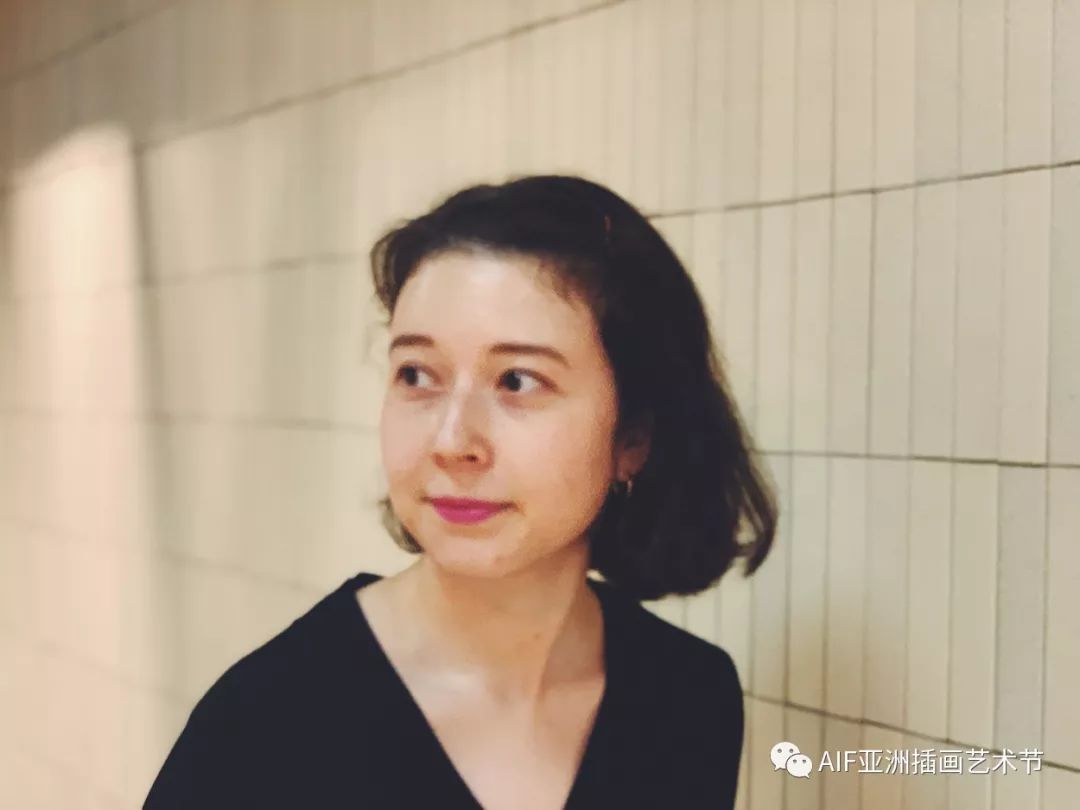 FACES
我的工作源于对人的兴趣,包括对我自己。认识事物之间的关系和创造行为是我了解自己和成长的方式。当不同的要素运作良好时,我们就会体验到纯粹的幸福。即使它们不能很好地发挥作用,也会给我们留下问题。这些问题的答案可能会让我们快乐,也可能不会,但我认为寻找答案本身就是快乐的源泉。在我看来,这个过程能帮助我们更深刻地理解和热爱生活。
My work stems from an interest in people, including myself. Identifying how things relate to each other and the act of creation are means by which I come to know myself and grow as a person. When the different elements function well, we experience pure happiness. Even when they do not function well, we are left with questions. The answers to those questions may or may not make us happy, but I think that the search for answers is itself a source of happiness. To my mind, this process helps us understand and love life more deeply.
FB: https://www.facebook.com/profile.php?id=100006794670069
IG: jasminefulford
个人页面: https://www.jasminefulford.com
https://jasminefulford.myportfolio.com
---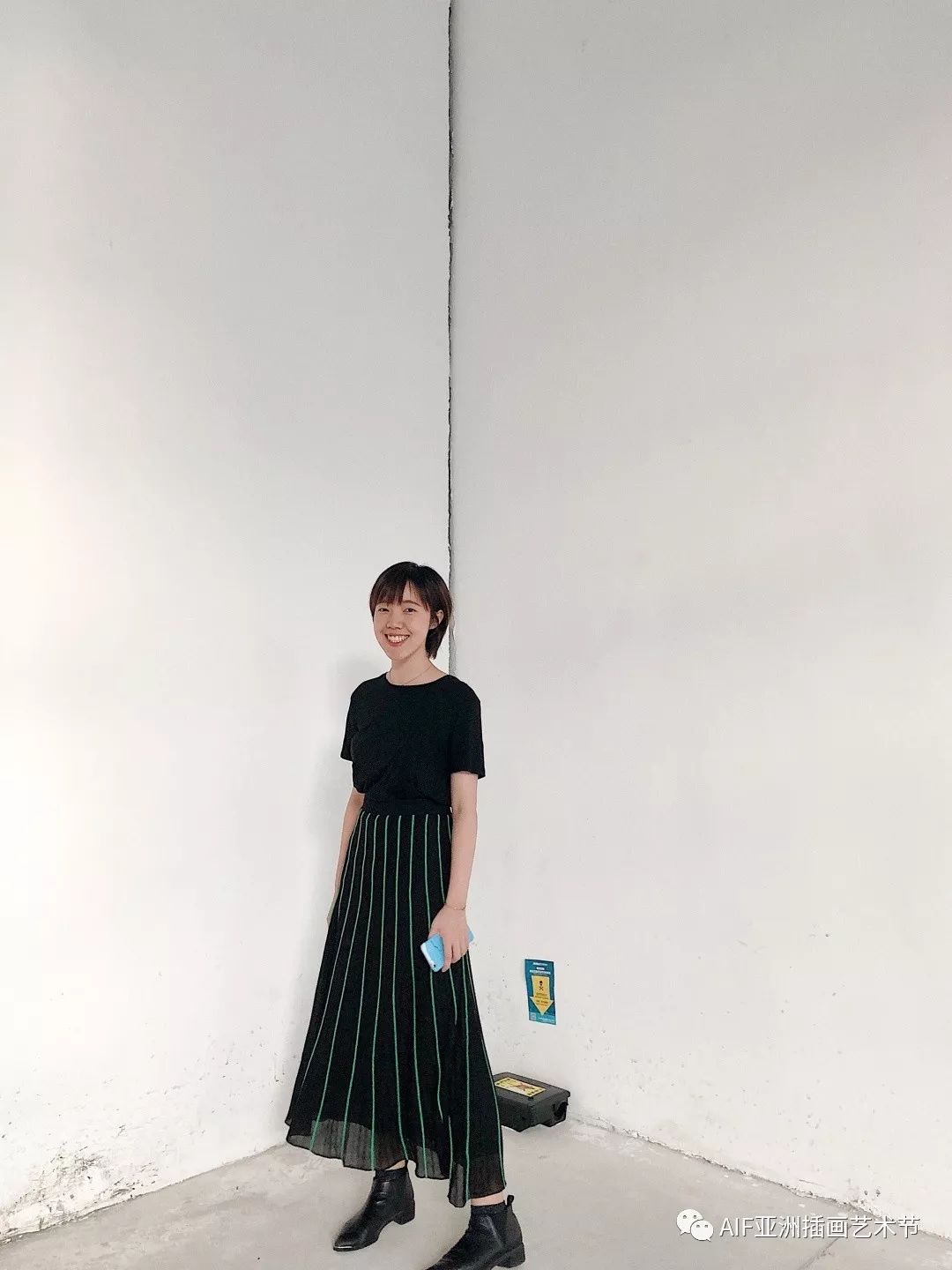 dorarororo
作为一个加班成习的平面设计师,插画变成我成为社会人后对自我时间、自我空间、自我触觉的保护行为。观察外部世界,审视内在情绪,再让这一切变成可视的线条、色块,这一切都能给我最纯粹的快乐。
As a graphic designer suffering overtime-working, illustration has become a protective way for self-time, self-space after I became a social man. Observing the outside world, looking deep in the inner mood, and turning them all into visible lines and colors, always gives me the purest happiness.
IG: dorarororo
---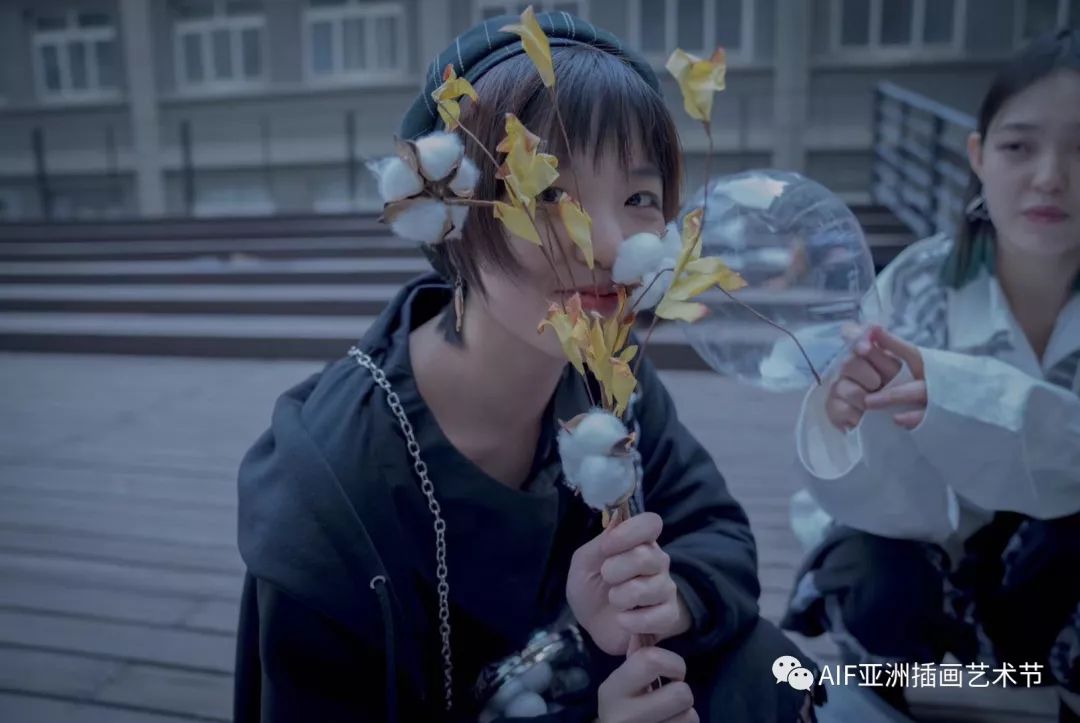 冯舸
我是冯舸(orchilla),一半时间扮演正经插画师,一半时间为自由艺术家。毕业于北京服装学院,即将就读于英国皇家艺术学院,继续研究绘本创作和视觉艺术相关。作有绘本故事《Another Me and Myself》、《我的英雄》。
我擅长表达柔软细腻的情感,这对我来说是贯穿创作始终的。自我与社会产生的微妙偏差对我来讲始终是一个有趣的矛盾,这也促使我不断思考。我希望可以创作出有温度也有力量的作品。
I am Feng Ge (Orchilla), half as a serious illustrator, and half as a freelance artist .I graduated from Beijing Institute of Fashion Technology and am going to study at the Royal College of Art to continue my research on picture books and visual arts . I create original picture book Another Me and Myself, My Hero.
I am very good at expressing soft and delicate emotions, and emotions are always throughout my creation.The subtle deviation between self and society is always an interesting contradiction for me, which also keeps me thinking. I hope to create my works with temperature and power.
微博: @不安定草余
个人页面: https://orchilla.weebly.com/
IG: ooorchilla
---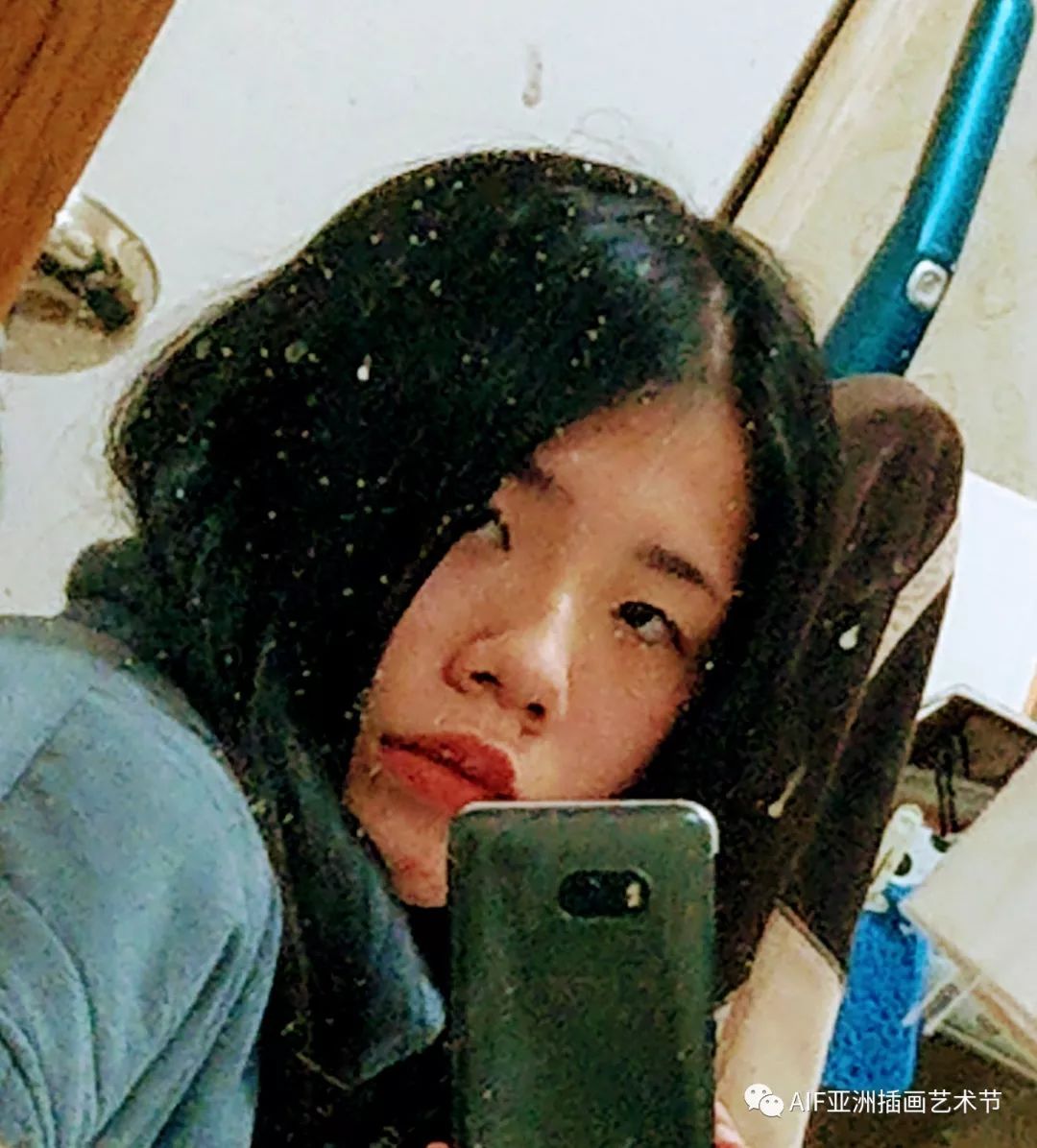 Rita Afra R
对人体线条有莫名的迷恋。
当在脑中看到有趣的肢体或画面一闪而过时,那些影像通常会成为创作的主要概念并加以延伸。
Infatuated with human body shape.
When some interesting limbs or pictures flashing past in mybrain, they usually become the main concept of my illustration.
FB: https://www.facebook.com/rita.a.r.9/media_set?set=a.1425869074222570&type=3
IG: rita103028
---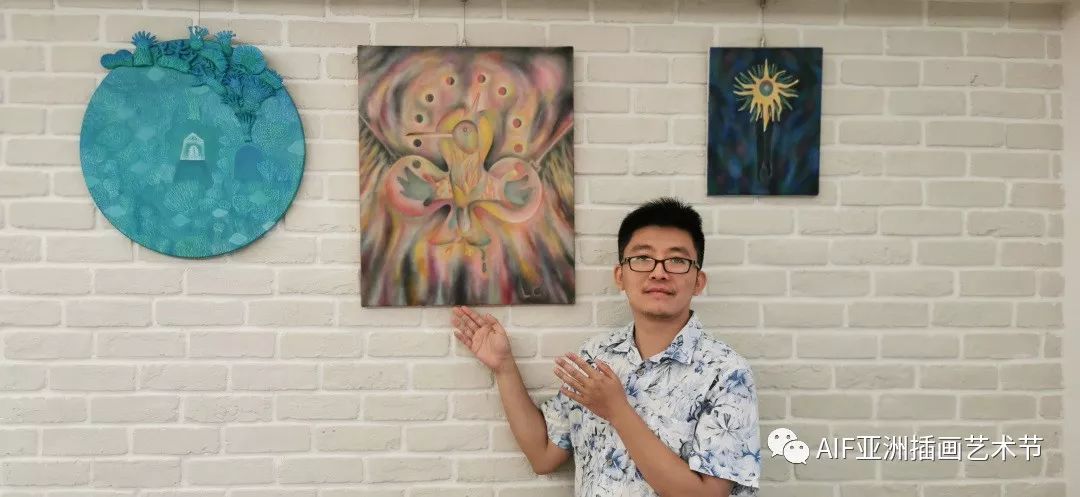 查尔斯@小丑狮
工程师出身的艺术创作者,作品类别横跨插画、艺术创作与绘本,并透过网路长期经营插画品牌「小丑狮」。艺术就是寻找有趣的限制。透过每个新系列,探索创作中新的可能。
An artist has software engineering background, whose types of works contain illustrations, art pieces, and picture books. He also manages a illustration brand: "Lion Clown". Art is a game finding interesting restrictions. Through each new series, new possibility about creation is explored.
FB:
个人页面: https://lionclown.com/en
---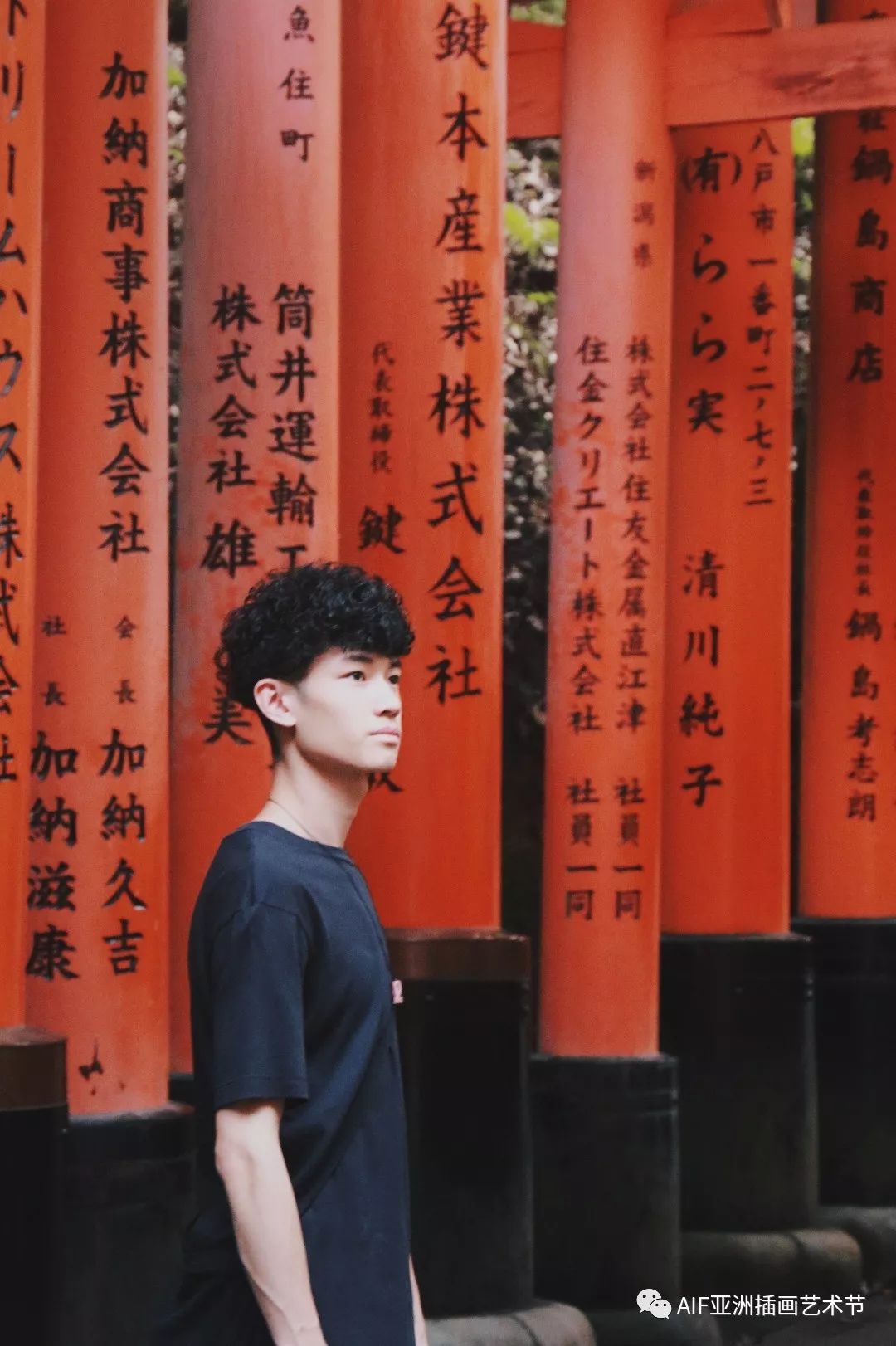 林耀华 David Lam
林耀华是香港的插画师和产品设计师。他毕业于HKDI,获得产品设计高级文凭,并在伯明翰城市大学完成了产品设计学位。
林耀华喜欢以不同的艺术形式创作艺术作品,包括水墨画,电脑绘画,Fotomo,手绘动画和3D模型艺术品。
David Lam is an illustrator & product designer from Hong Kong. He has graduated from HKDI in product design higher diploma and he finished his product design degree from Birmingham City University.
David Lam also enjoys creating artwork in a different form of art, including ink drawing, digital drawing, Fotomo, animation, and 3D model artwork.
FB: David Lam
IG: davidlyw_
---
HALIDENG哈里
一个异想天开的外星生物
a whimsical alien creature
微博: HALIDENG哈里
---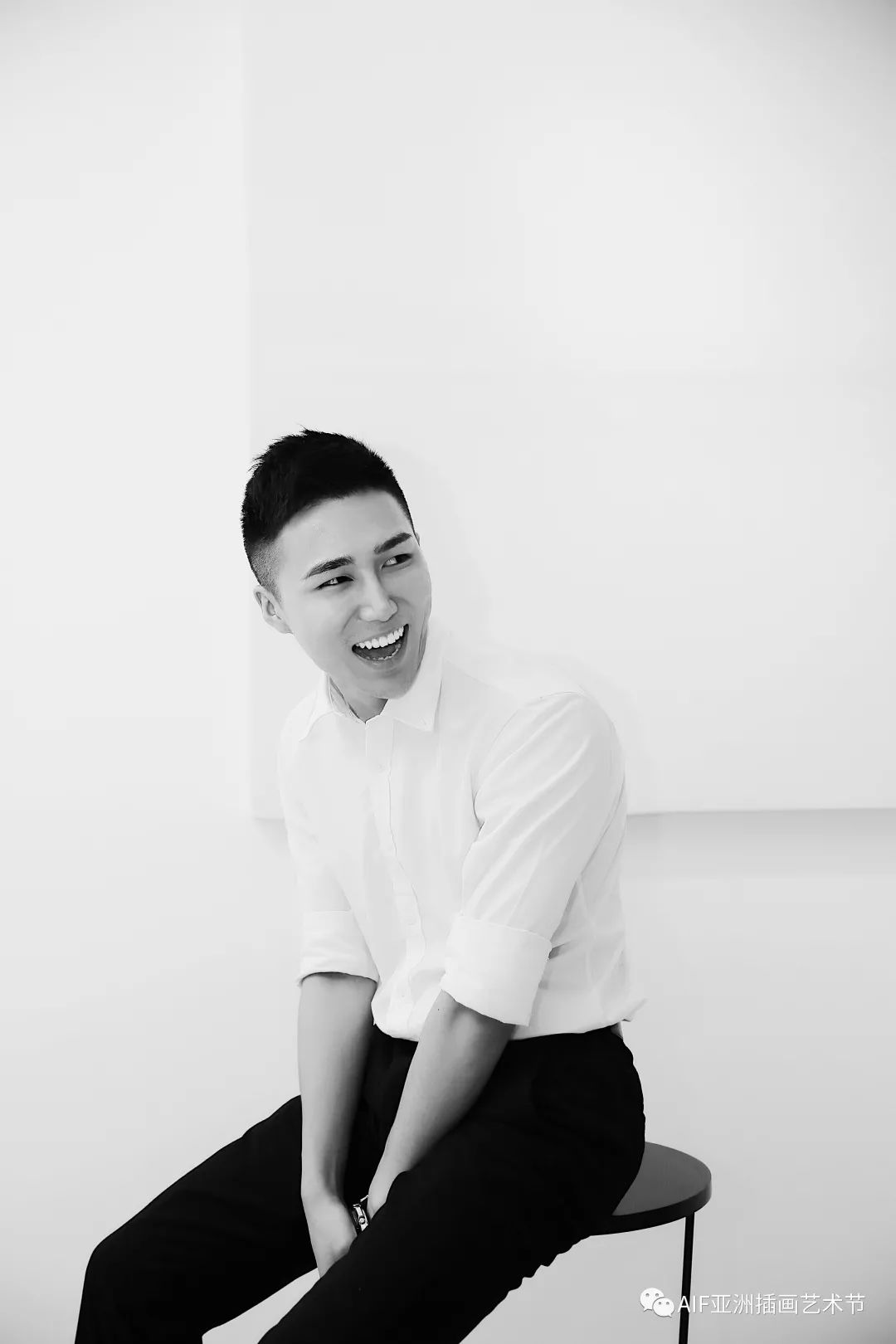 王东旭 – WANG DONG WOOK
从小热爱绘画的我,从7岁坚持绘画,到大学深造艺术学到新锐插画设计师;从参阅各种艺术类书籍解读艺术美学到不断受邀发表美学论题演讲与画展;从绘画到视觉设计/交互设计/插画设计进行深度探索,突破常规,擅长用点/线/面/光影进行创作绘画……
I have loved painting since I was a child, and have been painting since I was 7 years old. After entering the university, I chose to pursue further studies and then became a new illustrator designer. Not only do I read various art books to interpret artistic aesthetics, I am also constantly invited to publish aesthetic lectures and exhibitions. I have in-depth exploration in painting and visual design/interaction design/illustration design, breaking through the conventions, and specializing in creating paintings with dots/lines/faces/lights……
微博: WangDongwook
---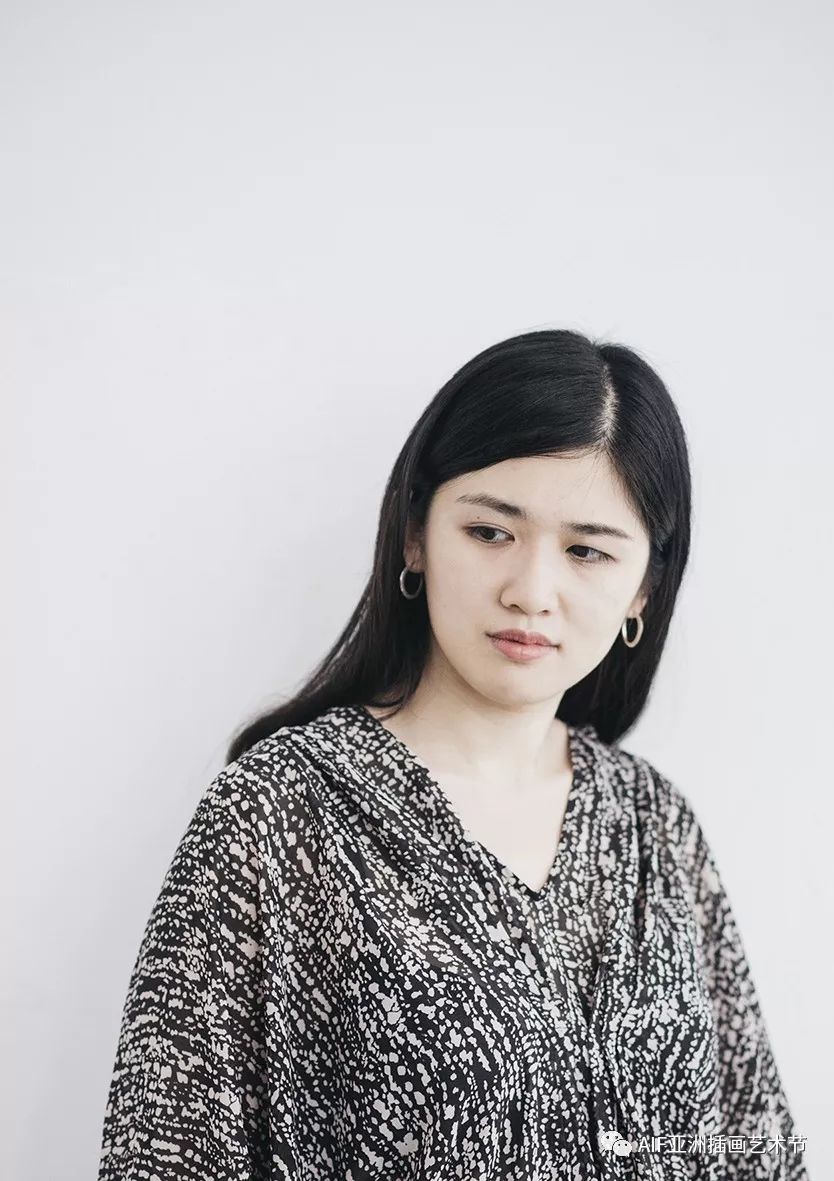 王妤璇
台湾人,曾于巴黎就学与工作七年,从事绘画与设计相关行业。作品有时以细腻的笔触为主,有时则带着奇异幻丽的色彩,喜欢将自然生物作为元素带入画中,同时结合优雅的调性与诡奇的氛围。参与绘制2018年金曲奖入围影片片头插画,现暂居于上海工作。
Illustrator and graphic designer from Taiwan who Studied and worked in Paris for 7 years. Currently working in Shanghai.
Her artwork combines the elegant and strange. Influenced by nature, animals and plants, elements of which can be seen throughout her body of work.
FB: @yuhsuanwang.tw
IG: yuhsuanwang.tw
个人页面: www.behance.net/yuhsuan
yuhsuanwang.com
---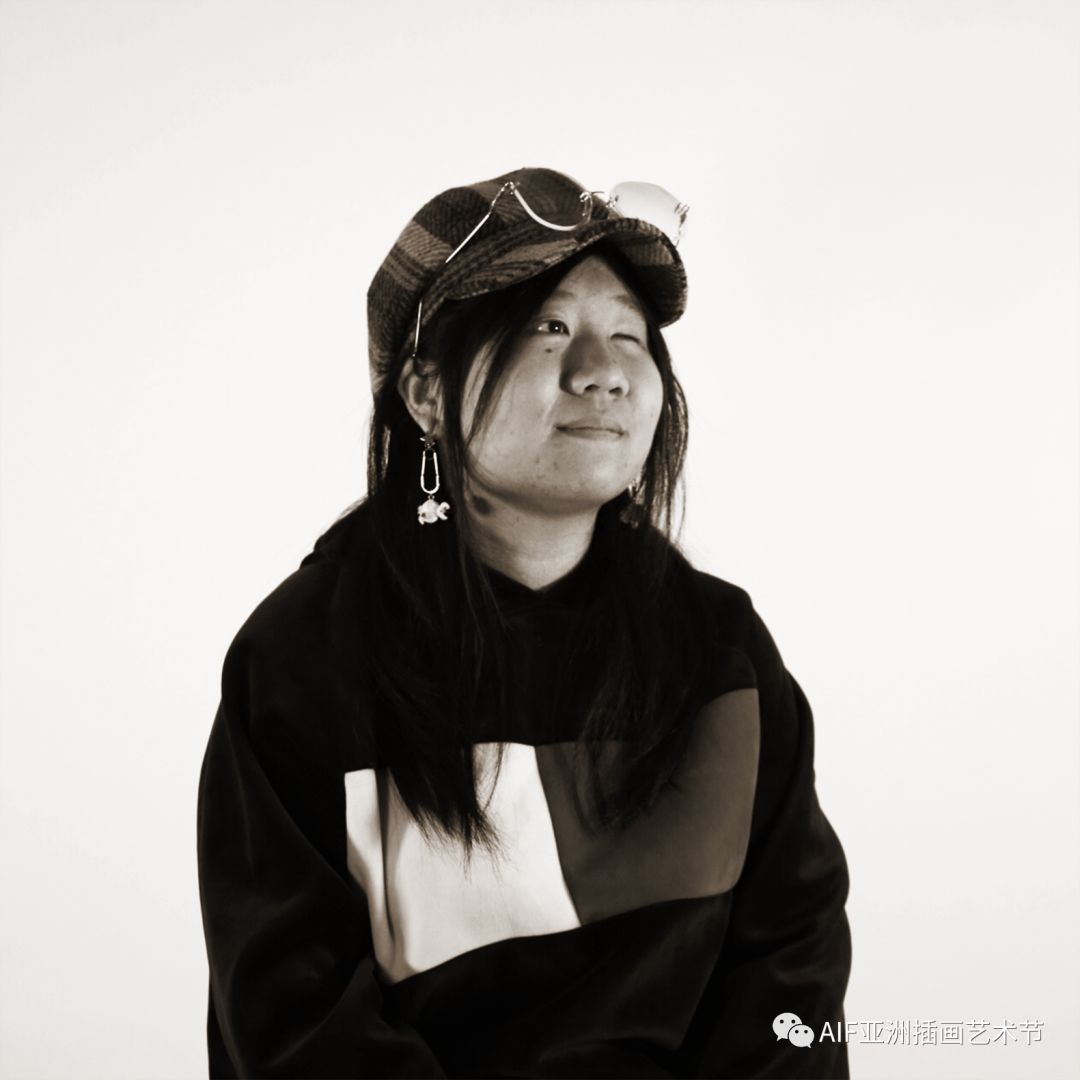 草棉谷RONG
哈啰! 我是RONG
一位插画创作者
喜欢看插画,也画插画的人
目前就看看插画,画画插画,接接案子过生活!
Hello! I am RONG.
love illustration
FB:
个人页面: https://rongart85.wixsite.com/rong-art
---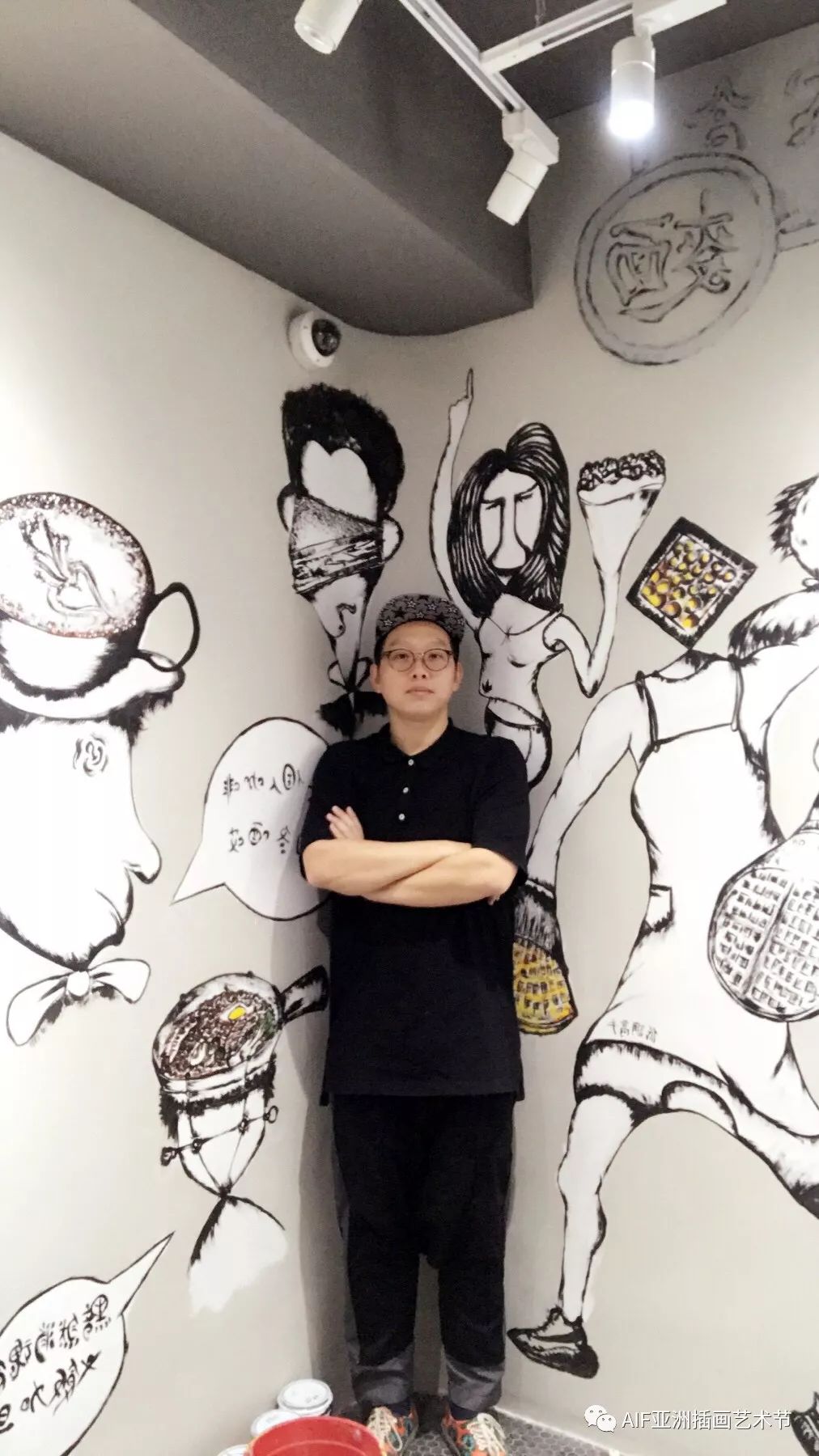 悉式创作
黄家铨 – 热爱创意行销,善于以故事营销方式为企业建立品牌形象及推广产品和服务.
独立创作人,从事插画,设计,产品展示(陈列), 制作独立电影及动漫多年动画/漫画制作相关经历:
– 参与第十五届中国(深圳)国际文化产业博览
– 参与2018 台北插画艺术节
大型壁画创作:
– 果里文创节(深圳), 书汇The library – Bibliotheque (co-living space) (2017)
– TVB无线电视 <打开创意天空> – 动画组入围奖 (2014)
– 第2届中国(杭州)国际微电影展 – 动画入围奖 (2014)
– 第七届DV头青青年社会观察动<我城>短拍摄赛公开组 – 冠军 (2013)
– 第2届中华区插画奖 – 优秀奖(2012)
– 参与动漫都市展览(香港及深圳)(2012)
– IFVA港独电影及短节 – 动画组入围作品 (2010)
# 重要作品:天涯旺角,北极熊启示录
A designer and an award winning filmmaker, KC Wong has been involved in independent film, video and animation production since October 1999. Starting in photo editing and progressing to production assistant (TVB), KC has worked on commercial video and visual communication projects with companies in both Hong Kong and China.
KC brings a depth of experience in visual communication to his works, with certification in Creative Screenwriting (The Open University of HK, 2005), a BA (Hons) in Design and Visual Communication (Hong Kong Polytechnic University, 2003), and qualifications in Advertising Design and Computer Art and Design.
In demand in Hong Kong as a freelance script writer and assistant director, in the last two years KC has been involved in different kinds of animation and video production.
FB:
---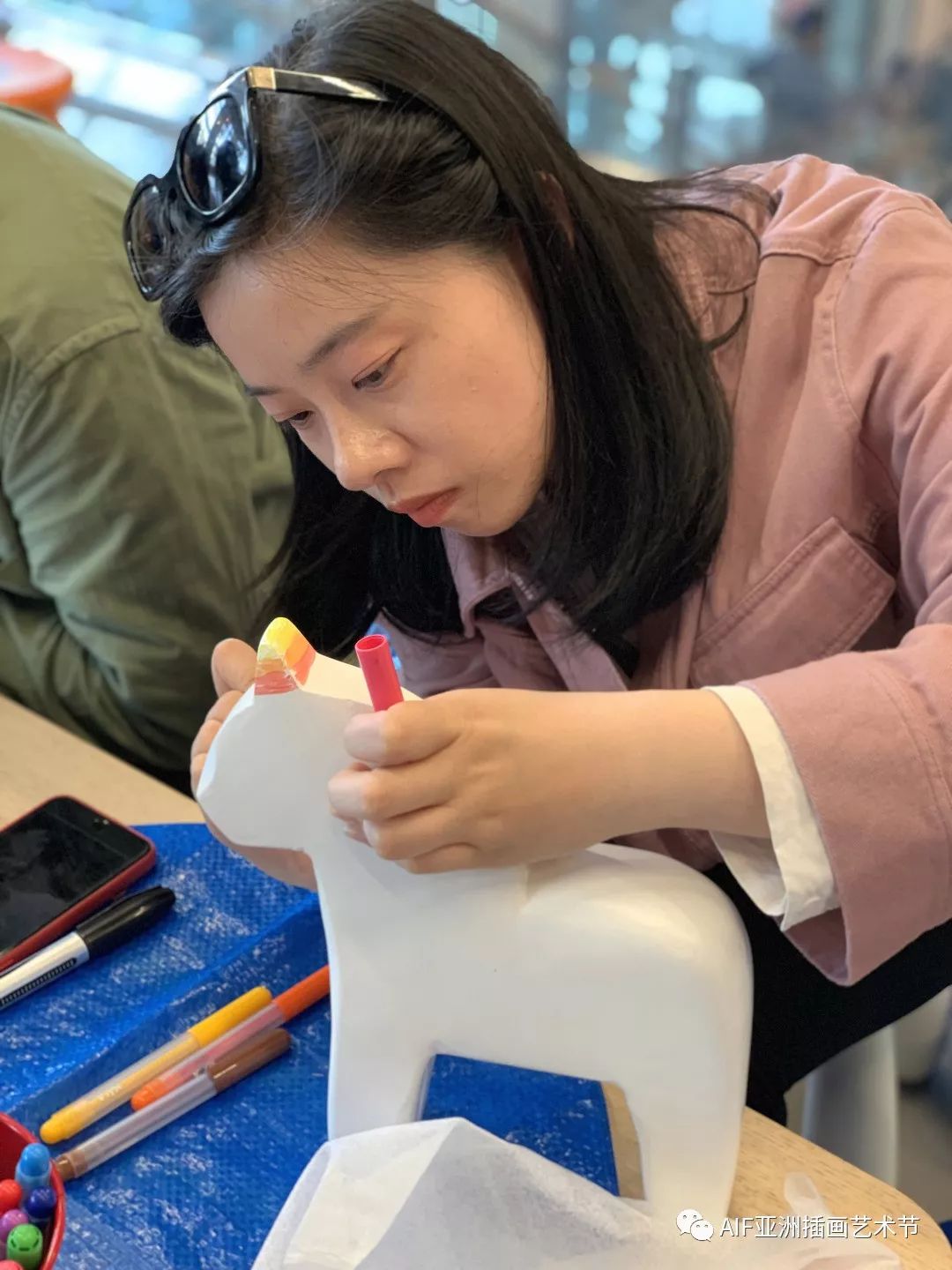 吉彦婷
毕业于上海大学艺术设计专业
涂鸦王国认证插画师
花瓣认证插画师
2018年中国第三届美术大赛 优秀奖
2018年画你最爱的rapper 插画评选活动 作品被收录《YA!BERSERK》2018中国艺术展首展
2018年作品入选《象素时尚插画艺术展》并展出
2018年作品入选《清代通草画vs现代插画展》并展出
2018年大艺时代全国插画设计大赛 入围奖
2018年大艺时代 "滨海杯"鸟类保护插画大赛 银奖
2019年作品入选 JOEY'S MARKET × 小栗子插画艺术展 并展出
2019年参与猫纪年× 杭州宜家商场活动 现场手绘宜家袋和小木马给小朋友
Graduated in art design major from shanghai university
Certified Illustratorin CRACG
Certified Illustratorin HUABANPRO
2018 The third session of china art competition | Excellence Award.
2018 Activity "Draw your favorite rapper illustrations" Works are included《YA!BERSERK》 2018 China art first exhibition.
2018 Works selected in and display at <Xiang su fashion illustration art exhibition> .
2018 Works selected in and display at<Tongcao Painting in Qing Dynasty VS Modern Illustration Exhibition>.
2018 DA YI SHI DAI National Illustration Design Competition | FinalistAward.
2018 DA YI SHI DAI ""BEI HAI CUP" Bird Protection Illustration Competition | Silver Award.
2019 Works selected in and display at< JOEY'S MARKET × Chestnut art illustration exhibition.
2019 Participate in the Cat Annals × Hangzhou IKEA mall activity Hand-painted IKEA bags and Trojans for children.
微博: Jenny不愿婷留
IG: jennyji1108
个人页面: http://www.zcool.com.cn/u/15606510
https://www.douban.com/people/150175905/photos
---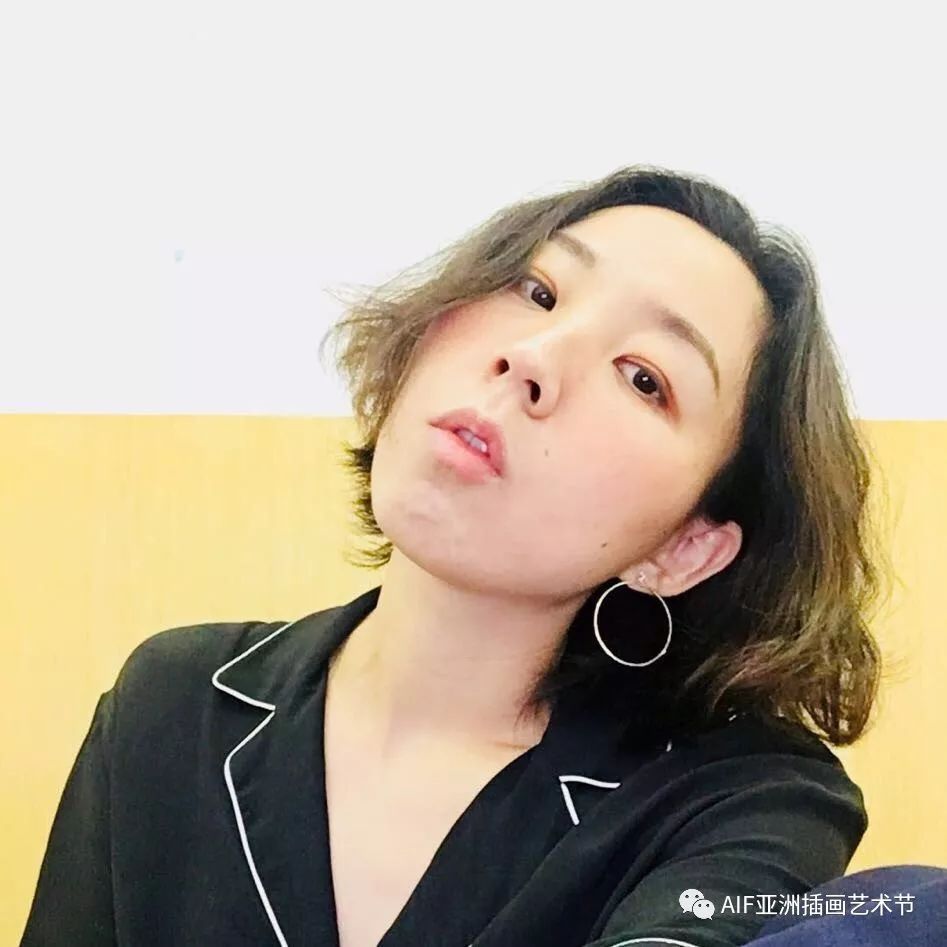 qss
我是来自上海的插画师,喜欢用拼贴与手绘相结合的方式表达个人对于插画的理解。大多数时候,与家或者与朋友之间的发生的一些细小的故事会激发我的创作灵感。虽然有一些故事看着微不足道,但是它们同样可以展现出一些温暖的片段,而这些温暖正是我想给与每一位读者最好的礼物。
An illustrator based in Shanghai. I am interested in using collage and drawing in combination to create my illustrationworld. Most of the time, my inspiration comes from some stories which are about the delicate relationship between me, my family ormy friends. Although a few stories arenegligible, they still narrate some warm episodes. That is what I want to convey to everyone – warmth.
IG: qssillustration
---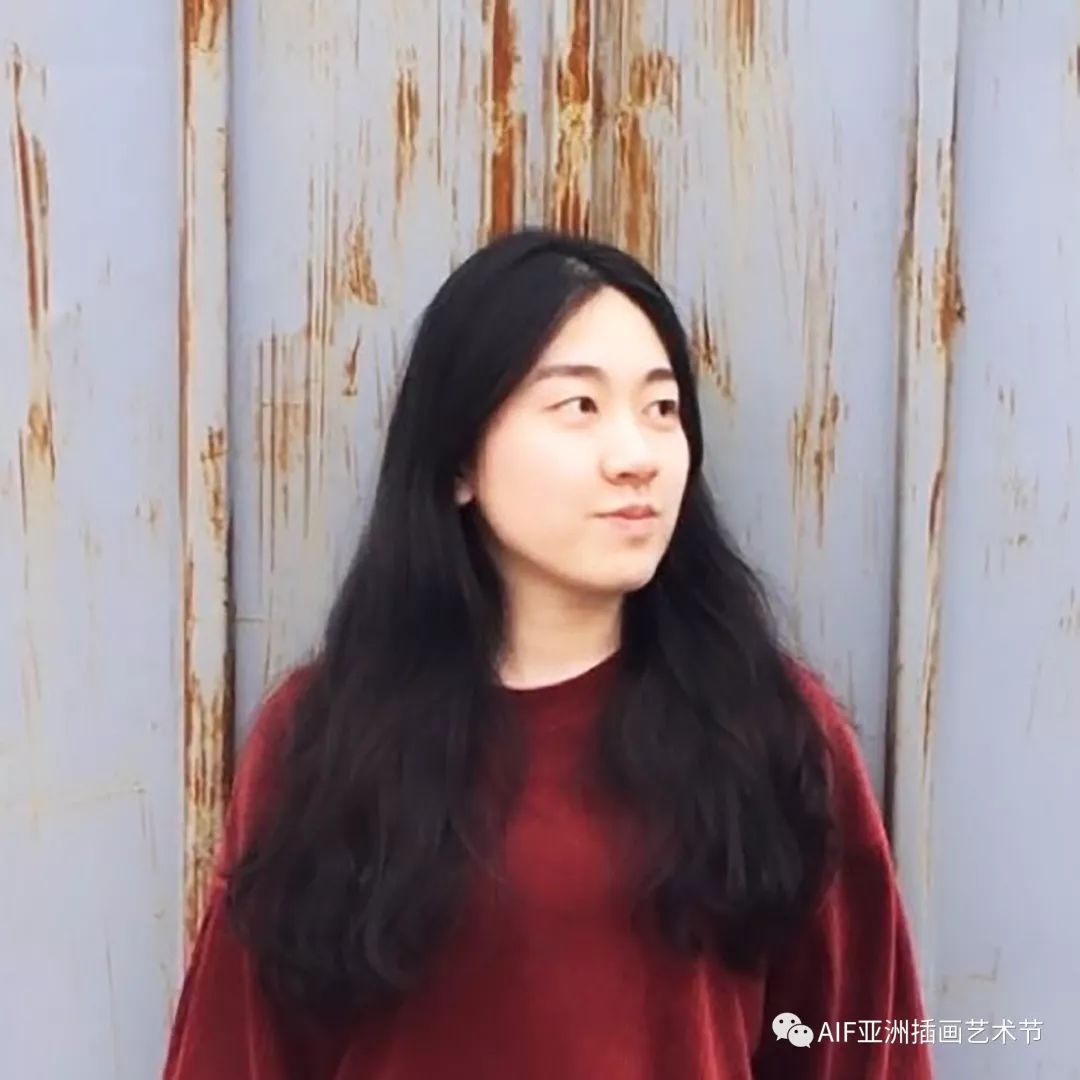 江季安 Arial Chiang
江季安,1995年出生于台北。2017年毕业于台北实践大学媒体传达设计学系。热爱插画与绘本、邮票,也非常喜欢 大自然的动植物。目前与母亲从事茶相关的工作。
Arial Chiang was born in Taipei in 1995. She graduated from Shih Chien University in 2017, where she majored in Communications Design. She has a great passion for drawing and picture books, also loving postage stamps and all the animals and plants in nature. She's now working with her mother in the field of Chinese tea art.
FB: ArialChiang
IG: arialsfantasy
个人页面: http://cargocollective.com/arialchiang
---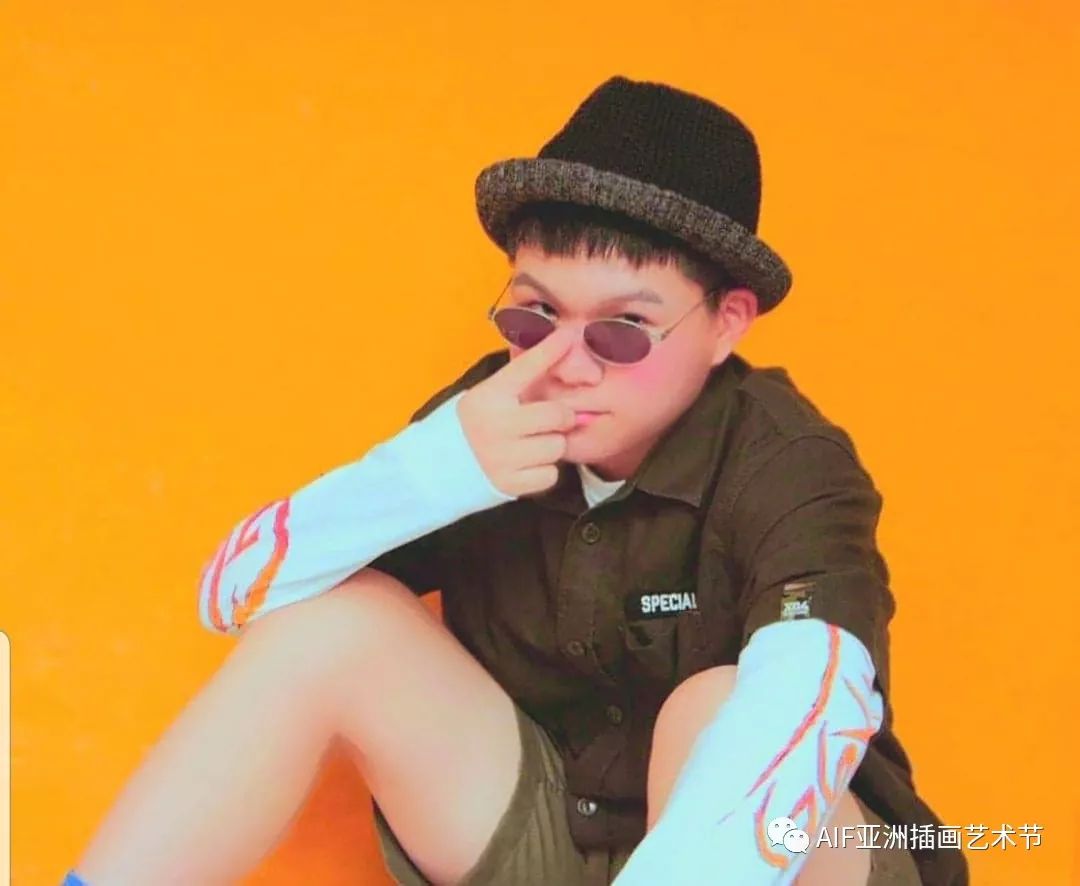 丘山雨林
大家好,我是李岳霖,在插画的世界里用『丘山雨林』来代表自己。我的兴趣是画画,版画和水墨的创作方式是我不断追求与精进,也醉心于彩墨的创作。目前就读于台湾北投区的复兴高中美术班,将来升大学时会继续选择艺术这条路。
Hello everyone, my name is Alex Lee . I am seventeen years old.My favorite hobby is to draw.I study in Taipei Municipal Fuxing Senior High School.I am an eleventh grader.My favorite pop group is MAMAMOO.I hope l can go to a good art university later.
FB: dalin910116@yahoo.com.tw
IG: ____s_pongebob
---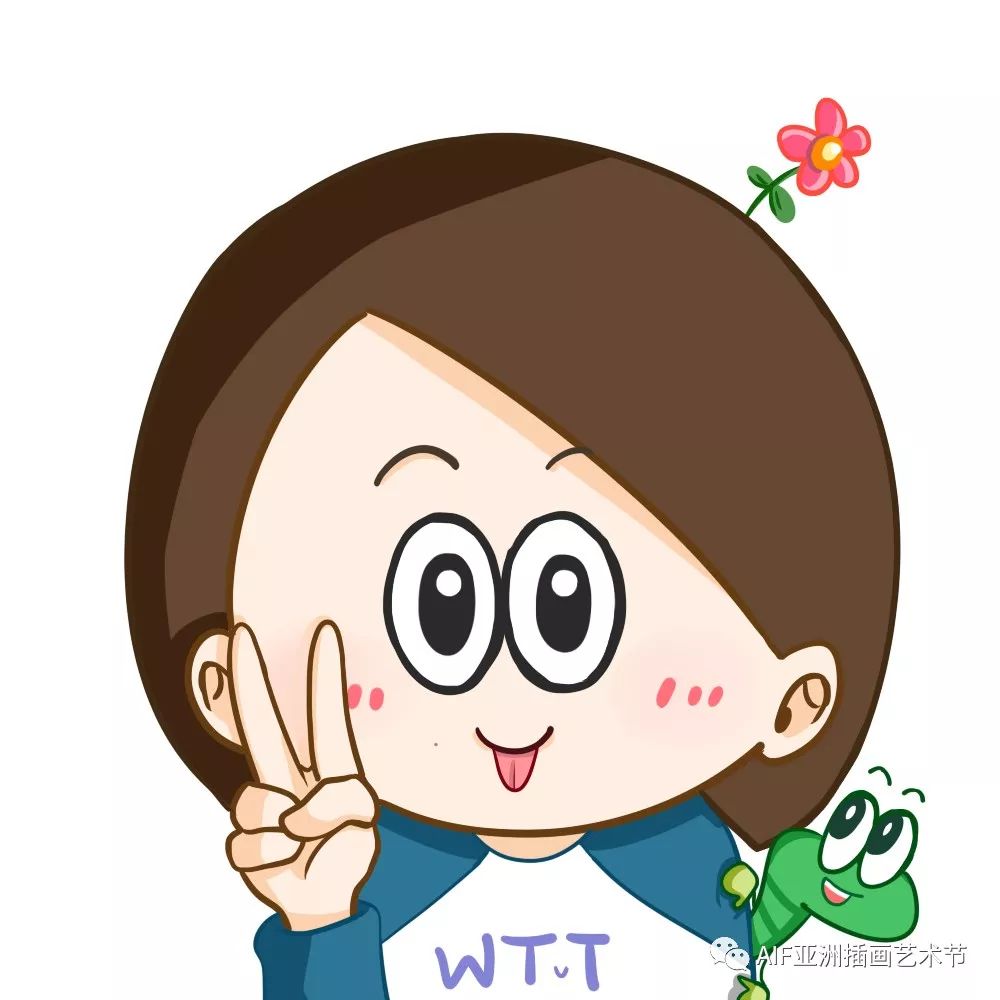 大头妹 WTT BigHeadGirl
我其实是化学系的毕业生。虽然我的专业是科学,但是平常的我喜欢画画。
现在我是一名中学的化学老师,可是我从来没有放弃画画。业余就是绘画,我也开了一个instagram专页,一直也在营运它。
前阵子也为我的母校设计50周年的社交聊天手机应用程式的贴图和纪念品。
我也想借此机会,向成为一名插画家这个梦想踏出第一步。
I am graduated from Chemistry Department of the Chinese University of Hong Kong .
Though I am a science student, I enjoy digital drawing and painting.
I am now working as a chemistry teacher, but I never give up my hobbies and dream.
I keep on working on my IG page.
I have also been the designer of the Whatsapp's stickers and souvenirs for my alma mater's 50th Anniversary in 2018. .
I would like to take this opportunity to take a one step towards my dream – as an illustrator.
IG: @wttbhg
个人页面: https://wttbigheadgirl.carbonmade.com/
---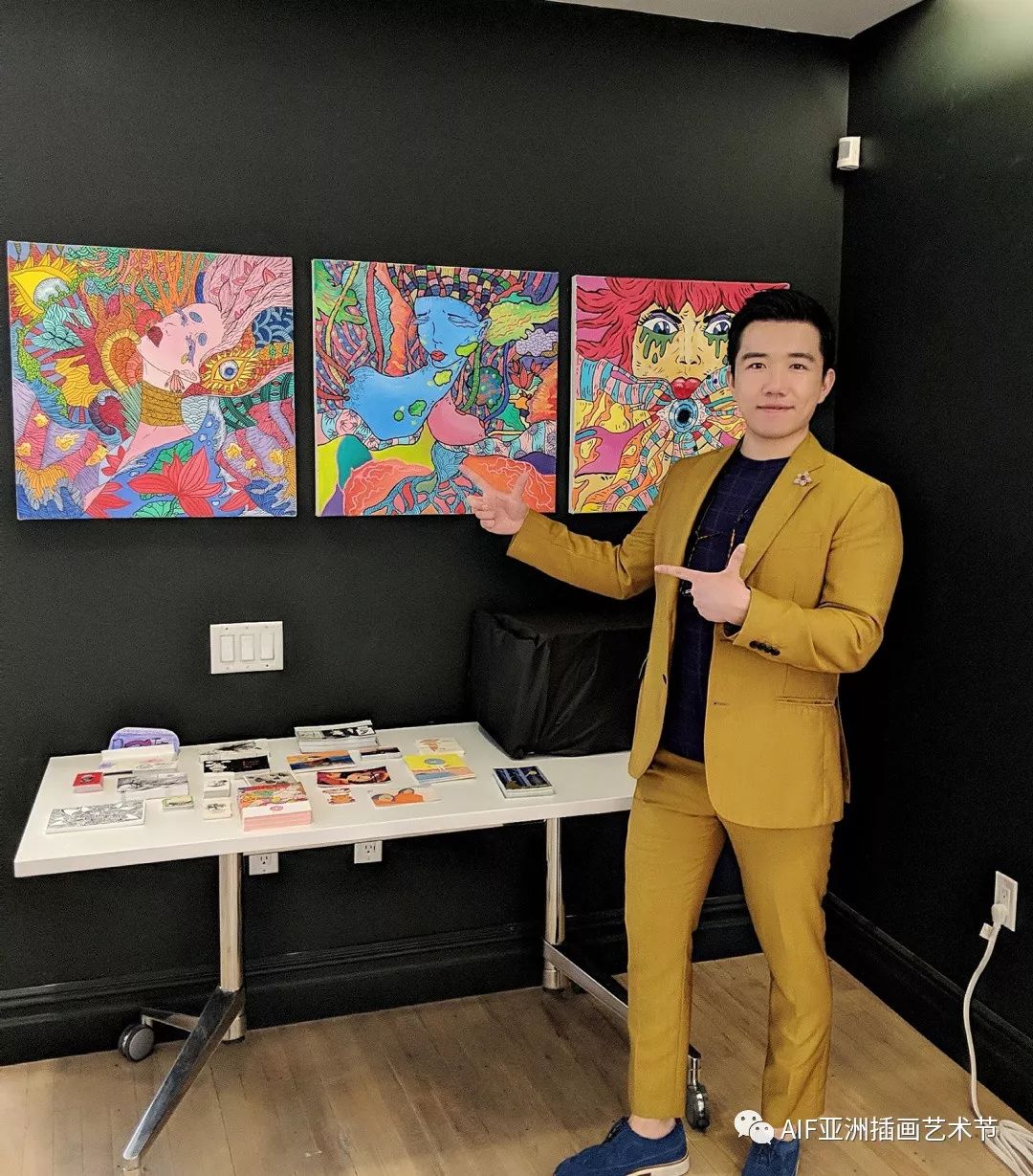 Qiurui Du
杜秋锐成长于北京,常年居住于纽约。在艺术家庭熏陶下,他有着对于艺术的极⾼的热爱。本科毕业于纽约Parsons School of Design的插画系,现就读于Pratt Institute的MFA Painting and Drawing, 秋锐用自己独特的视⻆去观察生活,并把这种独特的视⻆角带入到他的艺术作品中。秋锐的艺术有着独特的叙事能⼒,在他的艺术作品中,他将他的情感,爱,还有恐惧融⼊入到五彩斑斓的颜色当中。并用他独特的想象力去创造一个属于他的世界。
Qiurui Du is an artist from Beijing, China and is currently based in New York City. Having grown up in an artistic family, his love of art grew tremendously. Queer identity and life experience give Qiurui a unique point of views and inspirations in art. Qiurui believes that art is a way to tell stories and, through his work, he expresses his emotions and ideas with vibrant color and animated images. In his work, he deconstructs his inner fears and loves as well as subjects from pop culture and those inspired by his surroundings and daily experiences within the social framework.
IG: qiuruidu
FB: Qiurui Du
---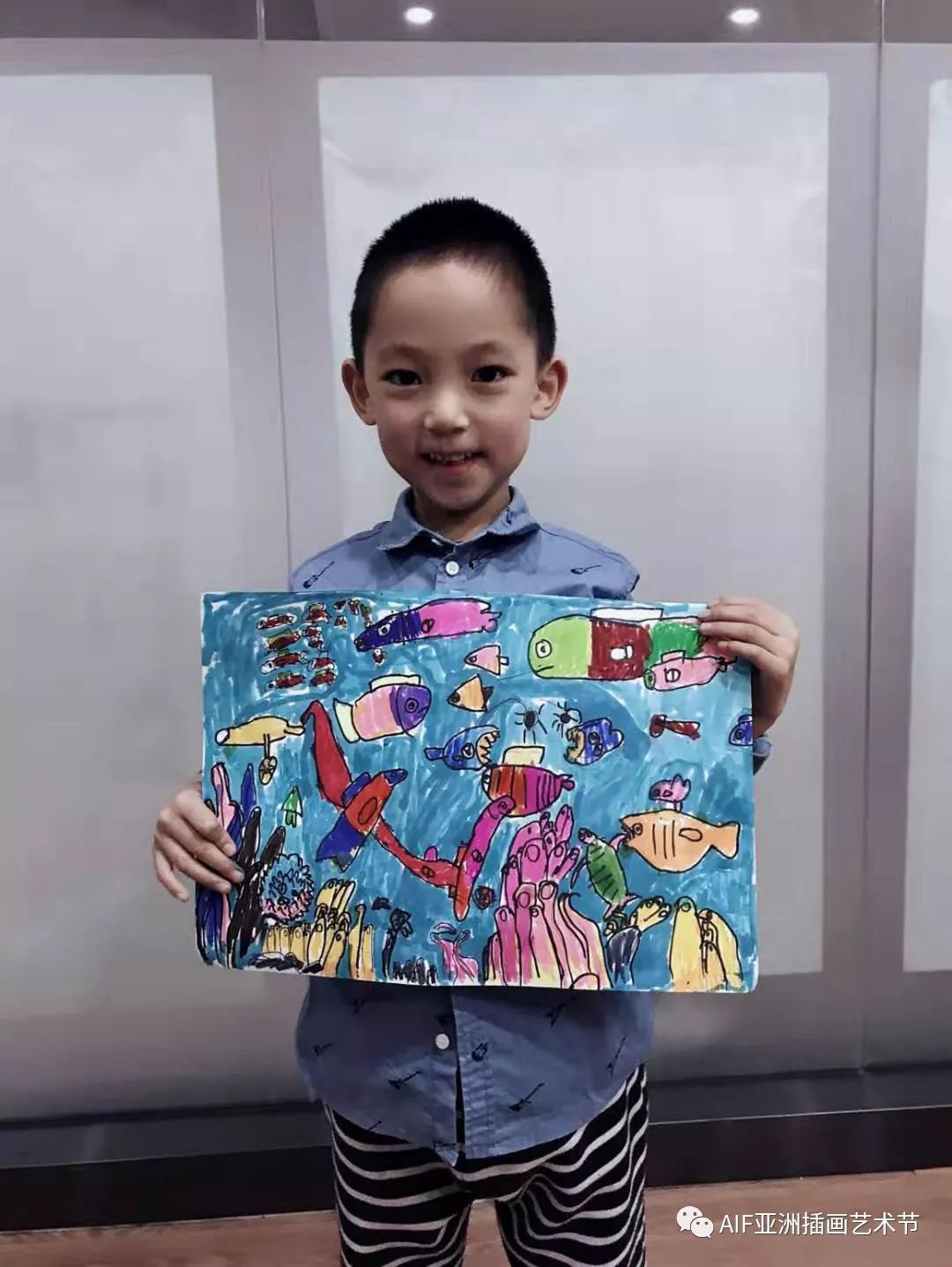 朱梓墨
朱梓墨,六岁,来自于深圳福田区,目前在读幼儿园大班。喜欢绘画,平时的涂鸦作品想法独特,想象奇妙,有孩童的特点。学习绘画两年来,多次在校内获奖,其中版画作品《小象和妈妈》曾入选中日少儿版画展,另一幅《母子》刚刚入选广东省青少年首届中加作品展。
Zhu zimo, six years old, from Futian District, Shenzhen, is in the kindergarten. He likes drawing very much. His usual graffiti works have unique ideas, wonderful imagination, and the characteristics of children. After studying drawing for two years, he has won many awards in school. Among them, the work "Little Elephant and Mother" was selected for the Japanese Children's Print Exhibition, and the other "Mother and Child" was just selected for the first Sino-Canadian exhibition of youth in Guangdong Province.
---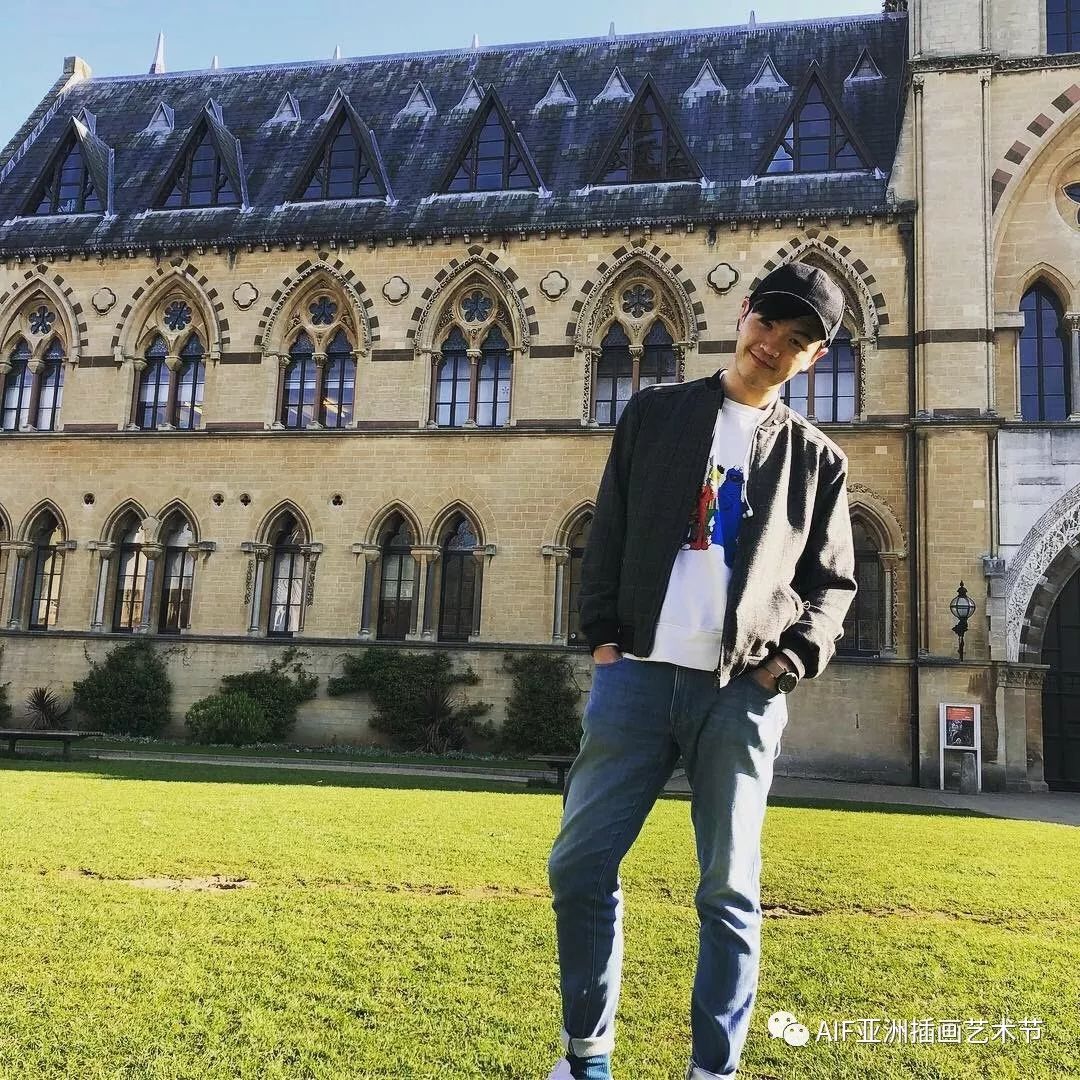 咚东
咚东,台湾彰化人,自由接案插画家、绘本作家、32页绘本工作室的讲师。
2019年毕业于英国剑桥艺术学院童书插画学系硕士。
擅长儿童插画与绘本创作,喜欢用小孩的视角去说故事,色彩运用上饱和鲜明,喜欢大自然,
常把动物拟人化作为画作或是绘本的角色,作品希望能以简单纯真的画面,带出更多的感动与快乐。
2016年开始接案工作,接案以书籍杂志出版物、商品设计及绘本的插图创作为主。
Dong Dong, from Taiwan. He is a freelancer, children's book author, a tutor of 32 pages studio. He earned his master degree of Children's book illustration at the Cambridge school of Art in the UK in 2019. He is good at children's illustration and picture books creation. He likes to tell stories from the perspective of children. His works are usually featured at bright and saturated colours. He loves nature and usually uses animal figures as main characters. He hopes that he can bring more warm and pleasure to the readers, out of his simple and innocent picture style.
FB:
IG: dong_art_illustration
个人页面: https://www.dongillustration.com
https://www.behance.net/weiting8825
---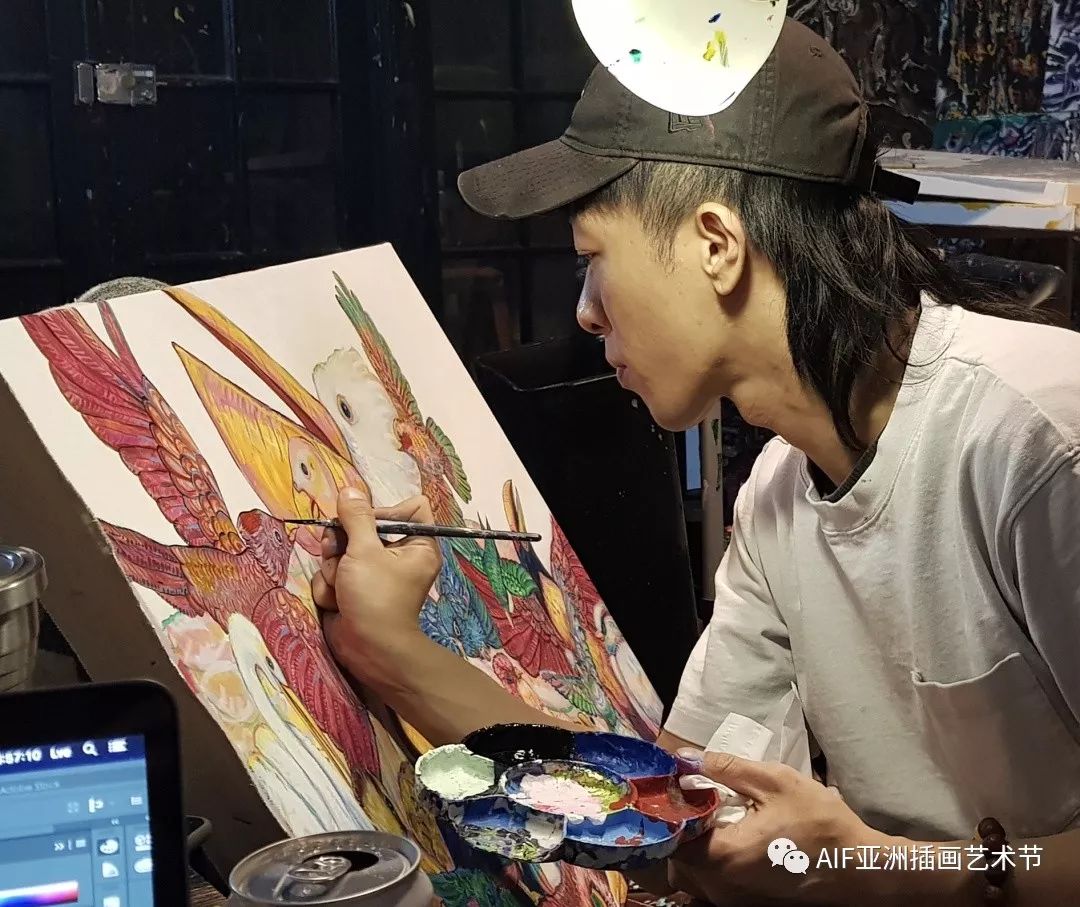 林祐纬
林祐纬 1986出生在中国台湾台北市,1998年移居上海,2007年在上海交通大学毕业后便开始独立艺术实践,2013年在上海静安寺愚谷邨和几个伙伴成立艺术工作室,持续创作至今。
"人类不是地球的主人,世间万物都按照自己的规律在这个星球上活着,浮生一日,蜉蝣一世。在我的创作当中画了很多大动物小动物,双头虎三头龙,即便猛兽也能共存共荣,而盗火的普罗米修斯的回程中,想让大家感觉到一点光明和温暖,在宇宙中地球上的所有应该互相帮助给自己希望。
Yuwei Lin was born in Taipei, Taiwan, in 1986.
After graduating from Shanghai Jiaotong University in 2007, he began to practice art independently all around the world. In 2013, he set up an art studio in downtown Shanghai with several partners, and has continued to paint and create art since then.
"Human beings are not the masters of the earth. Everything in the world lives on this planet according to its own laws, and life is like ephemera in the world. In my creation, I drew a lot of big animals and small creatures, two-headed tigers and three-headed dragons, even the beasts can coexist and co-prosper. In the return journey of Prometheus, who stole fire, I want you to feel a little light and warmth. In the universe, all of the living should help each and give you hope."
IG: andrealinalack
---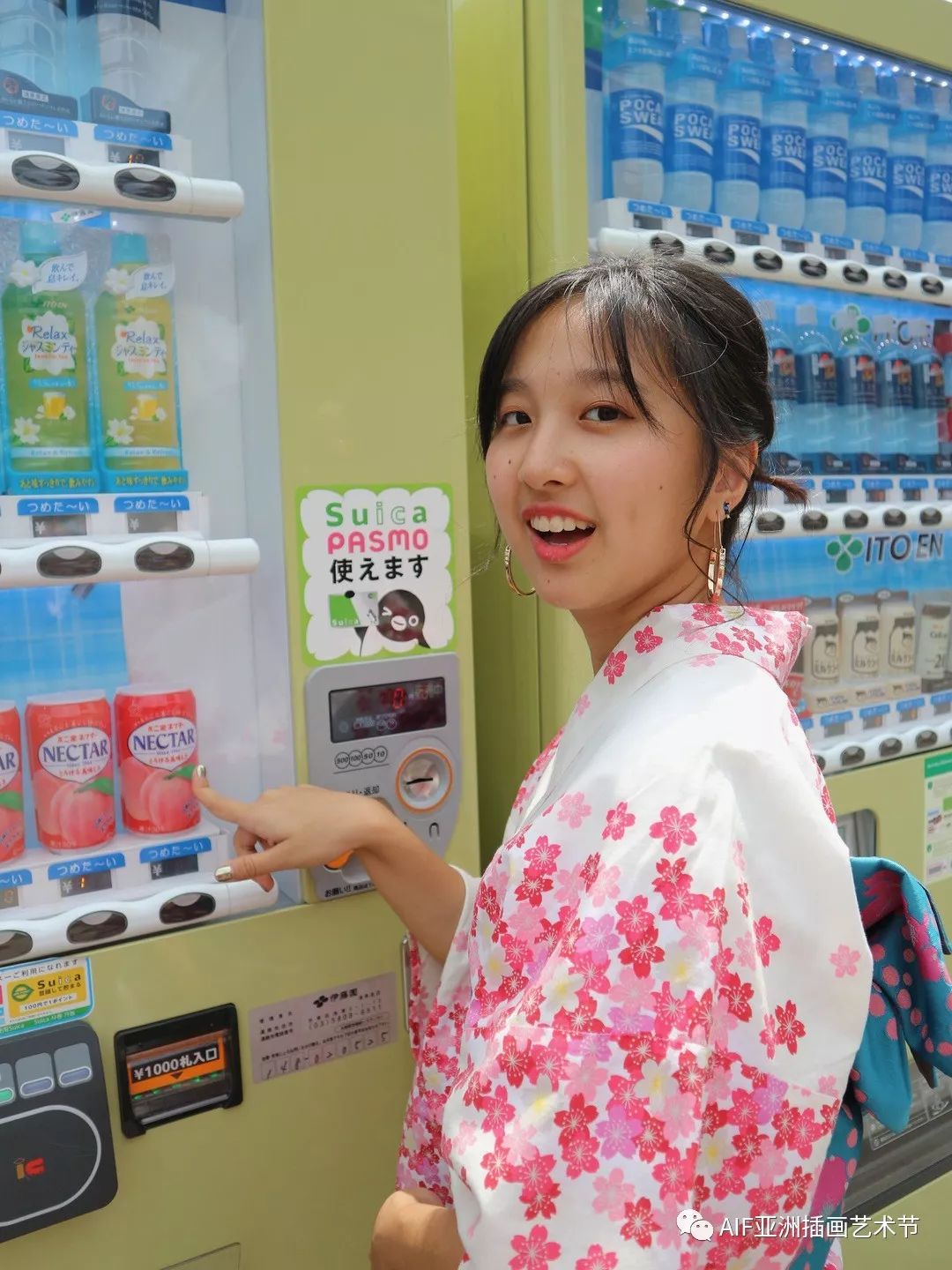 Patsam
大家好,我叫 Patsam ,你们也可以叫我 patsy。我在泰国当设计师。近来,我刚毕业于工业设计学院朱拉隆功大学。在工作方面,我比较喜欢与情绪有关的内容的工作,尤其是人与人之间的关系以及积极插图。我还希望能够让看我作品的人能感受到我需要表达的意思,然后继续分享它给其他人。
Hello, I'm Patsam or you can call me patsy. I'm a Thai designer, recently graduated in Department of Industrial design Chulalongkorn University. About my works, I like to explore and work on emotional contents especially people's and some friendlyillustrations and let other people feel and share.
IG: a.piece.of.sam / @patsam
FB: @patsamss
Behance: pataramonsam
---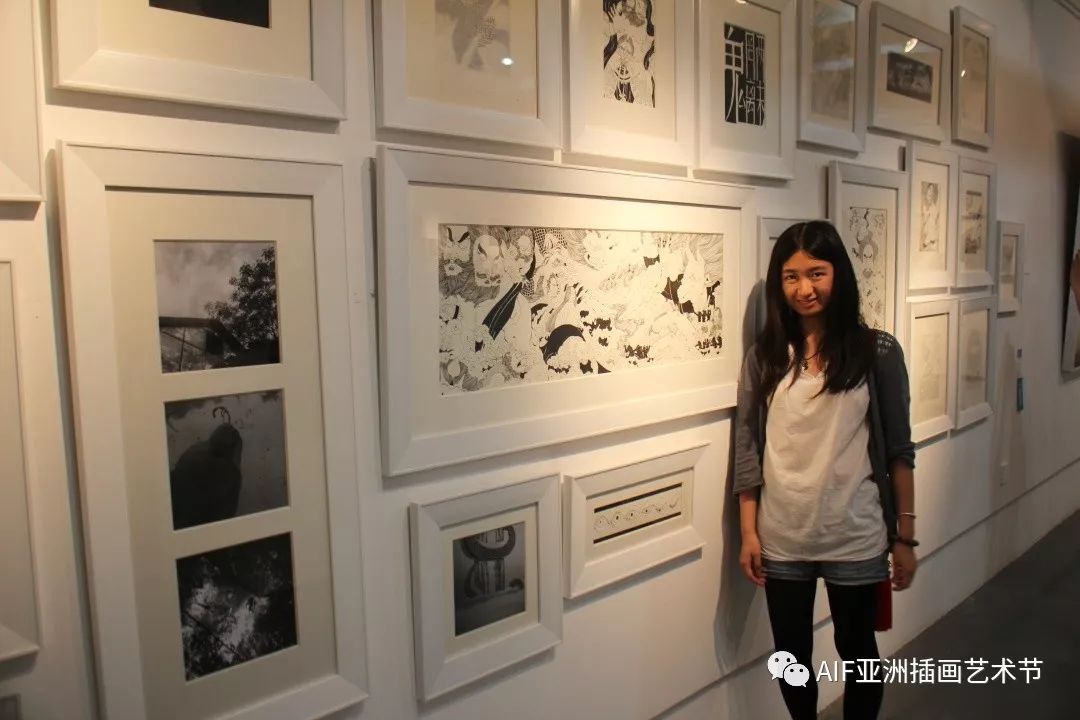 Shirley Gong
龚煦旎,自由插画师。毕业于四川美术学院油画系,萨凡纳艺术与设计学院插画系,现居于重庆。

作品《剥》、《蛇》、《龟》入选"日常非常"2014四川美术学院油画系第21届学生作品年展
作品《山海经》选入"相约·油画"2013中国八大美术学院油画系优秀本科生纸上绘画作品展
Xuni Gong (Shirley Gong) is a freelance illustrator based in Chongqing, China. She loves traditional Oriental culture. Classic Chinese painting and Japanese ukiyo-e art are amongst her main influences. She enjoys using lines and unsaturated color to create her works.
Her academic qualifications include two degrees in art and design. She obtained a bachelor's degree in Oil Painting from Sichuan Fine Art Institution, China and also holds a master's degree in Illustration from the Savannah College of Art and Design, USA.
DailyUniqueness-Oil Painting-21# Sichuan Fine Arts Institute Student Artworks Annual Display-Outstanding Artwork Award-2014
Excellence of Painting on Paper – Appointment – Oil Painting – 2014
China Top Eight Fine Arts School Excellent Student Painting on Paper Display-2014
Sidewalk Arts Festival in Savannah-Graduate Student Award-2016
Three × Three International Illustration-Student Honorable Mention-2017
Applied Arts Magazine-Student Awards-2018
iJungle Illustration Awards-Self-Promotion Merit Award-2018
微博: Shirley_Gong_
个人页面: shirleygong.com
---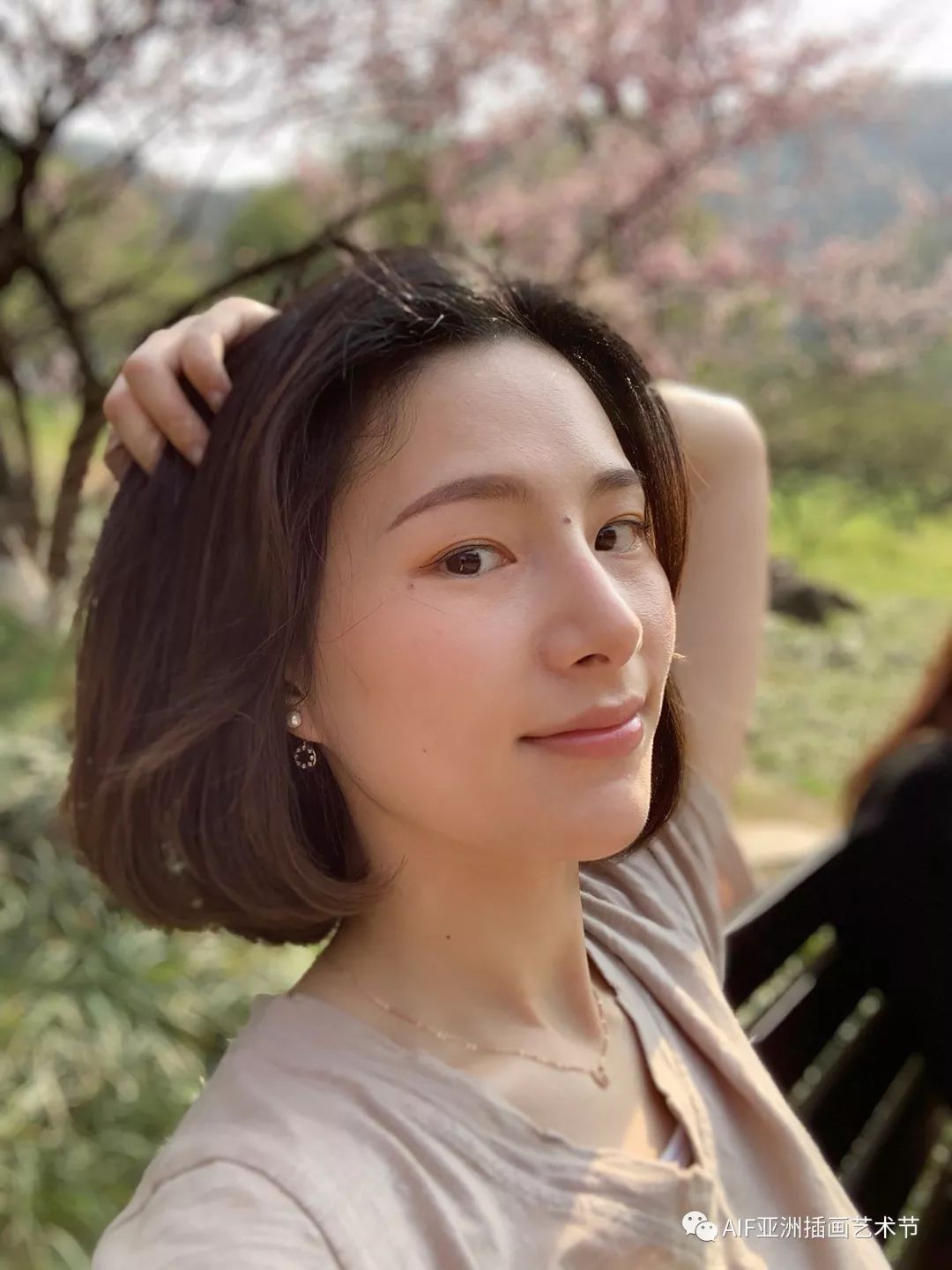 白蜷
一名正在努力升级的自由插画作者,喜欢描绘风情各异的女子,追求随心自在的线条、色彩。自2016年开始正式接触插画至今,已陆续参与合作出版童书《大林和小林》、《小明去抓山》、《猫咪故事集》(即将出版)等;2017年起成为浙江少儿出版社月刊杂志《儿童故事大王》签约插画师;系列作品《小蝌蚪找妈妈历险记》曾入围"2017年金风车国际青年插画家大赛";目前主要从事童书与杂志插图绘制工作。
A freelance illustrator who is striving to upgrade, likes to depict women with different styles, and pursues freely lines and colors. Since her formal contact with illustrations in 2016, she has participated in the co-publication of children's books "Dalin and Xiaolin", "Xiaoming Goes to Catch Mountains", "Cat Stories Collection" (forthcoming publication), etc. Since 2017, she has become a signed illustrator of "Children's Story King", the monthly magazine of Zhejiang Children's Publishing House. Additionally, her a series of works, "Baby Tadpoles Look for Their Mother", has been listed in the "2017 Golden Pinwheel Young Illustrators Competition". At present, she is mainly engaged in illustration work of children's books and magazines.
微博: 白蜷
站酷: 白蜷
公众号: 橡牙白蜷
---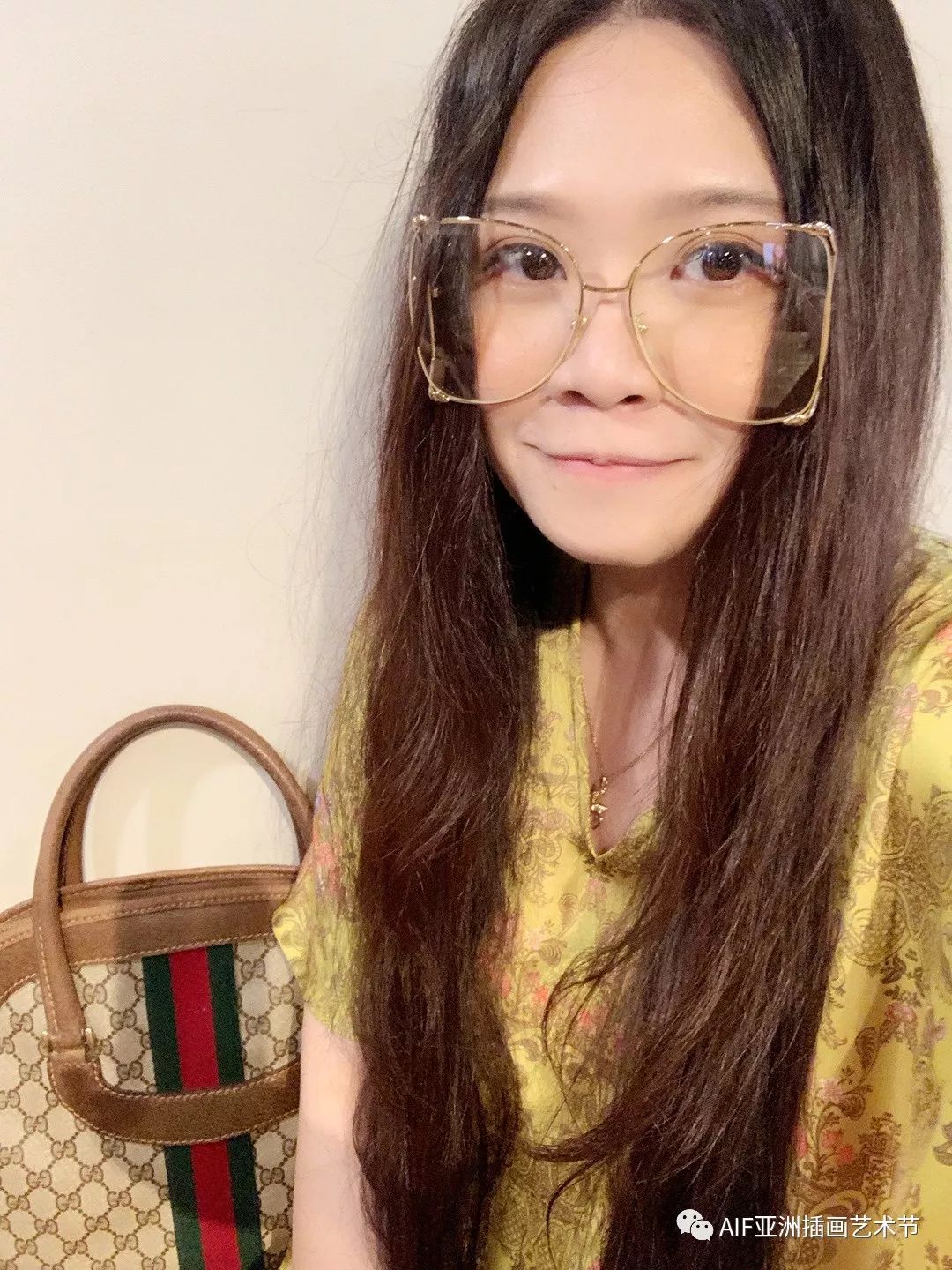 Viga
我喜欢画人,动物,建筑与大自然,我喜欢画我走过的地方,住过的城市,遇见的人,摸过的动物,吃过的东西,画画就像是我的日记,记录着我生活的点点滴滴,我希望我的画可以与人们产生共鸣,让这个共鸣创作出我们可爱的世界。
I like to draw people, animals and buildings. I draw the place I've visited, the people I met, the animals I saw and the food I ate like a diary, record drops of my life and make empathy with people. I believe the empathy will create our pretty world.
FB:
IG: viga1984
---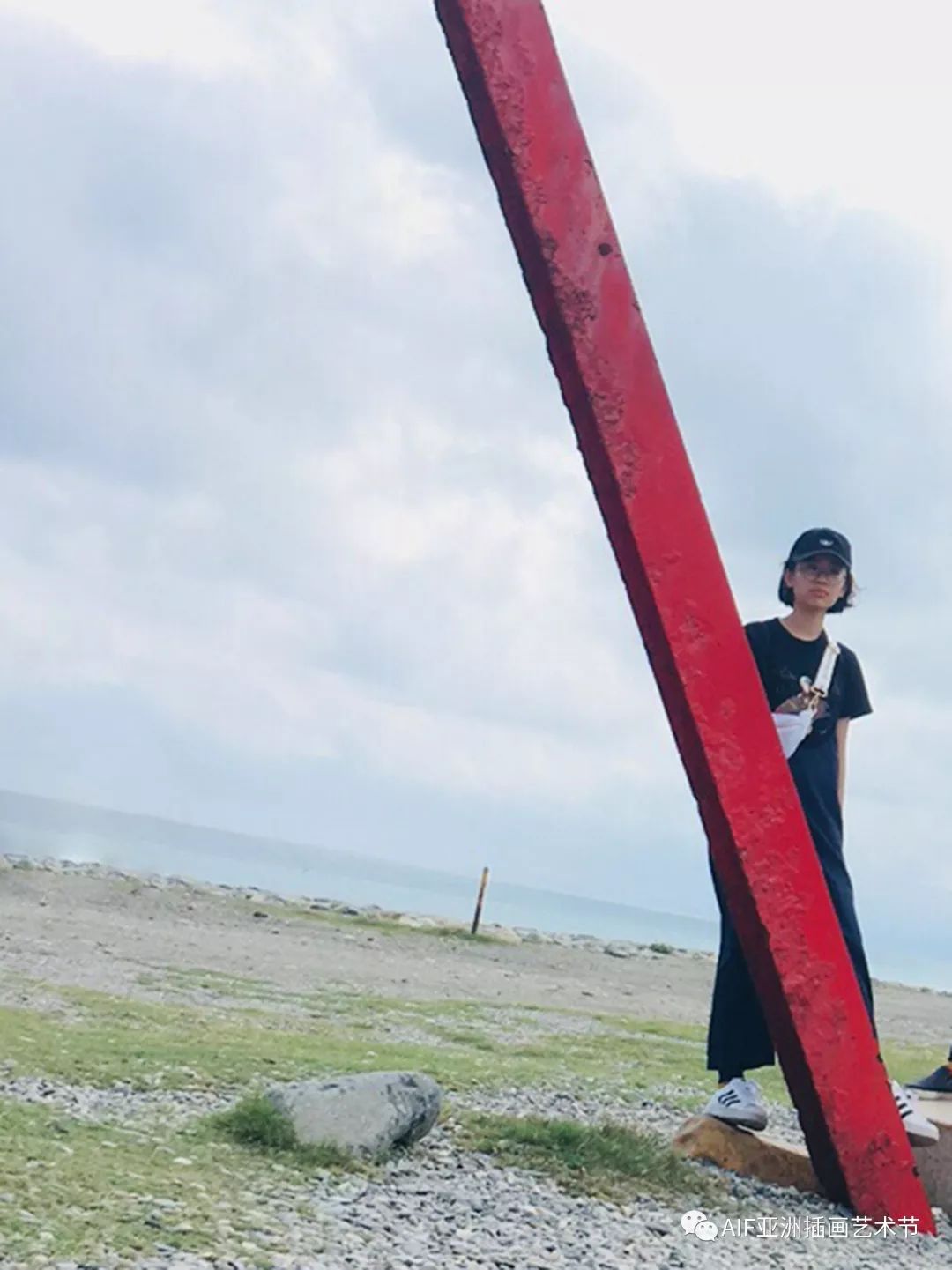 零壹
大家好我是零壹,来自台湾。从小喜欢随手涂鸦,目标成为插画家,觉得自己还在各种摸索的阶段。
Hello everyone, I'm 01, from Taiwan.
I like to graffiti when I was young.The goal is to become an illustrator,I feel that I am still at various stages of exploration.
IG: 01_hayashi
https://www.instagram.com/01_hayashi
---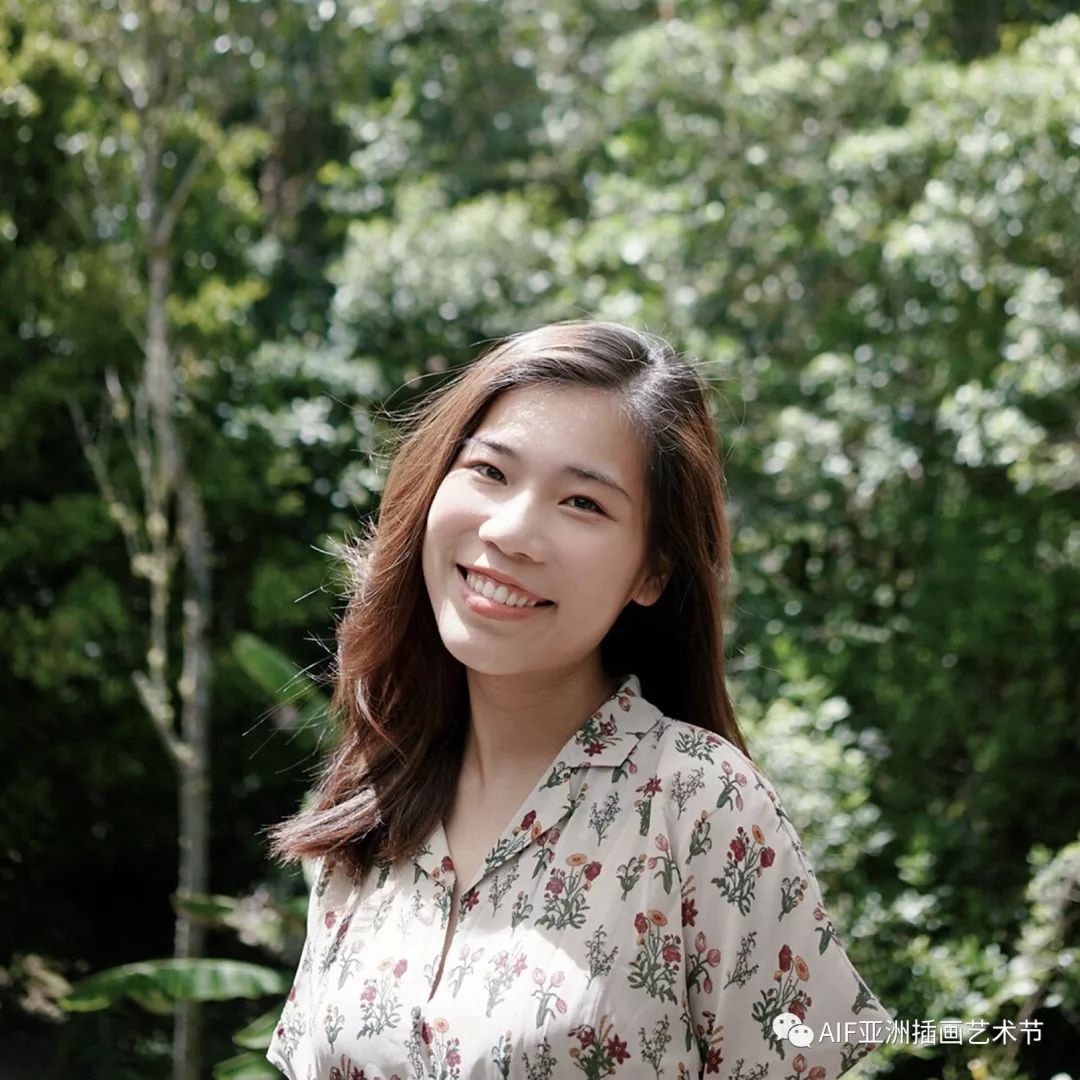 Wing YungJanet Tam 谭颖融
谭颖融出生于香港;2018 年以一级荣誉毕业于英国纽卡西 尔 大学主修建筑学。她中学时修读艺术与设计课程,于 2015年入围sovereign art foundation多媒体绘画比赛,作品于第四届Affordable art fair香港会议展览中心展出。除了 课堂上接触艺术,还有在校外学油画拓展了她对不同时期的画风的了解和探索。透过多幅风景写生及人物描绘为她打了稳固的基础,她开始创作属于自己的作品。于2018十月, 她开始在电脑绘画并发现电绘的独特可能性有别与传统媒体。她在 Instagram(little_lazy_catepillar)上传以一条虫为主角的日常涂鸦。这次展品创作内容偏写实,透过画画纪录不同时期的经历。
Janet is born and raised in Hong Kong, majored in BAArchitecture in the UK. She spent most of her time withtraditional oil painting for approximately 6 years as a hobby andhad branched off to explore different possibilities in digital artin the end of 2018. With her interest in portrait painting, shestudied paintings from different countries ranging from theclassics to the modern period. She continued to draw andillustrate in her spare time and therefore developed a strong skillin figure painting. She is mostly influenced by impressionism,an art movement that emphasis on the use of color to convey theatmosphere between the subject and its surrounding as seen inher works. On the other hand, she has also explored inchildren's illustration and has created a character with a themeon her instagram for fun. She is open to explore differentmediums and its characteristics. And as a beginner artist, she isstill exploring on her style and focus to establish bothtraditionally and digitally.
Personal CV:
– 2015 Sovereign Art foundation school art prize (finalist,exhibited in the Hong Kong Convention And Exhibition Centre)
– 2015-2018 Newcastle University BA Architecture degree
IG: little_lazy_catepillar
---
Fan·W
我叫吴欢欢,大家都叫我fanfan,是一位自由插画师,也是一位两岁宝宝的母亲。平时喜欢和孩子对话,喜欢从孩子角度思考,观察生活。擅长使用丙烯、拼贴等综合材料进行创作。
Hello, my name is Wu Huanhuan. Everyone calls me fanfan. I am a freelance illustrator, and also a mother of a two-year-old baby. Usually I like to talk with children, and like to think and observe life from the perspective of children. I like to collect waste products and plastic bags, then use these materials, propylene, color lead and so on to create art works.
微博: 方小翻
IG: fanfan_www
---
张灿
职业建筑师,还是喜欢画吧,所以没有丢掉动手的习惯。建筑设计也是一个特别忙的行业,画画时间基本在工作的夹缝中,上班时的间隙,高铁或者飞机上,所以大幅作品相对比较少。
没有商业委托,因为时间的琐碎,内容全都是自己日常感受的拼凑和积累,每个观众自会有自己的解读。和朋友搞过线体主义的画展,还有一些记不起名字的联展,在《线的魔力》一书有收录作品。
As a Professional architect, I like painting, thus, I have kept drawing for many years.
Architectural design is a particularly busy work. Only in my spare time can I draw, like working gaps or boarding on high-speed trains or airplanes, which results in few large works.
As non-commercial works, my works mostly reflect my daily feelings and thoughts due to time limits .Each viewer will have their own interpretation. I have worked with my friends on the exhibition of linear physicalism, and also some group exhibitions that I can't remember their names. Some of my works were included in the book "the magic of the line".
微博: 灿灿-0707
公众号: 造式建筑
---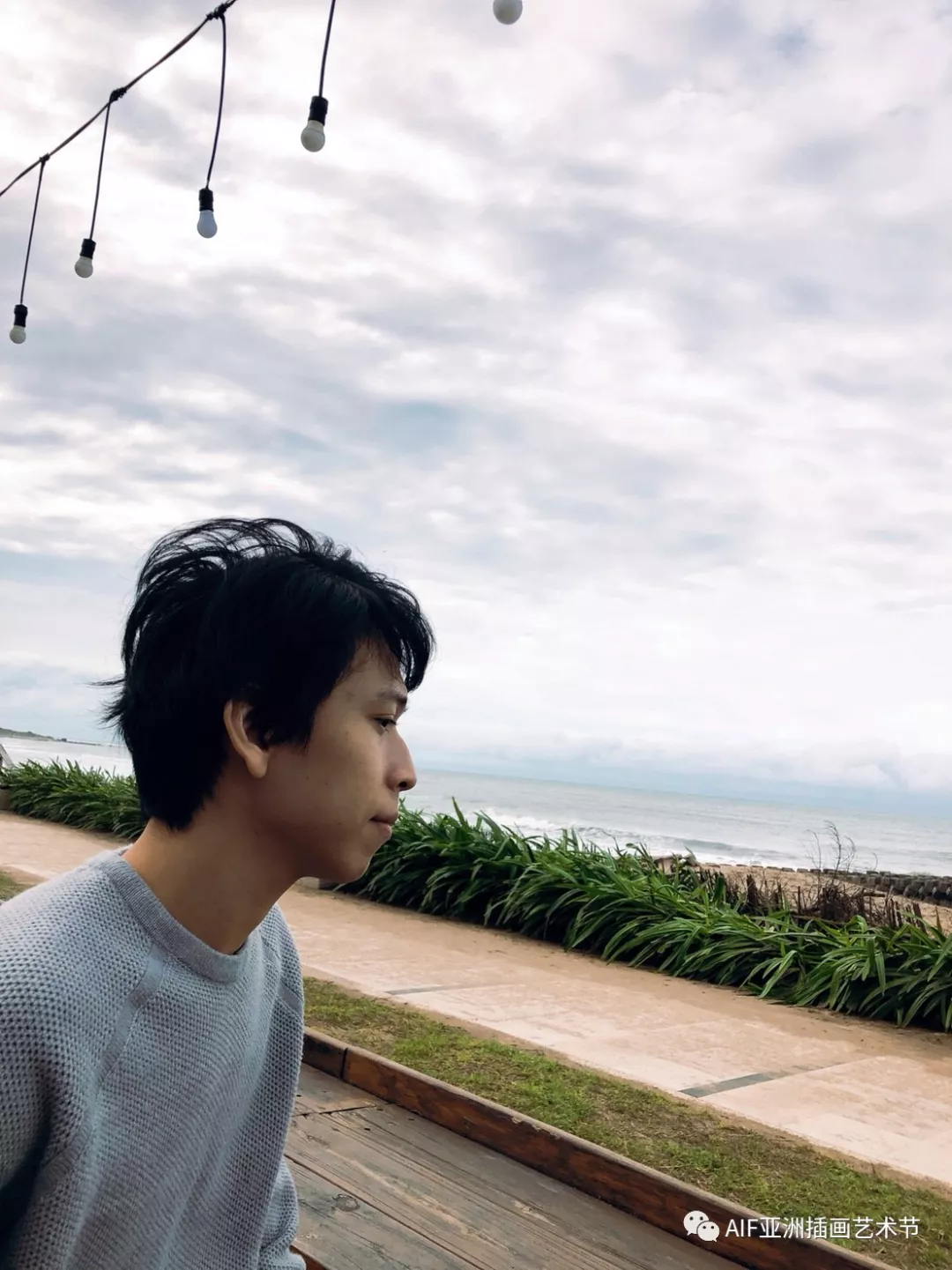 大尔多
至大学时期,受启蒙老师影响,开始尝试油画创作

后来以铅笔结合数位为常用媒材,主题常与宇宙、星球、飞行有关,探索生命与生活以及梦想的连结。
目前任职于AR互动科技公司担任美术设计,业余时间仍持续创作插画、动画、绘本,若生活的重心是工作和家人,生命的中心便是创作。
In the university period, influenced by the enlightenment teacher, I began to try oil painting creation.
Later, pencils were combined with digital media as the common medium. The theme is often related to the universe, the planet, and the flight, exploring the connection between life and reality and dreams.
Currently working as an art designer at AR Interactive Technology, continues to create illustrations, animations, and picture books.
If the focus of life is work and family, the center of life is creation.
FB:
IG: hhstudio1990
LINE: takahashichunlin
---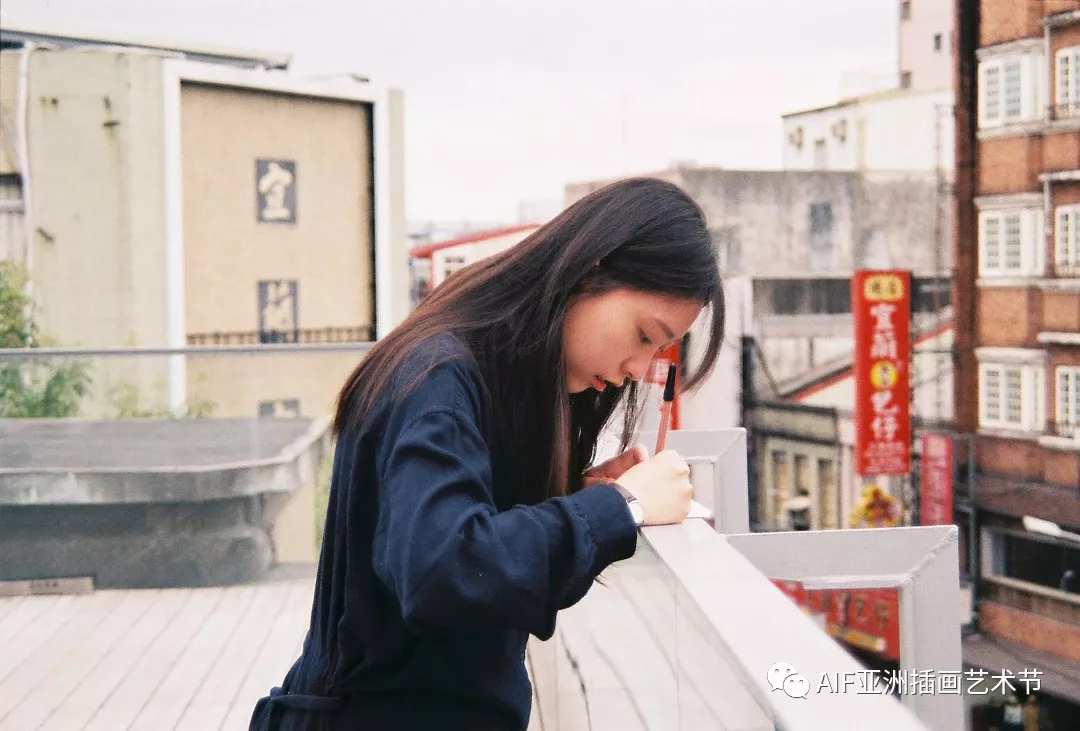 Felimia
我很喜欢鸟类因为他们很有趣,虽然无法精通每个感官,但他们可以为了适应不同的环境状况,透过经验而激发并精通某项感官。
我觉得在创作时,自己就像生存在某种环境下的动物,能激发本能的创造力,感受内心能量的释放。画图是最适合我的表达方式,也是适应世界的一种感官,除此之外我想不到更好的办法了。
I feel that only when I create, my soul and life really turn on, and some energy in my mind can be released. The drawing is the most appropriate expression ways of me, and it is also a sense of adapting to the world. Besides, I can't find better ways.
IG: felimia___11
FB: 林妍均
---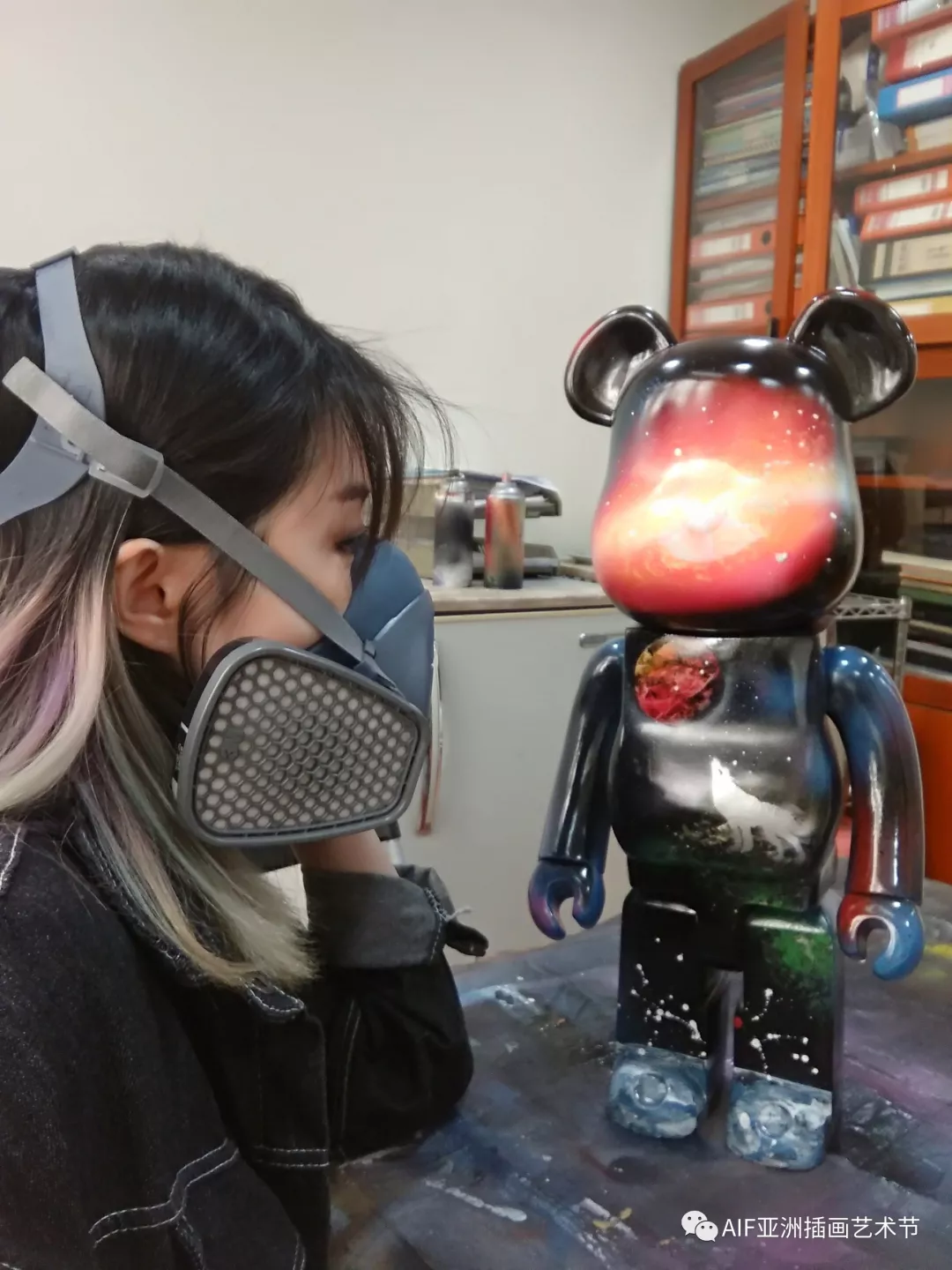 司徒美君 M.K.SZETO
从事艺术教育14逾年, 2013年起开始自我研习, 无师自通街头星空喷画,并为香港首位星空喷画文化推广艺术工作者, 在各艺墟、手作市集及或艺术活动担任驻场喷画家, 并于2016年创立星空喷画体验课程。为本港开拓银河喷漆画推广之先锋。获邀与各大品牌、游戏公司、社福机构及学校组织等合作, 进行即席表演、课程指导、作品创作及分享会等。近年更与默剧、小丑话剧演员等其它领域范畴合作创作跨媒介Live Painting Show, 推广艺术表演, 祈望能发掘绘画创作上更多无限的可能性, 为大众带来崭新思维角度。
M.K. SZETO has 14 years of experience as an art tutor in art education. She is self-taught and became interested in street art of Galaxy Spray painting since 2013, during which she was participated in many projects by invitation. Such as different kind of brands, crafts markets, art events, game company, schools and other community organizations. There had including art sharing, tutorial, artworks creation and Live painting show. Also, being a first artist to promote galaxy spray painting and the course founding in Hong Kong since 2016. In recent years, she has done the crossover performances with different media artists such as Mime, clown… She hope she can find out more and more boundless creative power and possibility in art development, and bring some new thought for art to everyone.
IG: kawaevil
FB:
Youtube: https://www.youtube.com/channel/UCeJLj3OmsUmBo6cwKDr1Zbg
个人页面: https://kawaevil.wixsite.com/mkszeto
---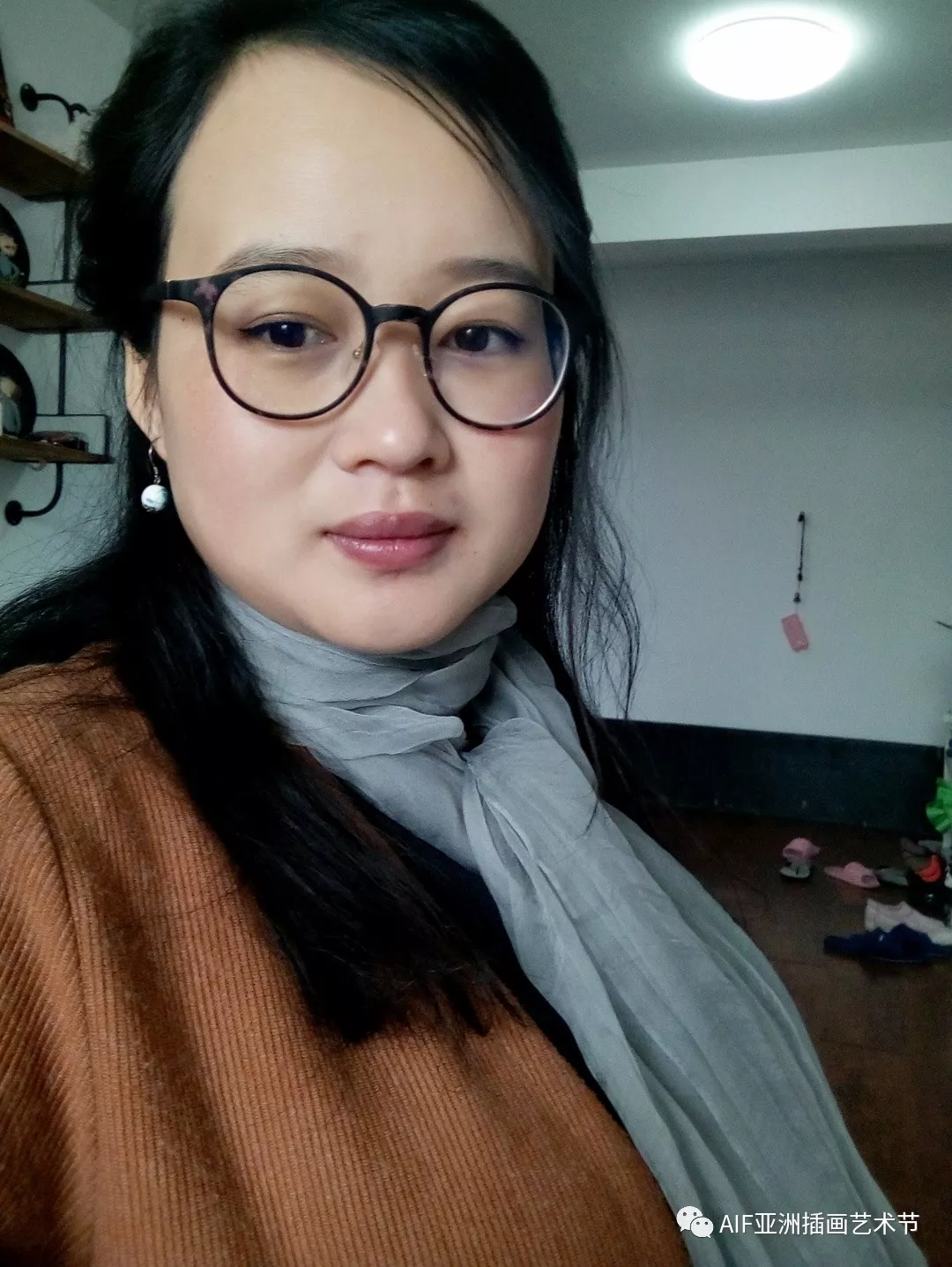 李楠(谛缘花)
毕业于辽宁鲁迅美术学院视觉传达,做过手工粘土及插画,喜欢绘制夸张的人物造型,经常尝试以人物为主体去创作幽默有趣味的插画。
Graduated from liaoning lu xun academy of fine arts in visual communication, have done handmade clay and illustration, like to draw exaggerated figure modeling, often try to create humorous and interesting illustrations with figures as the main body.
微博: 谛缘花
IG: diyuanhua
个人页面: https://linan.zcool.com.cn
---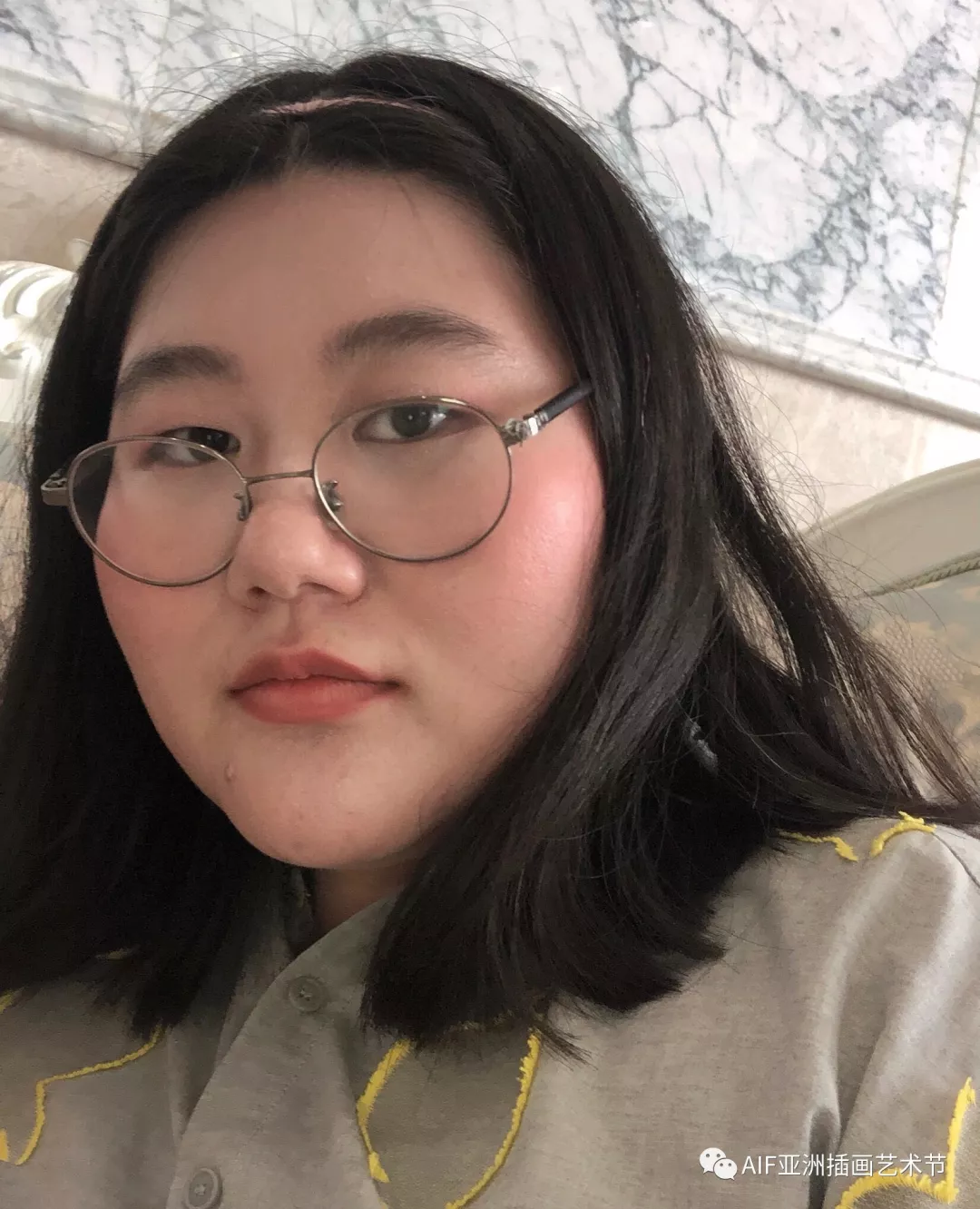 Kaliz
热爱游戏和科幻小说。我的本科是服装设计专业,后来在工作中接触到插画,非常合得来。今年要去LCC读插画研究生。
Love games and science fiction. My undergraduate degree is a major in fashion design. Later I came into contact with the illustration at work, which is very good. I am going to LCC to study illustration this year.
微博: kalizzzzz
个人页面: https://kaliz.portfoliobox.net/
---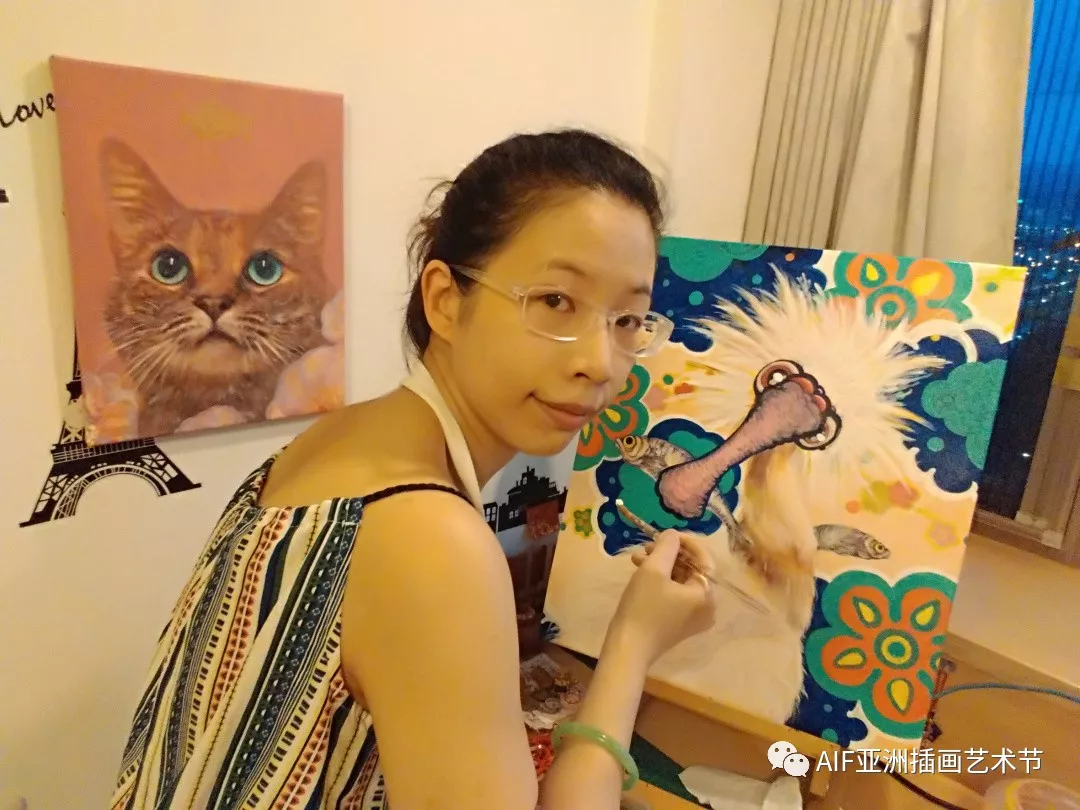 杜姿桦 Dudu Ru
我喜欢想到就画,在空白的画布上,尽情的挥洒属于自己的色彩。
每一次与画作的对谈,都像是全新的挑战,也是不断的找寻和创作属于自己的代表风格。

绘画是在我自己有限的时间内,伴随着我留下的记录和美丽,我可以自由地在我自己的绘画世界中飞翔。
I like to paint and enjoy creating my own color on a blank canvas.
Every conversation with painting is like a new challenge. I also constantly look for and create my own representative style.
Painting is in my own limited time, along with the records and beauty I have left, I am free to fly in my own painting world.
IG: duduwink
FB: https://www.facebook.com/dudu.ru
LINE: miyake1688889
---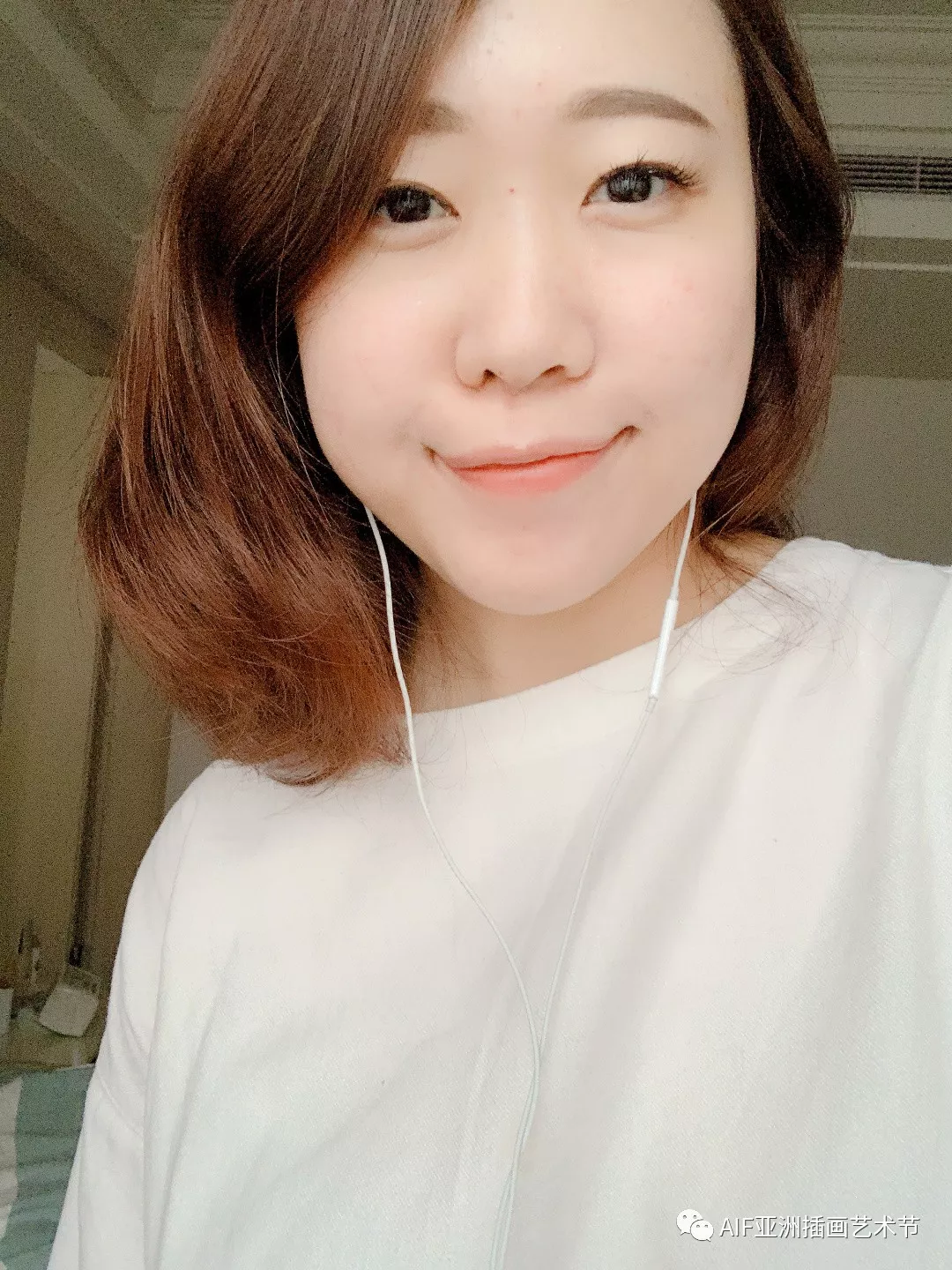 MionMion
我叫做Mion Mion,来自台湾,于大坂综合设计专门学校插画科毕业,喜欢以花草自然灵性为主题,主要以直觉创作,享受创作的当下与每个过程构成的作品,期许自己的作品能给观看者一点温暖更靠近自己更靠近爱。
My name is Mion Mion, I was born and raised in Taiwan. I graduated from Osaka Sogo College of Design and majored in illustration. My creation is based on intuition and inspired by flowers and natural spirits. I enjoyed every moment of my work as well as the process of creation from beginning to accomplishment. Through my art work, I hope I will be able to share love, warmth, and peaceful to all the art viewers.
IG: sherry8773
FB: chenghsiuyu
---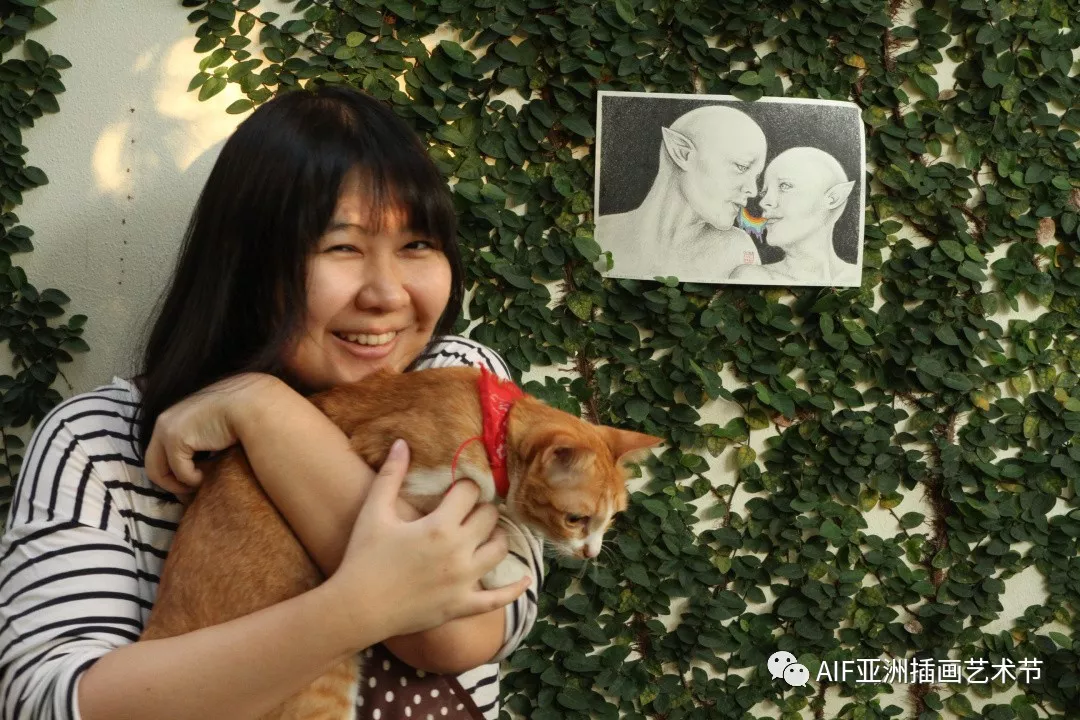 NatchareeHansaward
Natcharee 'Gink' Hansaward是一位来自泰国曼谷的艺术家、插画家,擅长水彩画以及版画。她于近日取得了瑞典工艺美术与设计大学的视觉传媒专业的文学硕士学位。
Natcharee 'Gink' Hansaward is an artist and illustrator fromBangkok, Thailand. She specializes in watercolor painting andprintmaking. She recently graduated with an MA in VisualCommunication from Konstfack Stockholm, Sweden.
IG: ginkgooooooo
FB: ginkgostarr /helloxginkgo
个人页面: www.helloginkgo.com
https://www.behance.net/ginkgooooooo
---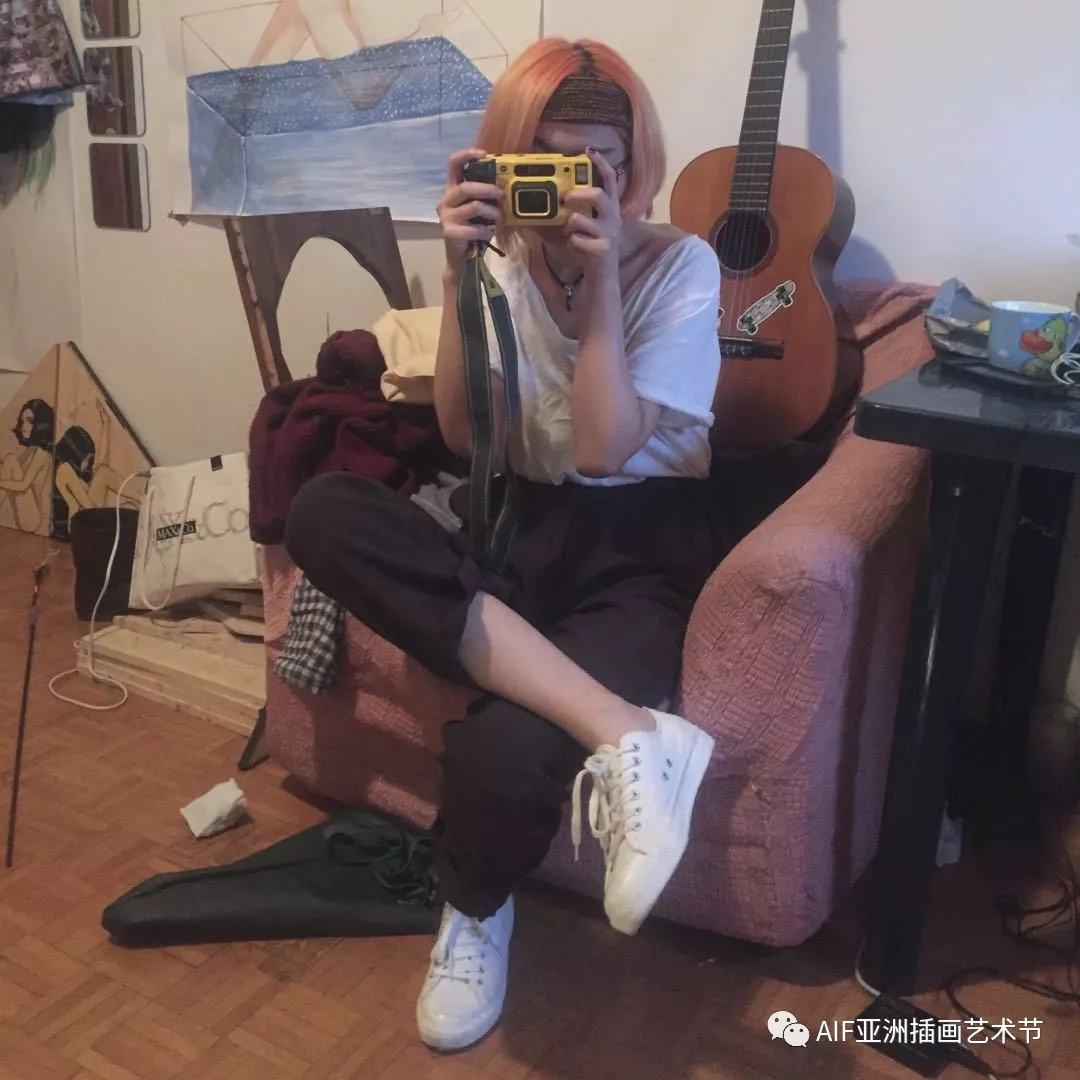 吴小亚 Wu Xiaoya
一个野生自由绘画者和艺术家,对于一切美丽奇妙特别的艺术都感兴趣的人。
A wild free art lover and an artist , interested in any beautiful, wonderful and special art.
IG: floatya
---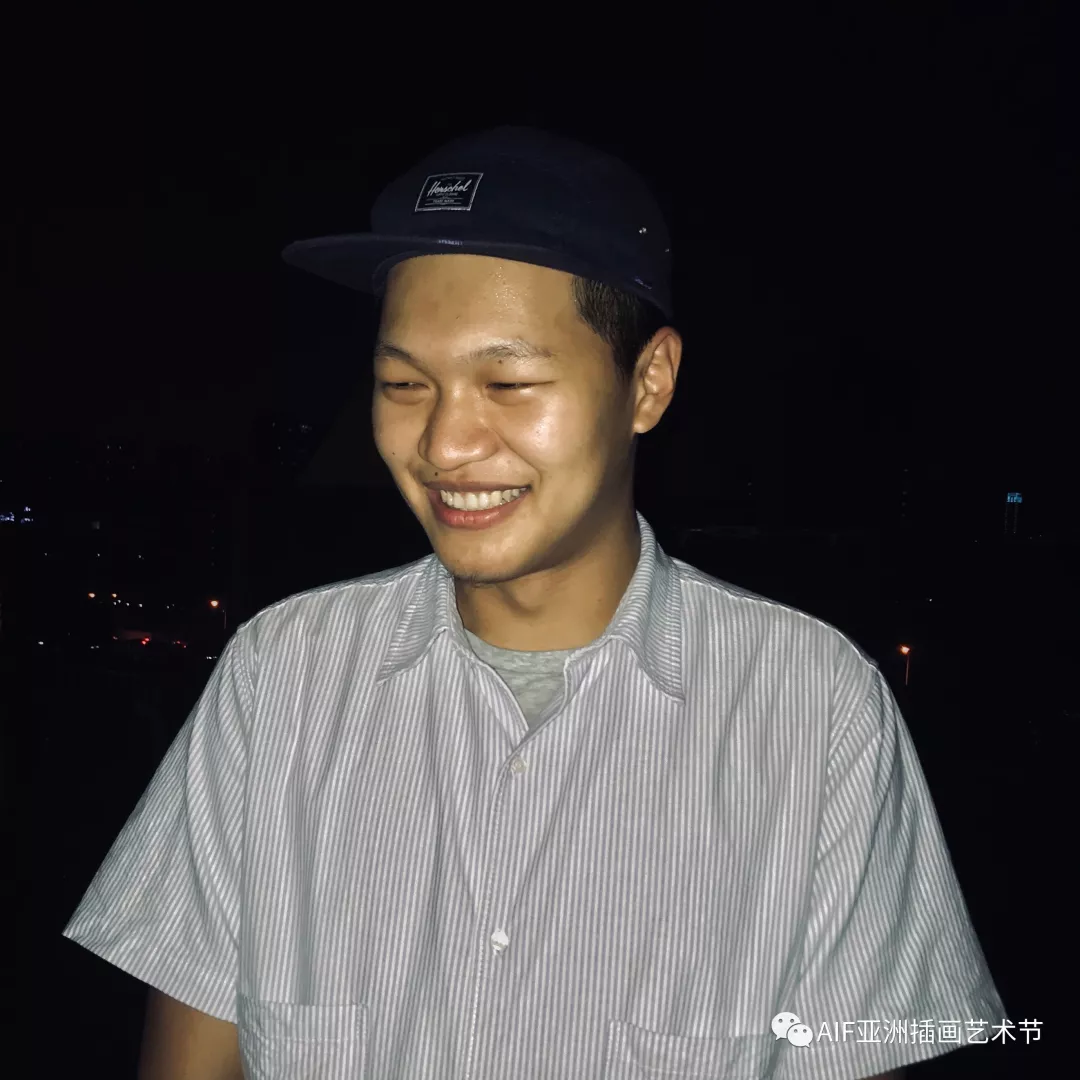 吴序燊
一位来自中国的插画、街头艺术、涂鸦艺术爱好者,一个23岁的小青年,希望通过艺术接触不一样的世界,认识更多爱画画的朋友,一起交流学习。
An illustrator, street art, and graffiti art fan from China, a 23-year-old young man, hopes to meet more friends who love painting through art contact and exchange and study.
个人页面: https://my.zcool.com.cn/works
微博: KATS_
---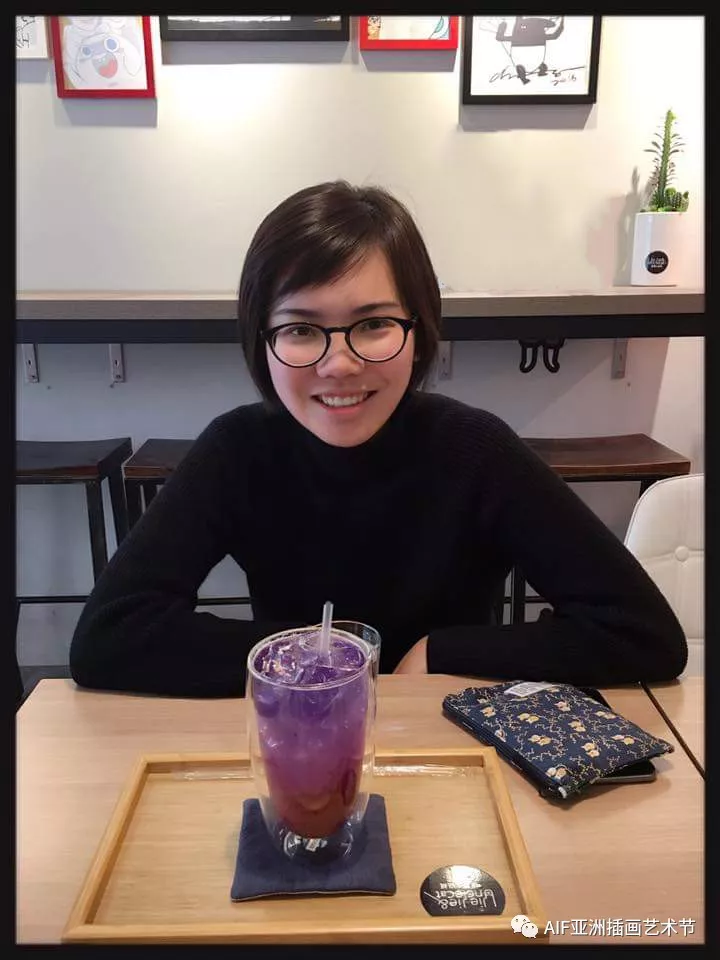 ZERA SHAO
法律系毕业学生,转向插画与动画领域发展,希望将对生活中的观察与感受自在的表达成为创作,欲在插画与动画学习的道路上继续深造。
I studied law before. I would like to put my observation of life, my comments on things, and my reflection of a particular moment into my creation.
IG: gekkawji
FB: Zera Shaw
---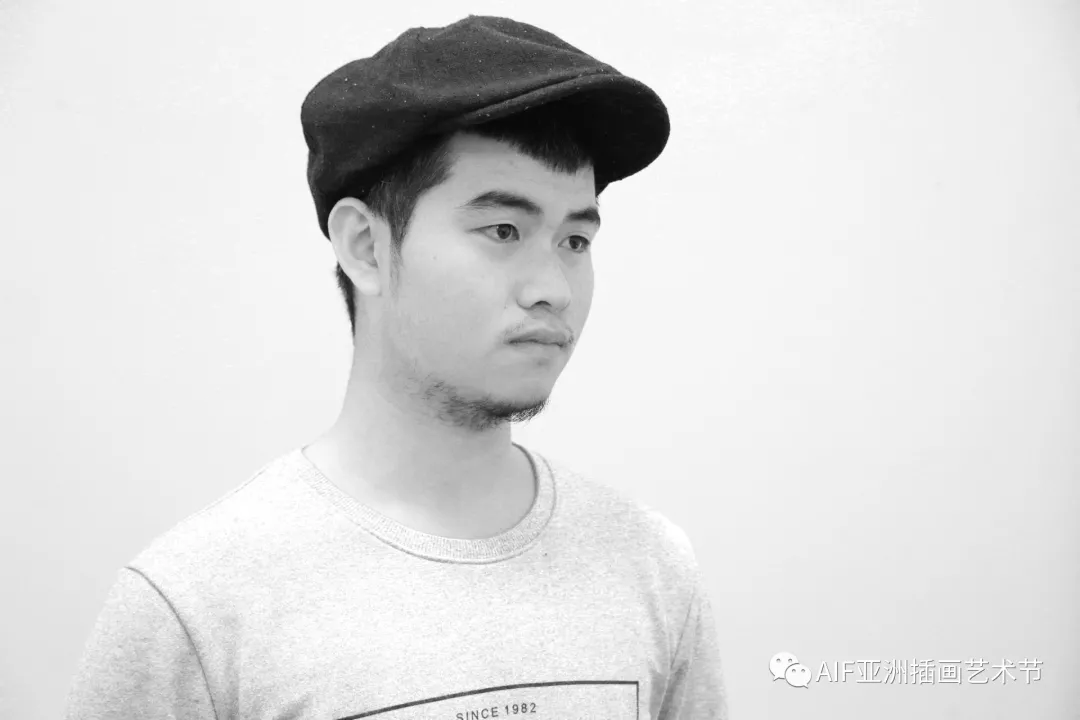 林家贤
目前就读于国立东华大学艺术与设计学系硕士班,阴阳差错间创作出的小胖子,也让我持续创作了一系列诙谐的作品。HalfMoon月半仔是以一个肉肉的小胖子为原型,加上各种不同造型与风趣动作为主,想以丰腴的肉体肥沃世界上的每一寸土地。世界一般以瘦为美,创作出月半仔主要反映"肉"亦能达到另一种美感。借由幽默的方式温柔的触碰内心,从内而外的打破"瘦美"的观念,使人在观看作品时发自内心的逐开笑颜,喜欢上自然的肉感。

Currently studying at NDHU……, I created a chubby man due to various reasons. I then non-stop produce a series of entertaining works. HalfMoon, 月半仔,features a plump man, along with a variety of clothes, accessories, and amusing postures. ……
Generally, it is considered attractive to be slender or even skinny. But I'd like to tell the world that fat can be beautiful! And challenge the stereotype of "the skinnier, the prettier" in a humorous and gentle way. I hope to break the rock-solid rules of beauty and create not only interesting works but hearty laughs.
IG: halfmoonguy
FB:
---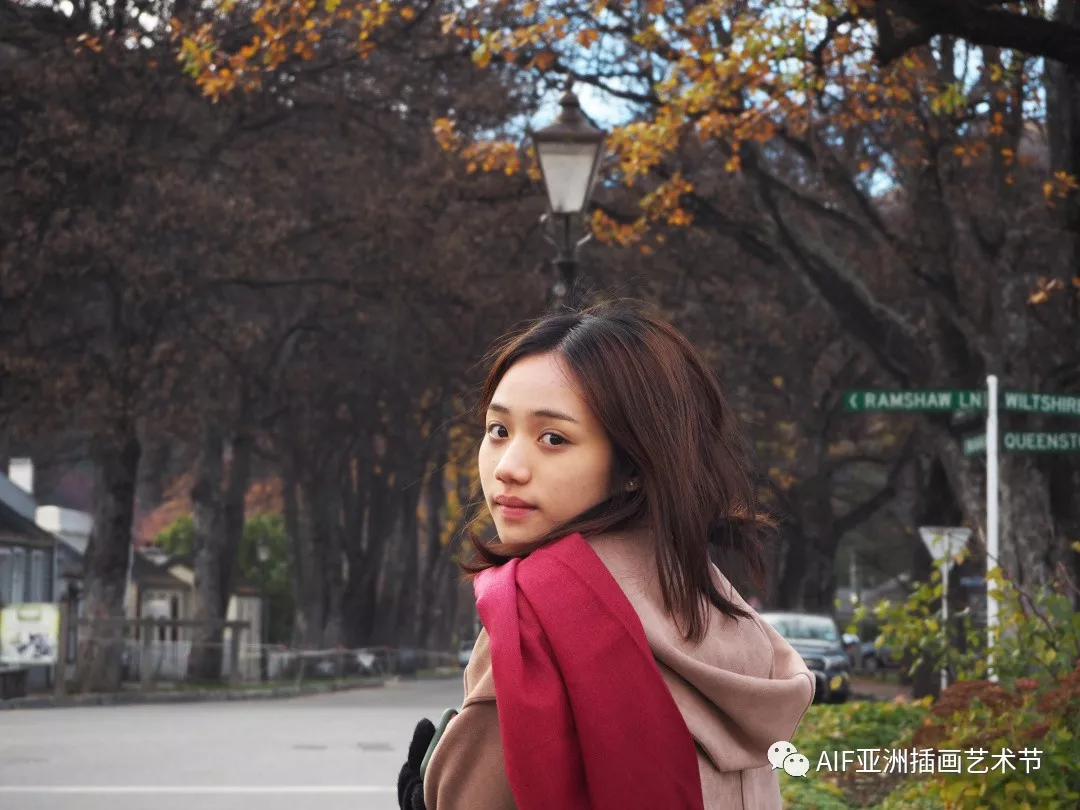 PATCHLOM
我从小就对艺术和美充满热情,从而引起了对人体肖像的痴迷。自2010年开始练习人物画起,我已经画了很多现存的和不存在的人的脸。我通过巧妙地描绘肖像上的每一个细节来表达情感以及我对每件作品的看法。在朱拉隆功大学建筑系工业设计专业读三年级的时候,我创造了一个充满肖像和色彩的平行世界。最近我对绘画中使用的各种材料很感兴趣,并一直在探索这个领域。通过结合不同的绘画风格,我用水彩、水粉、饮料、木炭等多种工具创作了很多作品;最近我也将化妆品融入我作品的一部分。
I have been passionate about art and beauty from a young age, along came an obsession with human portrait. Practicing portrait painting since 2010, now i have drawn many faces of existing and non-existing people. Each detail on portraits is subtly painted in order to express emotions and also my perceptions toward each work. While studying 3rd year at Department of industrial design in Faculty of Architecture, Chulalongkorn University, I manage to create my parallel world full of portraits and colours.
Recently I have been interested in a variety of medium used in painting and been exploring this field. Combining with painting style, i created many artworks by diverse tools such as watercolour, gouache, drinks, charcoal and recently i came across with cosmetics which become main contents of my participating works.
IG: patchlom
FB:
---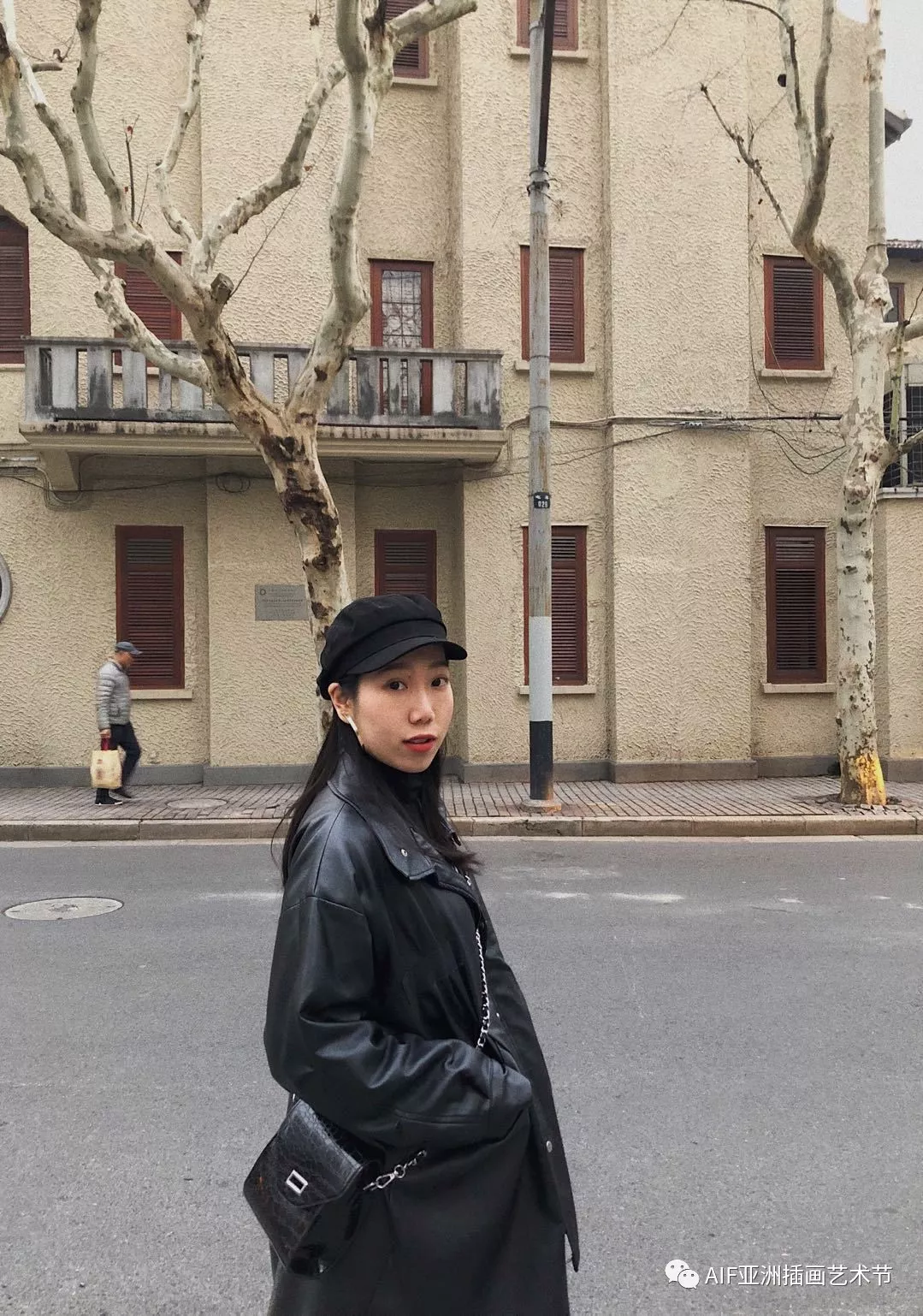 anblackna
一个想当园丁的插画师。
目前是一名创意视觉设计师——门店视觉设计及创意视频拍摄。
爱好——油画、弹琴、种植。
Think of nothing, think of wind.
IG: anblackna0131
微博: anblackna
---
杨檬 YangMeng
画比本人更真实。
My painting is more real than myself.
IG: lemon129m
---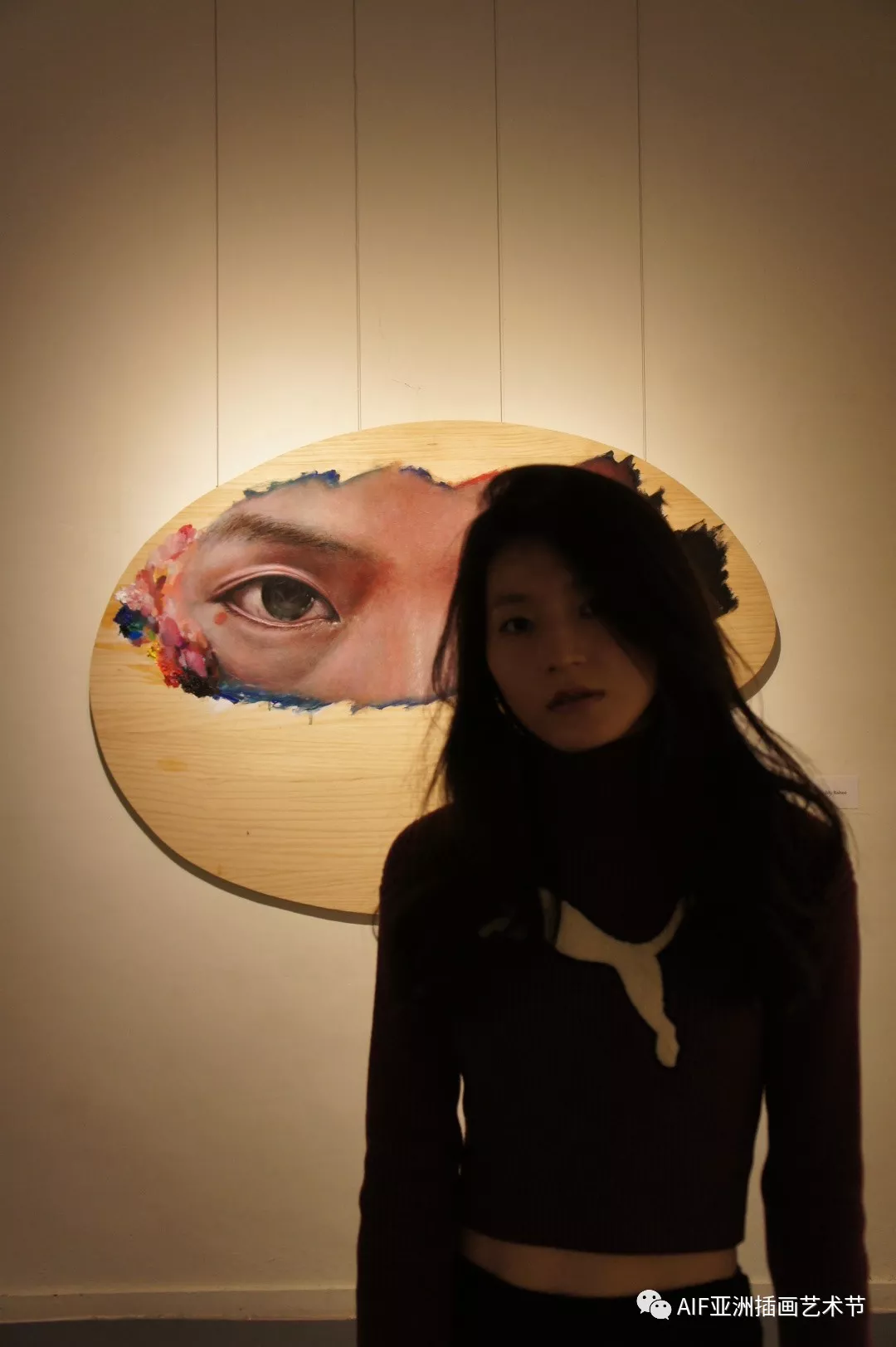 943
吴佳珊来自台湾台南的艺术家,也是一名现职于小学与AP studio的美术术科教师。国中开始学习传统美术,毕业于台南应用科技大学,主修美术系。
擅长卡通插画风格,至今仍持续加强写实风格,认为两种都是极为重要技法。相辅相成、缺一不可。

因职业缘故常接触孩子,作品题材多关于小孩调皮捣蛋的一面与作者自身小时候的回忆。
2015年八月荣获第三届世界杯青少年现场绘画大赛第三名。2019年一月首次个展《943 吴佳珊插画个展》,于二月受邀赴京都造形艺术大学日本海外研修。
Wu Jai- Shan is an arist from Tainan, Taiwan. She teachs art in elementary school and AP studio.
Miss Wu started to learn traditional art in junior high school. She got her bachelor in fine arts and graduated from Tainan University of Technonlogy School. In Miss Wu's opinion, realistic and cartoon illustraion are very important skills, and she think that neither of them should be eliminated though she is good at cartoon illustration.
The childhood memory and the children she met at work form Miss Wu's art works. She won 3RD PLACE of The 3rd Youth World Cup Live Painting Competition in August,2015. What's more, Miss Wu first solo illustration exhibition"943 Wu Jia- Shan"opened in January, 2019.
She was also invited to Kyoto University of Art & Design for research in Feburary at the same year.
IG: 33wu
FB: Jia Shan Wu
---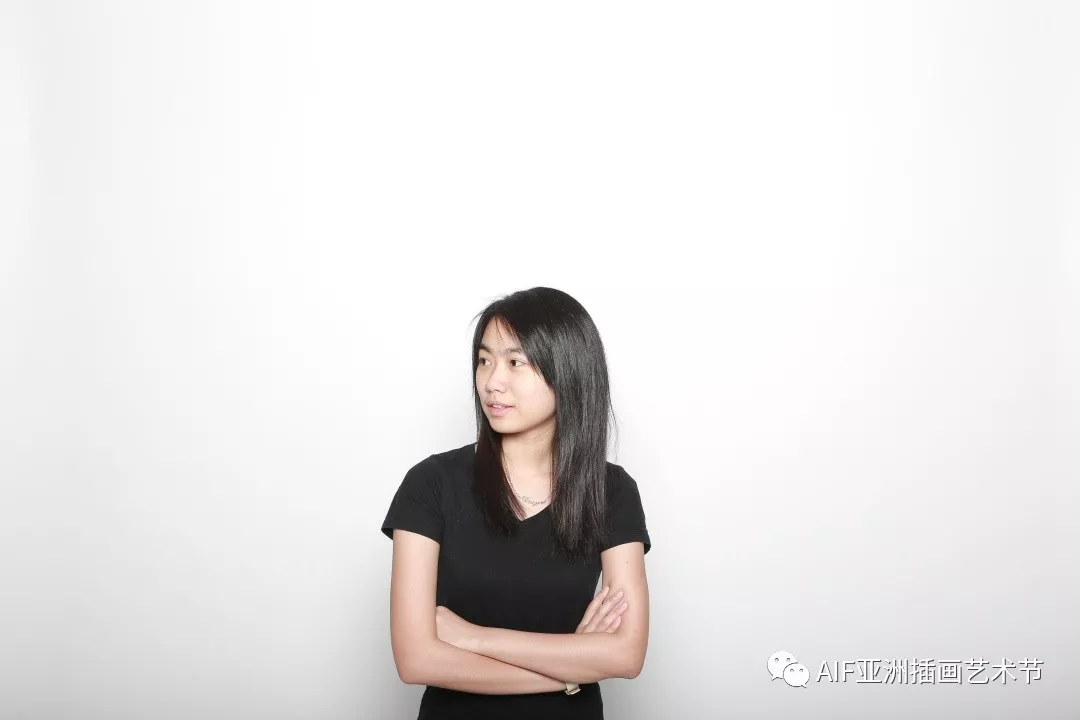 Monster AJ
Monster AJ,台湾设计师,毕业于国立台湾科技大学工业设计系,毕业后远赴温哥华求学,并于当地星巴克担任咖啡师。2017年返台后,踏上灯光设计师的旅程,在不同的领域追求同样的事情—设计。这样的经历成就了属于自己的故事,也开拓了人生视野。设计,摄影,涂鸦,咖啡以及玩具,是日常生活,是创作来源。艺术创作,设计摄影是人生不可或缺的态度,更丰富了旅途中的每一步微小。
Monster AJ, a designer, was born in Taiwan, and had got the bachelor degree in design at the National Taiwan University of Science and Technology. After four-year study, an overseas adventure began. Vancouver, a second place, to get the master degree also worked as a barista trainer at the Starbucks. As a citizen in a global village can broaden the horizons as well as respect the diversity and inspire the creativity. In 2017, came back to Taiwan as a lighting designer, in different fields pursue the same thing⏤ Design. These experiences make her always be curious about everything, and has her own meaning of life. Design, photography, doodle, coffee and toys, are all about her daily life which the inspiration comes from. Creativity is a goal and an attitude towards the lifelong journey. Do more and become a better me is the motto.
IG: lightingmonsters
个人页面: https://www.issuu.com/amyjao
---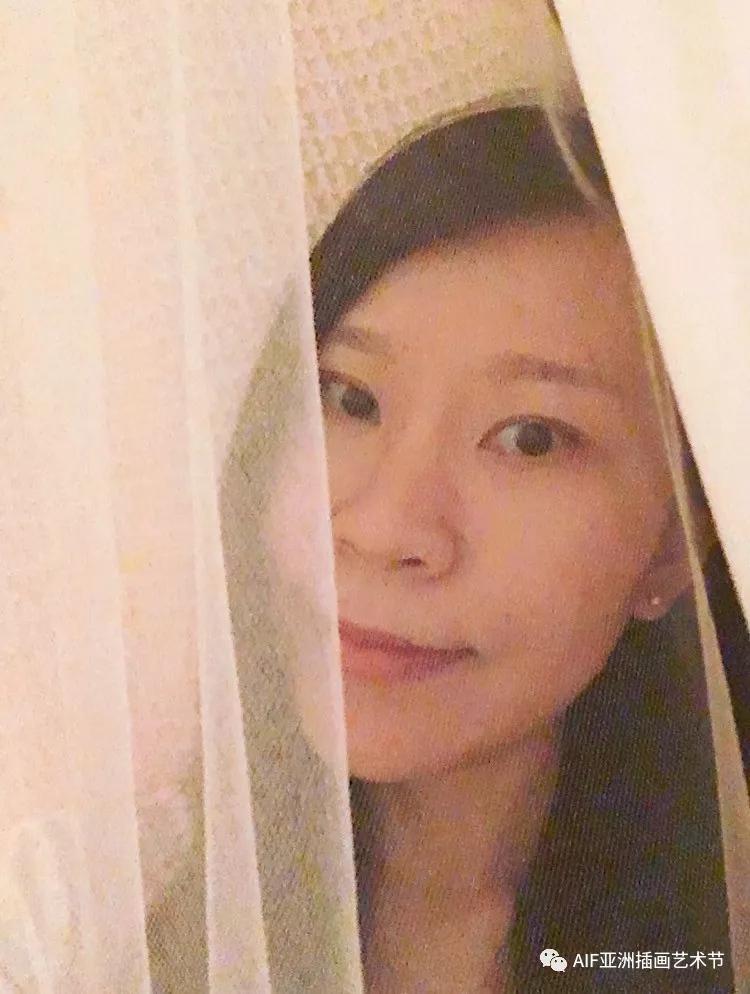 张佳琪
独立插画师,生活工作于上海。从小热爱画画,爱生活中一切美好温暖和富有想象力的事物,希望能用画笔画出每个美好感动的瞬间,也希望能像上帝那样去创造属于自己的世界。
A freelance illustrator based in Shanghai. I love the beauty, warm and imaginative things in my life. I hope I can draw every moving moment and create my own world like God.
IG: GIGIANNAZHANG
微博: GIGIANNAZHANG
---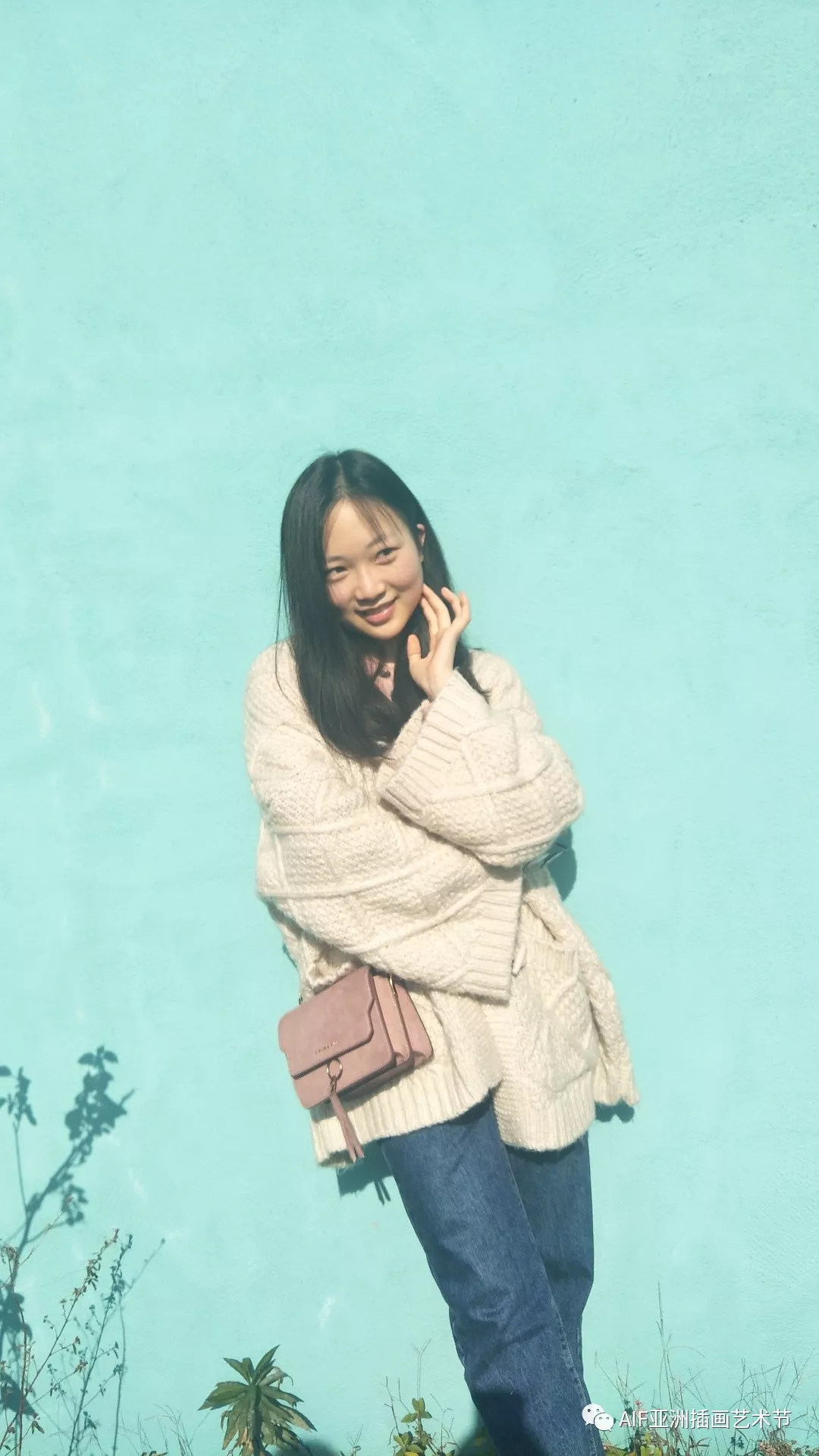 Ann 葉子
我没有接受过专业的美术教育,对于绘画的热爱来源于我的家庭,我的父亲闲来喜爱画国画、收藏艺术品,从小受其影响,也渐渐喜欢上绘画这种表达方式。
在创作过程中,我的灵感往往来源于自然小物以及文学作品,其中的点滴细节之美总是让我惊喜。创造插画于我而言是创造异于现实的想象世界,描绘我脑海中的故事,用画面的形式与他人分享。希望我的作品能带给观者一些绘画情节上的思考和梦幻的超现实感受。
I grew up in a family that had a lot of connections to art. My father is an art fanatic. He used to always enjoy drawing and collecting different artworks. I was an analytical child. I used to observe my father when he was making traditional Chinese painting. I would notice how happy it made him feel. Since I was an analytical child, I have a lot of wonderful memories of my father's interactions with art. This made me interested in art. I think that's where my passion for drawing came from.
I usually get inspiration from nature and literature as those things allow me to be amazed by every single detail in my life.Making illustrations makes me feel like I'm creating my own imaginative world out of real life objects, which also gives me a chance to share my own stories with others. I hope my artwork can give people a narrative and a bit of a surreal feeling.
微博: Ann葉子_Illustration
个人页面: https://www.zcool.com.cn/u/18177391
---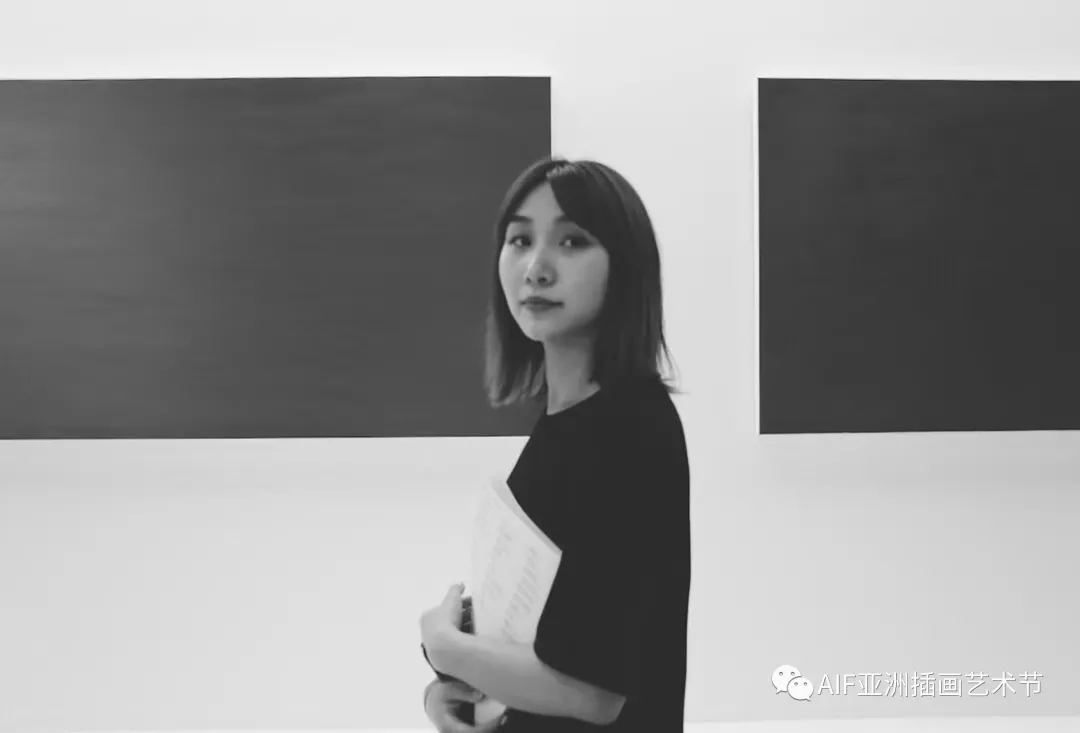 sooomuch
本职是平面设计师,有时觉得插画比设计简单,有时又觉得插画比设计难。
I'm a graphic designer. Sometimes I think illustration is easier than design. But I think illustration is harder than design from time to time.
个人页面: https://sooomuch.persona.co
微博: sooomucch
---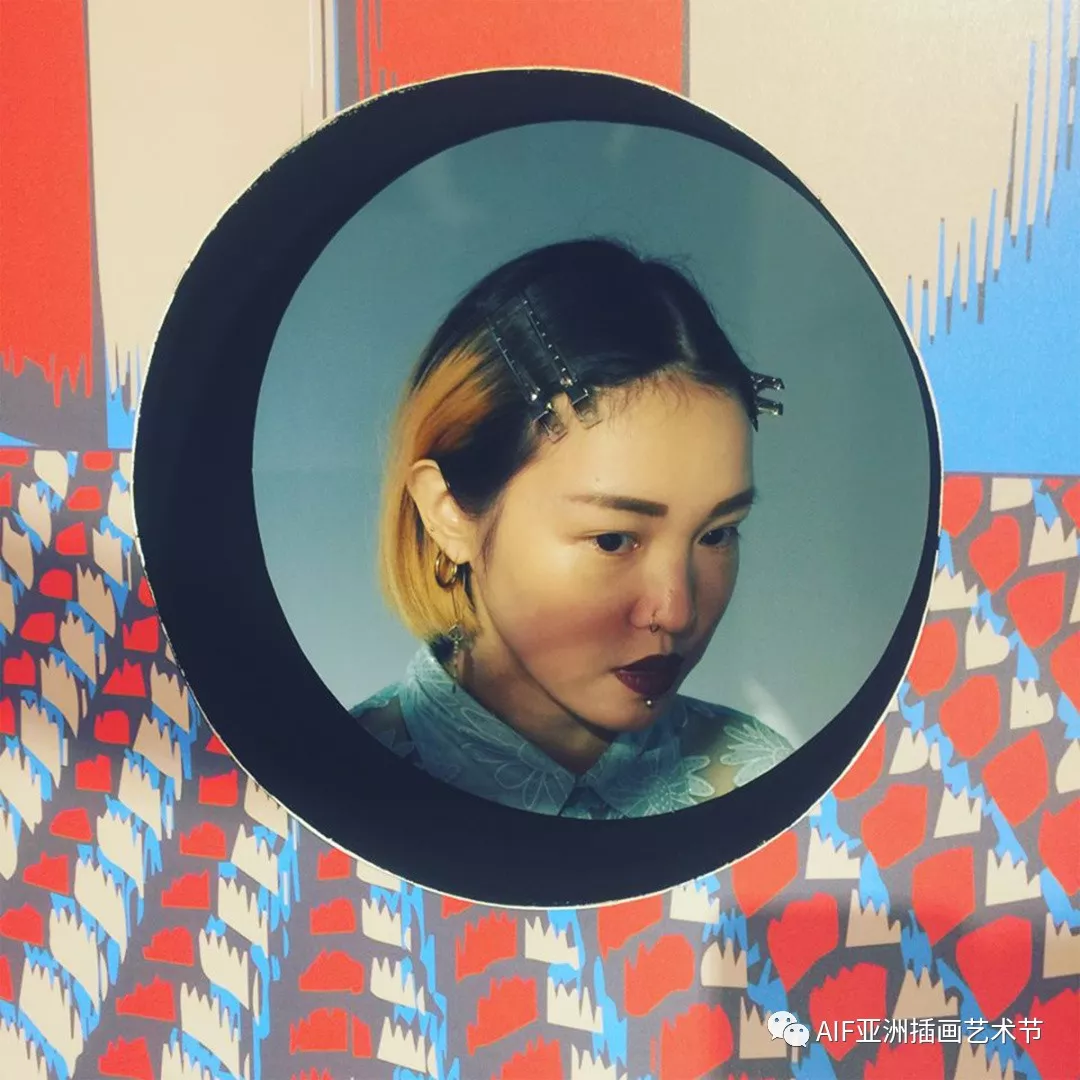 PEZZEEP
高中毕业于台北复兴美工-平面广告设计,大学毕业于台北实践大学-服装设计系,就学期间持续进行广告设计与服装设计之工作,于2014取得德国签证,始终热爱绘画,因缘际会进而踏入了刺青领域,视刺青艺术为终生职业,而后的几年融合所学的技能,并同时在平面设计领域中接案, 取得次文化和商业间的平衡。生长于台湾-台北的Pezzeep,非常崇拜传统文化中所有的征兆和意义,喜欢将这些传统元素融入于自己的创作中,期望用艺术来解码更多关于传统文化与次文化之间的隐藏符号。
Graduated from Advertisement Design , Taipei Fu Hsin Arts School and get a Bachelor Degree in Fashion design, from Shih Chien University in Taiwan.In 2014,I got a Working Holiday Visa from German Authority and had an opportunity to learn about Tattoo Art. Afterwards, I am capable to apply skills onto different objects which I have learnt, such as Fashion Design, Commercial Design and the Art of Tattoo. In recent years, I have been made efforts on seeking movement between tattoo, art creation and self-development. Born and grow up in Taipei, Taiwan, Zee was verykeen to promote and discover Taiwan traditional culture, she also likes to take these traditional elements into art creation. Meanwhile, Zee is also influenced by sub- cultures, she expects to de- code relationship between traditional culture and sub- culture, and go further to form a self style.
IG: pezzeep
FB: https://www.facebook.com/pegy.zee
---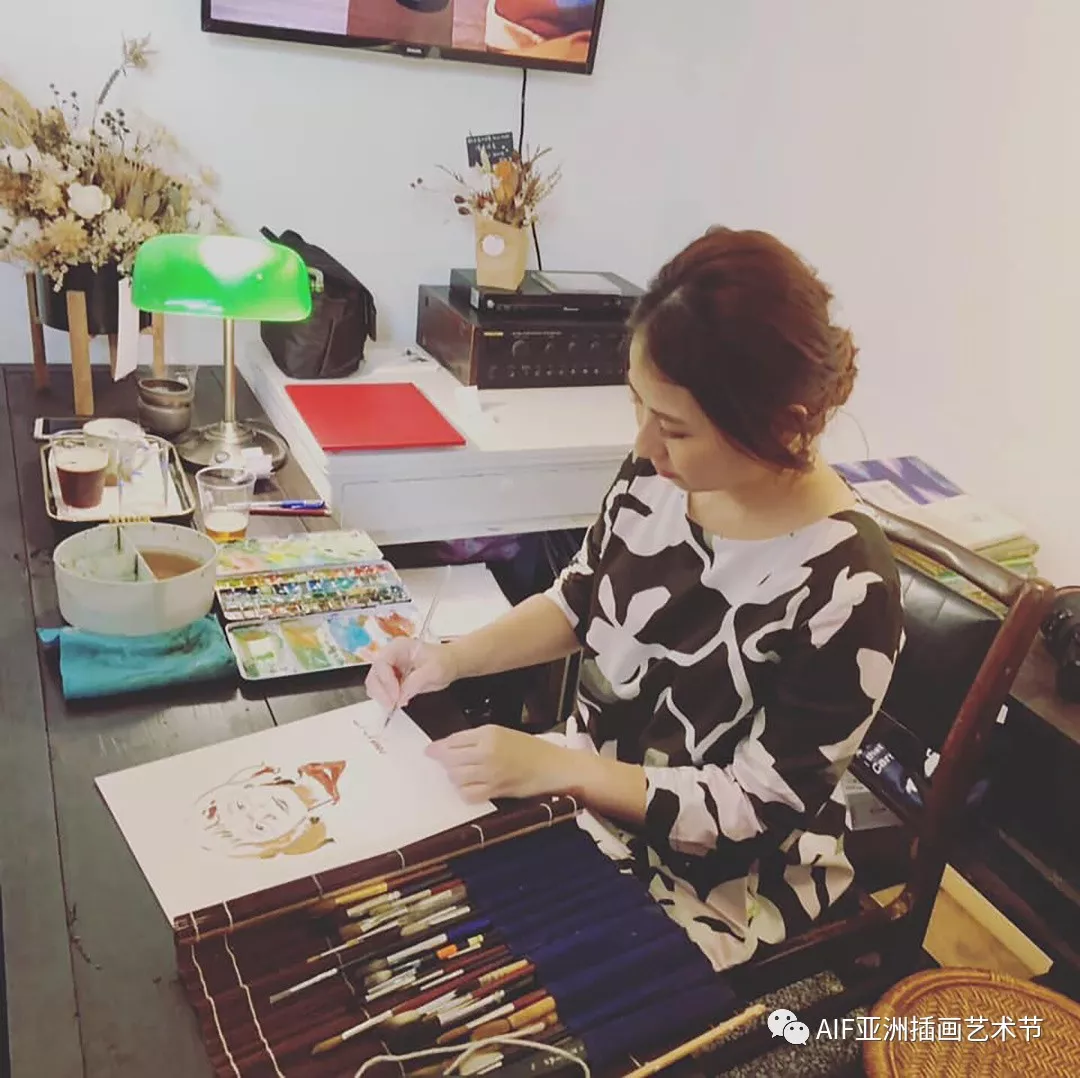 MengYin-Yen
我来自台湾台北,童年在乡下长大,对自然有着相当的向往和着迷。孩提时期大量的阅读与自由,成为我所有创作的养分来源。也因此,在生活中的观察总有自己独特的诠释方式;时常思考生命的起源,着迷于量子科学与自然的奥妙中。将这些观察与思考融入在自己的创作里,喜爱大自然中的万物生态,也喜欢天马行空与静坐冥想。
我有个身心障碍的孩子,他是我人生的导师。在我的人生中,虽挫折但也不乏快乐与幸福。他更教会了慈悲与爱;在创作上,他更给了我很大的力量。
我有一间美术工作室,用于教导孩童绘画创作。平时与总与孩童为伍,也因此滋养了内在丰富的创作情感与热情,并带着美好,呈现在生活经验上。
I am from Taipei, Taiwan. My childhood was spent in a rural area, which gave me opportunities to interact with and led to my greater appreciation of nature.
During my childhood I had lots of free time, which I used to absorb many books. This aspect of the past is visible in my artwork, additionally also through daily life, in the way I interpret this world.
I often ponder about the origins of life in our universe, entrenched in the mysteries of quantum science and nature itself. These observations and ideas make themselves known through my artwork. I enjoy nature, thinking creatively and meditating.
I have a child with a disability, and he is the guide of my life. Even though he brings me both frustration and happiness, the values of compassion and love which he taught me are prominent in my artwork.
I have an art studio, where I work with children that I can liken to ripe fruits that nourish my artistic way of expressing my emotions and passion. These beautiful cumulative experiences present themselves throughout my life.
FB: Lesley yen
IG: mengyinyen
---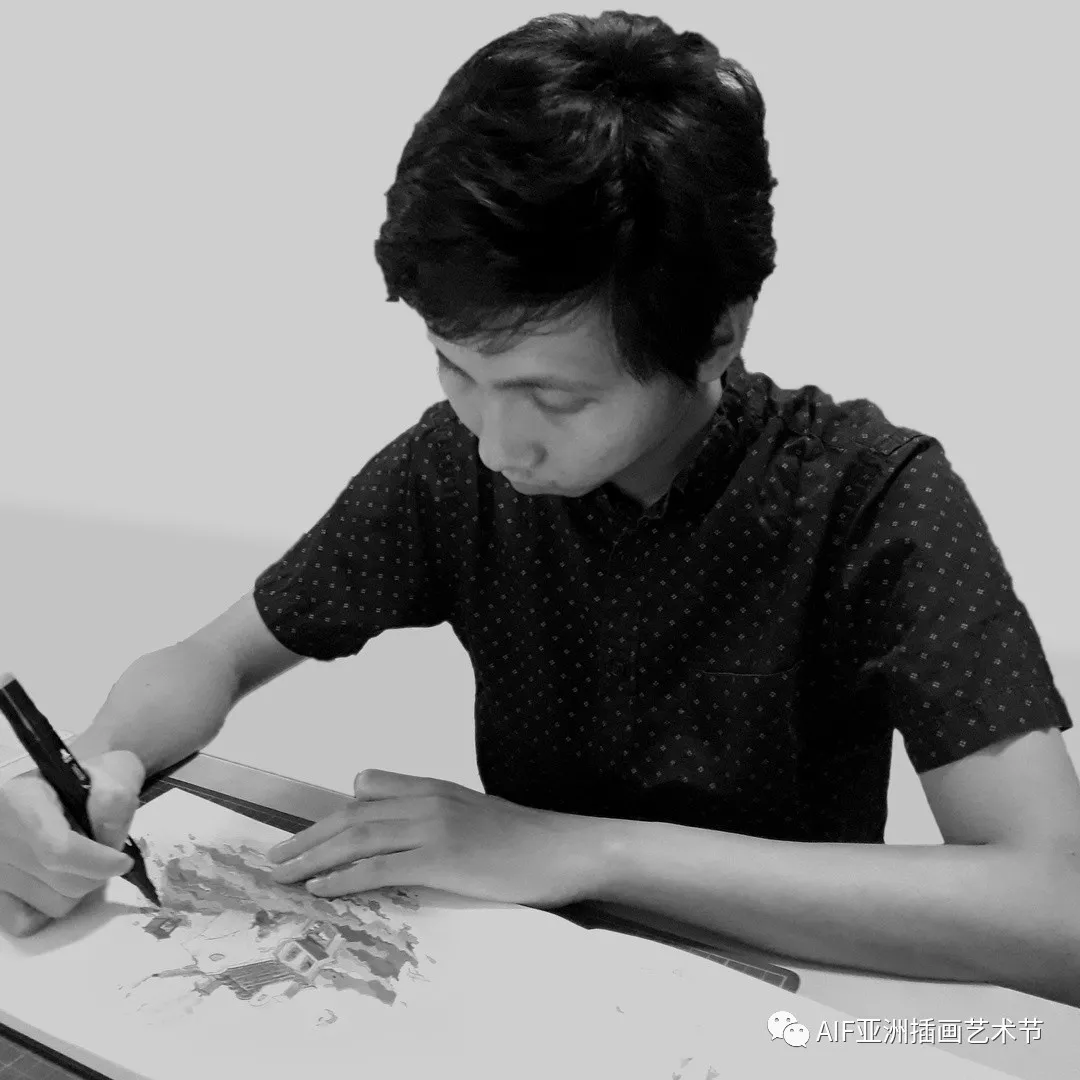 ILLUXIA
空无一人却热闹的奇幻世界是我的创作理念
籍由空旷的城市让人好奇活在叶子里或树上的人是怎么生活的呢
蓝树让一棵树及周遭小城让人探索这个世界
少了生命却多了对生活的幻想
My work tries to illustrate life, without showing who lives it.
I hope to evoke sense of wonder and curiosity like I always had before about how everything come to be, and why. Questions like how someone's life is inside a leaf, or tree, or rock. What kind of life would they have. How they survive; How they communicate. Questions that I ask a lot. Blue Tree let audience discover these fantasy life through a growing tree and a blooming town surrounding it. Through the lack of living creature in the work, I hope to evoke audience's imagination about life.
IG: illuxia
FB: www.facebook.com/illuxia/
---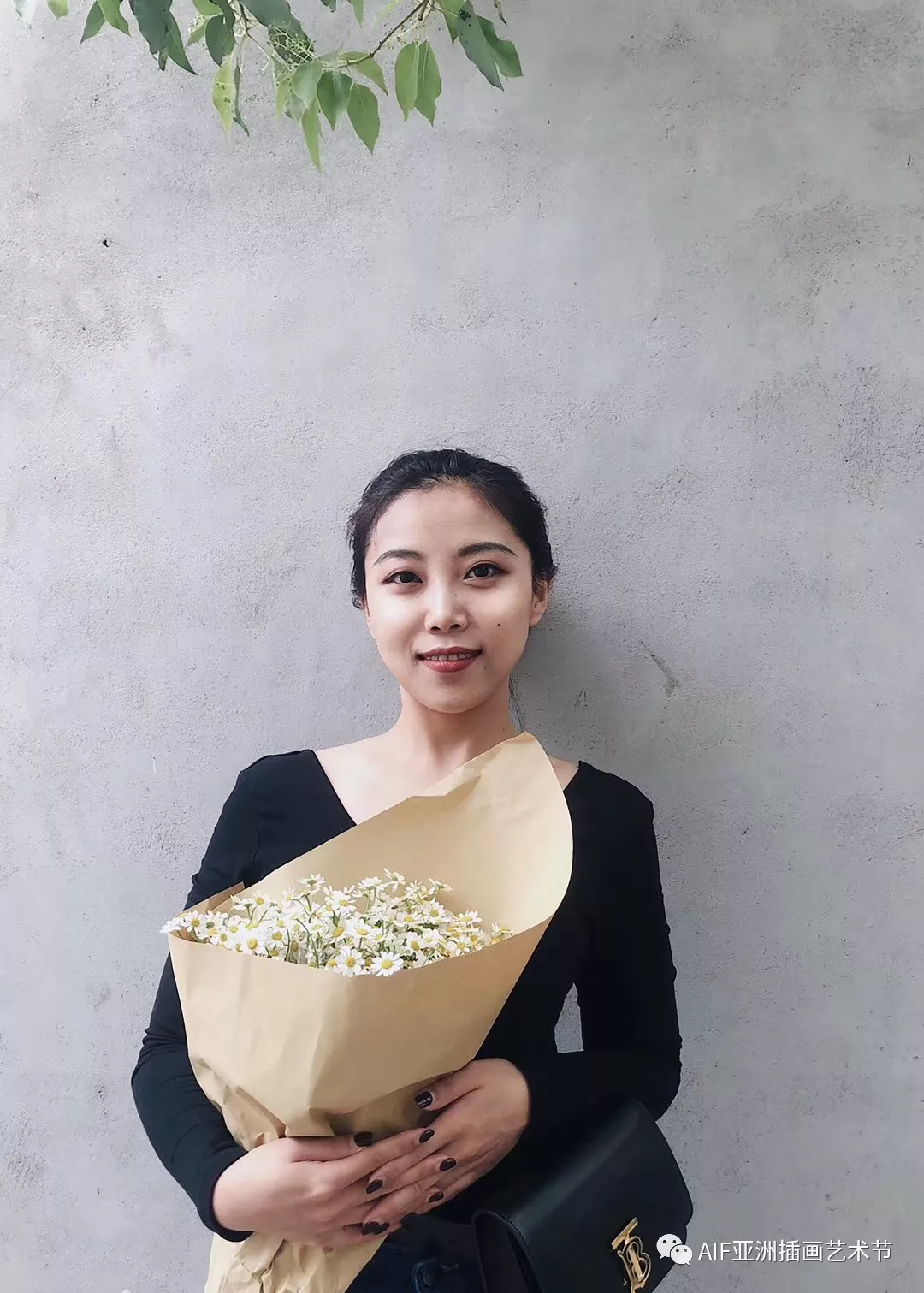 翟峪
毕业院校:鲁迅美术学院附中 / 东北大学视觉传达系
2019.5.25 – 2019.6.16 / 文创跨界「春天国际影城 × 翟峪 "知影莫如猫"电影Cos潮流艺术展」
2018.12.14 / 受邀参展「梅赛德斯-奔驰长轴距A级轿车」 苏州上市潮流盛典
2018.10.18-10.21 / 受邀参展「WOO青岛城市创艺生活节」
2016.10.21-10.23 / 受邀参展「第六届AArt上海城市艺术博览会」
2016.10.19 / 青年艺术家「翟峪×香蕉 」跨界合作限量T恤
Graduated School: The Attached Secondary Art School Of Lu Xun Academy Of Fine Arts / Department Of Visual Communication, Northeastern University
2019.5.25 – 2019.6.16 / Curltural Innovatuon Crossover "Spring International Cinema × Zhai Yu "Movie is like a cat" Movie Cos Trend Art Exhibition"
2018.12.14 / Invited to participate in the "Mercedes-Benz long-wheelbase A-class sedan" Suzhou release ceremony
2018.10.18-10.21 / Invited to participate in "WOO Qingdao City Creative Arts Life Festival"
2016.10.21-10.23 / Invited to participate in the "6th AArt Shanghai City Art Fair"
2016.10.19 / Young Artist "Zhai Yu×Banana" cross-border cooperation limited edition T-shirt
微博: ONEROOMONECAT
公众号: 一房一猫
---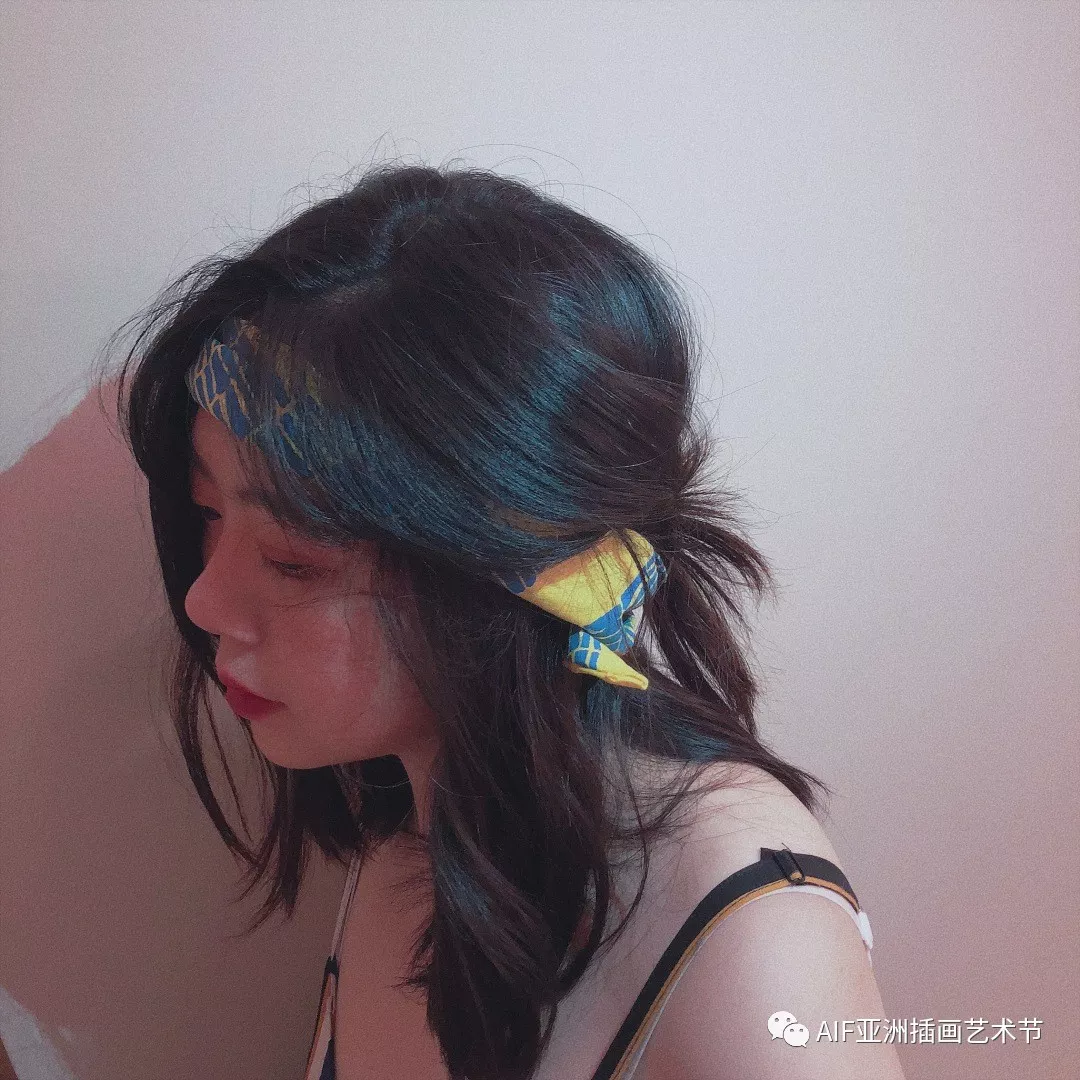 子子
一个天马行空的脑袋瓜子,喜欢想很多,喜欢做很多不同的有趣的事情。
There are all kinds of interesting things in my brain and I'm zizi.
微博: 一个子子-
IG: callmepuppy
抖音: 子子呀-
---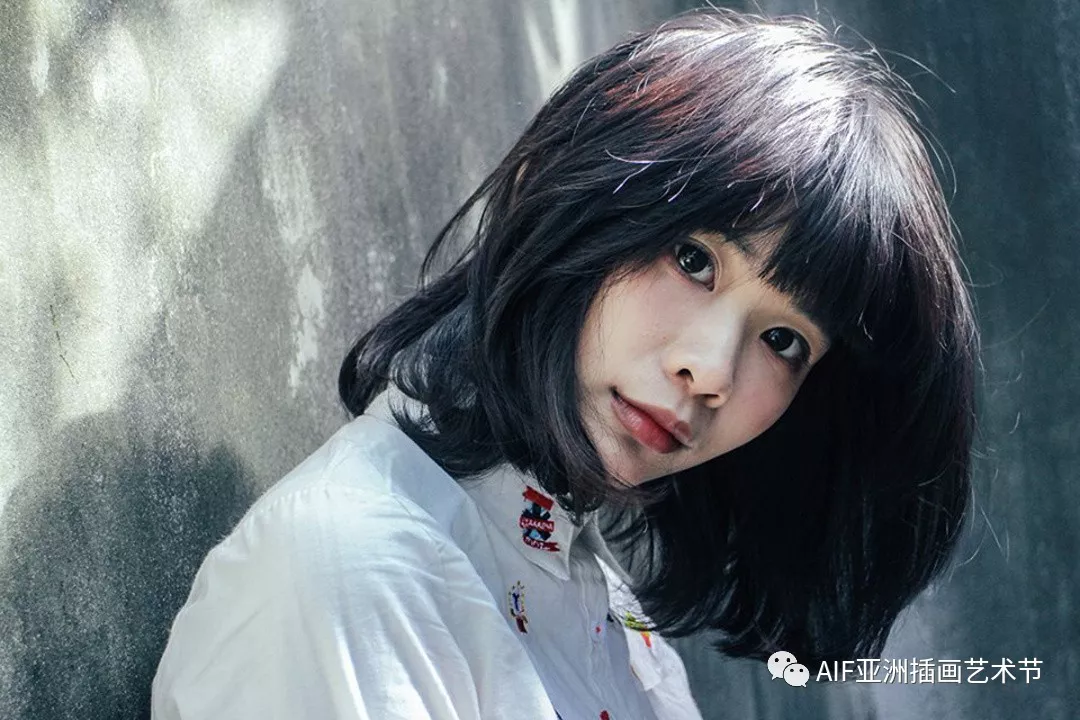 连师屏 LienShihPing
连师屏,复合媒材绘画创作者。东华大学艺术与设计学硕士。作品获创作相关奖项20余项,并连续5年获全台湾美术比赛奖项、于2018获亚洲插画大赏。擅长描绘女性与超现实画面结合,运用各式媒材之重叠覆盖与线条制造平面视觉效果,以身体为对象去探究同源、重叠却又分裂的形象。过去主要创作以自身情感为主题的复合媒材、绘画、装置艺术,于艺廊与文创园区多次举办展览,近期也创作数位插画。
LienShihPing is a composite media painting artist, who graduated from Donghua University with Master of Art and Design. Her work has won more than 20 awards in creation, and she was awarded in Taiwan art competition for five consecutive years and won Asian illustration award in 2018. She is good at depicting women and combining them with surrealistic pictures, as well as using overlapping coverage and lines of various media to create plane visual effects. She mainly created composite media, painting and installation art with private emotions as the theme in the past. She also held exhibitions in art galleries and cultural and creative parks for many times. Recently, she created digital illustrations.
IG: lienshihping
FB:
个人页面:
https://lienshihping.weebly.com/
LINE: qoobbb
---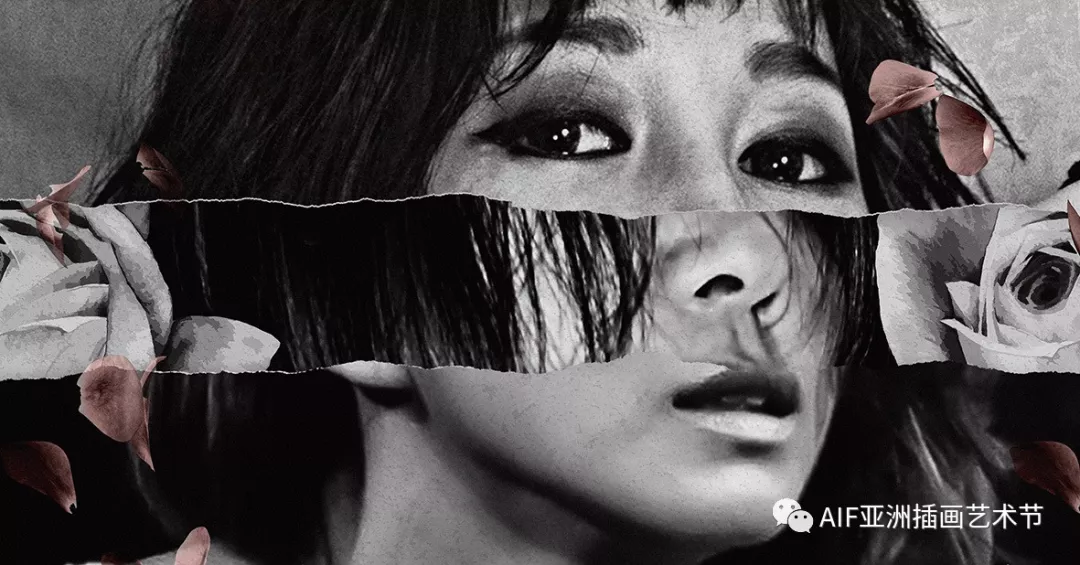 谬谬艺术工作室
叶巽-荒谬艺术家
在人生中狂奔,巽为易经风卦,来无影去无踪。
人有很多面貌,光是影的本身。2018年始以叶巽之名从事艺术跨域及多媒材创作,与音乐人南颖、舞蹈家芷晴组成《娘子》,跨界结合音乐、舞蹈戏剧,试图打破定义,呈现艺术多重想像与思考。叶巽以东方哲理为底蕴,融合媒材与设计形式,探讨存在本身与宇宙间的连结。作品常有矛盾冲突,静态中的动态、现代中的古典、平静中的疯狂,与观者对望凝视,相互思辨人存在的意涵。
Yeh Xun- Absurdist Artist
Yeh Xun is engaged with the art creation of multi-material and various categories. She cooperates with the musician- Fiona, and the dancer Kelli to build up a group called Niang Zi. This group tries to use female's point of view to break the stereotype, guide the audience to think in different way instead of follow the existing frame.
Yeh Xun utilizes the oriental philosophy as a start point, combine different materials and design category. In order to discuss the connection between the essence and the universe. Their art creation demonstrates contradiction, dynamic in the static work, classic in the modern work, and craziness in the serenity. They would like to use their art definition to let the audience ponder the meaning of existence of human beings.
IG: yeh_xun
FB:

个人页面: www.yeh-xun.com
www.mummumzine.com
---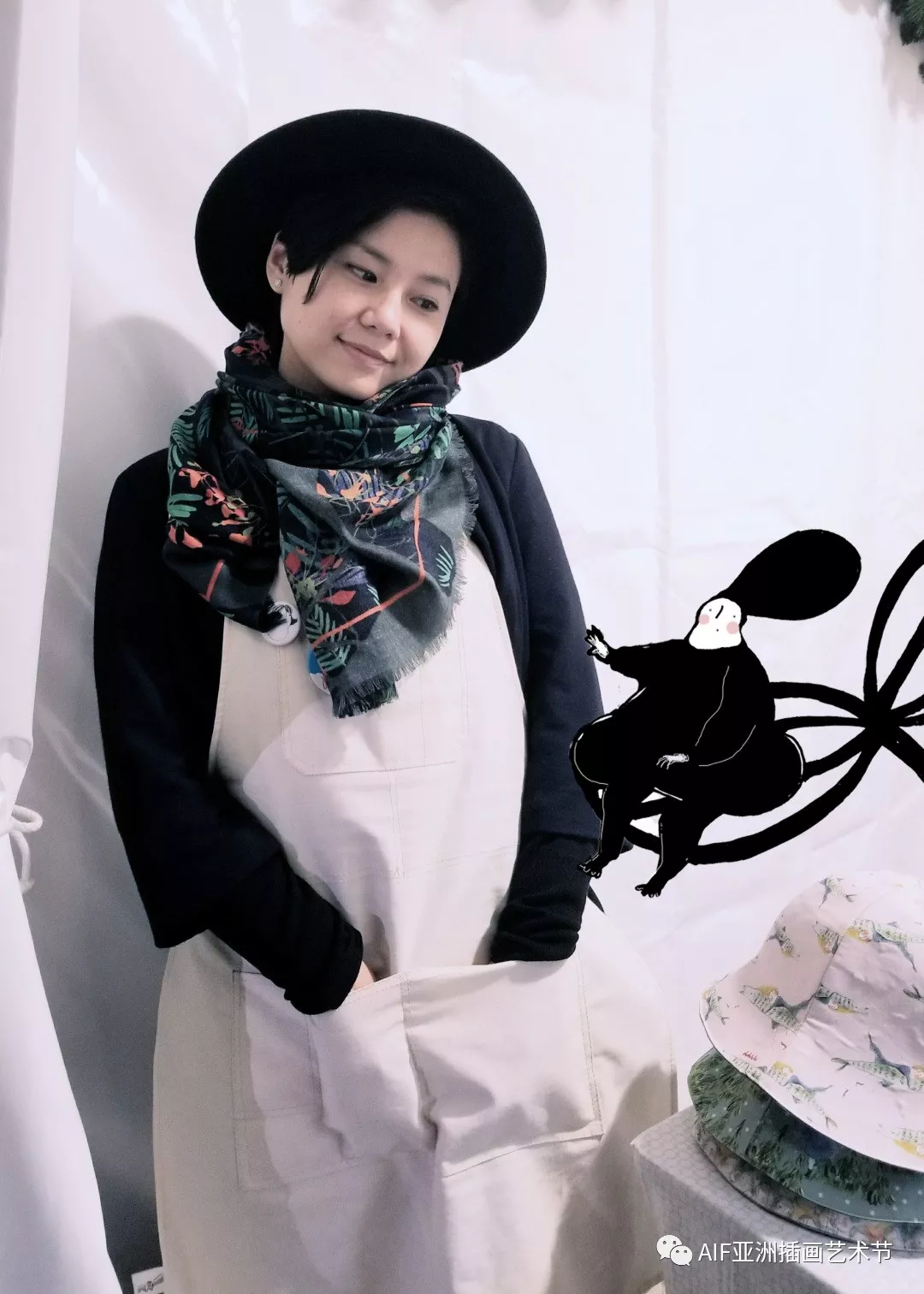 dodolulu
dodolulu,香港插画师,被生活点滴启发而创作,画生活的喜与悲,让感同身受的人知道有人结伴同行。曾接受本地及海外媒体的个人专访,包括MetroPop, HK01, RTHK, NeoCha(中国), dpi设计插画志(台湾)和China Underground(意大利)等。
dodolulu, an Illustrator based in Hong Kong. Continuouslyinspired by the feeling about life, she draws small moments that touch, happy or sad, to let people whoever feel the sameknow that they are not alone. She has been feature interviewed by media from Hong Kong and overseas, including MetroPop,HK01, RTHK, NeoCha (China) and dpi Magazine Taiwan.
个人页面: www.dodolulu.com
---
CHUN
(深圳杰西卡艺术文化有限公司选送)
毕业于上海戏剧学院 媒体创意
毕业以来从事广告插画相关工作,同时也是不局限于画面的艺术创作者,2018年至2019年开始进行尝试自由创作,
2016年参与编排波兰戏剧<终究徒劳>并担任视觉设计
2016年参与编排戏剧<等待戈多>并担任视觉设计
2017年作短片漫画<傻帽,c巴巴>
2018年拍摄短片<黑暗插曲>
2018年至今进行自由创作
此次参加展览的一系列大概都是围绕着"末日幻象"的主题来探索的,这个是我近两年着迷的主题,总会给我带来无限的想象,同时我也贪恋这份想象。
个人页面: https://www.zcool.com.cn/u/14799540
---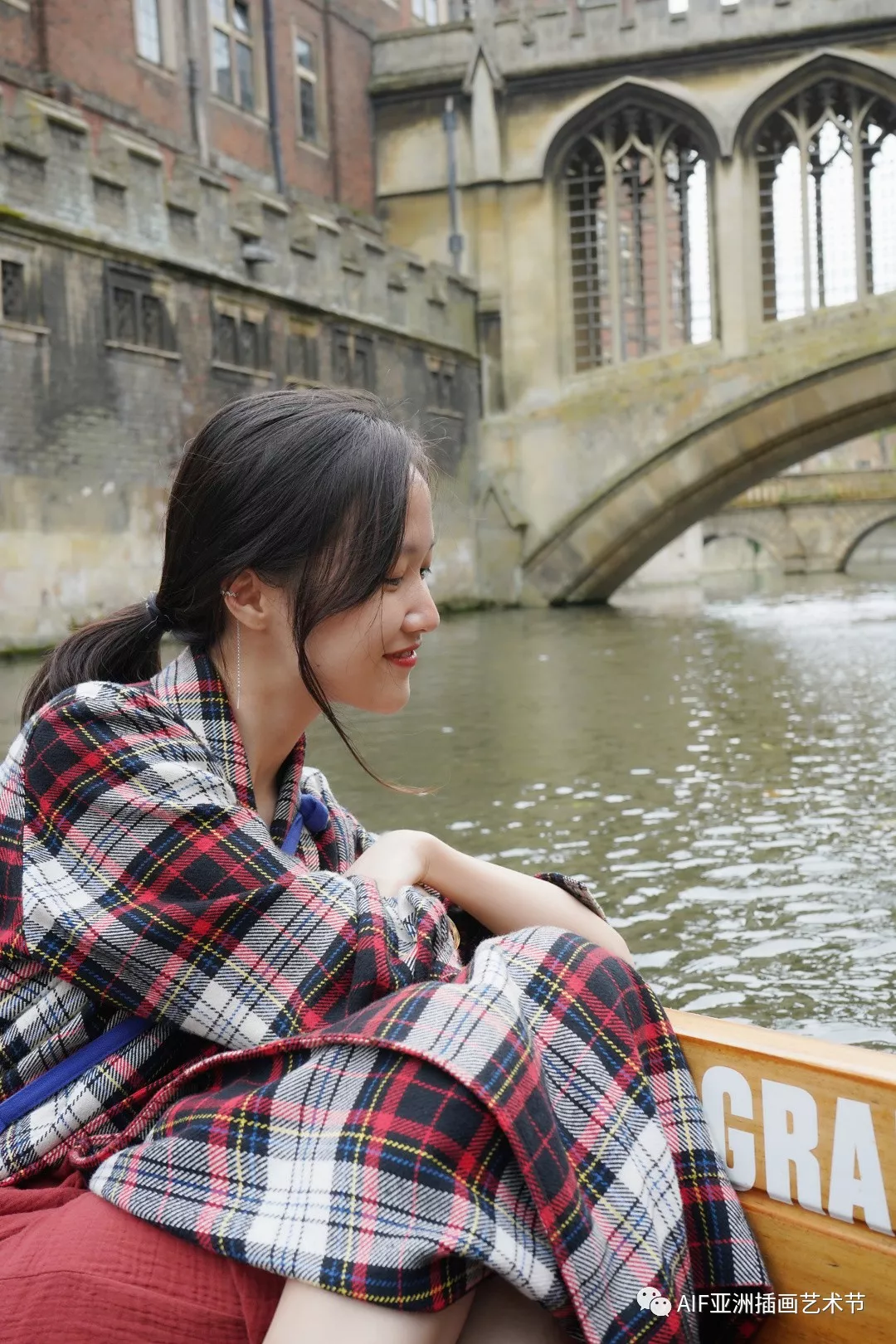 肖兆希
我叫肖兆希,在成都长大,是一名视觉设计师。目前在伦敦艺术大学攻读平面品牌设计的研究生。我对人们如何感知世界感到好奇,我的绘画风格以描绘感受和情绪为主,希望通过我的作品能够激起观众的情感共鸣。
My name is Zhaoxi Xiao, I grew up in Chengdu and I am a visual designer. I am currently studying MA graphic branding and identity in University of the Arts London. I'm always curious about how people perceive the world, and I mainly dipict feelings and emotions in my artworks, hoping to arouse the emotional resonance of the audience.
IG: june_zhaoxi
FB: Zhaoxi Xiao
微博: 萧朝夕
---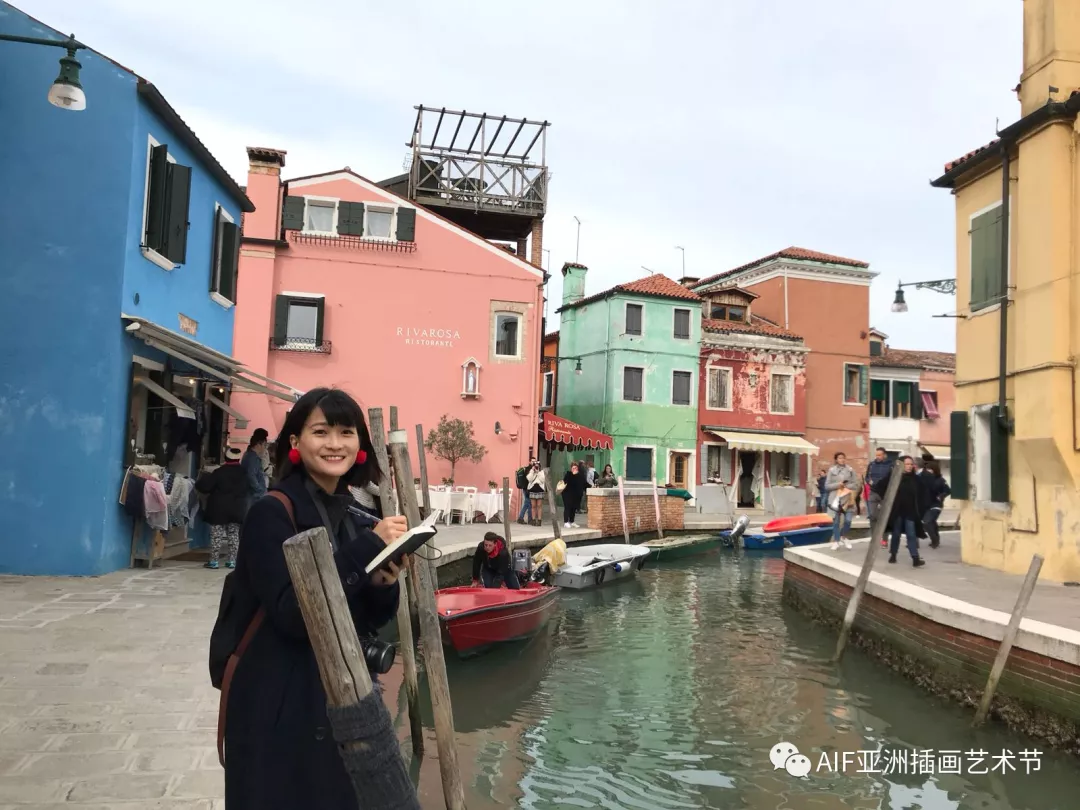 An Chen illustration
2019年毕业于剑桥艺术学院童书插画系,一个喜欢画几何、复古玩具的插画家。
An Chen is a Taiwanese illustrator who graduated from Cambridge School of Art with a Master's degree in Children Books illustration in 2019. She enjoys painting geometric patterns and retro toys.
IG: anchenillustration
---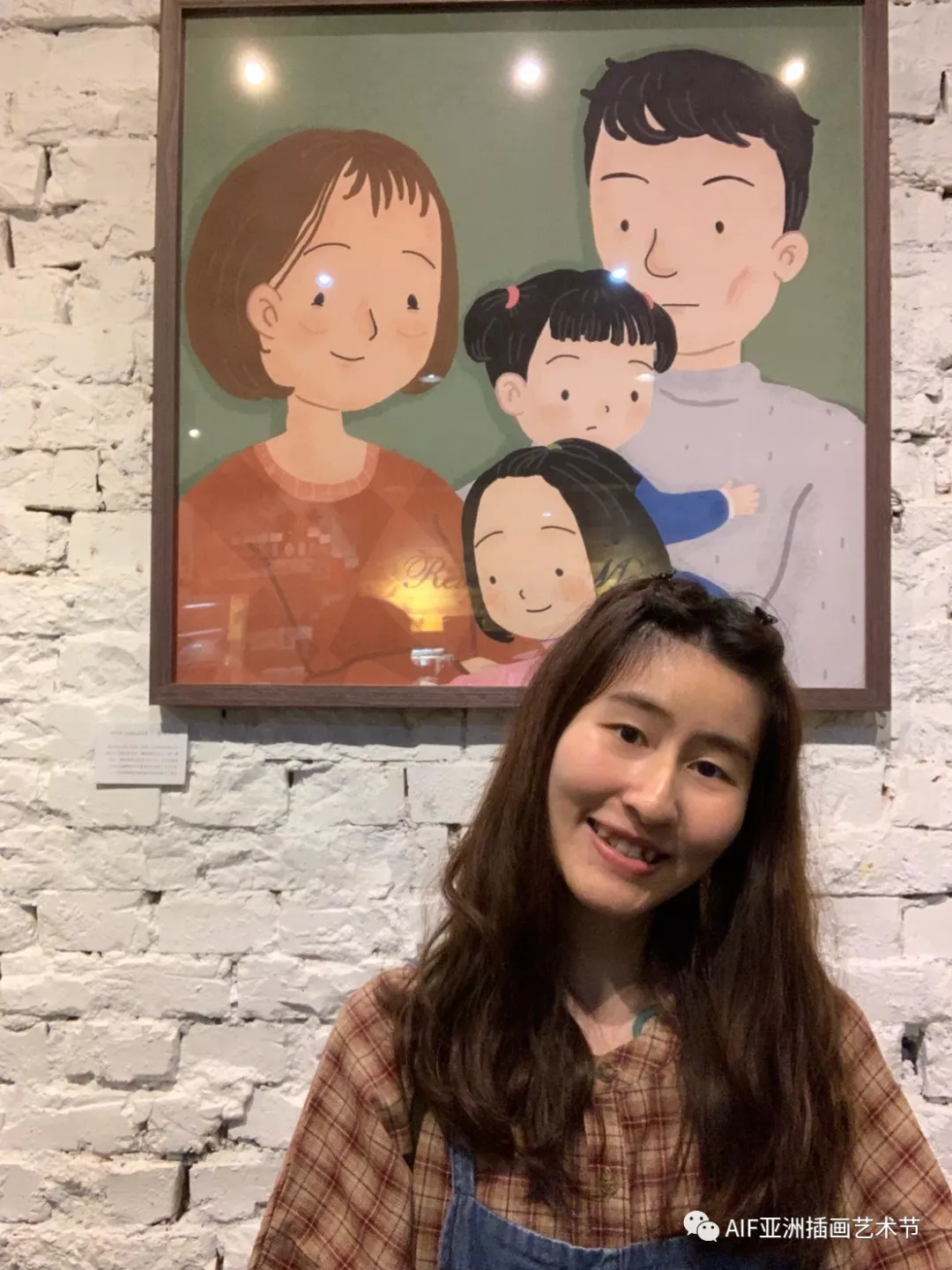 Emma Chao
我是一个从幼稚园就拿着画笔挥洒,直到出了社会变成使用电绘板的从小画到大的人,我很喜欢大家看见我作品的神情,能够鼓舞人心是我创作的动力,一点一滴,将每个温暖到你的当下累积成能量,散发到世上每个角落,是我所认为画画最珍贵的成就。

I am a from kindergarten with a writing brush, until out of the society into use electricity board painting painting since childhood, I like you see my work, can inspire is my motivation for writing, every little bit, keep warm to your present cumulative into energy, and sending out into the world each corner, is what I think to draw the most valuable achievements.
个人页面: https://www.behance.net/chaoyunhua29d1
IG: artandillustration
---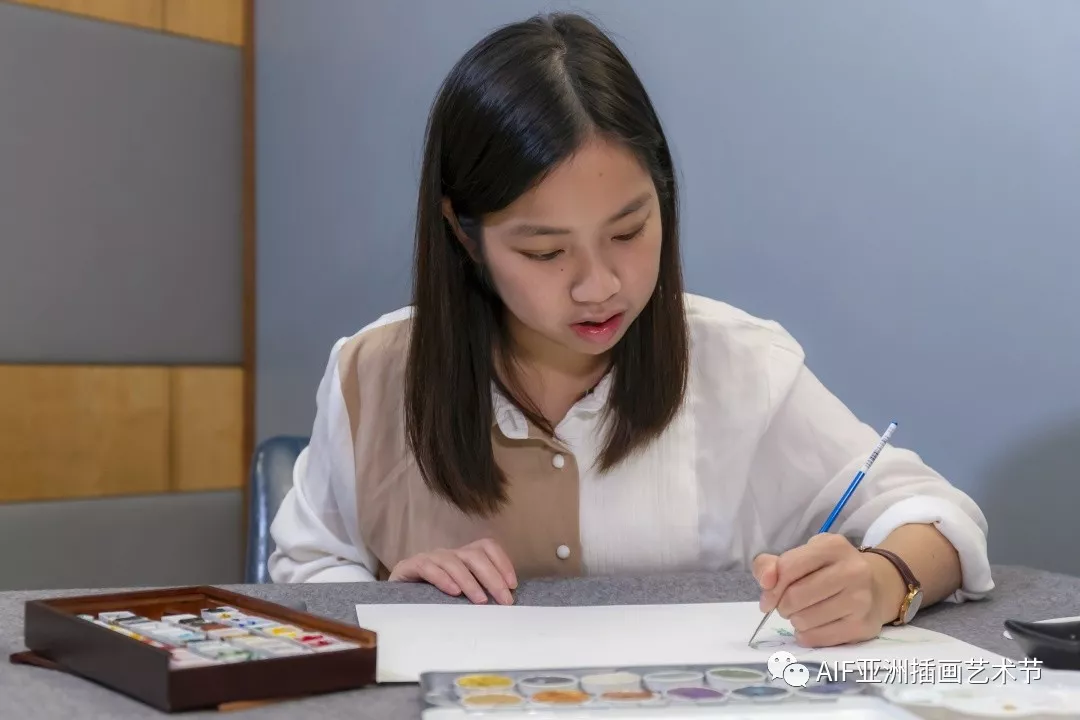 Mandy Chan
一位喜欢画画和西洋书法的左撇子香港女生,于2014成立个人品牌Mstandforc,透过水彩及墨水创作一张张暖心的作品,为身边人送上暖暖的祝福。
A left-handed calligrapher and illustrator from Hong Kong and founded a brand called Mstandforc in 2014. Send warm wishes to people around through creating warm-hearted works by watercolor and ink.
IG: thetinymc
FB: www.facebook.com/mstandforc
个人页面: www.mstandforc.com
---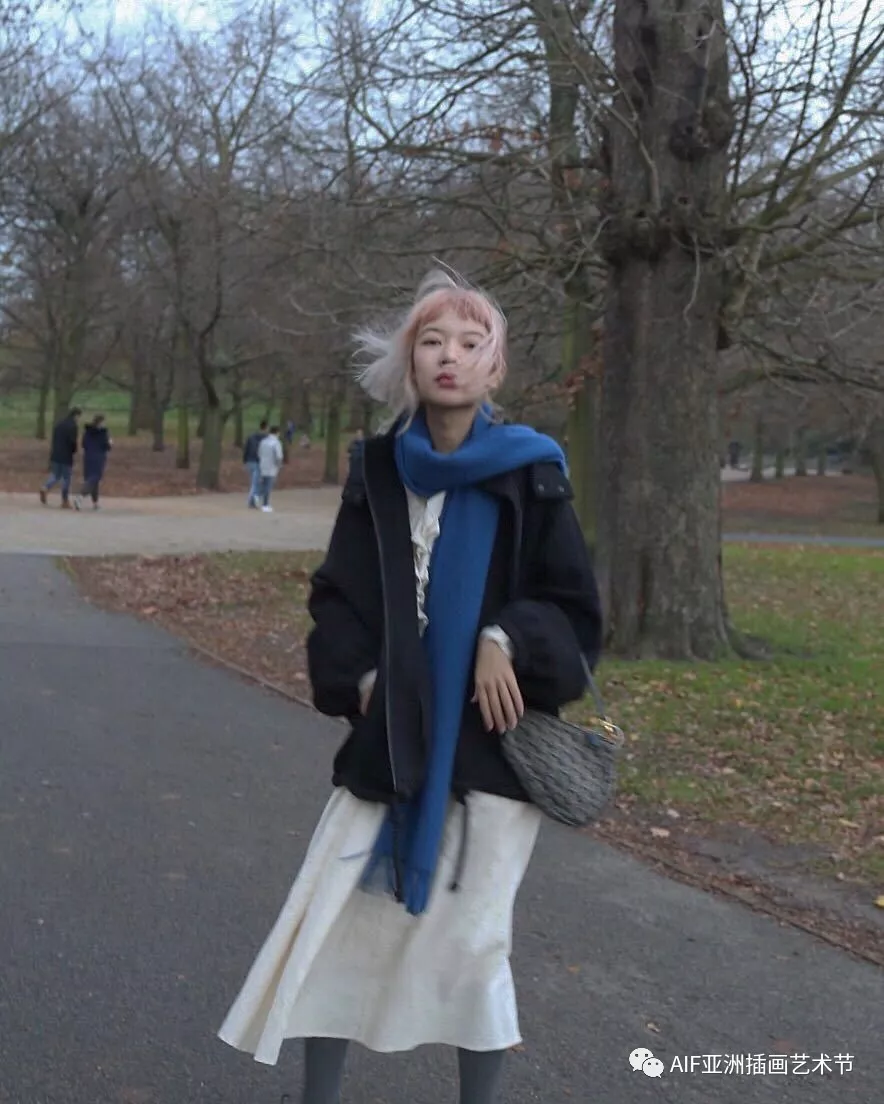 吴双
(深圳杰西卡艺术文化有限公司选送)
伦敦艺术大学插画视觉专业研究生
2018 年伦敦群展"outsider" base gallery
2018入选Hiiii illustration 亚洲插画大赛
2018年9月与深圳杰西卡文化艺术有限公司跨界合作
2019年4月参展上海MCFA
2019年入选成都奇点艺术节
2019年6月北京城市艺术博览会
2019年10月香港亚洲当代艺术展
Graduate student of illustration vision, university of the arts, London
2018 London cluster exhibition "outsider" base gallery
2018 winner of Hiiii illustration Asia illustration competition
In September 2018, it cooperated with shenzhen Jessica culture and art co., LTD
Shanghai MCFA exhibition in April 2019
In 2019, it was selected to the chengdu singularity art festival
Beijing urban art fair in June 2019
Asian contemporary art Hong Kong, October 2019
微博: 幼塔塔
IG: wutata63
---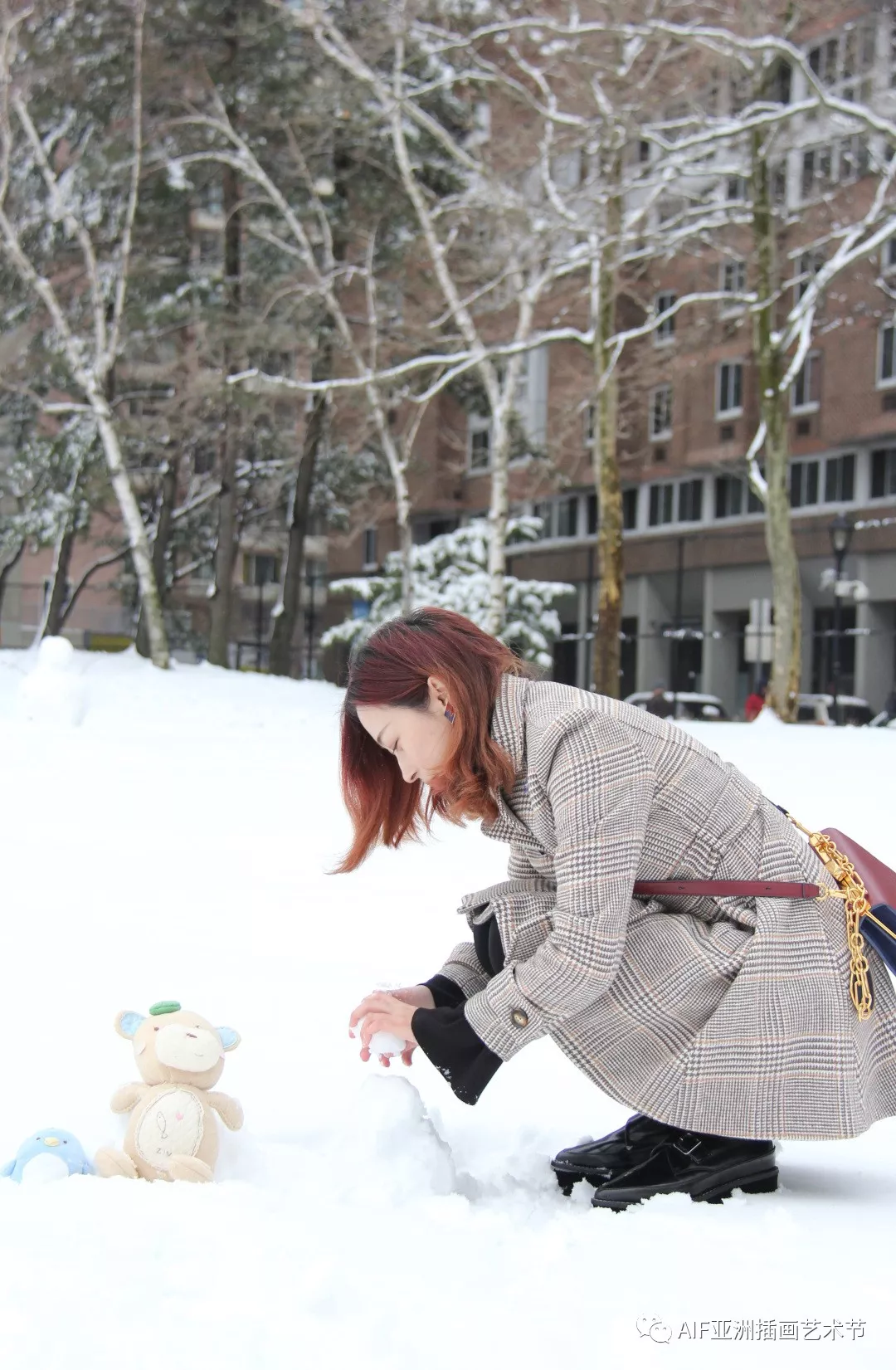 陈家文
2018 毕业于广州美术学院插画专业,现于纽约视觉学院就读插画专业研究生。
Jiawen Chen was graduated and got her BFA degree in Guangzhou academy of Fine Art in China, and now she is pursuing her illustration MFA degree in School of Visual Art located in New York City.
IG: Jiawenchen_illustration
个人页面: http://jwchenart.com
微博: 弎木_
---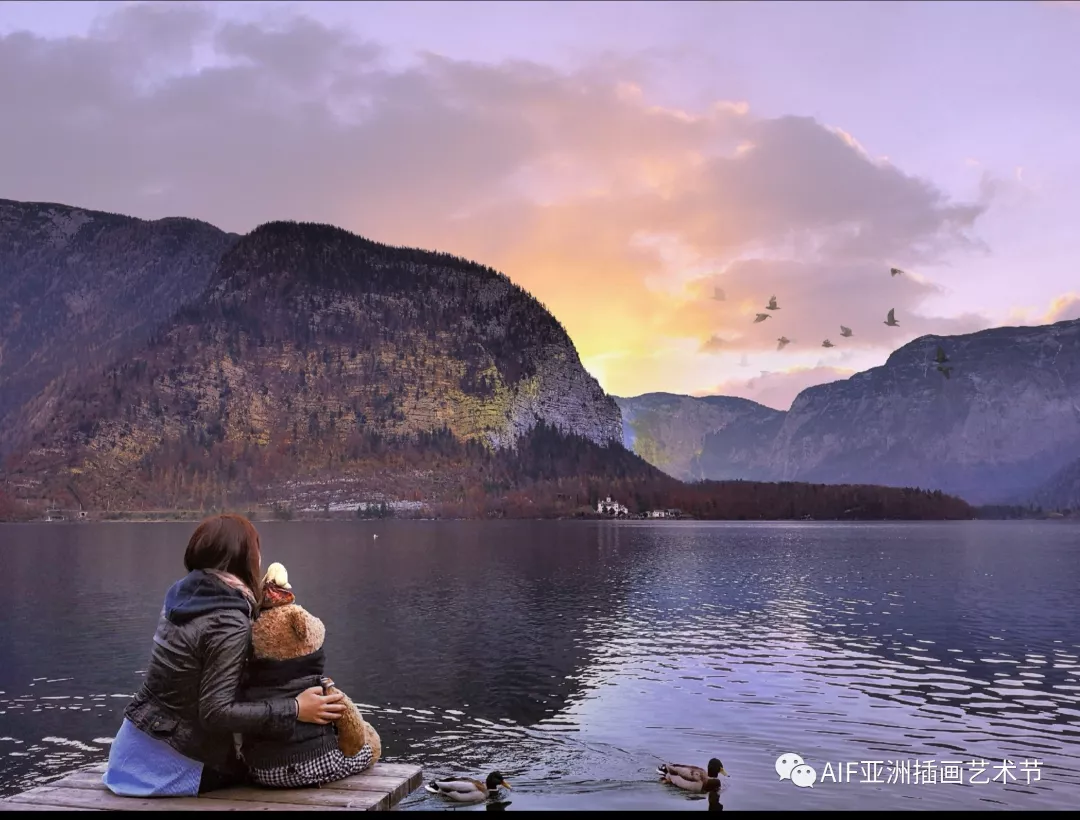 abe2
我是Abe2
曾在几个类型的博物馆担任策展人和插画师,这项工作实现了我的梦想,即我想要的,创造性的和人道主义的。我的研究,研究和工作也环绕这个梦想,曾经参与考此和研究艺术心理学。当我说明时,这种体验丰富了我的思想并激发了我更多的灵感,它展示了第五维时刻和概念,即现实是由源自我们思想的振动能量组成的。信仰是一种能量,能够引导我走向梦想。
而「一起一起」系列作品正是呈现了我内在思维,以及具体再现与这世界连结的故事。其中一幅「一起一起迎接雨」反映了前几个月在台北不间断的雨季,这样长时间的下雨状况也是鲜少难得的,便启发了我,是不是有什么神奇的小怪兽出现在台北呢?雨成为辟护他们落在台北的手段是吗?小怪兽是我们在地球上生活在一起的看似无关的力量的代表。我的画作代表着对这个世界充满自信和可爱的想法,我希望在他们感到难过时,也能给予一些人的正面的能量,这也是我与他者生存在同一空间的连结办法。
I'm Abe2
I served as a museum curator and an illustrator in several types of museums. This job fulfilled my dream of what I want to be, creative and a humanitarian. My study, research and work also targeted my dream that I've been archaeologist and researched art psychology. The experience enriched my thoughts and inspired me more when I illustrate, it shows a fifth-dimensional moment and concept that reality is composed of vibrating energy that originates from our mind. Belief is a kind of energy that stands and leads me toward to the dream I have.
The series of my work, states the visual orientation I feel in this world and the story connected with my mind-set in daily life. One of my paintings, called " To enjoy the rainy day together", the background is that it absurdly rained continuously everyday for 2 months in Taipei this year. One day it inspired me that maybe some Pokemons are falling down and waiting for me to look for them. The Pokemon is the representation of seemingly unrelated forces between us who live together in the earth. My paintings represent confident and adorable thoughts to this world which I hope will also warm up some people's minds when they feel sad.
IG: a be2_illustrator
---
刘岳航
我是刘岳航,兴趣是边骑车边听音乐,最近迷上夹娃娃机,但是常常被骗钱,所以立志要在火车站旁边开一间夹娃娃店。
I am Yue Hang Liu. I am interested in listening to music while riding a bicycle. I recently fell in love with the claw machine, but I was often cheated, so I decided to open a claw machine shop next to the train station.
FB: 劉岳航
IG; lost_donkey
---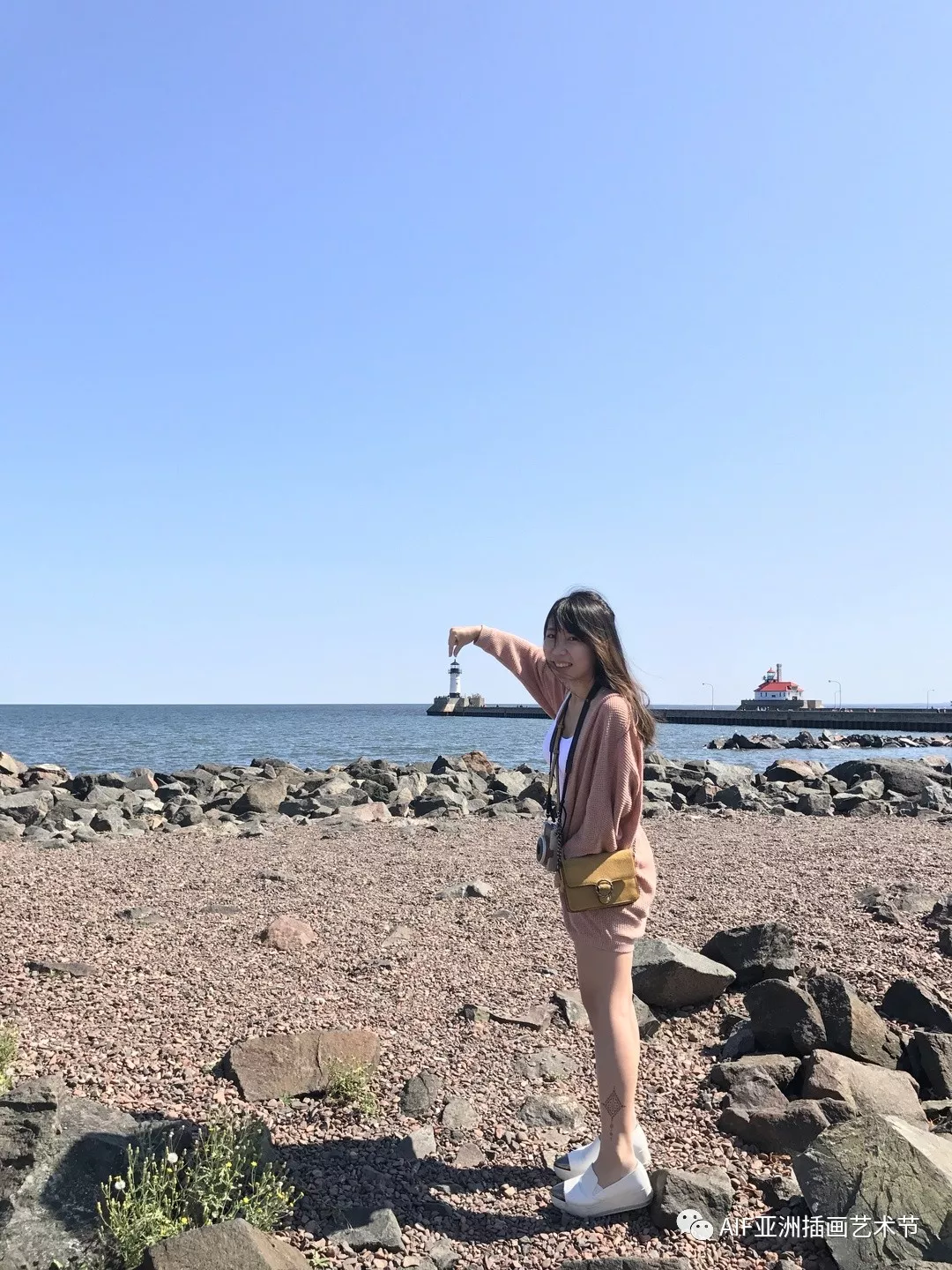 Bo Li Cheung
对于所有人,你可能不知道我来自香港
覆盆子是我每天吃的东西
星期一除外
下雨天除外
要记住一件非常重要的事情
乐观可以杀死你的梦想,除非你采取行动
我叫玻璃,祝你有个美好的一天
For all, you may not know I am from Hong Kong
Raspberry is what I eat everyday
except monday
except rainy day
do remember one thing really important
optimism can kill your dream unless you take action
my name is Bo Li. have a good day
IG: sleepingsince_
个人页面: https://bcheungart.wixsite.com/sleepingsince?fbclid=IwAR1QK3hy9Jsf2l6sYIf53V6fogZDGikip3AEbwGYRLs_hWNRg0mtVOJ_nQI
---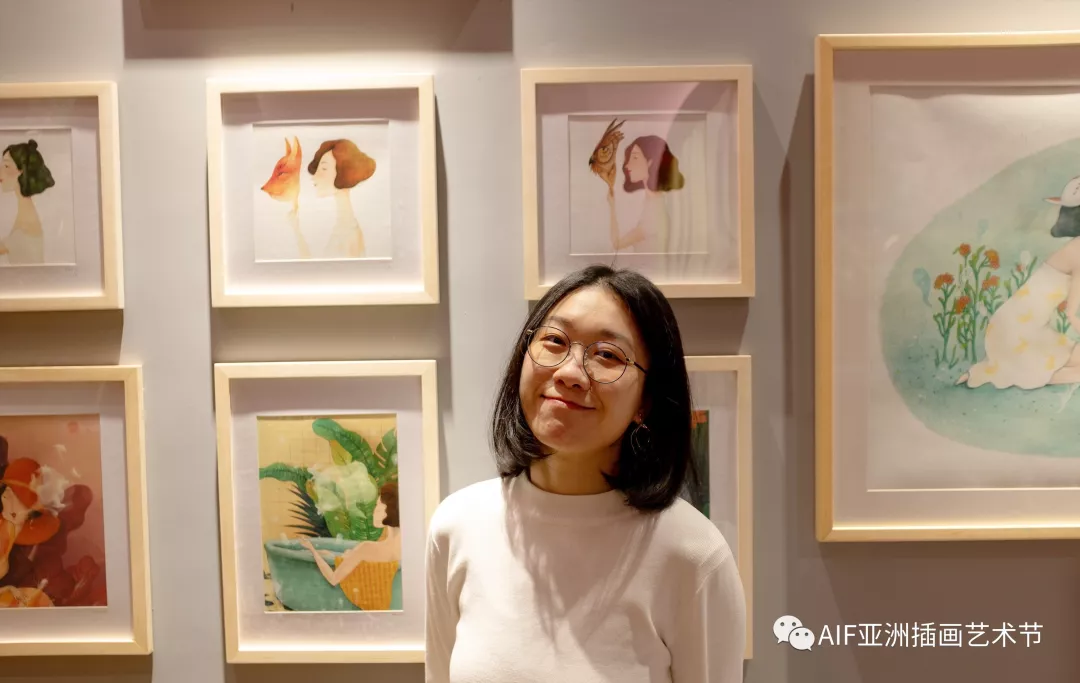 NaomiWu
Naomi Wu是一名自由插画师,现居上海。
本科毕业于伦敦传媒学院,硕士毕业于中央圣马丁艺术设计学院。
现为一名自由插画师,居住在上海,曾与众多品牌设计,广告公司合作。
她的作品大多倚赖于坚实的绘画基础以及对于细节的追求,灵感主要来自于冥想和心理治疗。她的作品中大多以女性视角为出发点。在插画中她探索女性的自我认知,寻找女性的内在力量。
Naomi Wu is an illustrator based in Shanghai.
She graduated from her MA course in Central Saint Martins College of Art and Design in 2013. She had a wide range of collaborations with advertising and branding agencies.
Clients include: Costa, Heinz, Zespri, The Mad Curator, Gyeongpodae Hyundai Hotel, Dove, Danone, DJI, Kimmik Berlin, etc.
Her work relies on her solid drawing skills and obsession with details, and is often inspired by meditation and psychological therapies. Her recent illustrations usually come from female perspective. In her work, she discusses female self-identity and explores women power.
IG: naomi_wna
个人页面: www.naianwu.com
公众号: 从前OnceUpon
---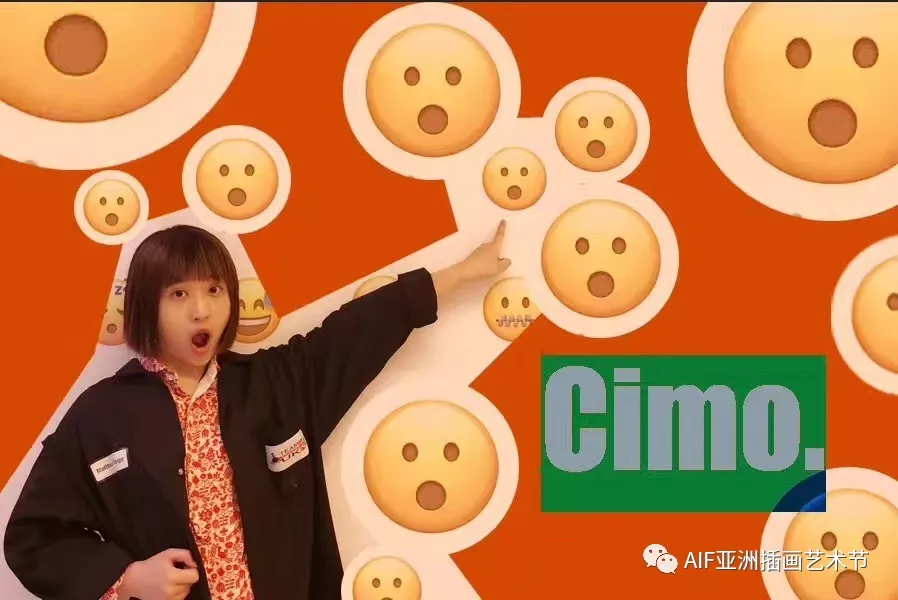 李欣萌–CIMO
(深圳杰西卡艺术文化有限公司选送)
毕业于英国创意艺术大学时尚与饰品印花纺织品专业
EDI.ZLINGFENG: 设计师助理(参与项目在巴黎时装周、上海时装周展出)
NEW DESIGNER(新设计师展): 作品在新设计师展览中展出,颇受好评
Graduate Fashion Week(毕业⽣时装设计周): 作品在毕业⽣时装设计周中展出
MA Graduate Show(研究生毕业秀): 毕业作品在研究⽣毕业秀中展出
Graduated from British university of creative arts, majoring in fashion and ornament printing textiles
EDI.ZLINGFENG: designer assistant (participated in the project exhibition at Paris fashion week and Shanghai fashion week)
NEW DESIGNER: the works were exhibited in the NEW DESIGNER exhibition, which was well received
Graduated from the Graduate Fashion Week : works on display in the graduation Fashion design Week
MA Graduate Show Graduate school: graduation works exhibited in research graduation Show
个人页面: cimooooli.wixsite.com/design
---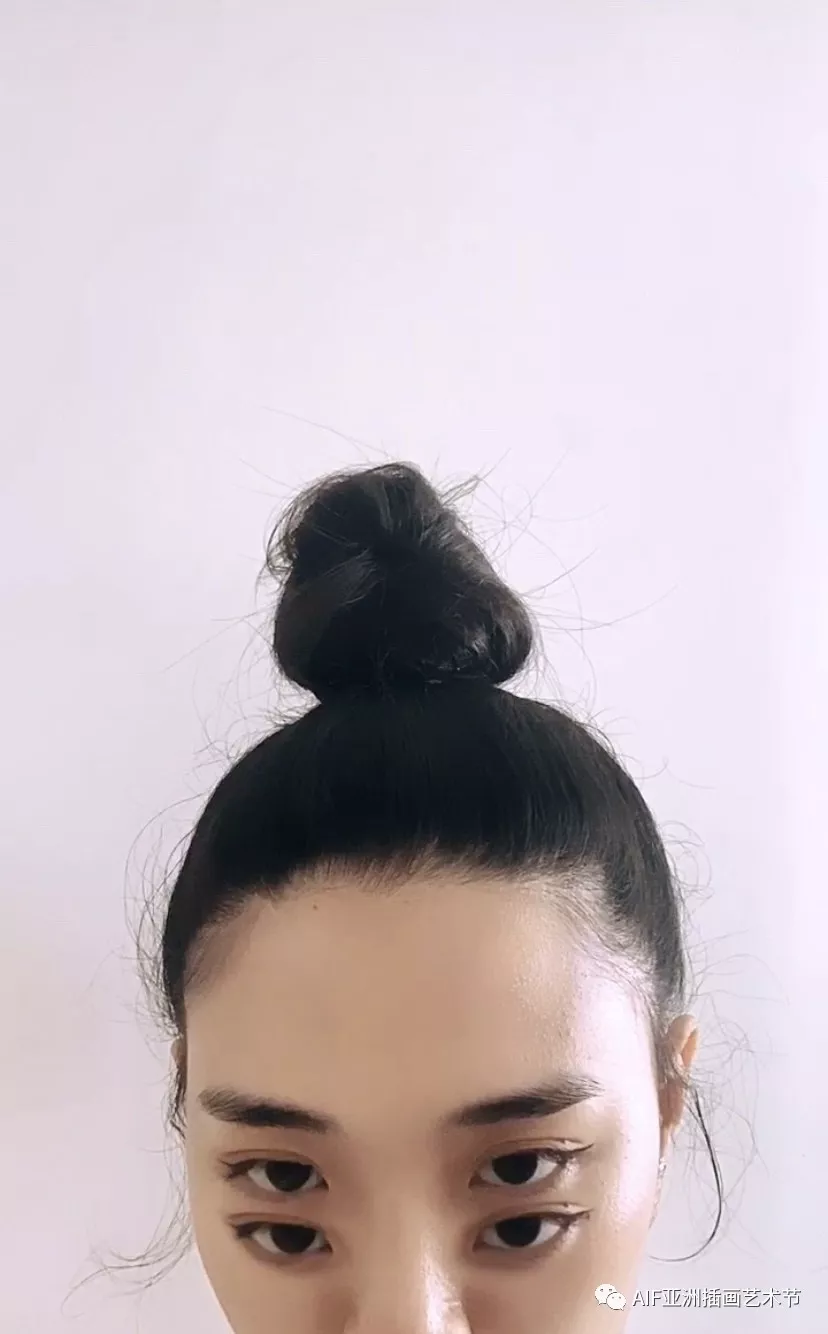 Yu-Ting 雨停
雨停生于台湾,2017年毕业于罗德岛设计学院插画系。对不大擅于用语汇表达的她来说,艺术创作是她全是内心无法言说的寄托;每件作品都像是一本日记,藏匿着渴望与他人连结的线索。
她其实是只金鱼。
Born and raised in Taiwan, educated in the United States, Yu-Ting received a BFA in Illustration from the Rhode Island School of Design. Yu-Ting is an illustrator, maker, and dreamer currently based in Taipei, Taiwan. She was never good at expressing herself verbally, so she finds sustenance in the process of making artwork. Each piece of work to her is a conversation within herself and a medium to connect with the outside world.
She's secretly a goldfish.
IG: yutingthegoldfish
个人页面: yuting-cheng.com
---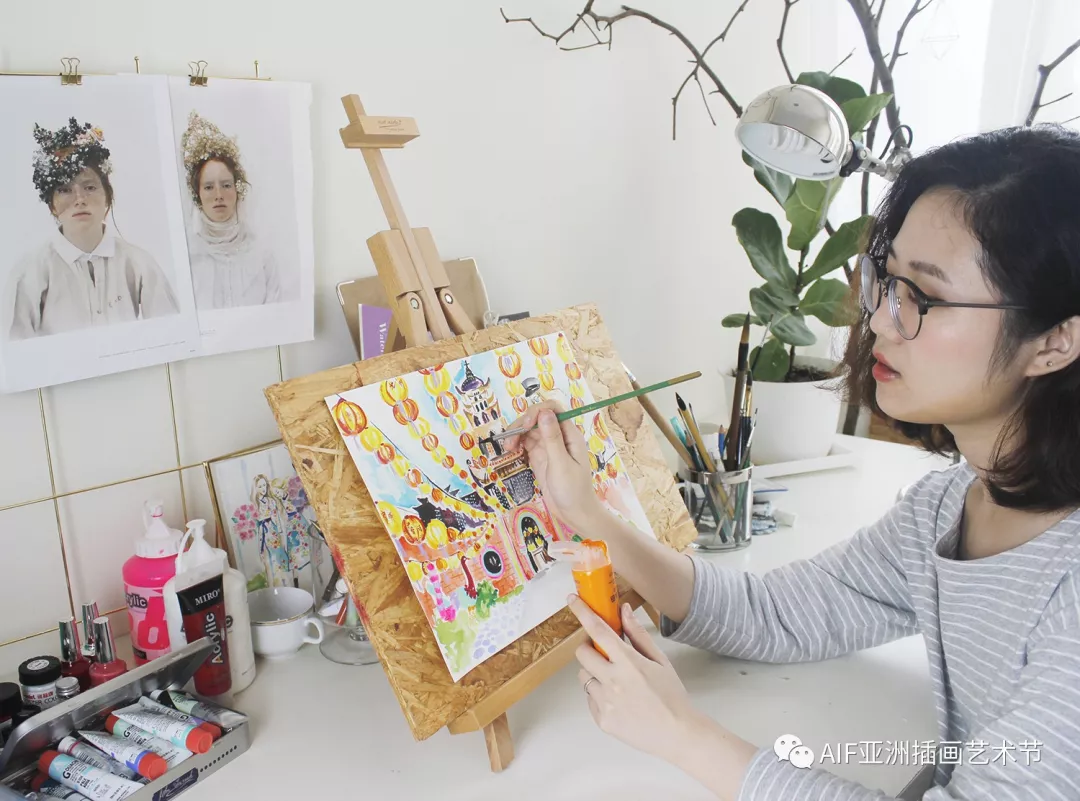 邹艾伦 Allantsou
Allan Tsou
生活在台北,极简线条和野兽派的推崇者,大胆涂色技法和色块表达来描绘图像,作品曾与时尚摄影合作,也在时装展为VIP绘制人像,喜欢在植物围绕下行光合作用做画,并探讨艺术与人生让插画重新变得时髦。
2014~2019校园绘画教学/讲师
2017亚洲手创展现场手绘插画
2018台湾文博会现场手绘插画
2018绿藤生机合作公益手绘插画
Allen Tsou is an Taipei based profestional artist, advocate of minimal line drawing with a touch of fauvism style.
Best known for her bold impasto technique combining color block painting to depict her subject,
she had worked with several iconic fashion photographers as well as providing fashion sketching service for VIP/Celebrities during fashion show
Allen Tsou enjoy painting while surrounded by photosynthesising plants,
and dedicating in exploring the possibility to connect life and art in a concerted manner to refine her illustration style.
Experience:
2014~2019 lecturer of campus illustration
2017 Invited artist of 2017 Pop Up Asia trade fair.
2017 Onsite sketching artist of 2017 Creative Expo Taiwan
2017 Collaborating artist of Greenvines Biotech
FB:
IG: allantsou_illustration
个人页面: https://allantsou.wixsite.com/tsousuie
微博: allantsou_illustration
---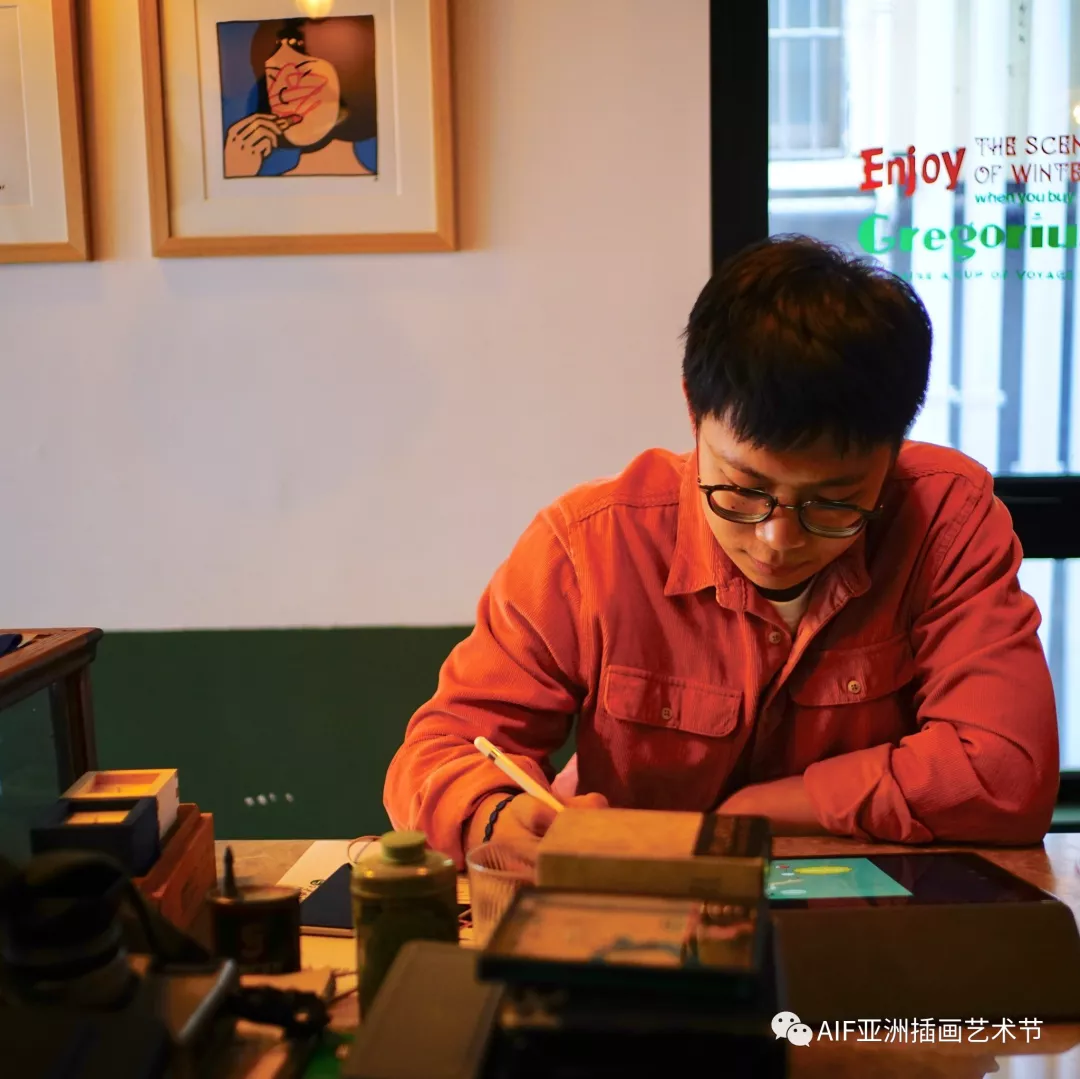 Porcelaincheese
于伯恩茅斯艺术大学毕业
2017年参加英国伯恩茅斯集体展Visions of Colour
2019年在中国上海举办个人展The Brewed Laughter
Graduated from Arts University Bournemouth,
Visions of Colour, group exhibition, Bournemouth, England, 2017
The Brewed Laughter, solo exhibition, Shanghai, China, 2019
微博: 瓷的起司
IG: porcelaincheese
---
Qiaoyi Shi
2015年在纽约下东区与合伙⼈创⽴于⼀画廊(YUI Gallery)。帕森设计学院任职插画系导师。
研究⽣毕业于泰勒艺术学院版画系。本科毕业于帕森设计学院插画系。
Qiaoyi is the co-owner of YUI Gallery in the Lower East Side. Her recent group exhibitions include: Global Synthesis at Yajun Studio (China), Illustrators 59 at The Museum of American Illustration (US) and On Paper at Sala aLfaRa (Spain). She earned her MFA in Printmaking from Tyler School of Art and her BFA in Illustration from Parsons School for Design.
IG: qiaoyishi
个人页面: www.qy-shi.com
---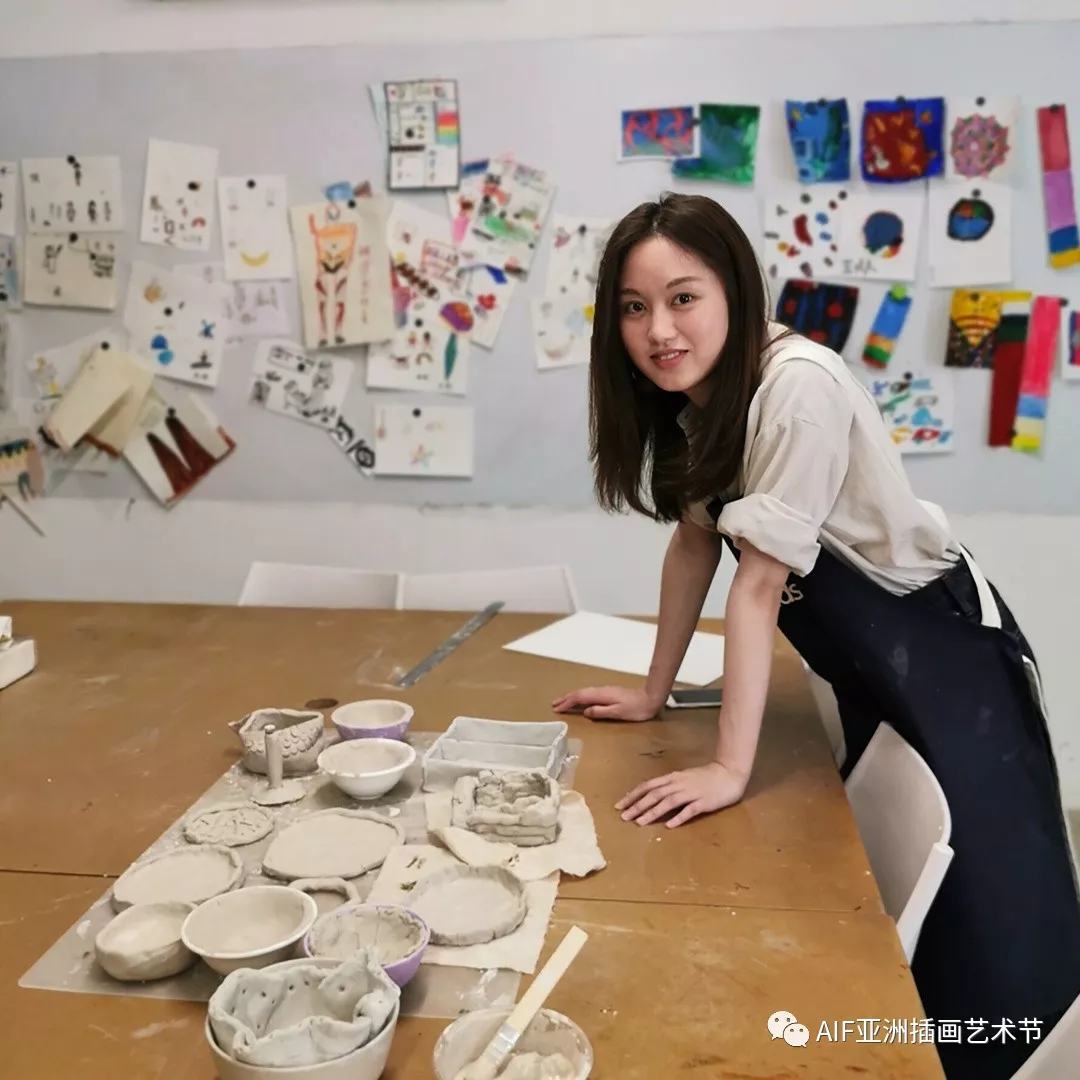 陈秋君
我是一个现居在北京的插画师,毕业于伦敦艺术大学 Camberwell 学院 插画专业。我出生在中国西南的少数民族地区,我的插画作品主题大 多反映社会现实问题,灵感来源于我的梦境、我的童年经历以及少数 民族传说。我喜欢混合使用彩铅和水彩媒材作画,也喜欢手作立体插 画装置。
I am an illustrator currently based in Beijing.I graduated in MA Illustration from Camberwell College of Arts, University of The Arts London. Born in a region of minorities in the South-west of China, I like drawing as well as ethnic stories since my childhood.I am keen on watercolor and colored-pencil drawing as well as hand-made 3D works. Most of my drawings come from my dreams, childhood experiences and ethnic stories, but they reflect some current social issues.
个人页面: https://www.akikoc.com
---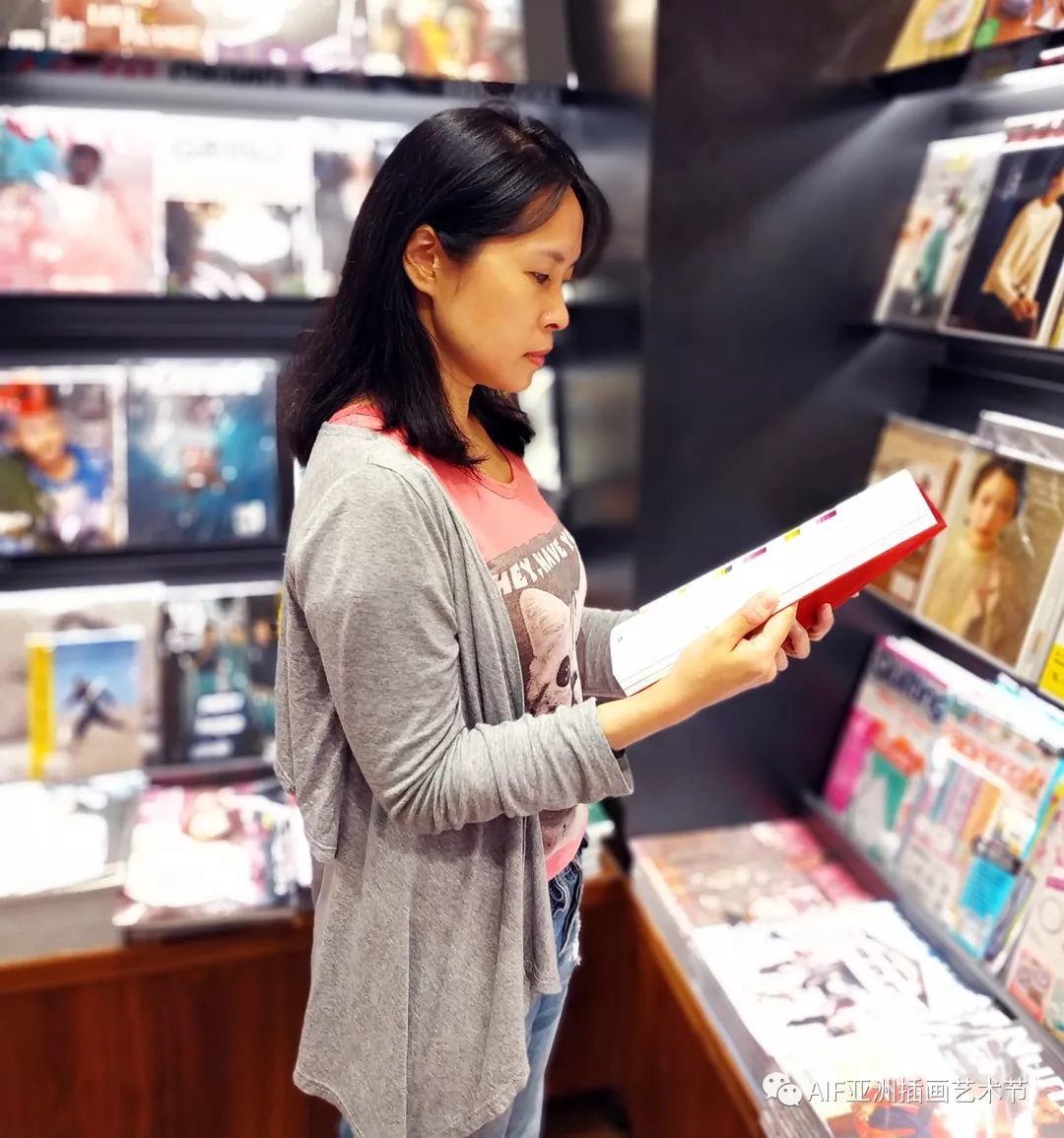 小栗子 Kuriko
2007年于美国帕森设计学院艺术硕士毕业后,曾任多家教材研发编辑;目前为自由图文创作者及社区大学美学艺术教师。喜欢悠游在创作的深海里,享受每个看似沉静却未知的下一秒。画风细腻多变,尝试用不同的思考逻辑建构属于创作的真实,带领观众感受或虚幻或繁复的世界。未来仍以自由创作及教学为主,期望能让更多人用最纯粹的心接近艺术,关怀世界。
Graduated from Parsons School of Design in 2007, I am a freelance illustrator and aesthetics instructor in community colleges. Enjoying improvisation, I expect audience experience various abstract surreal worlds through different points of views. By restructuring every piece of thoughts, The characteristic styles of my works present mostly complicated and illusory. Through teaching and creating constantly in the future, I attempt to attract more and more people approaching various forms of art.
IG: creative.kuriko
FB:
---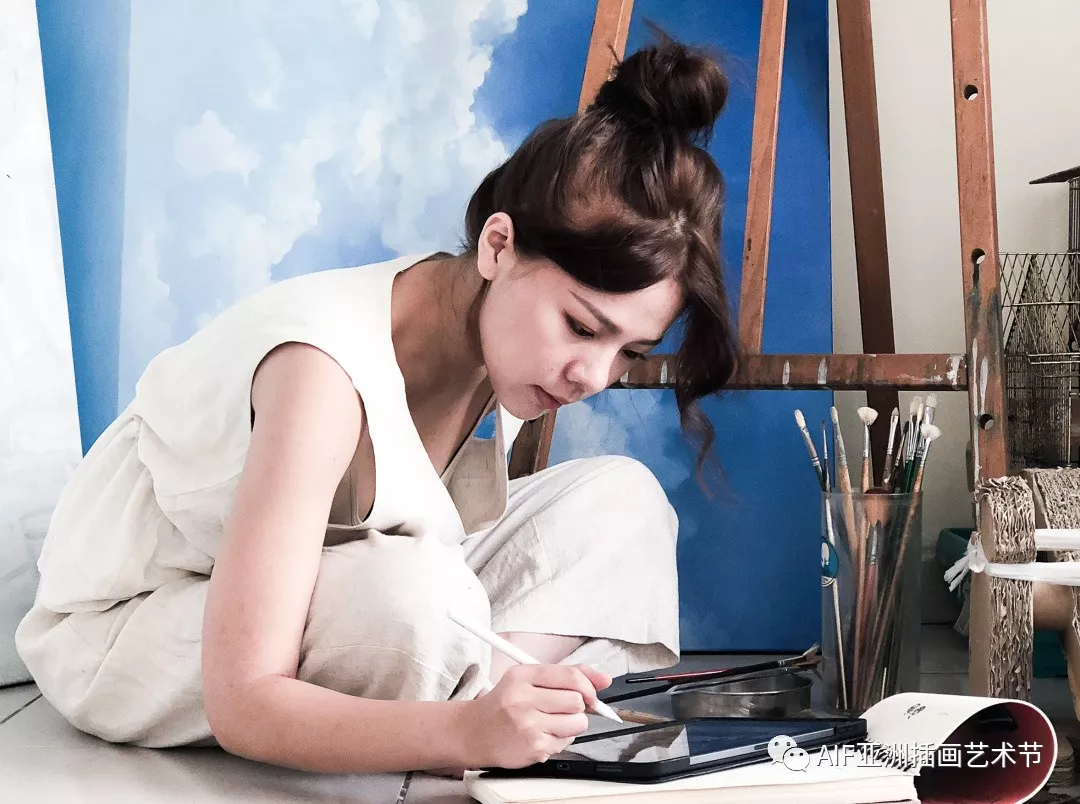 Sumi
目前为平面设计师也是一位插画家,平常喜欢透过观察身边人事物,及家里的动物们作为插画的主题,搭配不同的印花,及鲜艳的色彩,带领观者走入我的作品之中。
一开始画画其实是工作业余的抒发,渐渐地想把插画,也融入到生活中,画即是生活,生活亦是插画,在画里面添加一点趣味性,让观者有更多的想像力。
I'm Sumi, a graphic designer and illustrator. I like to find inspiration by observing people, pets, and things around me. Combined with different image patterns and bright colors, these images invite views into my artistic world.
These illustrations were only expressions in my spare time in the beginning. However, as I kept drawing, I realize that I want to involve those illustrations into my life. These illustrations embody life; life is composed of illustrations. I like to add some interesting elements into my works to let viewers explore and expand their own imagination.
FB: Sumimi illustrator
IG: susu_mi_art
个人页面: www.behance.net/abc8351530ff
---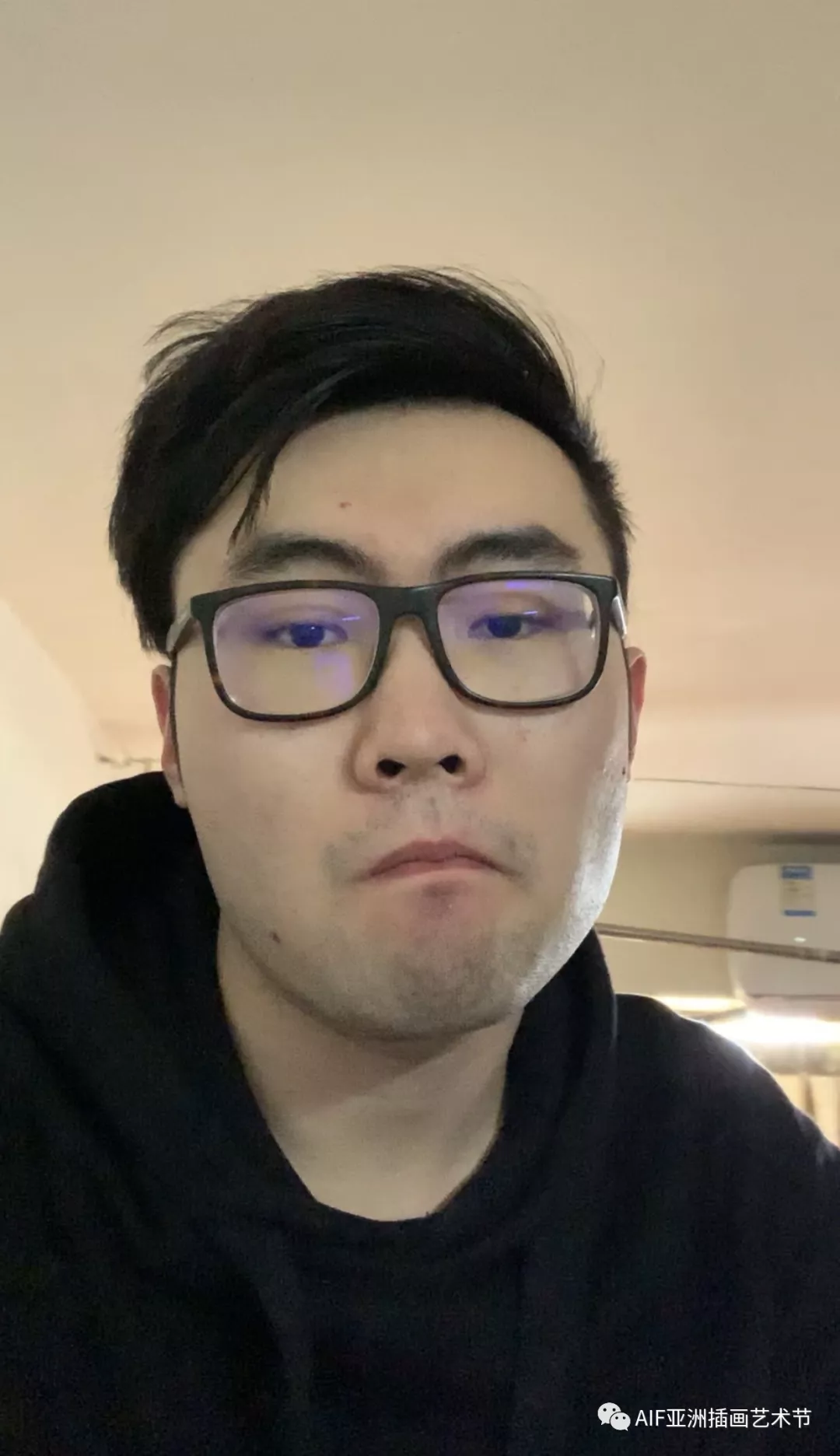 Clrous
北京工商大学数字媒体艺术专业在校学生,自幼爱好绘画。
于2017年参加"中国大学生广告艺术节学院奖"获综合人气奖
于2017年参与"高校冰灯冰雕艺术创新设计大赛"获学生组优秀奖
于2018年参加青年摄影网"按下手中的快门,留住最美的青春"第三届青年摄影大赛获优秀作品奖
Beijing technology and business university digital media art major student, love painting since childhood.
---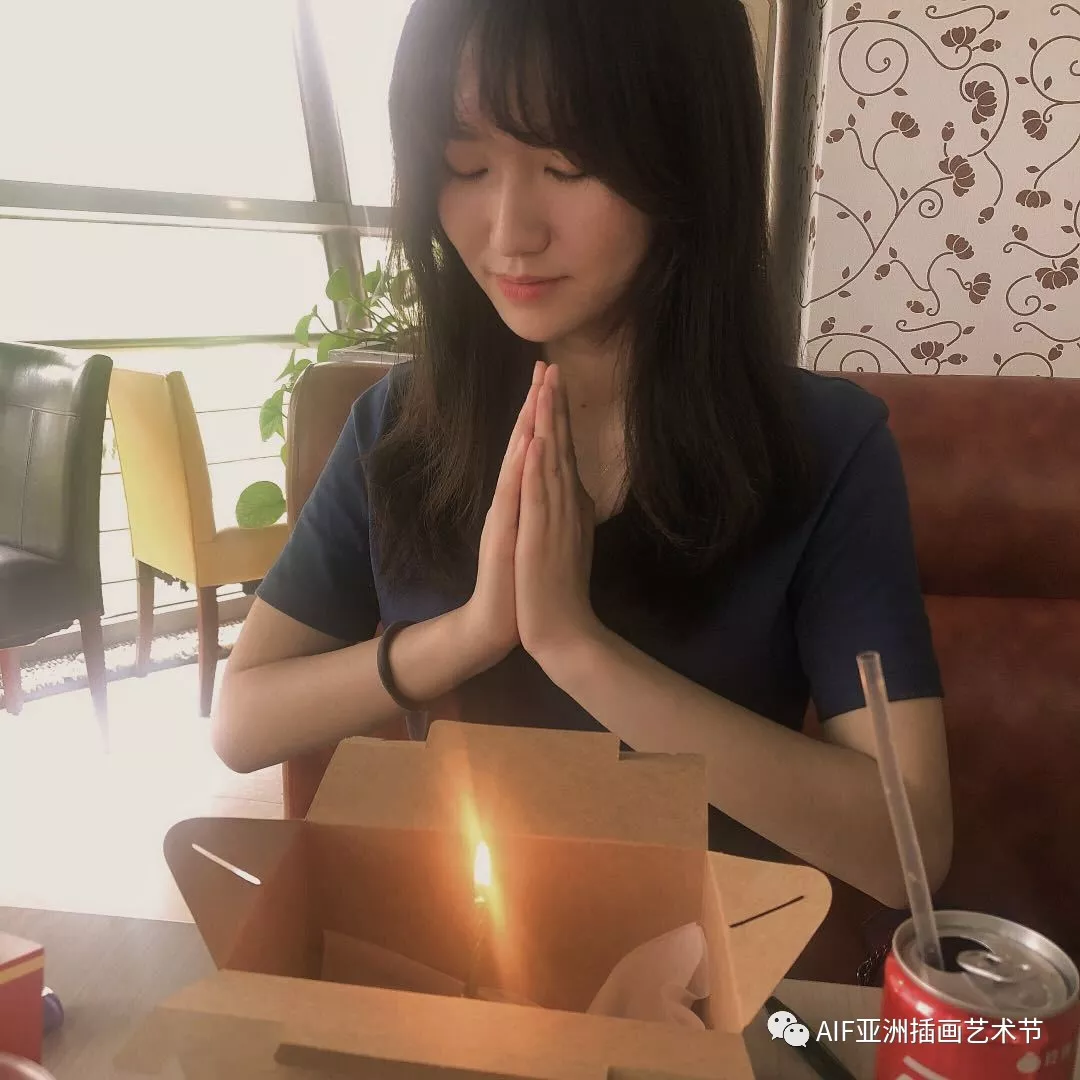 江珊珊
一个女孩,爱天马星空、爱无穷未知,渴望感受、包容、热爱万事万物,又害怕过分汹涌的情感将自己吞噬,期待遇见合拍的灵魂与我同行。一路在寻找,一路在发现。
A girl, who loves the sky and the unknown, longs to feel, tolerate and love all things, and is afraid of being swallowed up by excessive emotions, expecting to meet the soul in harmony with me. All the way to find, all the way to discover.
微博: ChrisT1Ne-3
---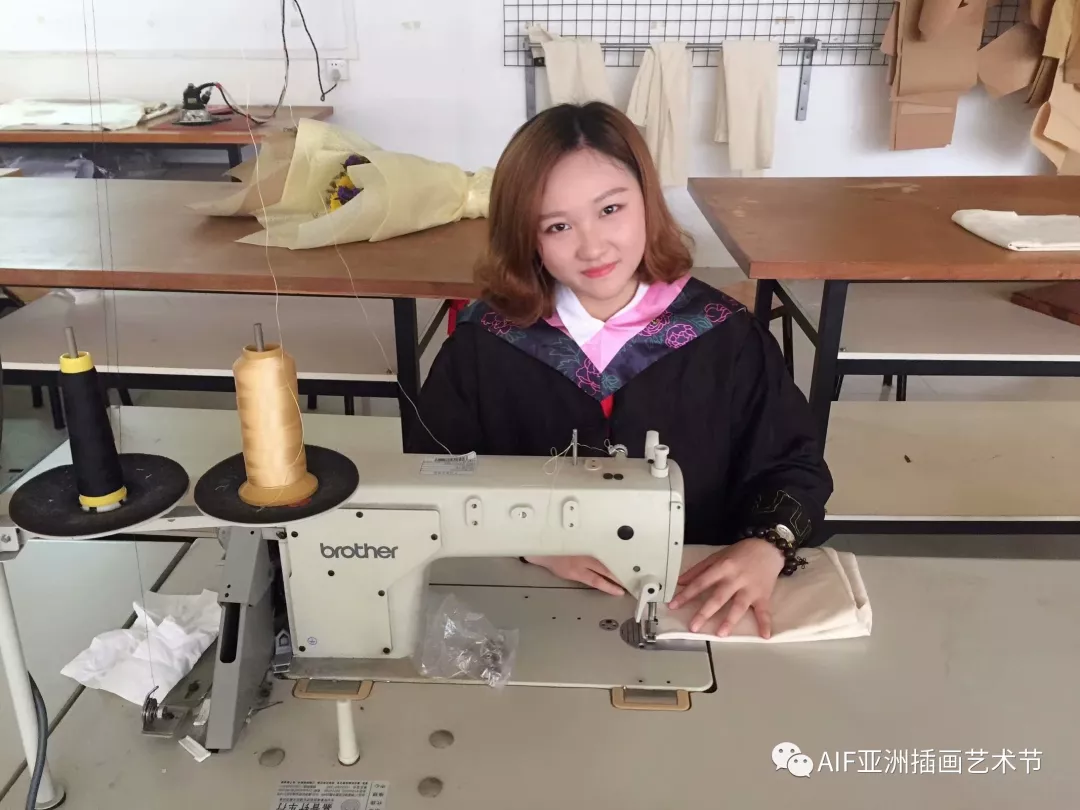 孙可
我叫孙可,来自中国,毕业于广州美术学院,将于2019~2021年去皇家艺术学院攻读插画硕士学位。
我的作品大多关于自我的主题,我善于从自我的感受为出发点去探索某一个触碰点。尝试,实践,探索我认为这三点是一个好的作品的基础和核心,他们会增加一个作品的厚度。
在未来我愿意接触更多的不同种类的媒介与插画结合,插画是一种视觉传达的艺术,它有无限的可能性!
My name is Ke Sun, I am from china, I graduated from the Guangzhou Academy of Fine Arts and will pursue a master degree in illustration at the Royal College of Art from 2019 to 2021.
Being a relatively perceptive girl, I was into many details of things. A shape,a certain color, a crooked line,and a unique feel of touch can trigger any sensation ofmine.
Illustration can express emotions incisively and vividly; it often inspires and stimulates positive energy from people. Illustrations are ideas without wordsand it can cross boundaries and come straight from your heart.
IG: coco_sun_k
微博: COCOSUN_kk
---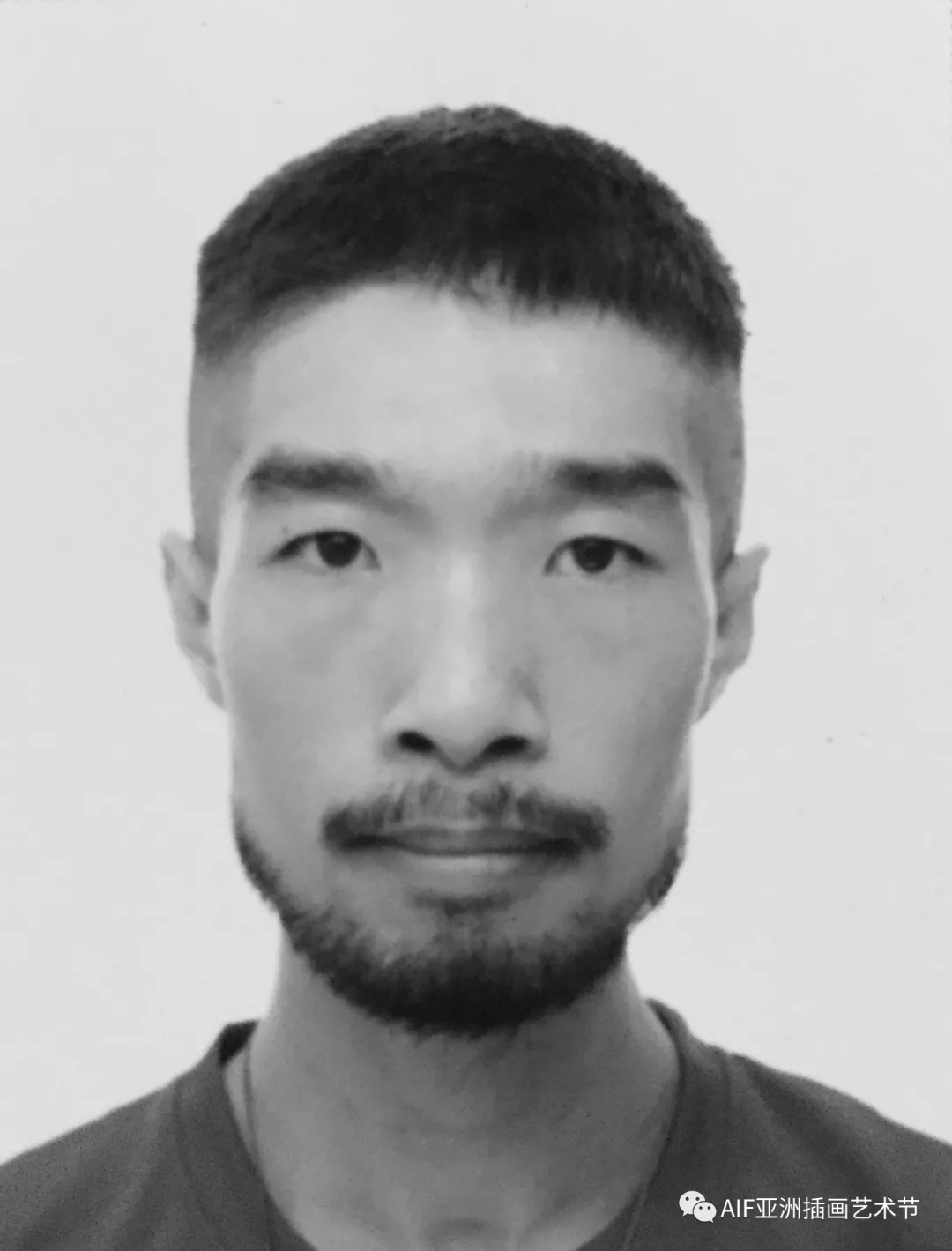 巫东阳
受到生活周遭的人的启发,内部转化后,决定解放自己初始的爱,且条规式的约定自己持续不间断的创作,创作型式不受任何限制,唯有不断在任何界面上的学习尝试,才能有不断新创造。艺术对我来说是排解每日生活所面临的各种突然来的波动。
Inspired by the people around you. When you realize what's your real value in your life and you know what to do then. You make a contract for you to prevent the stopping of your love. Moreover, there's a only manner to make a nonstop creation that is called extremism. Then you can always get the new idea. Consequently, the Art is the harmony that is every piece of moment from daily life and you try to depict in your way.
IG: woodysun11
FB: https://www.facebook.com/profile.php?id=1581747394
---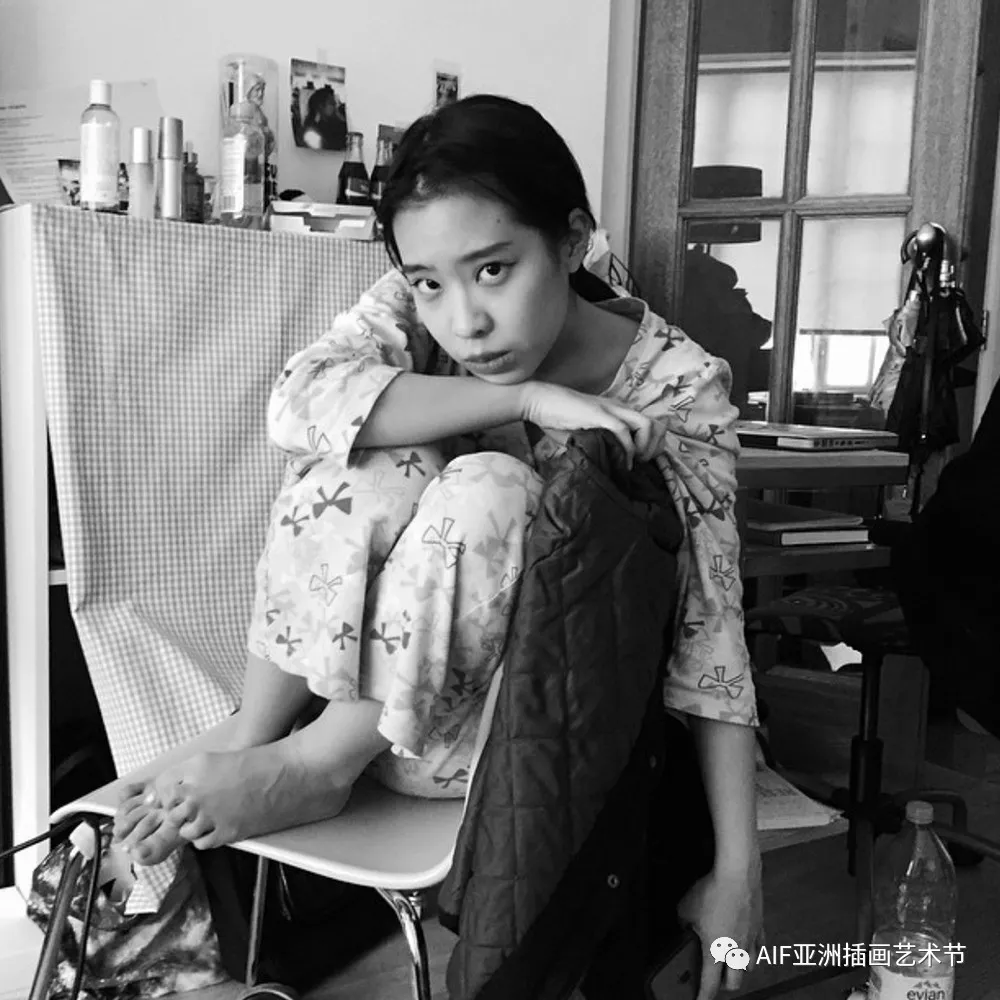 Ting-En, Lin
生于台湾,长于上海和英国。
以做数据分析师为生,用艺术提醒自己还活着。
喜欢动物、恐龙、花、内脏解剖、和宇宙。
Born in Taiwan, raised in Shanghai and UK.
Data analyst for a living, but do art to feel alive.
I like animals, dinosaurs, flowers, organs anatomies and the universe.
IG: amtinathealien
---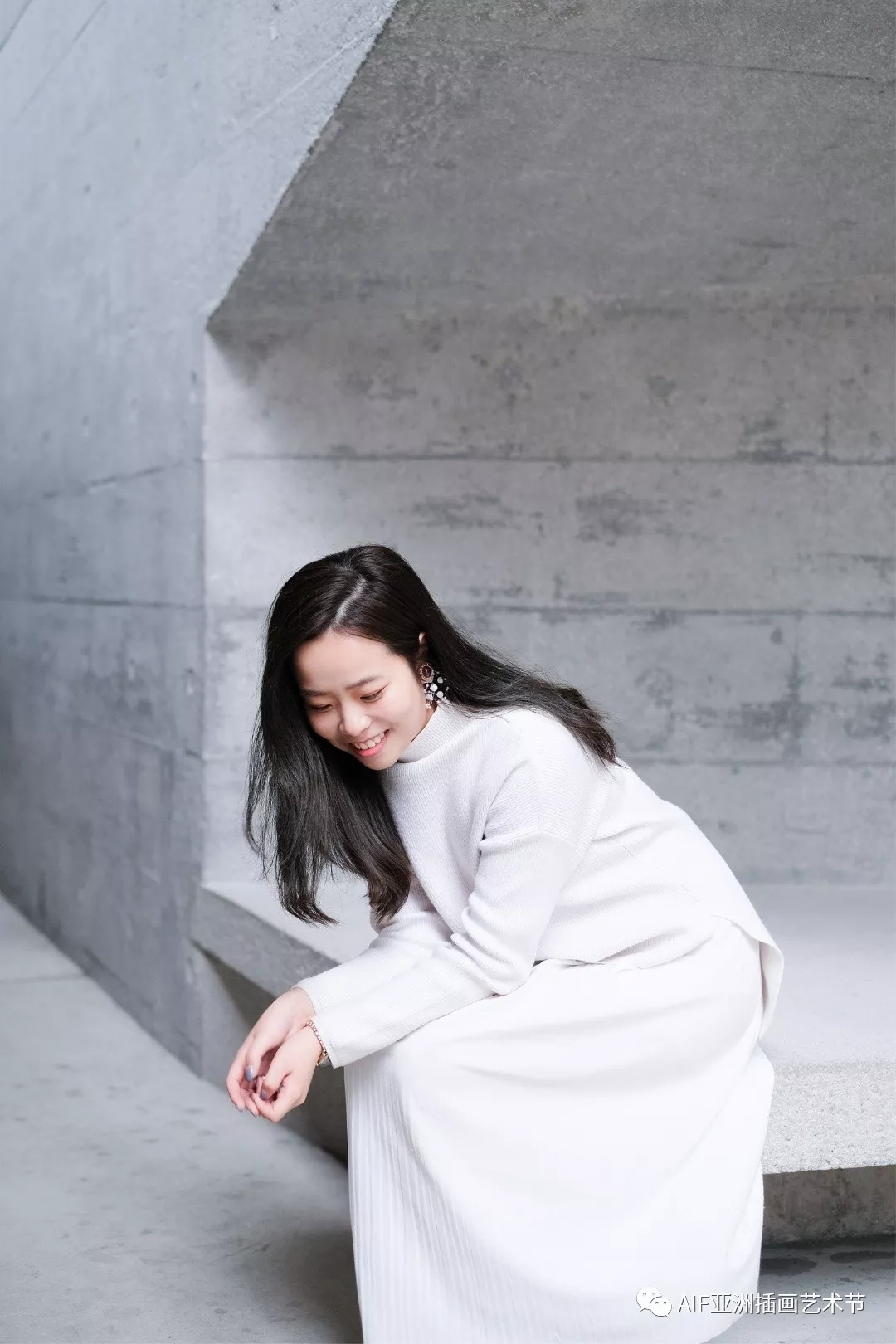 刘晓蔓
刘晓蔓,澳门平面设计师及插画家,蔓志设计公司创办人。2016-2018获澳门特别行政区文化局"文化艺术学习计划"奖学金,以优异成绩毕业于澳洲昆士兰科技大学,主修互动及视觉设计。喜欢在创作时结合中西元素,向大众传播文化共融的理念。
2018受邀参展第一届国际女艺术家澳门双年展;2019获澳门惩教管理局"传「晴」达意˙同建新生手机贴图设计比赛"冠军以及入选《庆祝澳门回归二十周年- Esporao鸿运葡萄酒标签设计比赛》十大作品之一。
Mana, Macao graphic designer and illustrator, founder of Manazine Design Ltd. Company. During 2016 to 2018, Mana earned the Instituto Cultural do Governo da R.A.E. de Macau "Cultural and Artistic Study" Scholarship. In 2018, she graduated with honors from Queensland University of Technology, majoring in Interactive and Visual Design. Mana likes to combine both Chinese and Western elements in the creation to spread the message of cultural integration to the masses.
In 2018, she was invited to exhibited her artwork in the Woman Artists 1ST International Biennial of Macao. In 2019, she won the champion of Macao Correctional Services Bureau Stickers Design Competition . Her design work was also selected as one of the top ten design of " ESPORAO Red Wine Label Creation Competition".
IG: manazine.design
FB: Manazine.Design蔓誌設計
个人页面: themanazine.com
---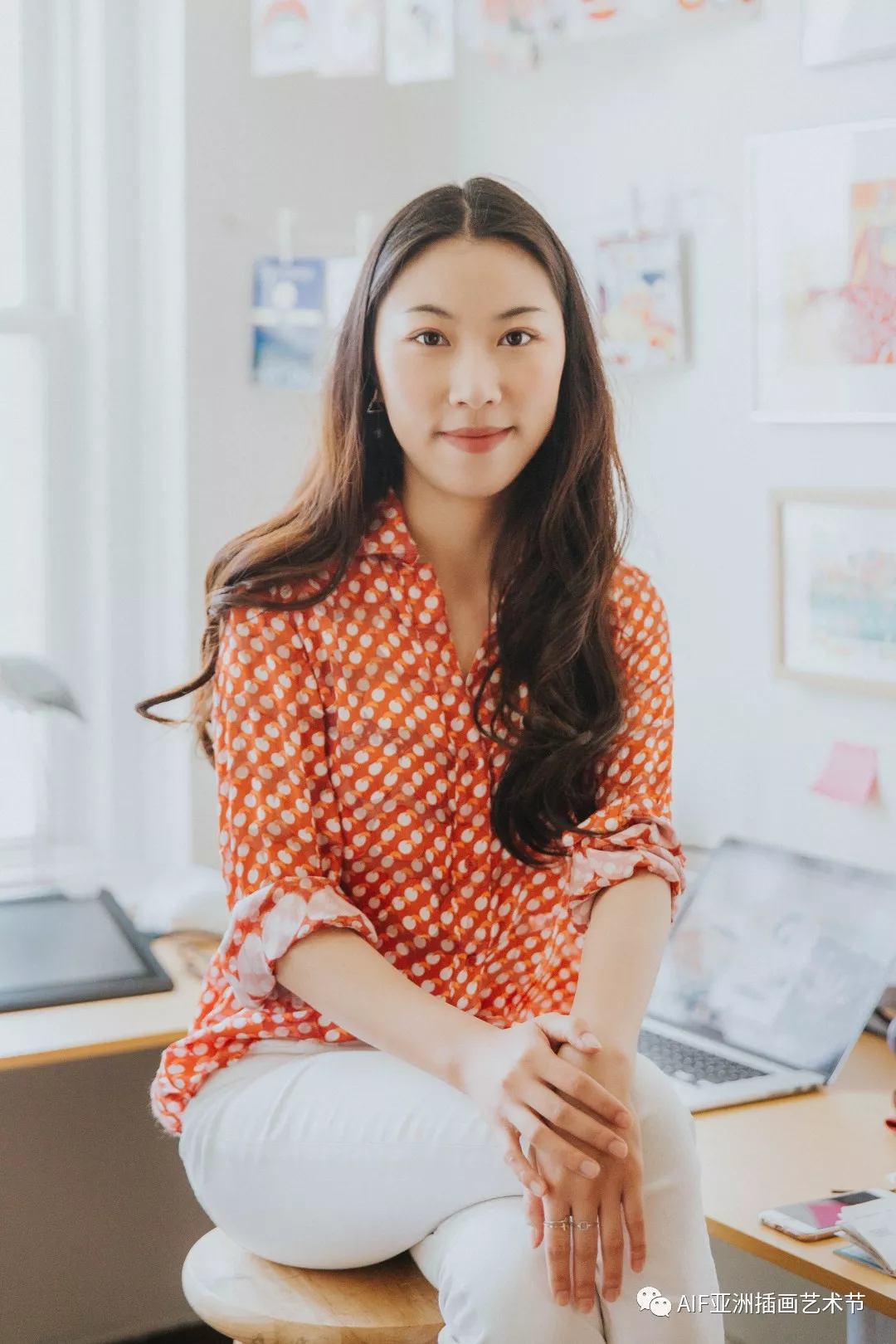 Decue Wu
2014年取得美国马里兰艺术学院(MICA)插画硕士学位,现在旧金山Airbnb总部担任插画设计师。作品曾入选American Illustration(AI-AP)年鉴,美国Society of Illustrator of Los Angeles插画协会,加拿大Applied Arts插画大赛,美国3×3插画大赛,美国Creative Quarterly大赛以及Adobe Design Awards入选等。合作客户包括路易威登,Armani Exchange,索尼音乐,奥迪,《纽约时报》,《波⼠顿全球⽇报》,《华尔街日报》,《时代周刊》,《Vogue》,《ELLE》《时尚男⼠L'Officiel Hommes 》,《时尚先⽣Esquire》以及中国的腾讯,新浪微博,《周末画报》等。作品曾在全世界多个国家展览,多次刊登于国内外杂志及平台,如Dolce&Gabbana的线上杂志《Swide》,Asian Couture Federation,Style.com等。
Decue Wu was born in Shenzhen, China. She has earned an Illustration Practice M.F.A. degree from MaryIand Institute College of Art in 2014. Decue has more than 8-year freelance experience – her work focuses on fashion and life style illustration, editorial illustration, info-graphics, advertising, and other graphic arts. Her work has been featured in several brands and publications including Louis Vuitton, Armani Exchange, Airbnb, The New York Times, Time Magazine, Vogue etc, and has been exhibited around the world.
IG: decue_wu
微博: decue_wu
个人页面: http://decuewu.com
---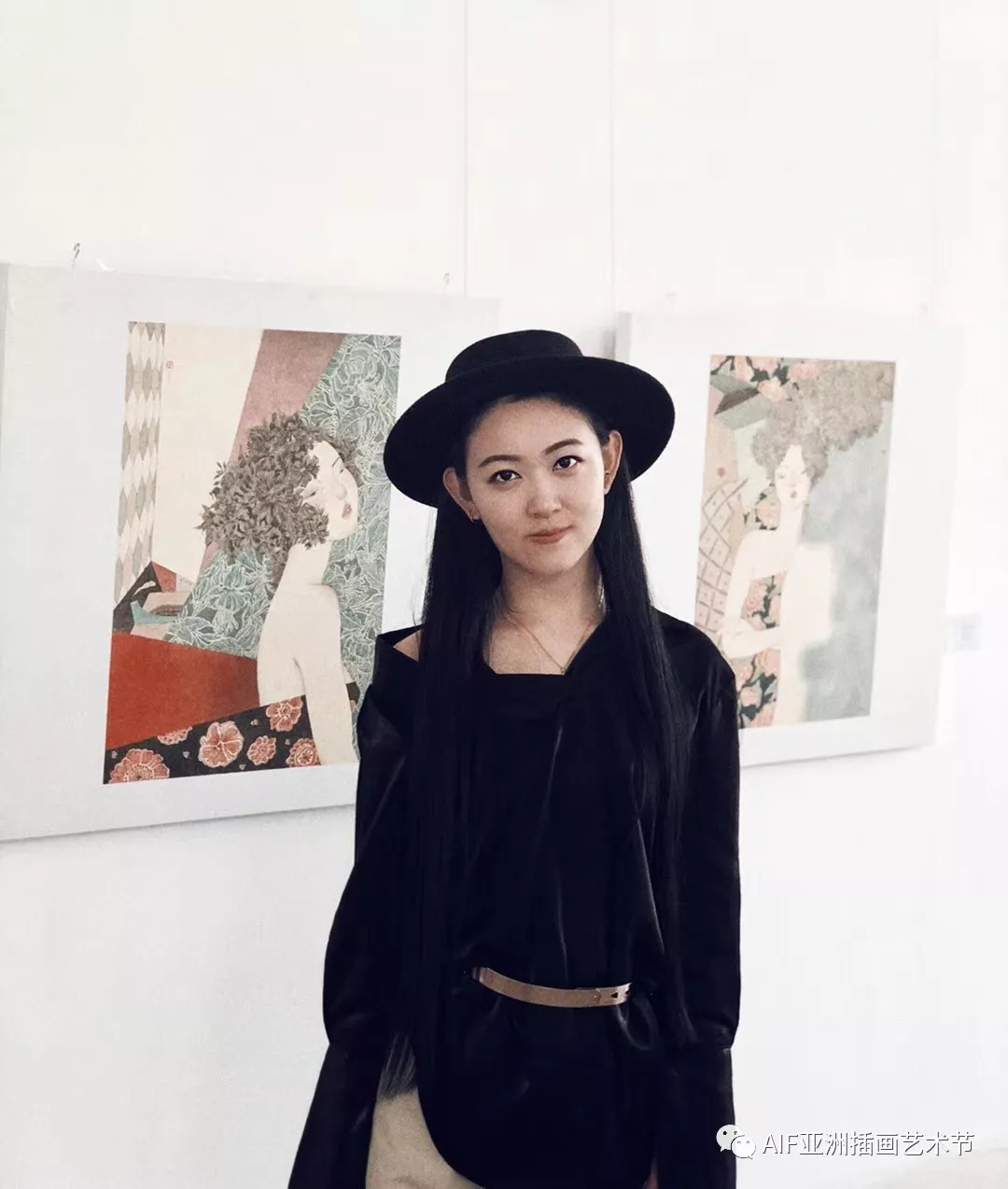 张赟
插画艺术家
深圳插画师协会会员
南京平面设计师联盟会员
视觉中国签约插画师
ZUO DESIGN一作设计 联合创始人/美术总监
Illustration artist Member of Shenzhen illustrators association Member of Nanjing Graphic Designers Association Signed illustrator in vision china Co-founder/art director of ZUO DESIGN 1
个人页面: https://zhangyunyun.zcool.com.cn
---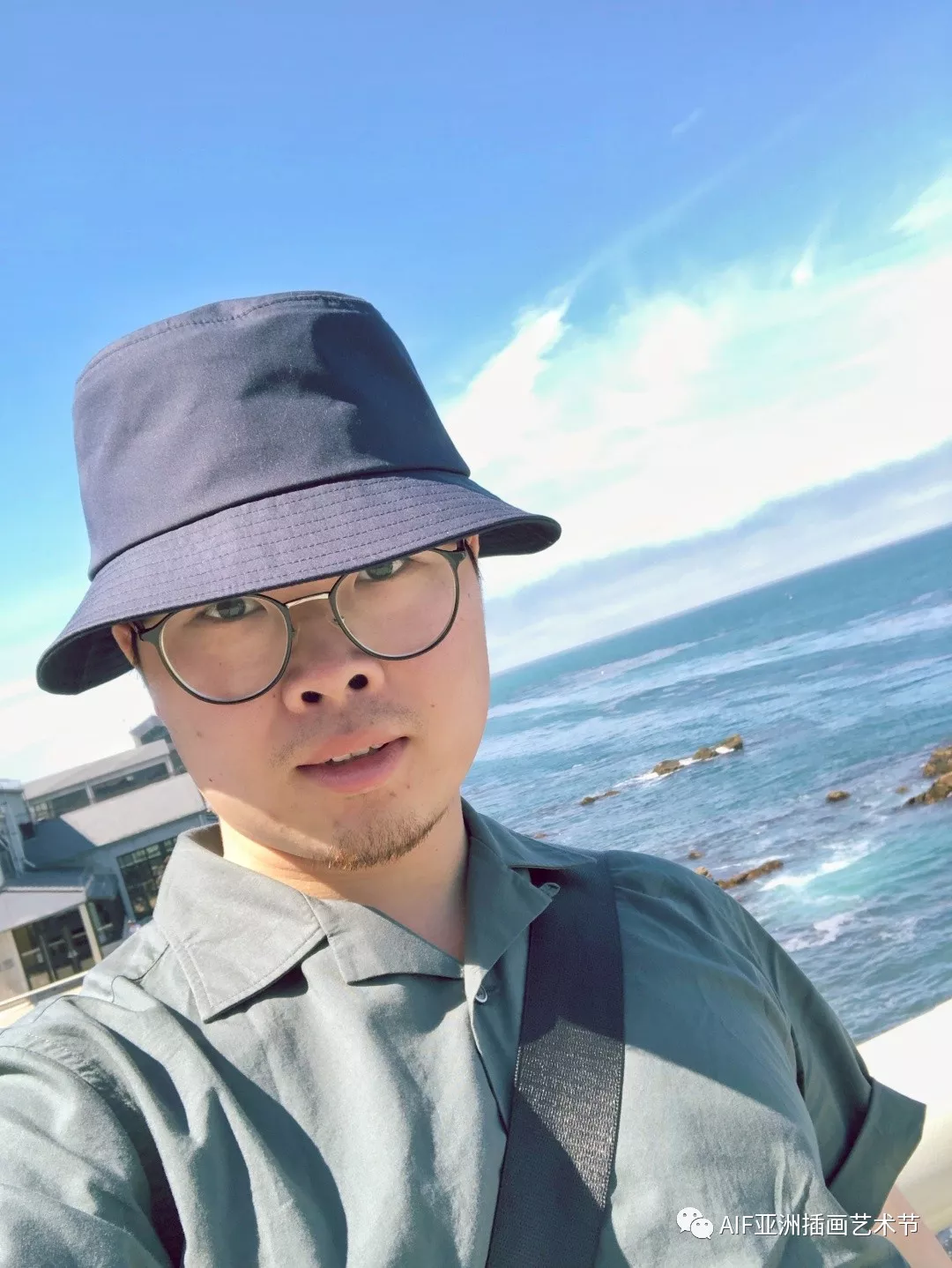 Yivid
毕业于复旦大学上海视觉艺术学院,先后工作于动画公司 和互联网公司。不管从事什么职业,画画对我来说都会是 永远坚持做的事。
Graduated From Shanghai Institute of Visual Art, Fudan University. Currently work for a social media company, love illustration forever.
微博: 画画的Yivid
个人页面: www.yivid.com
---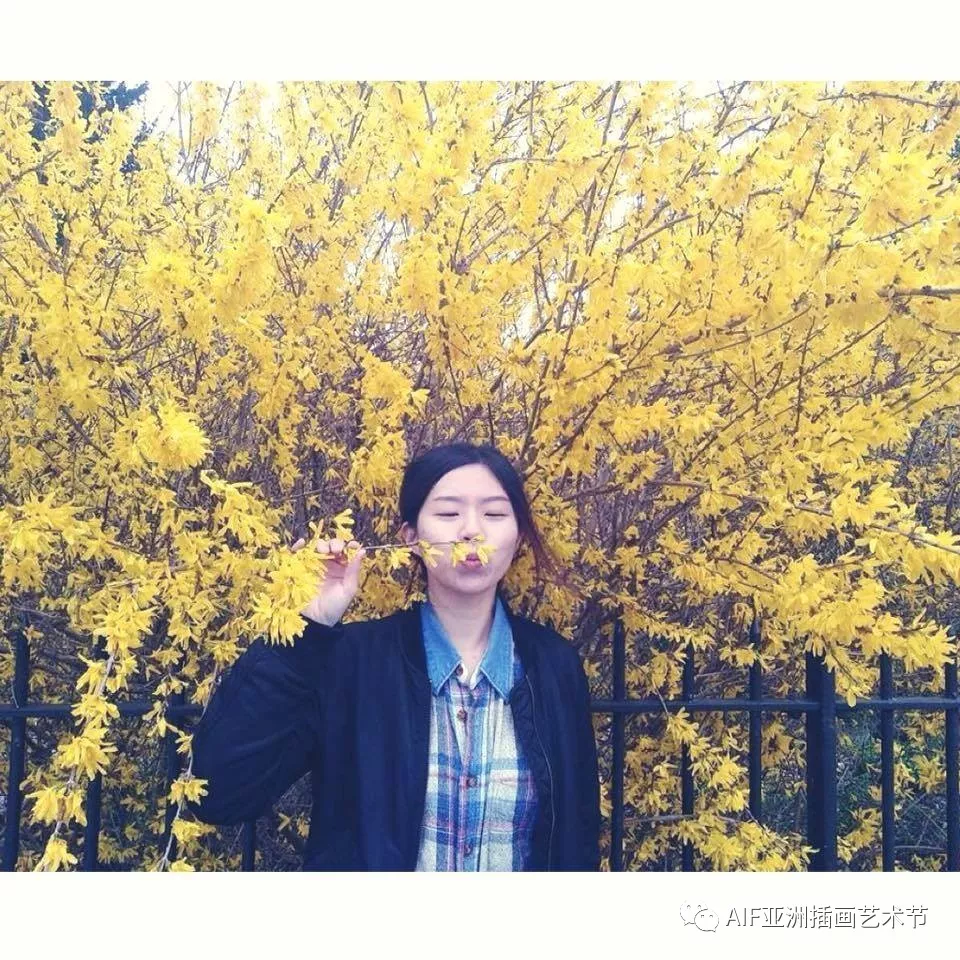 zmei 杨之美
杨之美,现居台湾彰化,目前为设计公司专案经理兼自由插画 创作者,毕业于英国伦敦艺术大学-插画硕士。于 2018入选台北艺术插画节,并获得小路映画赏。
画面感独特,擅长叙事性插画,在画面中能看到情节与故事的 流动,商业合作多见于文章以及刊物插画, 拥有自 己的品牌 商品以及个人独立小书的创作。喜欢使用复合媒材,尤其喜 欢铅笔上的碳刷在纸上的触感。最期待合作 的项目是书籍 以及CD封面绘制。
Chih-Mei, Yang is an illustrator based in Taiwan. I graduated from University of Arts London, Camberwell College of Arts, MA Illustration. I focus on narrative illustration and mostly using mix media like pencil, carbon, water color, acrylic……to make combination. My paintings usually have jig-saw feeling style and strong visual language of storytelling. So far, my works are more surrounding social issues and personal philosophy, and mostly being presented by stories. I really like dark humor and a little sarcasm with the way of metaphor. I really like Ukiyo-e and also really being fascinated by those old painting in ancient times of India and Dunhuang murals, and quiet interested in the way of presenting different story plots and elements in one big painting. Sometimes my works will purposely have some fragile composition feeling.
个人页面: zmeiyang.com
---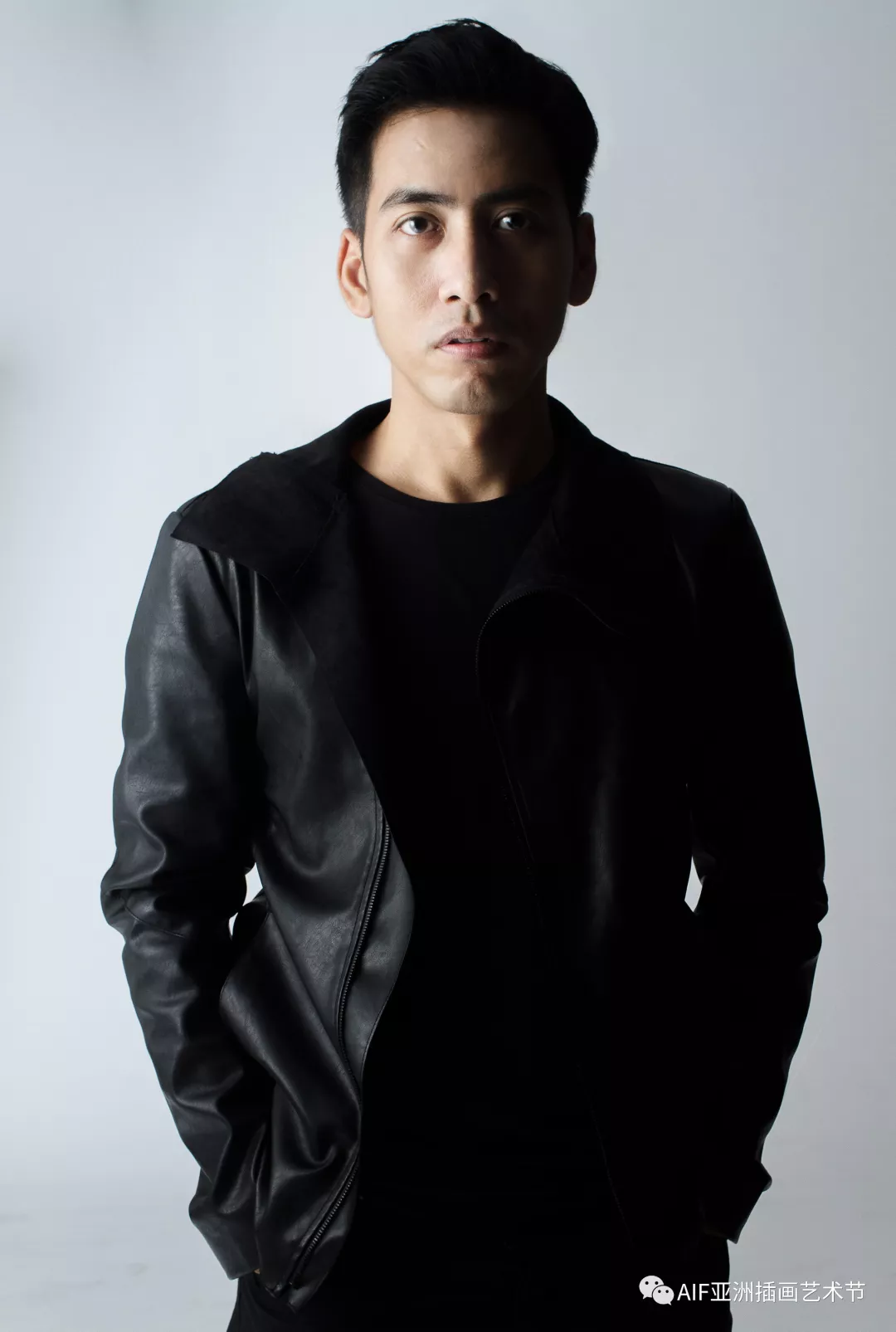 Mohammad Taufiq (Emte)
Mohammad Taufiq,或者更为人所知的Emte,在他的日常生活中担任插画家,平面设计师,以及积极参与各种媒体探索的艺术家。制作了许多书籍,杂志和其他印刷媒体的封面插图和布局。积极参与各种商业和艺术项目,无论是集体还是个人。2016年还在雅加达的儿童友好综合公共空间壁画节上工作。2018年,他的最新作品是通过提升香料贸易路线的历史,在渡轮Portlink 0 Java-Sumatera渡口的壁画项目,也参与了在日本大坂举行的Unknown Asia Art Exchange展览。2019年1月刚刚参加了在悉尼 – 澳大利亚与11位印度尼西亚艺术家的集体展览,然后在3月份,他在印度尼西亚馆为伦敦奥林匹亚伦敦书展做了一场以印尼水下美景为主题的现场绘画,并参加了保加利亚索非亚的"东方节奏"艺术展。2018年11月刚刚推出了Gugug!没有对话的漫画,通过探索城市地区的城市生活来讲述狗的冒险故事。
Mohammad Taufiq, or better known as Emte, in his daily life works as an illustrator, graphic designer, as well as an artist who actively works with various medium explorations. Has made cover illustrations and layouts of many books, magazines and other print media. Actively involved in various commercial and artistic projects, both collectively and personally. In 2016 also worked in the Child Friendly Integrated Public Space Mural Festival in Jakarta. In 2018 his latest work was a mural project on the ferry Portlink 0 Java-Sumatera crossing by lifting the history of the spice trade route, also involved in the Unknown Asia Art Exchange exhibition in Osaka, Japan. In January 2019 just got involved in a collective exhibition with 11 Indonesian artists in Sydney-Australia, then in March he did a live drawing with the theme of Indonesia's underwater beauty at the Indonesian Pavilion for the London Book Fair in Olympia, London and participated in 'Eastern Rhythms' art exhibition in Sofia, Bulgaria. In November 2018 just launched Gugug! a comic without dialogue that tells the story of the adventures of a dog by exploring urban life in urban areas.
IG: emteemte
FB: Mohammad Taufiq
个人页面: www.madebyemte.com
---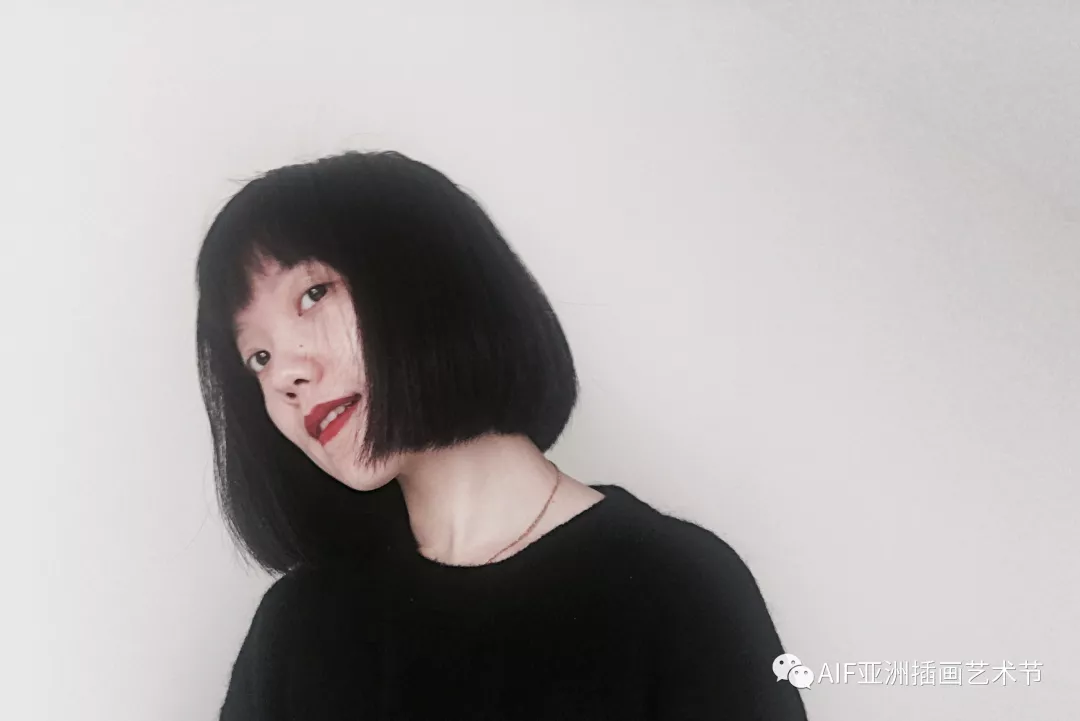 南岛的葵 Southisland
自由插画师,作品大都来自日常生活中的小物,也许是一束光,一个阴影,一把椅子,一个杯子,几片树叶,都是我绘画的灵感来源。擅长手绘,并坚持以手绘的形式,描绘日常生活中一切美好的事物。
Southisland is an Illustrator, currently live in Shanghai, China. My painting mostly is inspired bydetailed little things from daily life, such as a light, a shadow, a chair, a cup, a few leaves. All of them are my main source of inspiration. I am good at hand-drawing, and I adhere to use the form of hand-painting to express all good thingsin daily life.
微博: 南岛的葵
公众号: 南岛的葵
IG: islandsouth
个人页面: www.behance.net/southisland
---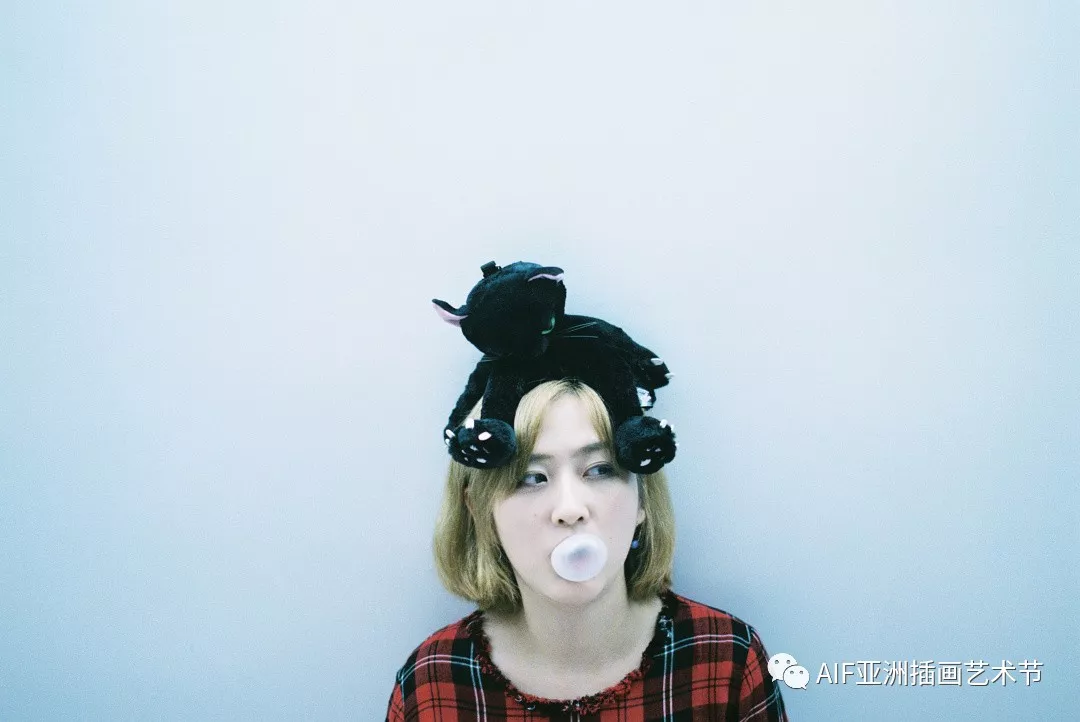 sssRoll 阿感
来自美丽的西子湖畔,近年长居于魔都,工作涉猎创作设计品牌、平面、绘本、产品、展览、装置等等。热爱插画艺术&猫,常觉得猫是生活灵魂所在,也会时常将它们创作与作品中。近些年开始真正创作关于嘢噢哗YEAOHUA的一切,它是可爱治愈多层次的系列,定义也希望看客能自有理解,而我则常惊叹嘢噢哗是自动从笔尖流出的平行世界般,自然并有其想对世界表达的能量,希望一直一直能用这样简单明快的方式创作下去吧。
I come from the beautiful Hangzhou and have lived in Shanghai for several years. My daily work includes brand creating and design, graphic design, picture books, products, exhibitions, and equipment. I have a great passion for illustration art and cats. I feel the cat is the soul of life, and integrate the elements of the cat in my creative works from time to time. In recent years, I began to create the 'YEAOHUA' series. It is very cute, consolable, and has several dimensions. I hope the audience can understand this definition. I always exclaim that 'YEAOHUA' was so natural, just like the parallel world flowing from the tip of my painting brush, full of energy to spread to the world. I hope I can continue to create in such a simple and, intuitionistic way.
个人页面:https://agan707.wixsite.com/mysite-1
微博: sssRoll阿-感
---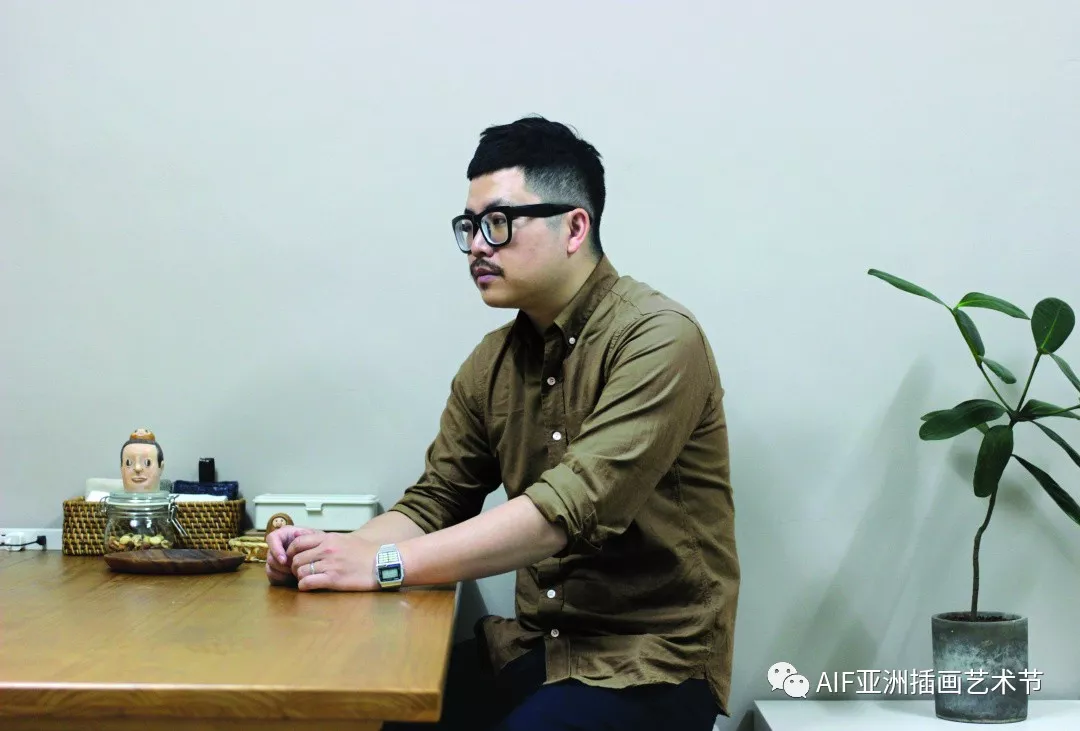 丁原生 Austin Tzeng
从事设计工作与插画创作迄今。
喜欢科幻与古文明的类型与题材,对于物种的演化发展深感惊奇,进而将所感知的一切投于创作之中。在完成首幅作品『演化发展』(evolution)后,创作内容常见人类与猿猴的元素,延续其关注的事物与呼应创作的初衷。
Engaged in design work and illustration to-date.
Austin Tzeng is fond of science-fiction and ancient civilization theme, astound by evolution and development of species and in turn transforming these perception into his creation. Upon completing his first artwork "Evolution", elements of human and apes are often seen in his creations, in which he continues to pay attention to the things he cares as well as echoing his initial dream of making artwork.
IG: austintzeng
FB: 丁原生
个人页面: https://austintzeng.tumblr.com
---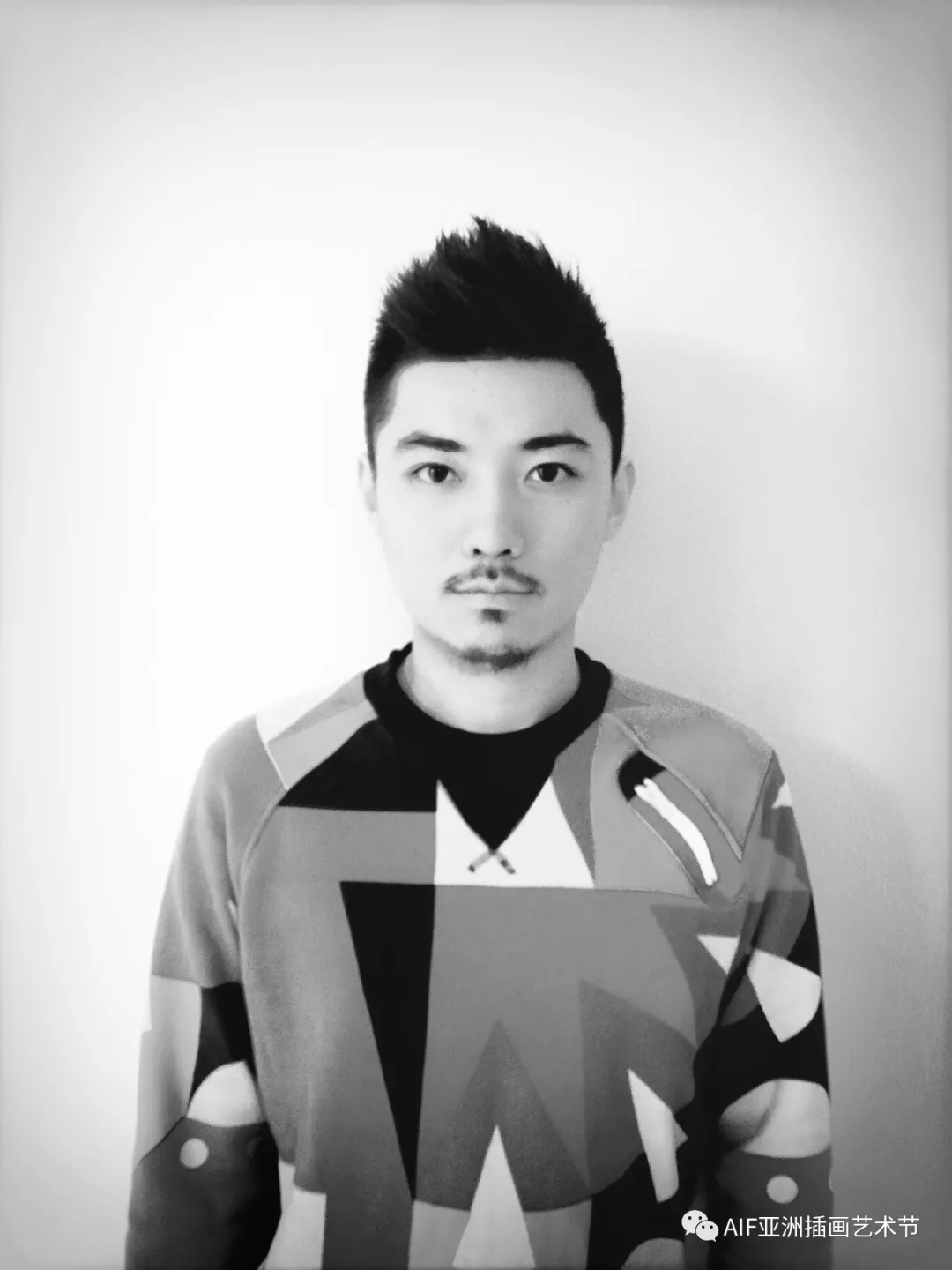 MayoMa
Mayo毕业于中央美术学院,是现生活工作于北京的艺术家和设计师。服务于Mattel和腾讯等知名企业。
除了进行设计工作之外,一直抱有对生活的思考,并用极富想象力的内容和鲜明的色彩表现手段将故事用画笔记录下来,你从他的插画作品可以看到他也可以看到你自己。
Mayo说, "我就是一个用画笔记日记的人。"
Mayo graduated from the Central Academy of Fine Arts. He is an artist and designer who lives and works in Beijing. He has worked for Mattel, Tencent and other well-known enterprises.
In addition to design work, he always think about life and record stories with imaginative contents and vivid colors. You can see him as well as yourself through his works.
"I am a person who draws diaries," Mayo said.
---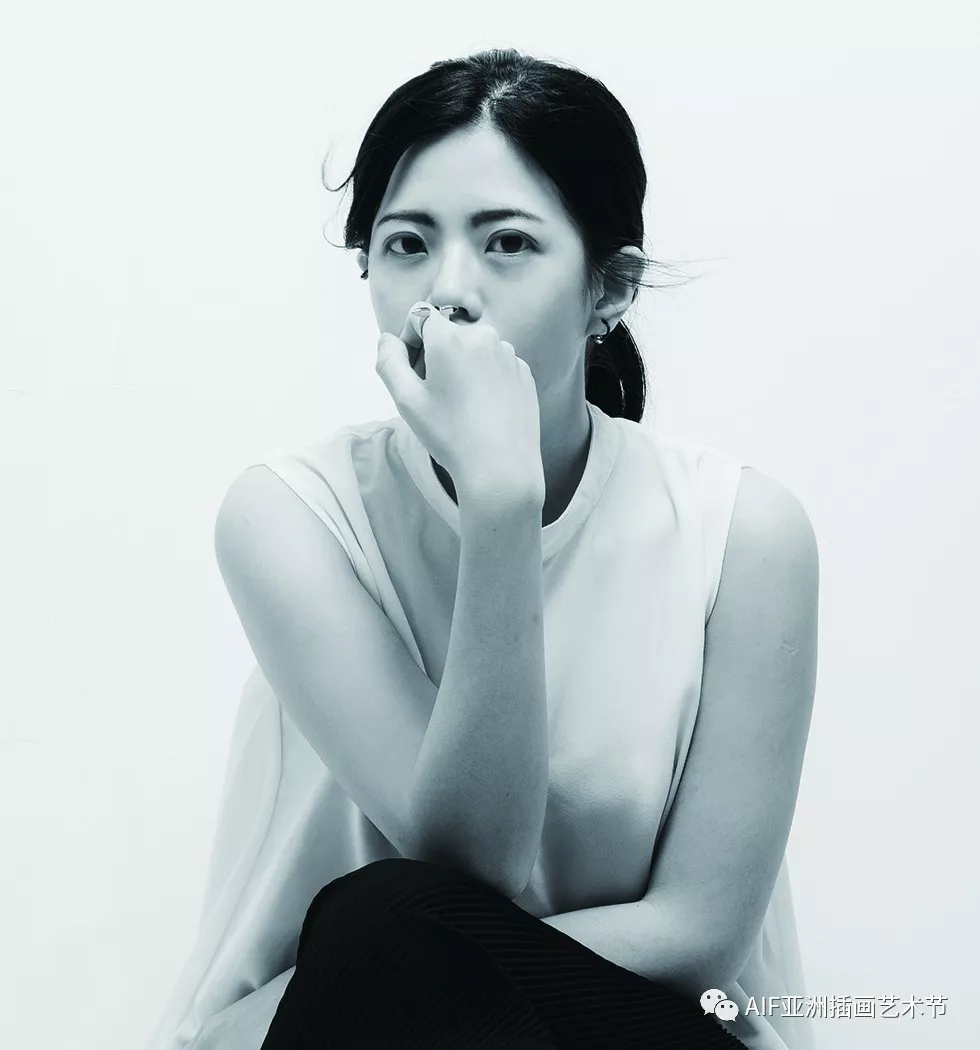 陈青琳 小路映画
深度设计创办人、导演及艺术创作者。擅以视觉创作介入各种载体,作品呈现多元。常与不同领域、产业进行跨界合作,包含:影剧唱片之娱乐与文化业别、企业品牌及政府机关。艺术创作多于亚洲各地进行展览并收录相关年鉴。
担任2019年台湾金曲奖三十周年《I SEE MUISC》主视觉设计以及形象宣传片导演,同年以艺术创作者身分参与《台湾诚品三十周年计划-梦与想象之境》展览。并以《缘木》音乐录像带分别拿下Vega Digital Awards《Audio Canopus》奖项(2017)、金点设计奖《传达设计奖》奖项(2018)。2019年以《杨士弘-原来你是这种人》专辑设计获得美国《3×3 International Illustration Awards》。
Cing-Lin Chen, founder of DEPTH DESIGN and also an artistic creator, was graduated from National Taiwan University of Arts. Cing-Lin is skilled in various kinds of convergences by image creation, which makes her creations have diverse expressions. Cing-Lin has lots of cross-industry cooperation experiences, including movies & dramas of entertainment & culture industry, enterprises' brands, and government organizations. Cing-Lin's art creations are exhibited in Asia area quite often and also included in the almanacs.
Cing-Lin produced several animations. One of her animation productions, Music Video"Woodfish"won "Audio Canopus"of Vega Digital Awards (2017) and "Communication Design" of Golden Pin Design Award (2018).
IG: kimx70_art
FB:
个人页面: http://www.kimx70.com/
https://www.behance.net/depthdesign
---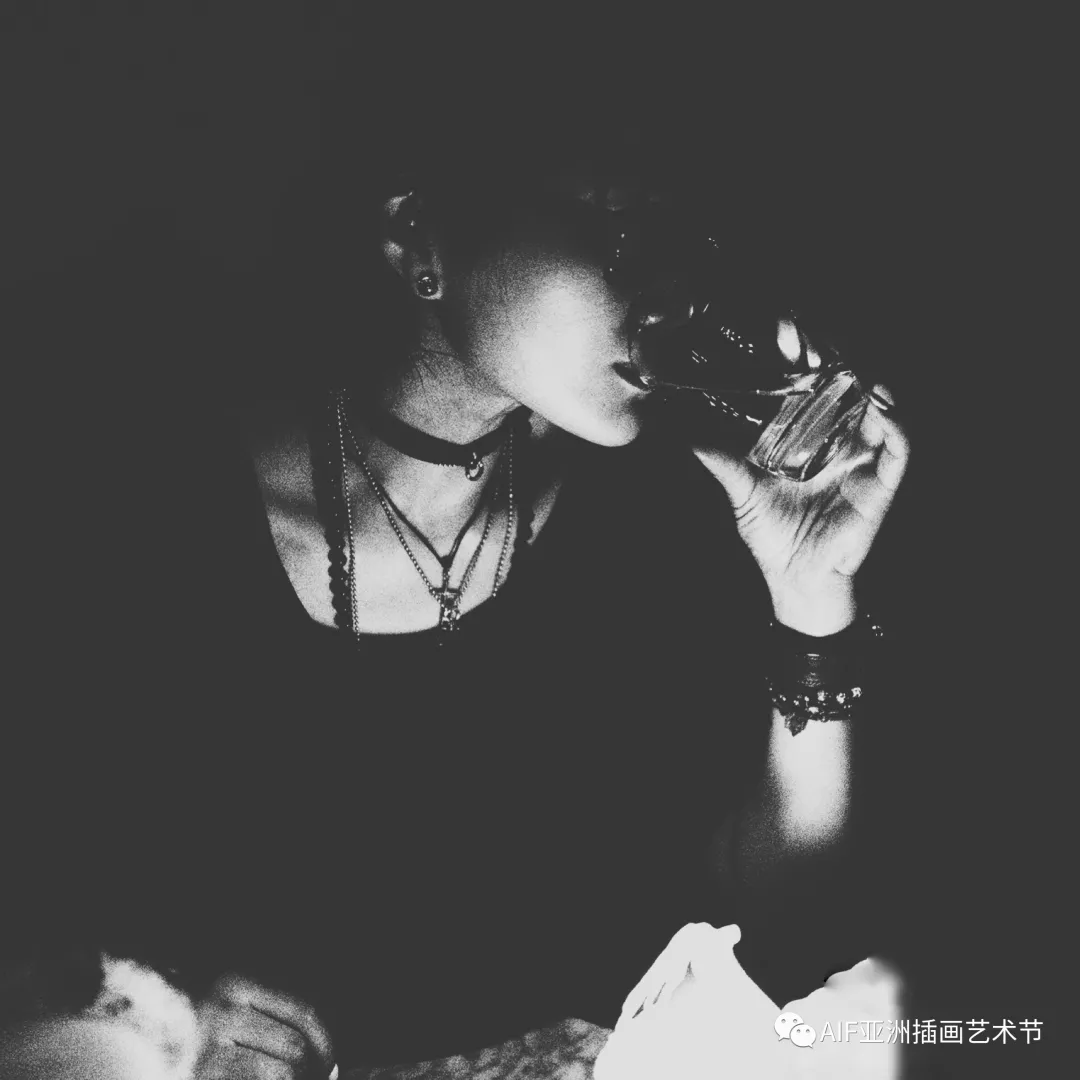 Annalava
一个生活的敏感而迟钝的观察者,有时候想很多很多,想用很多种语言去表达对人和人生的思考,绘画摄影一切可以表达对生活关注的方式都极力尝试。
A sensitive and dull observer of life. Sometimes, I think a lot and want to share my thoughts about people and life. I also try to express my concerns about life through painting and photography.
---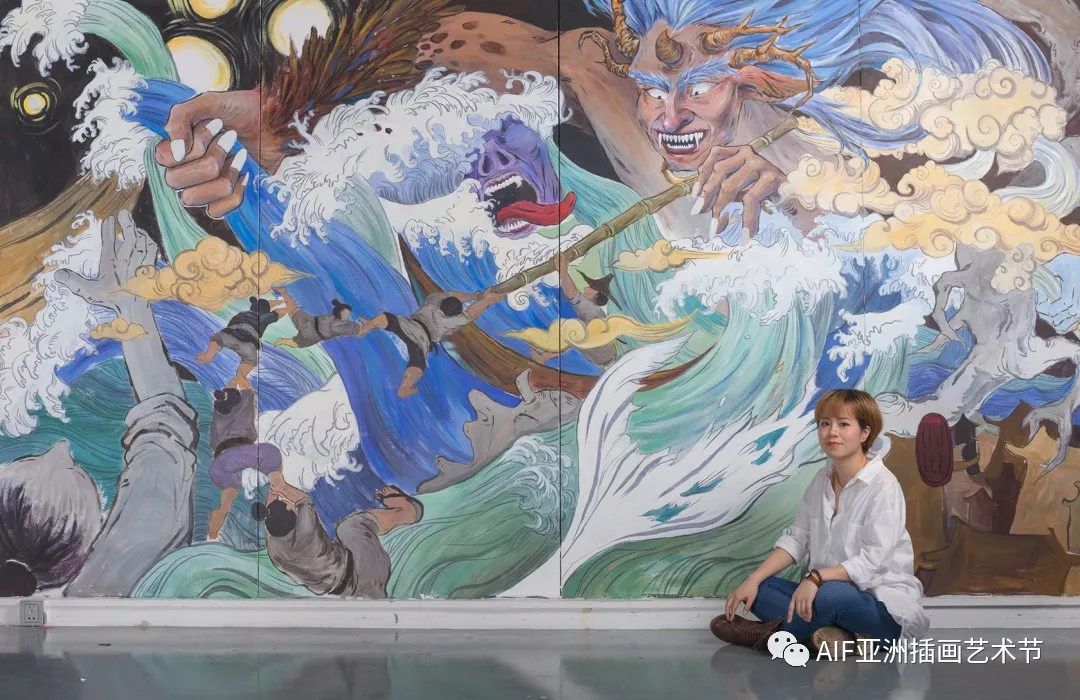 cisilee
李诗cisilee,插画艺术家,现居深圳。个人风格突出,作品多次获得全国插画艺术双年展奖项。多次赴欧洲、日本及国内等地参与艺术合作项目及展览;多幅作品多次入选全球性艺术杂志;创作并设计 "绿腮人体"及 "小禾青娃"系列形象,2017年正式成立个人工作室。2019年2月启动cisilee个人移动展览,背着自己的作品游走荷兰,冰岛和芬兰。
她擅长观察生活,洞悉情绪,以人为主体进行创作,坚持自身创作方式同时在每个阶段中发掘新的画面表达。其作品多以系列呈现。
Cisilee(Li Shi), an illustration artist, lives in Shenzhen,whose works have won many awards for the National Illustrator Art Biennale. Cisilee has participated in art cooperation projects and exhibitions in Europe, Japan and China for many times.She created and designedseries of character of "Green-cheek Human" and "Ice-green baby".In 2017, Cisilee officially established a personal studio.In February 2019, she started the CISILEE'S ON-TRIP EXHIBITION. She carried the painting on her back and traveled in Holland, Iceland and Finland.
She is good at observing life and emotions, creating paintings using people as the main body and insisting on her own creative methods to discover new representations in each stage.Her works are mostly presented in series.
IG: cisilee
微博: cisilee
FB: cisilee
个人页面: behance.net/cisilee
---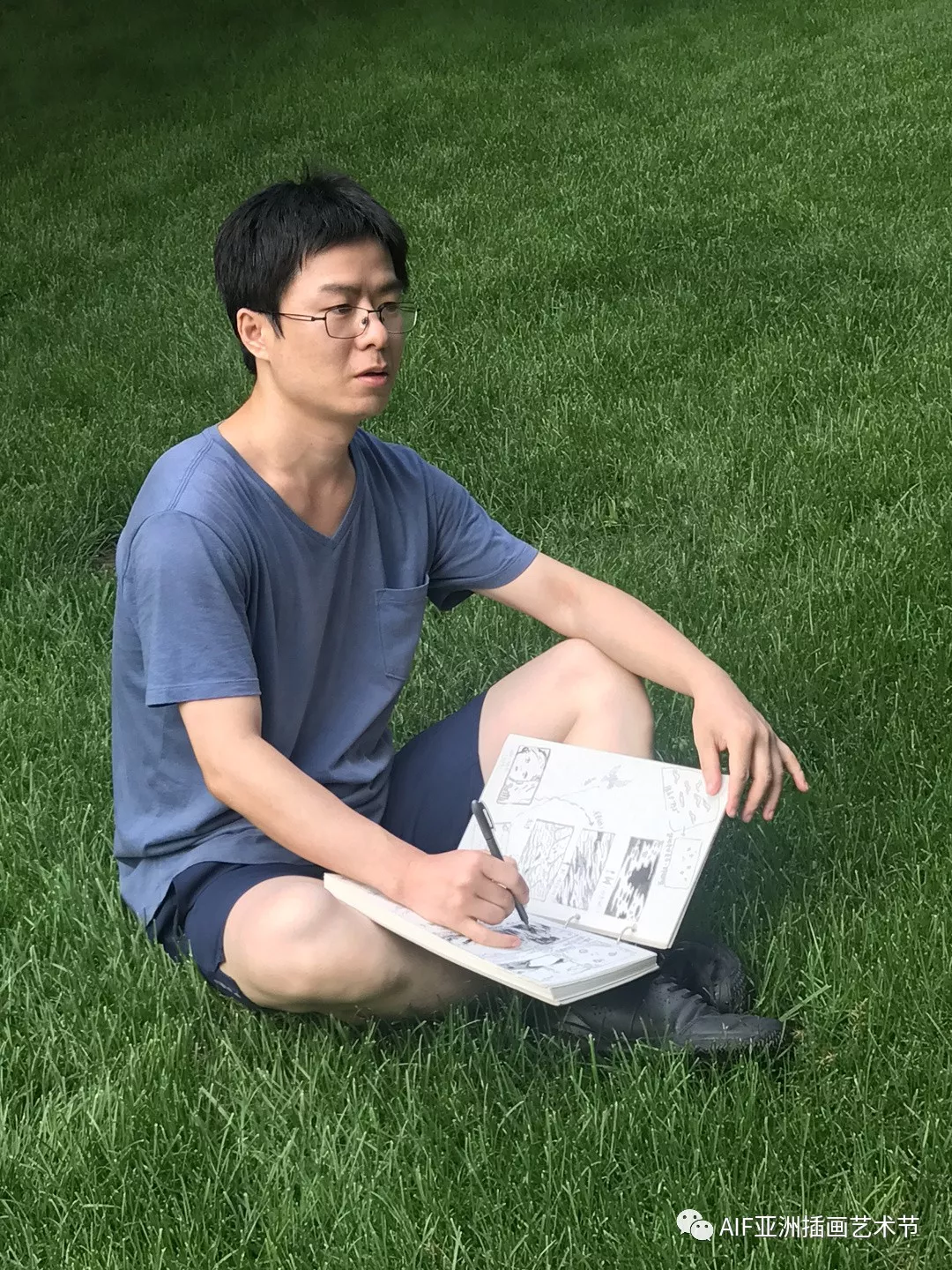 袁政
动画导演/编剧/制作人/动画师;插画/绘本艺术家。在得到中国传媒大学动画硕士学位后,袁政在他的个人动画电影短片《绿池塘》上继续投入了至少6年时间。影片制作后期,他以主要动画师身份参与了多个在美国圣丹斯、翠贝卡电影节提名/得奖的动画项目。在2019年一次和纽约企鹅兰登书屋的合作绘本项目中,袁政开始将创作热情延伸到插画绘本世界。
Animation director/ screenwriter/ producer/ animator; Illustration/ picture book artist. After Yuan received his Master degree on Animation at Communication University of China. He continuously worked on his personal animated short film "THE GREEN POND" for at least 6 years. When doing the post production of this film, Yuan worked as leading animator in several animation projects which got nominations/awards in Sundance and Tribeca Film Festivals. In 2019, in a collaboration with New York Penguin Random House on a picture book, Yuan started his enthusiastic journey in world of illustration/picture book.
IG: yuanzheng.yz
FB: yz.yuan.zheng
个人页面: http://www.yuanzheng.studio
---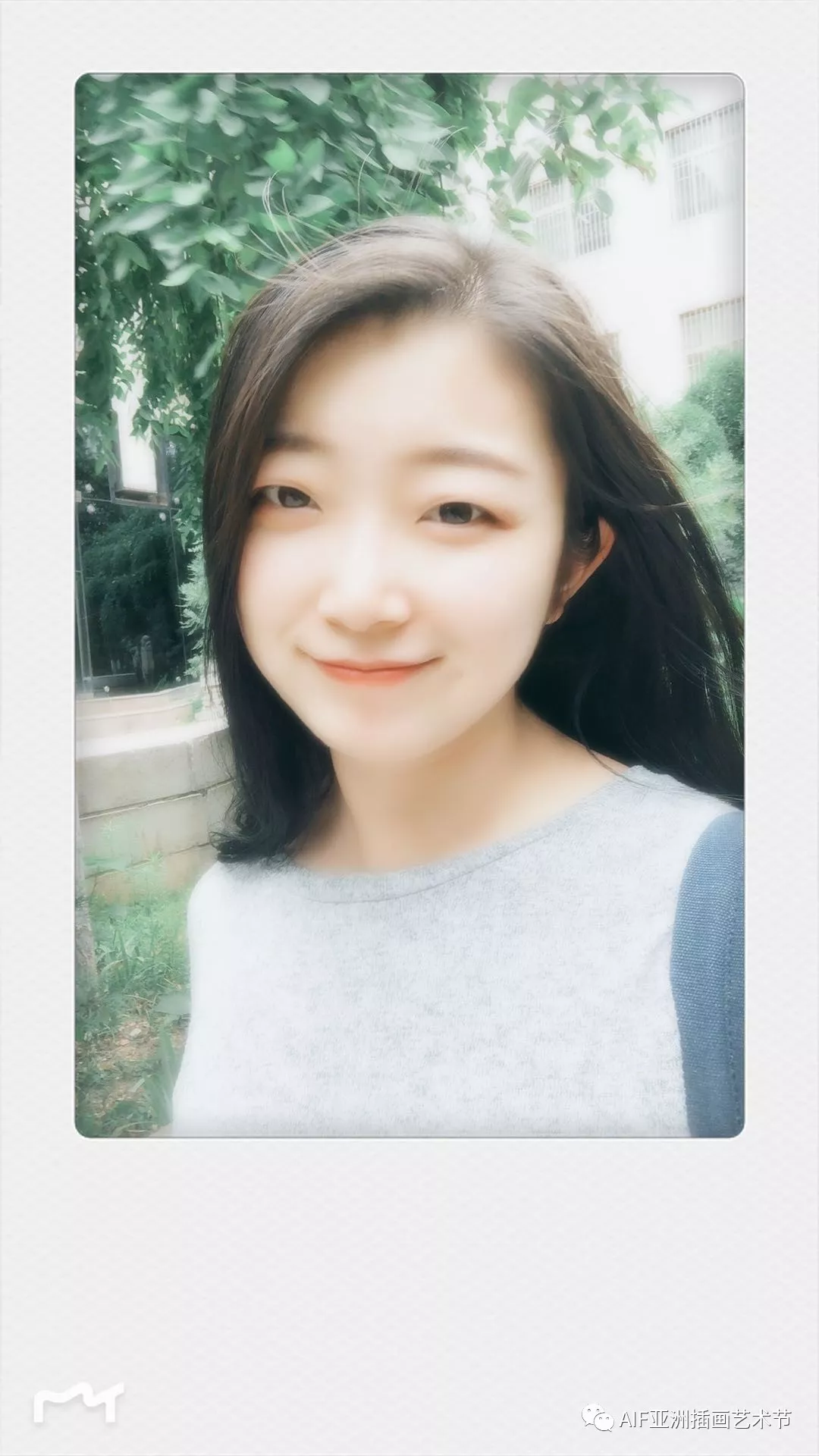 R
目前在读研究生,视觉传达设计专业,因对插画很感兴趣,所以目前以插画设计为研究方向,现阶段致力于将生活的点点滴滴通过不同的插画表现形式展现给大家。
作品《生肖果园之瓜果飘香》选入2018"丝路精神—第二届西部国际设计双年展"-专业组优秀作品。
At present, I am a postgraduate student majoring in visual communication design. Because of my interests in illustration, I take illustration design as my research direction. In current period, I devote myself in expressing every single elements of life to public through different forms of illustration.
The work "The Fragrance of Melons and Fruits in the Zodiac Orchard" was selected as qualified into the 2018 "The 2nd Silk Road Spirit Western China International Design Biennale" – and earned the award of excellent works in the professional group.
---
花臂老王 LAOWANG 1102
Ken Wong(亦称为Laowang1102花臂老王)来自马来西亚。他毕业于立万国际美术学院,主修广告设计专业。他从事广告创意总监已经很多年了。现在,他只想画出内心的世界。他觉得每天的日常生活过于严谨且无聊,因此他想通过绘画创造一个新的世界,一个疯狂且无逻辑的世界,一个充满想象力的世界,一个任何事情都有可能发生的世界。在那个世界只有一个规则,那就是没有规则。
Ken Wong aka Laowang1102花臂老王 is Malaysian. He graduated from the One Academy, majoring in Advertising and Design. He is an advertising Creative Director that has been in the industry for way too long. Now, he just wants to draw to his heart's contend. He believes that everyday life is too serious and boring. That is why he wants to create a new world with his drawings. A world where things are super crazy and illogical. A world with imagination, where everything and anything can happen. A world where there is only one rule: There is no rule.
FB: LAOWANG1102
微博: 花臂老王
个人页面: https://www.behance.net/laowang1102?tracking_source=search-all%257Claowang1102
---
焦文修
焦文修,现居青岛。
曾留学德国,平面设计硕士。
现为大学讲师、平⾯设计师、插画师。曾参与品牌设计、绘本插画、商业插画及衍生品设计。
画作主题更多的来自女儿对周遭的观察,以及生活中的真实体验。喜欢用图形尝试不同的构成组合,丰富的色彩实验变幻。
Jiao Wenxiu, living in Qingdao.
I studied in Germany and holds a master's degree in graphic design.
A university lecturer, graphic designer and illustrator. Has participated in brand design, picture book illustration, commercial illustration and derivative design now.
The theme of the painting is more from the daughter's observation of the surroundings and the real experience in life. I like to try different combinations of graphics, and the rich color experiment.
微博: w_waaave
IG: w_waaave
---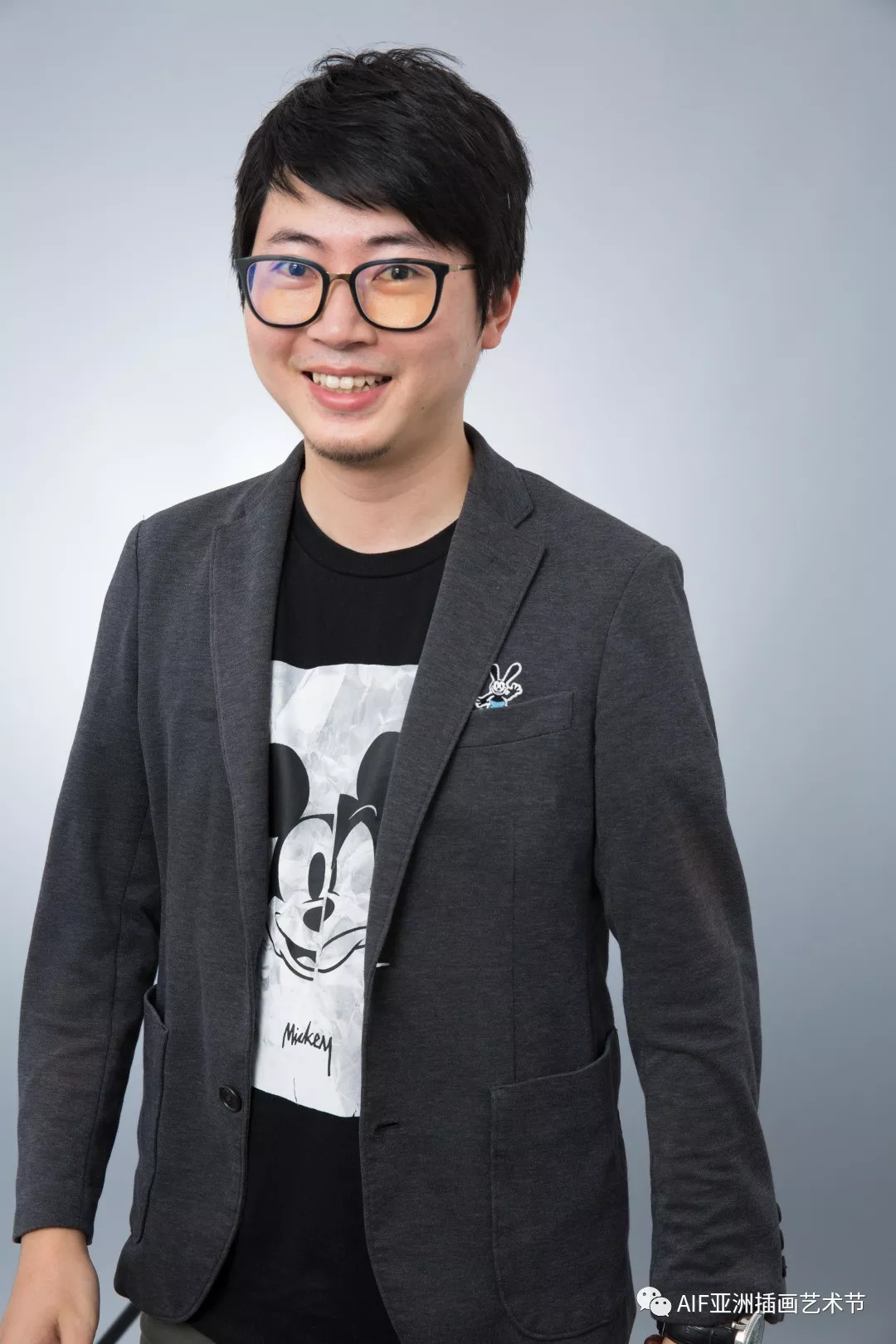 秦雷
毕业于复旦视觉艺术艺术学院,主修广告传播与设计。
现担任迪士尼品牌资深设计师,主要从事空间体验设计。
Graduated from shanghai institute of visual art, major advertising and art.
Current job title: lead designer, brand experience. Responsible for space experience.
---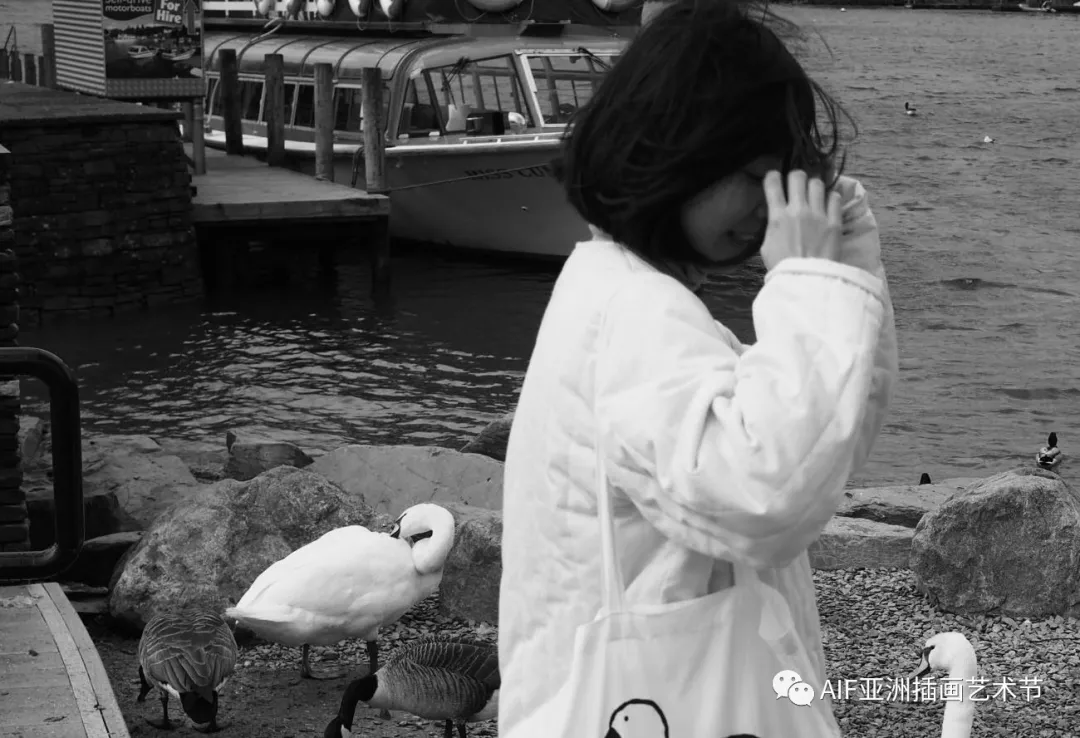 何昳晨
硕士毕业于伦敦艺术大学,从事书籍装帧、平面设计、插画工作。
Graduated from University of the Arts London with a master degree. She is engaged in book design、graphic design and illustration.
IG: dark_ocean
FB: Yichen He
---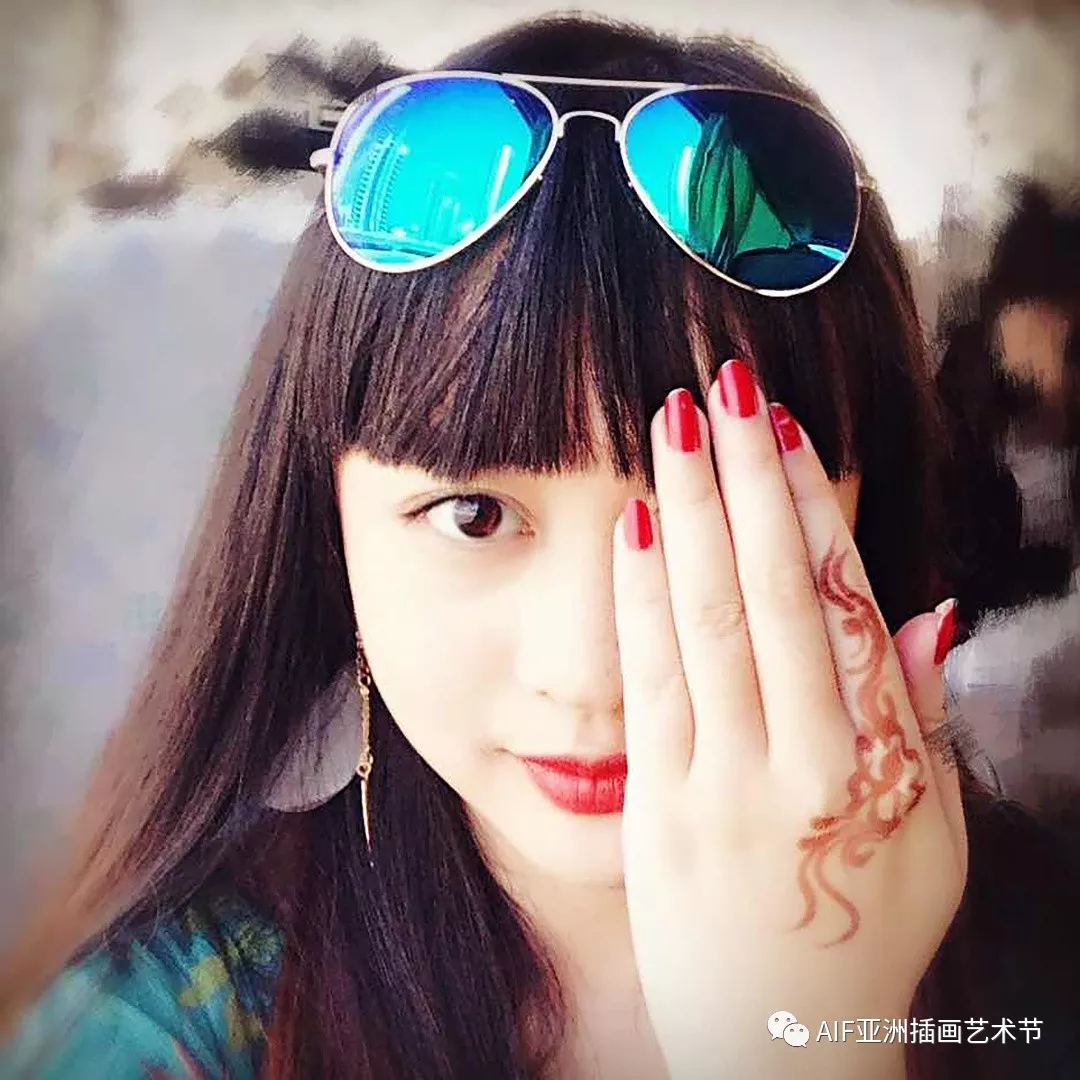 朱熙 Jenny Zhu
毕业院校:四川美术学院,艺术设计专业,硕士。
首届四川美术学院"驻留艺术家"。
现为:高校"新媒体艺术专业"专任教师。
自由插画艺术家。
Graduated from: Sichuan Fine Arts Institute, Major in Art Design, Master's degree.
First program for Young Artists in Resident of Sichuan Fine Arts Institute.
At present, full-time teacher of "New Media Art Major" in Universities.
Free Artist for Illustration.
个人页面: https://dribbble.com/xipu87enny
---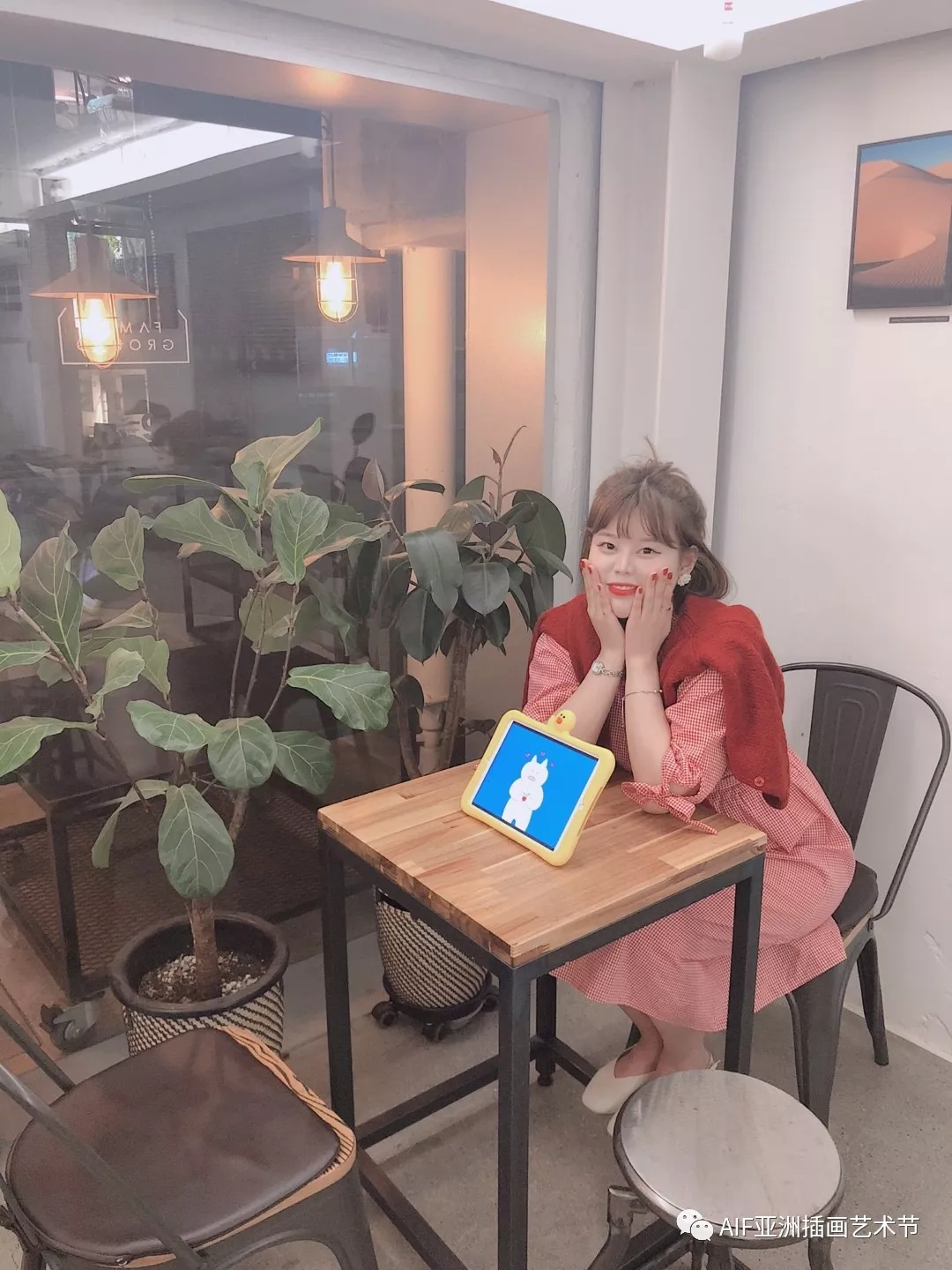 zazalzazal_studio
韩语 zazalzazal 是又小又可爱的意思。
来自韩国的插画家 Hye Jin, Kang 以猫咪为主题,
喜欢画许多又小又可爱的东西。
参加了2019首尔插画节vol.7(韩国最大的插画节)。
In Korean, 'zazalzazal' means small but cute things.
Hye JIn, Kang, a Cat illustrator who was born in South Korea.
Painting subject is mainly about small and cute cats.
And draw pictures for cat lovers all over the world = )
Experiences : 2019 Seoul Illustration Fair vol .7 (Biggest illustration fair in korea.)
IG: zazalzazal_studio
博客: https://blog.naver.com/hyejin3502
---
冀皓天
毕业于:
中国美术学院—视觉传达设计系
现生活工作于上海
⽩⾦创意大赛 ⼤学生平面插画《⼩黑泥》金奖
GDC15 平⾯设计在中国 《⼩黑泥》插图类提名奖
⽩金创意⼤赛 多媒体类 《⽯索》 铜奖 蒋杰 评审奖第⼗一届澳门设计双年展 ⾦奖
Graduated from:
China Academy of Art – Department of Visual CommunicationDesign
Currently live and work in Shanghai
公众号: 小黑泥
微博: 小黑泥BLACKMUD
个人页面: https://www.behance.net/jihaotian
https://www.zcool.com.cn/u/1882311
---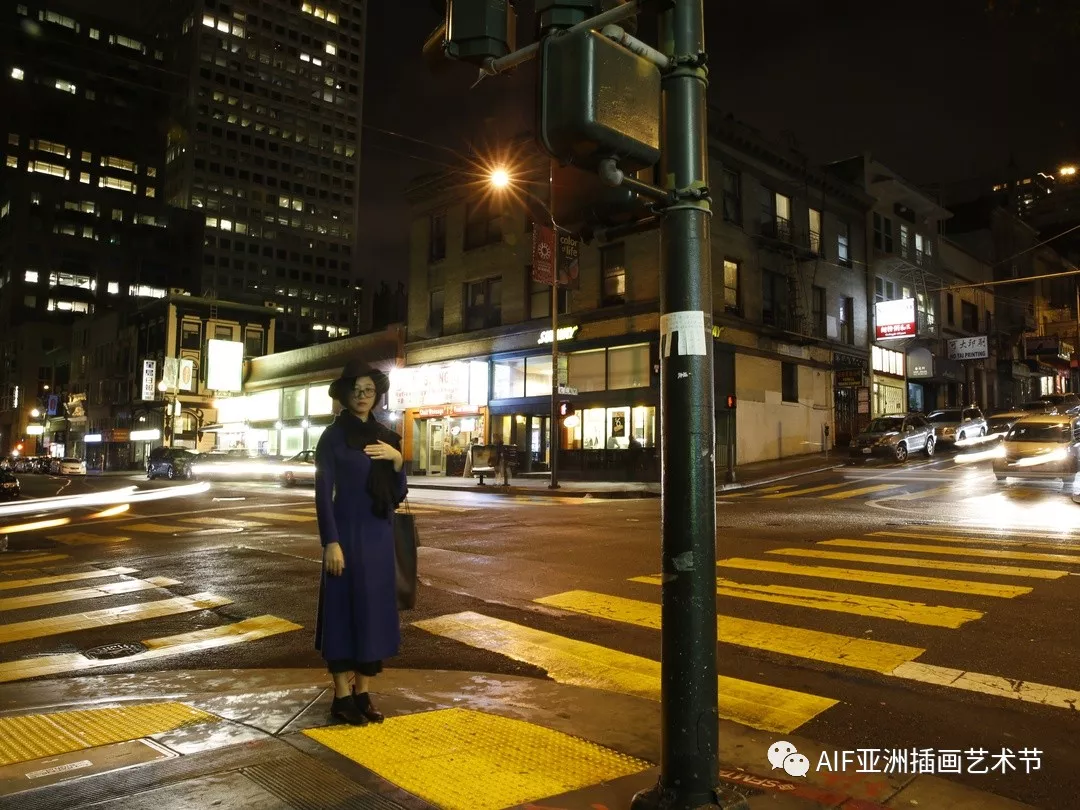 殷尧 / 山西梓楠
插画师,动画导演。
本科硕士毕业于北京电影学院动画专业,曾任教于北京电影学院现代创意媒体学院,北京电影学院客座讲师。现在在北京灌木文化传媒担任艺术总监,和水墨动画项目《狐桃桃和老神仙》动画导演。
Illustrator and animation director.
Graduated from Beijing film academy with a bachelor's degree and a master's degree in animation. Used to teach in Beijing Film Academy–Modern Creative Media College. Currently served as an artistic director of shrubby culture media in Beijing and the director of the ink animation project 'Foxtail Peach and Old Fairy'.
个人页面:
https://yinyao.zcool.com.cn
---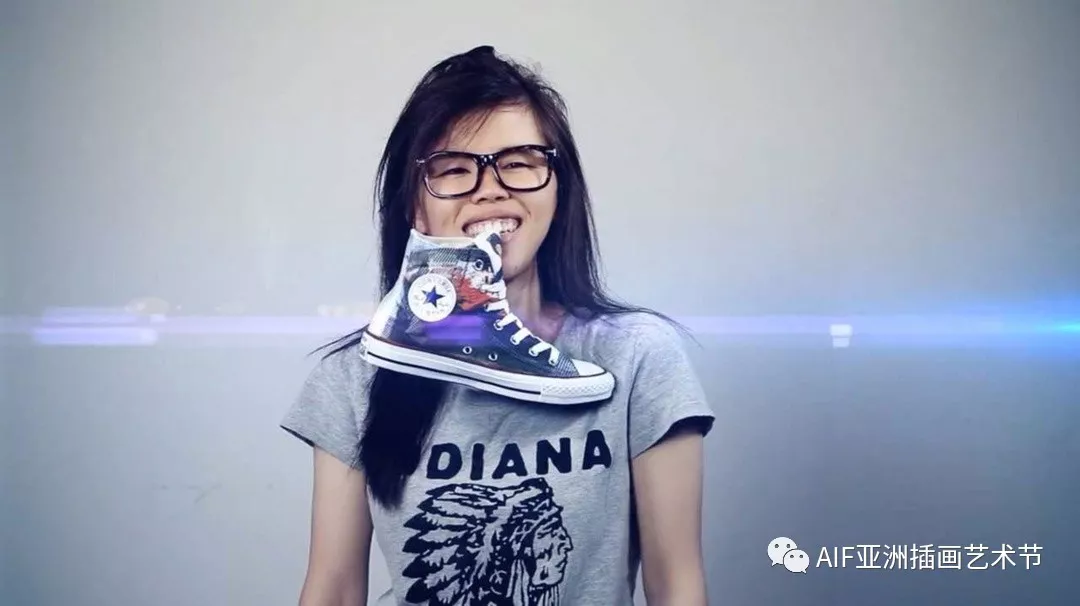 猪坚强
猪坚强,80后人气插画师,广告人出身。个人公众号拥有5万多粉丝,微博1.4万关注者。
擅长讲故事和对色彩的把控,试图将故事融于画面中,每个人都可以在画中读到情绪,孤独,幸福,悲伤,快乐或者其他,它们不再只是一些元素和色彩。
目前拥有自己的工作室以及公众号,去经营独属于"猪坚强"品牌的精品内容,用温暖的画风和文字去治愈更多人。
展览包括:
– 南京西路818广场《ONE BOOK ONE LIFE》画展;
– 北京设计周《摆渡人》画展;
– 上生新所《我不想成为一台复印机》分享会及线下活动;
– 淮海中路755号橱窗展示;
– 苏州慢书房分享会
合作品牌:
jnby By JNBY、星巴克、别克、宜家、红星美凯龙、资深堂、高洁丝、特步、网易、如家、谷歌、宝洁等
Strong Zhu
Popular illustrator who has more than 50,000 fans on her personal Wechat official account and 14,000 followers in weibo.
She is good at telling stories and controlling color, try to integrate stories into works, so that everyone can get emotions, loneliness, happiness, sadness, or others feelings in the paintings. They are no longer just elements and colors.
Now she has her own studio and wechat official account to manage exclusive contents of "Strong Zhu" brand, and try to touch more people with warm illustration style and words.
Exhibitions includes:
– "ONE BOOK ONE LIFE" illustration exhibition at 818 West Nanjing Road in Shanghai;
– Beijing Design Week "The Ferry Man" exhibition;
– "I don't want to be a photocopier" sharing session and offline activities;
– Window display at No. 755 Huaihai Road in Shanghai;
– Suzhou slow study room sharing session
– "All that is love" illustration exhibition at Yan Ji You book store in Shanghai.
Cooperation brand:
Jnby By JNBY, Starbucks, Buick, IKEA, Macalline, Shiseido, Kotex, X-tep, 163, Home Inn, Google, P&G, etc.
IG: strongpaintstudio
公众号:
猪坚强(strongpaint)
微博:
猪坚强strong
---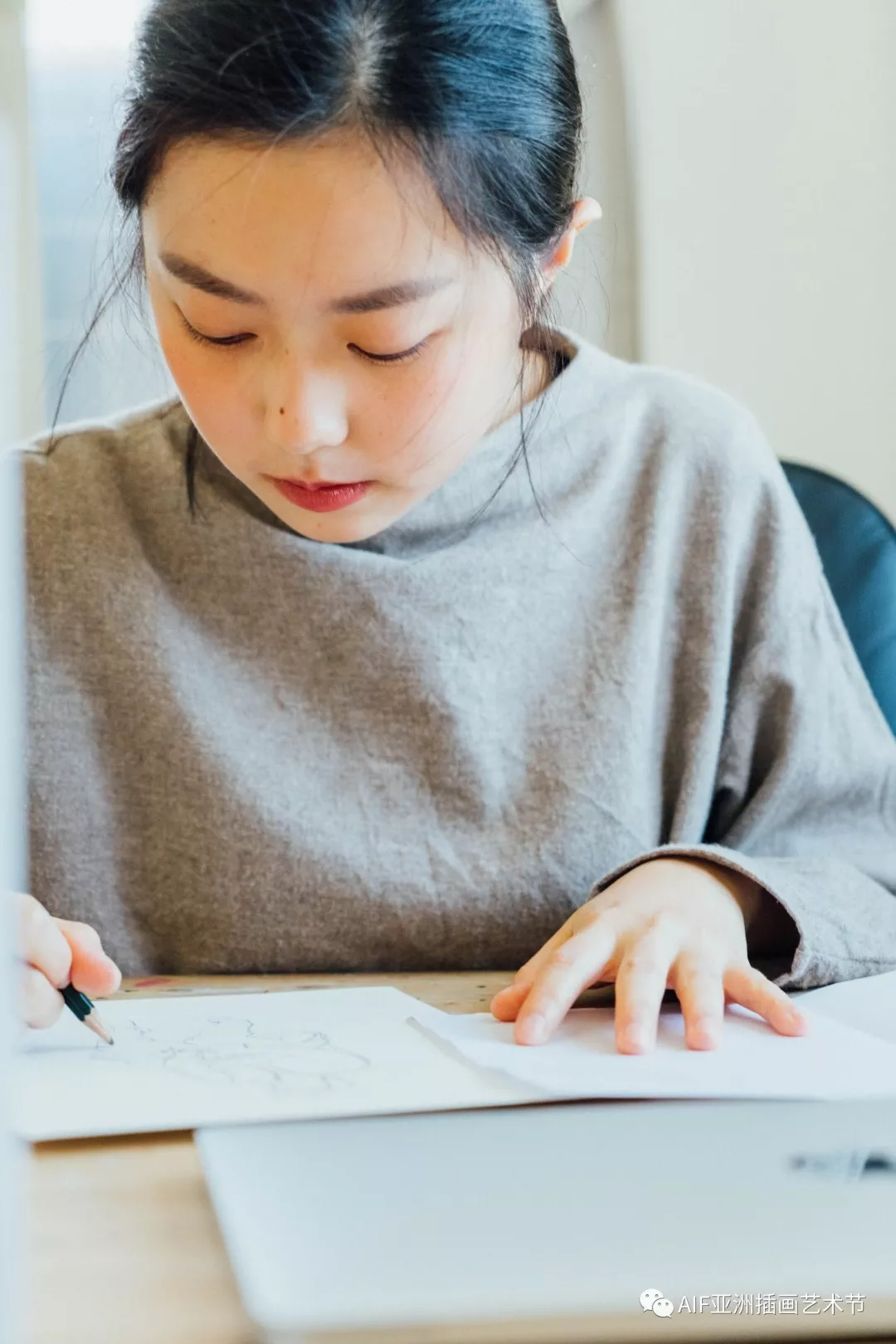 郑尔祺 ZHENG ERQI
郑尔祺,艺术创作者。
1993年出生于厦门。目前在台北生活与创作,就读实践大学媒体传达设计学系硕士班。曾与杂志《NYLON CHINA》、《Yo!Little》进行插画合作。
擅长绘画、插画和2D动画。将自身的台北生活经验作为创作的起点,常常着迷于日常生活里短暂的瞬间、微小的细节、周遭的人、颜色之间的关系。对我来说,这些生活切片都是珍贵又有趣的宝物,能给予我丰富的创作灵感与热忱,也使我继续透过画笔在图像中探索生活。
HI, I'm ZHENG ER QI.
I'm a visual artist born in Xiamen in 1993. Currently living and working in Taipei, studying in graduate institute of Shih Chien University, majoring in communication design. I have cooperated with some magazines, such as <NYLON CHINA> and <Yo!Little>.
The experience about my life in Taipei is the starting point for my work, I've always been fascinated by the moments of daily life, tiny details, people and relationship between colors
. For me, these parts of my life are precious and interesting treasures, which give me a lot of creative inspiration and enthusiasm, and also let me continue to explore life through painting.
FB: 鄭爾祺
IG: O27OO
---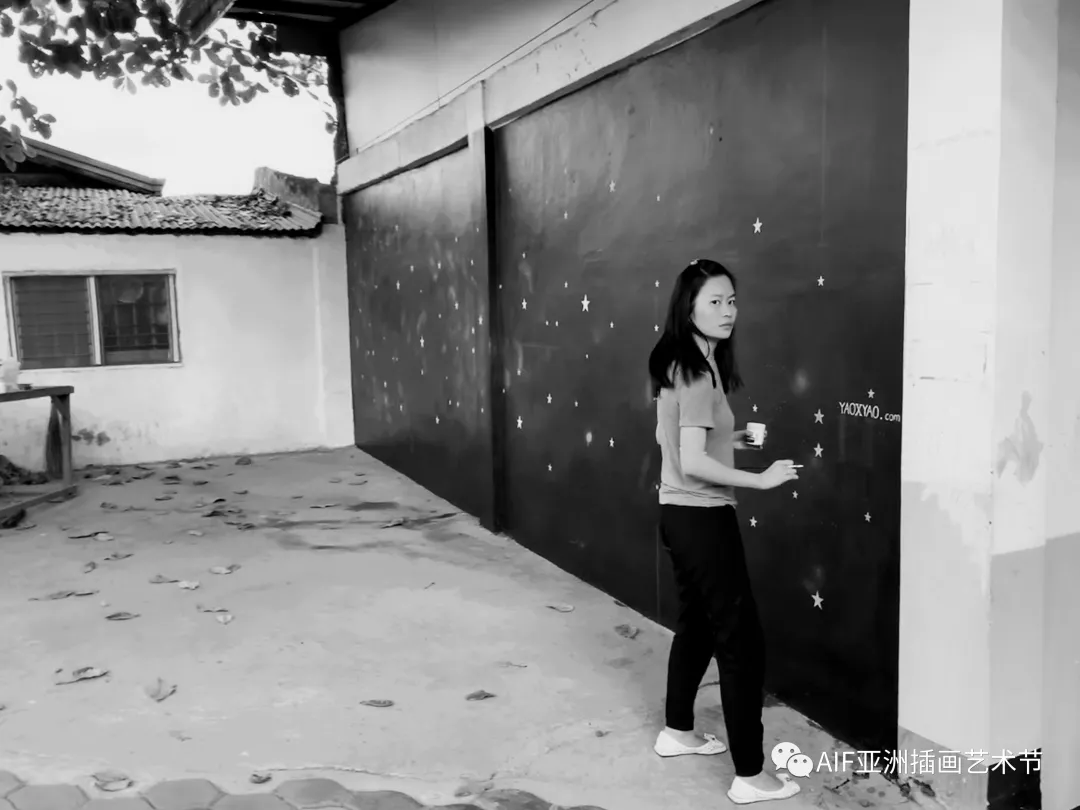 姚瑶
毕业于四川美术学院。
Graduated from Sichuan Academy of Fine Arts.
个人页面: http://yaoxyao.com
---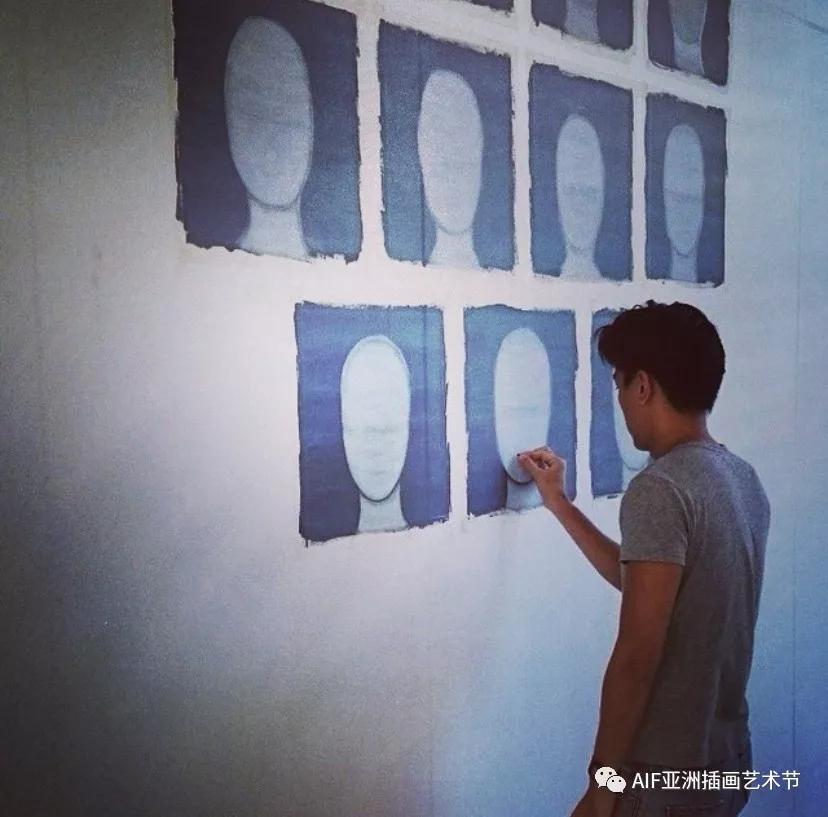 张智鹏 Ringo Cheung Chi-pang
⽣于香港,艺术文学士(绘画), 澳洲皇家墨尔本理⼯大学。
一个⼈就像⼀条欲望的溪流,它流淌的不是溪水,⽽是各种欲望。张智鹏的作品讨论了人类的内⼼欲望,由⾃⾝生活经验累积的刺痛切入,透过观照和视觉转化重塑型像。
他专注于各种媒体的观察,选择,记录和重建⼈类⽣存的心理状态的品质和可能性。投放的线条、色相(黑色)、姿态和喻依的符号(苍蝇),作为结合并描绘在巨⼤的欲望体系里,迷失在受压迫时身⼼疲累的无力感。
Bachelor of Arts. (Fine Art), Royal Melbourne Institute of Technology.
" It is like a stream with not water, but a variety of desires."
Ringo discusses the inner desires of human beings, stimulated by the accumulation of his own heart wrenching personal experiences, reshaping the image through observations and visual transformations. By constantly reviewing and revisiting him"selves", Ringo seeks to find the most vulnerable and humble form of expression. He focuses on the qualities and possibilities of various media to observe, select, record and reconstruct the psychological conditions of mankind's existence amidst the giant system of human desires.
参展单位 Group Exhibitors
将陆续公布中 Upcoming
征件参展者 Exhibitors
将陆续公布中 Coming soon
参展单位 Group Exhibitors
将陆续公布中 Coming soon